Report
F1 Pre-Season Testing: Giovinazzi heads times midway through Day 1 of T2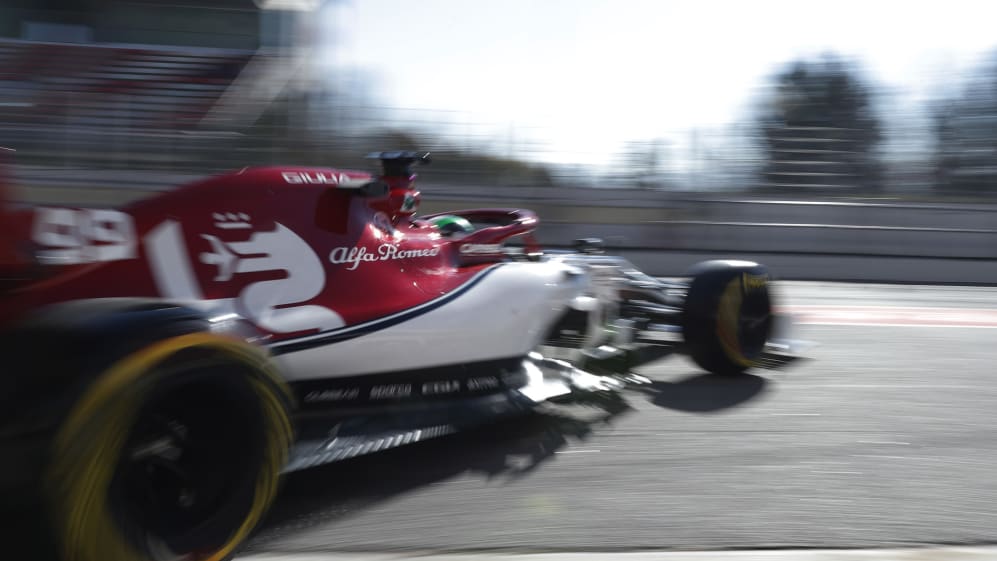 He ended the first week of 2019 pre-season testing with his Alfa Romeo C38 stopped out on track – but Antonio Giovinazzi was back up to speed as Test 2 got underway in Barcelona on Tuesday, heading the timesheets at the midway point on Day 1.
Giovinazzi posted a time of 1m 18.589s on the second-quickest C4 tyre compound to narrowly pip the Red Bull of Pierre Gasly.
Having set the second highest number of laps in Test 1, Ferrari were on the back foot on Tuesday morning in Barcelona, Charles Leclerc's SF90 consigned to a lengthy stay in the garage with a cooling issue after just six laps. Ferrari eventually got the problem sorted, however, and by the lunch break, Leclerc had managed 29 laps, his best effort good enough to put him P3.
Despite Leclerc losing his run time, though, Ferrari confirmed they'd stick to their plan of putting Sebastian Vettel in the car after lunch.
Testing explained: Rob Smedley on how Test 2 differs from Test 1
The only real drama of the session came from McLaren's Lando Norris, who brought out the red flags mid-morning after stopping out on track. That limited the Briton's running to just 38 laps, his best a 1m 22.306s, leaving him bottom of the times.
After their troubled start to 2019 pre-season testing last week, meanwhile, Williams enjoyed a good first half of the day, George Russell getting the FW42 around Barcelona in 1m 19.662s on the softest C5 tyre, good enough for P6 behind the Racing Point of Lance Stroll in fourth and the Haas of Kevin Magnussen in fifth.
Mercedes continued to shun going after headline-grabbing times, Lewis Hamilton ending up eighth, nearly two seconds adrift of the ultimate lap times as the Silver Arrows continued to concentrate on long-run pace.
Stay up-to-date on all the action via Formula1.com's live blog