Feature
F1 Testing: What the data tells us from Day 1
It's always dangerous to read too much into lap times in testing, especially in the first week when teams are more focused on reliability and systems checks than chasing performance, and fuel loads and programmes are unknown. But even in these early stages, could trends be emerging? We crunched the numbers...
Ferrari in the box seat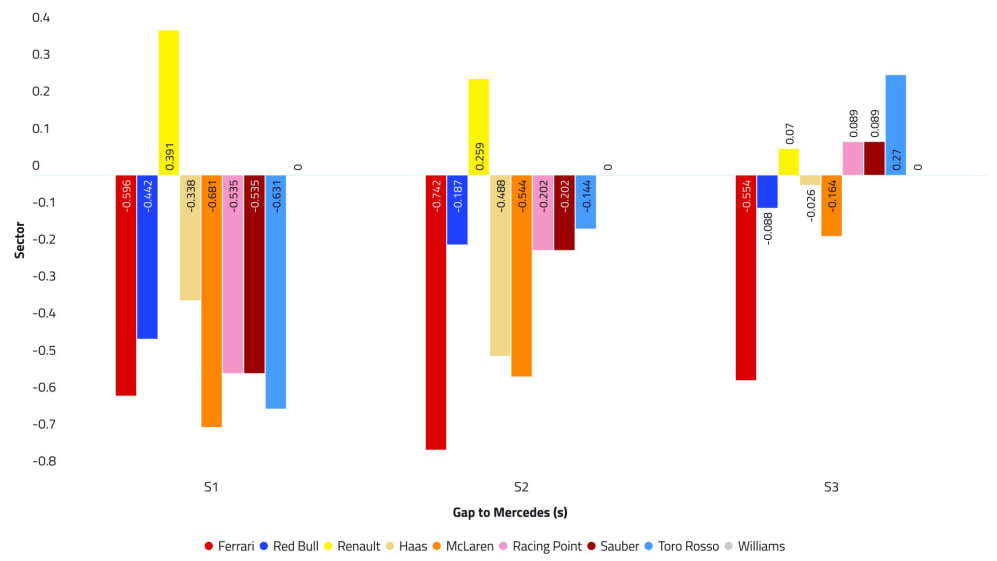 We looked at the three best sectors set by each team on Day 1 - not necessarily from the same lap or same driver - to give us a better picture of overall performance and the team's comparative strengths and weaknesses.
The baseline for the above graph is Mercedes. Now if it was created last season, the majority of the bars would have headed north, rather than south, such was the power of the Silver Arrows.
But the reigning champions had a relatively low-key opening day, sticking largely to early analysis work on the harder compounds and were down the timesheets.
They particularly lagged behind their rivals in the high-speed first sector, where interestingly it was McLaren and Toro Rosso (with Carlos Sainz and Daniil Kvyat both running the soft compound Pirellis) who led the way from Day 1 pacesetters Ferrari.
The Prancing Horse however was dominant over the remaining two sectors, with the SF90 looking particularly quick in Sebastian Vettel's hands in the slower final sector, where the German was nearly 0.4s faster than the next quickest car – Sainz's McLaren – despite running the harder C3 medium-spec rubber.
It will be interesting to see how this graph evolves over the coming days.
Honda the fastest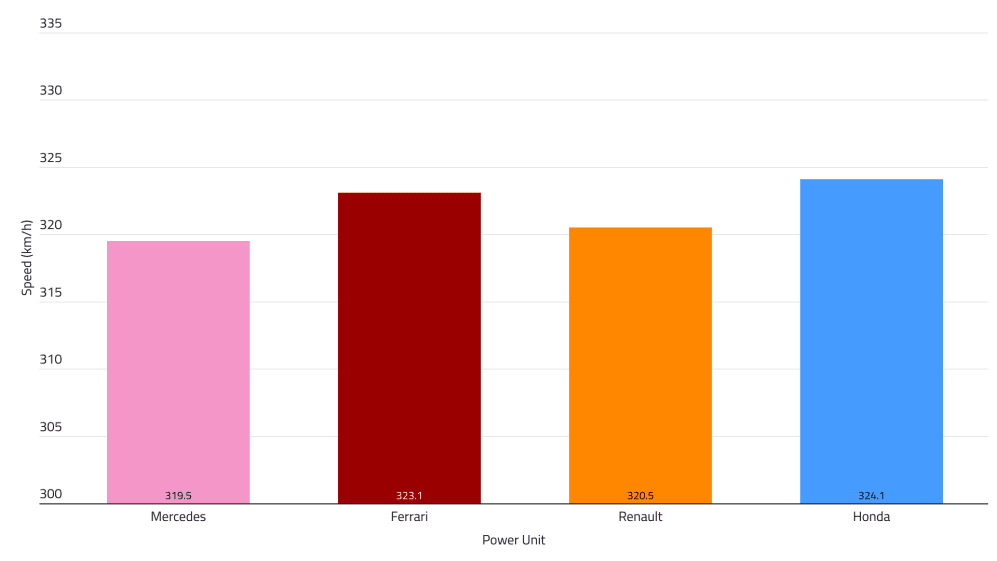 Now that's not a headline you see very often in modern day Formula 1 – but it was the Honda power unit, last in the pecking order last season, which finished top of the pile in the speed trap stakes. It was Daniil Kvyat's Toro Rosso that was the fastest - but worth noting that fellow Honda runner Max Verstappen was third quickest, the duo sandwiching Kimi Raikkonen's Ferrari-powered Alfa.
Renault (With McLaren's Sainz) were third quickest, with Mercedes (with Racing Point's Sergio Perez) bringing up the rear - though the quartet were very closely matched, within 5km/h no less, but bear in mind no one will have been running their PUs close to full strength.
Ferrari top Power Unit lap chart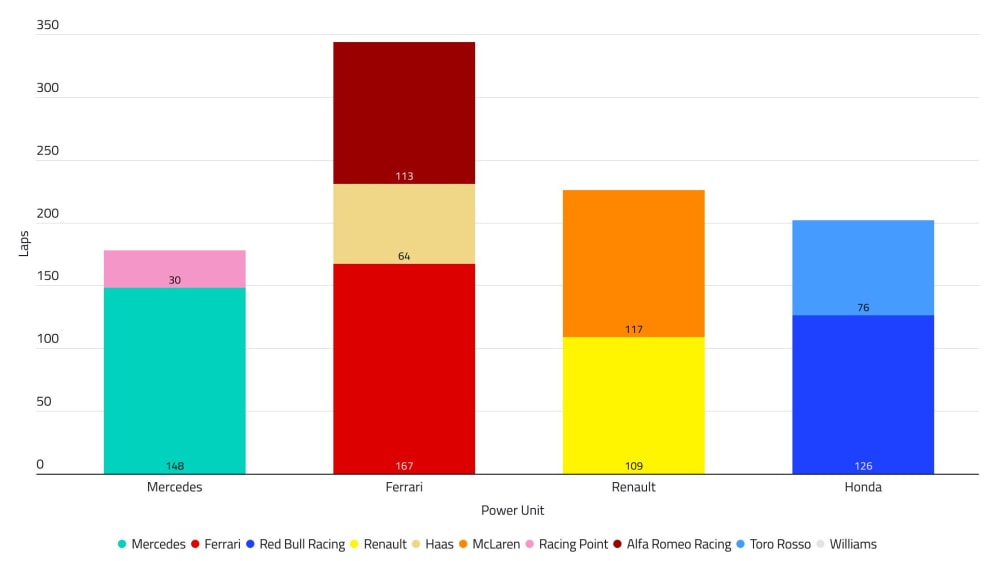 They say the first week of testing is all about reliability – and the best way to show that is to clock up the miles. The works Ferrari team did just that, with Sebastian Vettel logging an impressive 167 laps - more than two-and-a-half Grand Prix distances.
Combined with the tallies of customers Haas and Alfa Romeo, the Prancing Horse ended up with the most mileage in the power unit stakes, comfortably ahead of Renault (Renault and McLaren), who only fractionally bettered Honda (Red Bull and Toro Rosso) and Mercedes (Mercedes and Racing Point).