Feature
F1 TRACKS: Listen to Meduza's takeover playlist ahead of this weekend's Grand Prix at Imola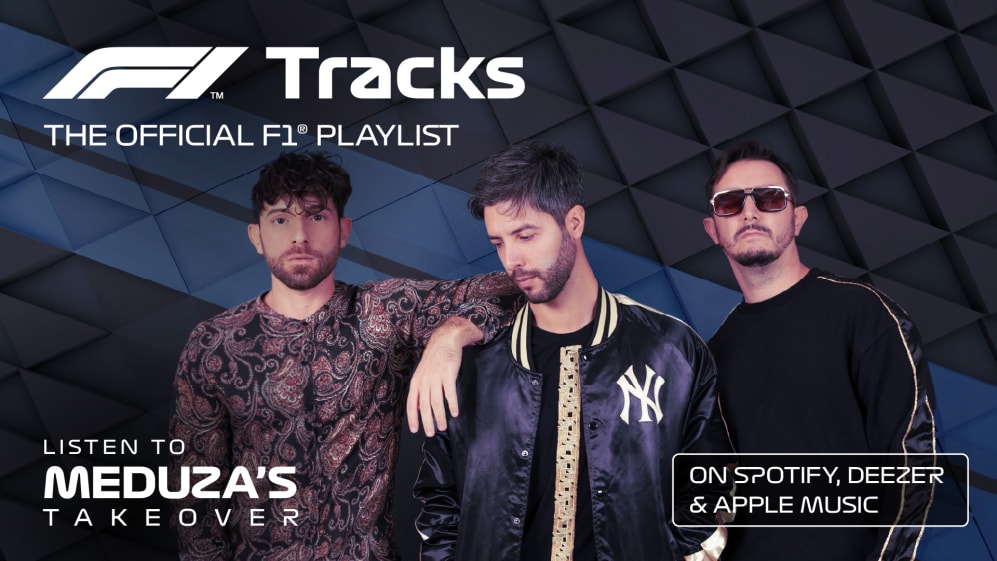 Italian DJ trio Meduza have a playlist for you ahead of the Emilia Romagna Grand Prix, plus a Q&A in which they talk Ferrari, Lando Norris's love of house music and their third single 'Paradise'.
The Italian superstars have produced the soundtrack for F1's return to Imola including Ayrton by Lucio Dalla, DJ Mehdi's Signatune and their own remix of Wild by John Legend.
Listen to the playlist on Spotify, Apple Music and Deezer – and scroll down for the Q&A.
Meduza Q&A
What is the best thing about Formula 1?
One of the best things of F1 is surely the battles during the race. We remember the old battles between Senna and Prost, and Schumacher and Hill, and we think this year will be full of battles – especially between Hamilton and Verstappen. We can't wait to see these battles!
Any similarities between the buzz of F1 and the buzz of live music?
Anxiety before a live performance we think can be the same as what the drivers feel before a race... but when it starts the anxiety turns to adrenaline and its a beautiful feeling.
F1 Tracks: Listen to Dutch DJ Martin Garrix's takeover playlist
Favourite team/driver?
We don't have a favourite driver or team. Obviously, we are Italian and we like Ferrari, but we just like F1 so we like all the teams and the new generation of talented drivers like Lando Norris, Charles Leclerc, Max Verstappen and George Russell: they are the future champions of F1.
Favourite Track?
Monza, the Temple of Speed! First of all it's very close to our houses and during the Grand Prix we can hear the motors' noise – amazing! We have so many memories from when we went with our friends and our fathers over the years. We really hope this year we can go in September!
Suggest a song for our playlist!
I would suggest Friday by Riton as Lando Norris is a really good friend of ours and the video where he was singing that track during his radio check while he was driving went viral, and the lyric – "It's Friday then... it's Saturday, Sunday what!" – is basically the F1 weekend plan.
This tweet has been removed from Twitter
If you could pick one of your songs to be the new theme tune for F1, which would it be and why?
It has to be Paradise, not just because it's our latest track, but because it's about being brave and having no fear which F1 drivers must have to have surely! Also, when they are in that ultimate moment at the peak of their careers it must be their own personal Paradise.
Favourite memories following Formula 1?
We love the '90s period when we were young. Especially we love Jean Alesi's years in Ferrari. Unfortunately, he won only one Grand Prix, but he fought a lot and we loved him for these. He deserved more than one win, but that's life.
Which F1 driver do you think would make the best music artist and why?
Lando, as I know he loves playing drums and he loves the house music (that we love too!). Also Lewis Hamilton, there are some videos we've seen of him playing guitar really well.
F1 Tracks: Listen to Charles Leclerc's takeover playlist
You could go to a gig with three people, dead or alive, who would they be and what band/artist would you go and see?
What about going to watch Tomorrowland with Lando and Daniel Ricciardo, I think that would be an interesting and funny day.
Tell us about Paradise
Paradise is going really well currently, it's our third single and kind of the next step for our project as this top line is a little bit more pop compared to the other tracks we released before, as we all know music means telling stories and sharing emotions with the fans and the people.
Paradise is the perfect story for those who are far away from their family and friends, and during this pandemic they might only be able to talk remotely with them waiting for this bad time to be over. In this case we can only close our eyes every day and take a moment to think about them knowing that our paradise is dedicating this song to them.