F1 TRACKS: Mick Schumacher takes over the official Formula 1 playlist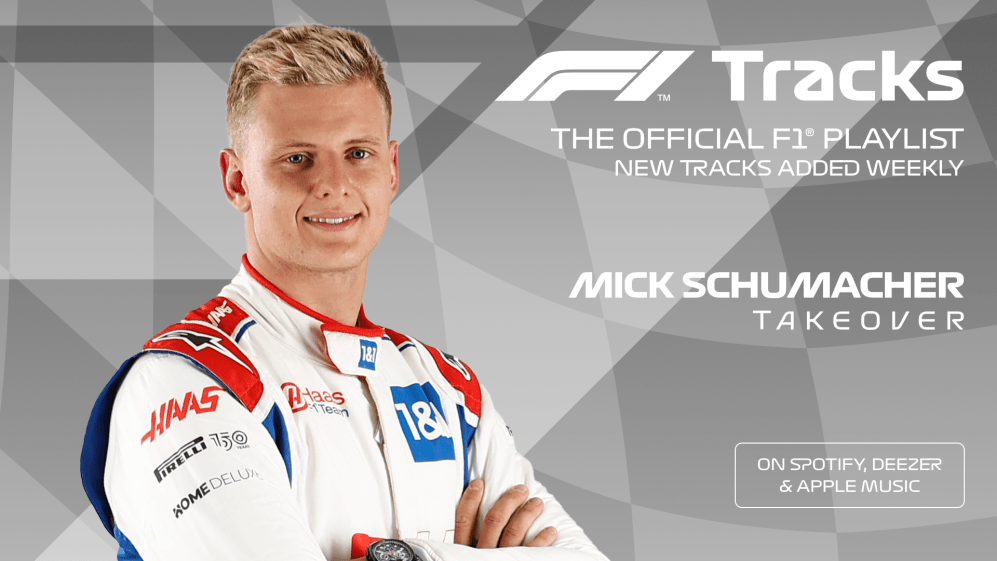 Mick Schumacher is the latest driver to take over Formula 1's official 'F1 Tracks' playlist, giving fans plenty to listen to between now and the Singapore Grand Prix in a fortnight's time.
In the thick of his second F1 season with Haas, Schumacher has offered up what he describes as an "eclectic mix" of tracks for this week's playlist – covering rock to rap and everything in between.
You can find his playlist here and learn more about his love for music below.
Mick Schumacher on his favourite (music) tracks...
"It was pretty hard condensing my music library into one playlist, but I think this is a good selection of my favourite artists and songs of right now along with some classics. It's an eclectic mix, I know, but I listen to different genres depending on my mood," says Schumacher.
"There are a few country songs in there and I like to listen to them a lot as they always remind me of my sister, Gina, and our ranch in the US. My sister says that the sky seems bigger in the States, and it's true in a way! Out there, it's flat and where we are in Texas is very flat. 'Til You Can't' and 'Twang' are great songs that transport me back there."
READ MORE: Schumacher happy with 'strong recovery' drive to P12 in Monza as Magnussen laments early damage
Such is Schumacher's interest in music, the German has gone one step further by attempting to get to grips with an instrument – taking inspiration from a legendary English rock band in the process.
"Away from the track, I'm slowly learning to play the guitar and 'Stairway to Heaven' by Led Zeppelin is one of the songs I'm really trying hard to master!" he explains, before listing a handful more must-hear tracks from his selection.
"There's some Tame Impala, Frank Ocean and GIVEON in there as well – they're artists I listen to a lot of at the moment and keep hitting repeat. Finally, 'It Wasn't Me' by Shaggy – it should feature on everyone's playlist, it's a classic!"