Ferrari anticipating 'intense fight' in 2022 as team power through objectives in Barcelona
Ferrari left Spain with the highest mileage total of all over the three days of pre-season running, topping the timesheets once. But their Racing Director – Head of Track Area Laurent Mekies cautioned that the fight is yet to come after Charles Leclerc warned that "P1 doesn't mean anything" at this stage.
With 439 laps between Leclerc and team mate Sainz – more than any other team on the grid, including Mercedes (392 laps) – Ferrari clearly enjoyed the pre-season sessions at Barcelona. No wonder then, that Leclerc left Spain with a smile on his face.
READ MORE: The 5 key questions from 2022 pre-season running in Barcelona
"Well, I'm feeling reasonably good. I mean, we've done all the tests that we've wanted to do, which was the most important thing we wanted to do during this test – doing as much mileage as we could – and we did, without major problems. So it's a positive first test for this, and in terms of performance, nothing to say for now."
Although he set the fastest time of Day 2 (while Sainz had the highest individual lap count over three days with 236) Leclerc was quick to offer a caveat.
"On the other hand, I think we are working harder than ever to just try and keep our heads down. It's of course always nice to see yourselves P1, but it doesn't mean anything… I think everyone is aware of this in the team. So, yes, we are not really focusing on the performance at all; we are just focusing on ourselves… Now we are already focused on Bahrain," continued Leclerc.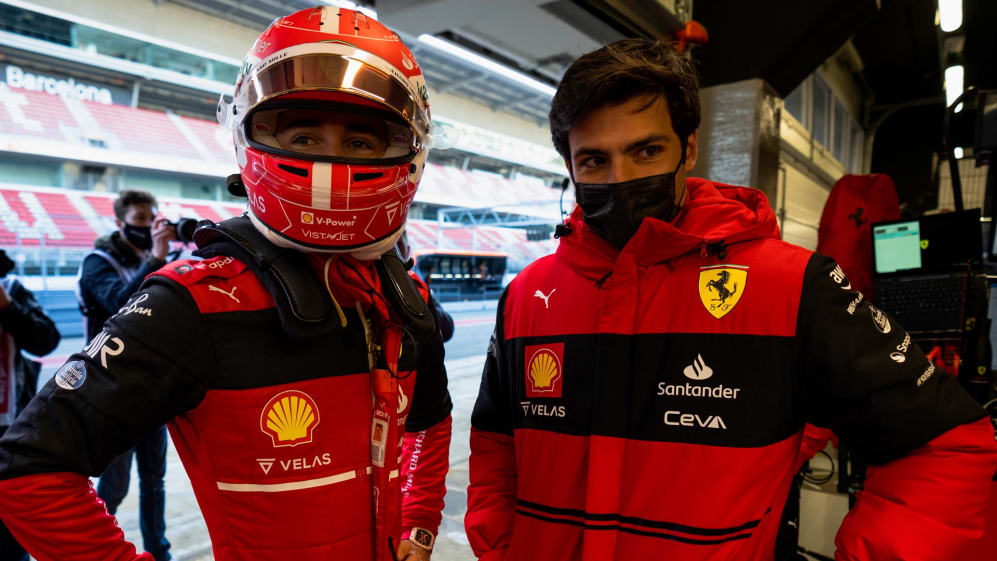 Bahrain holds the Official Pre-Season Test on March 10-12 as well as the curtain-raising Grand Prix, where the team's Racing Director – Head of Track Area Mekies expects "intense" competition.
ANALYSIS: Why Friday's wet weather test in Barcelona gave us a tantalising insight into 2022's aero changes
"For [the drivers], it was a useful warm-up before what will be a long and intense season, getting used to procedures such as the pit stops and, for the various crews that make up the team, to all be back working together again and interacting well with our drivers," said Mekies.
"We still have a lot of work ahead of us and we can expect an intense fight, so everyone has many items on their job list now. It's only the first step of a long year, when we intend to push very hard, working all together."
Ferrari aspire to achieve a 17th constructors' championship and 16th drivers' championship in 2022, having last taken a title back in 2008. We'll see the true running order unfold very soon in Bahrain.