Ferrari don't fear any upcoming tracks – Vettel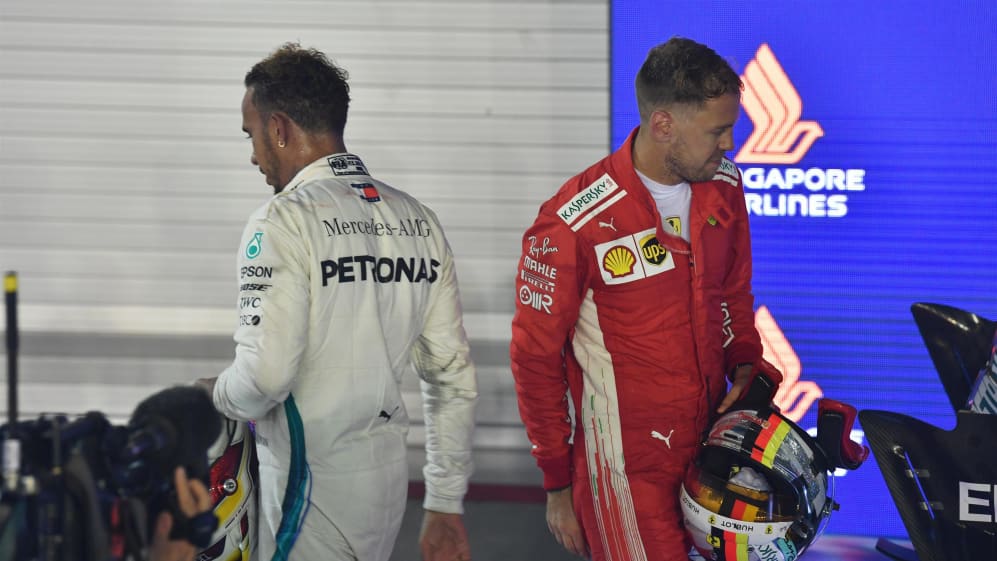 Sebastian Vettel's title hopes took another hit as Lewis Hamilton's qualifying heroics led to victory on Sunday in Singapore. But the Ferrari driver remains defiant, suggesting the Prancing Horse can fight for wins at all six remaining tracks…
Ferrari were favourites for victory at Marina Bay, as they were in Italy, but on both occasions it was Mercedes – and specifically Hamilton – who took the spoils against the odds.
Hamilton's latest triumph – his fourth win in five races – moved him to 40 points clear of Vettel, just two shy of only needing to finish second in the remaining six races to clinch a fifth world title and a fourth in five years.
But Vettel is hopeful the package he has underneath him will give him a chance to nibble into that deficit over the course of Russia, Japan, USA, Mexico, Brazil and Abu Dhabi.
"Lewis said he didn't expect to come here gaining ten points, we probably didn't come here expecting to lose ten points – but, having had the race that we had, I think there's a full justification for losing those ten points and we take it," he said.
"Obviously, there is still a long way to go and a lot of points to score. I never believed that we had the fastest car by a big margin, as people said. I know that we have a very good car.
"We started the season well and then we were about half a second behind in qualifying and it was crucial to get back, which we manage to – and then we had a bit of a rough time, but overall I think the speed is there but it's a match in qualifying as much as in the race.
"Russia (where Mercedes have won all four editions of the race) has been getting better for us in the last few years, so it should suit our car as well. I don't think we have any tracks to fear that are coming.
"Our car is working pretty much everywhere and that's a strength of our car, so no need to be afraid of what's coming."
Vettel defended his team robustly in the face of questioning, as the media demanded answers for Ferrari's struggles in both qualifying and the race in Singapore.
"We're not playing a silly game, we're quite serious and it's quite tough competition, so the level of competition is very high and if you have the slightest mistake obviously there are people there who are usually there to benefit from it," he said.
"It was not the result that we wanted and it's a disappointment because we came thinking that we are very strong. We were but not strong enough, not as strong as we probably wanted to be in terms of raw race pace.
"We need to look forward. There are a couple of differences that are standing out about Saturday, about Sunday, things that we can learn from the others, because they simply did a better job if they finish ahead of us by half a minute."
Ferrari, searching for their first constructors' championship since 2008, now trail Mercedes by 37 points in the team standings.