Ferrari drivers say they have to claw back qualifying pace after tricky opening day in Qatar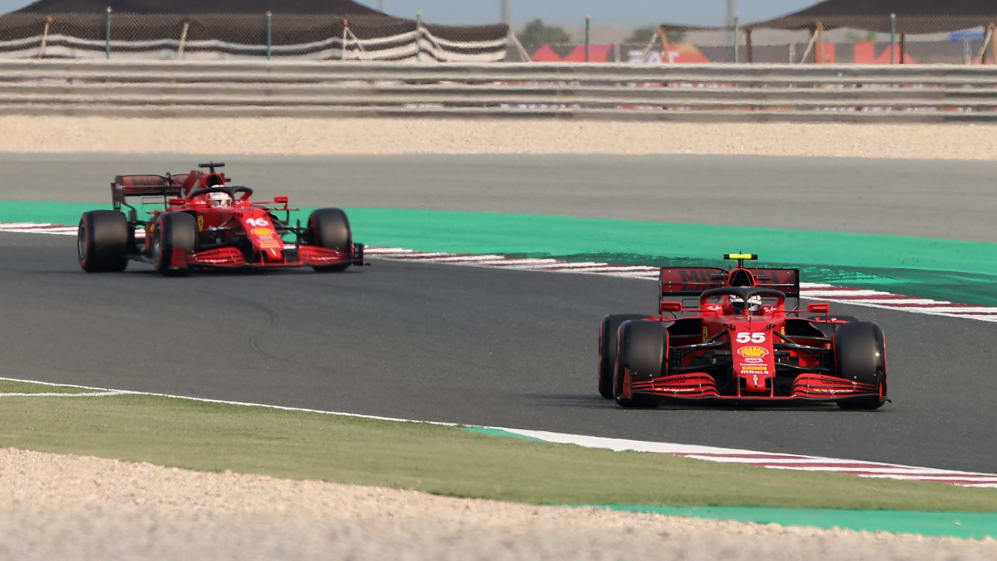 Neither Ferrari could make the top five on the time sheets in Friday practice in Qatar but neither Charles Leclerc nor Carlos Sainz were ringing the alarm bells, instead pointing out where their team needed to improve before qualifying on Saturday.
Leclerc finished seventh in FP1 but 13th in the second session – with a couple of off-track excursions to boot – as the Monegasque racer seemed to struggle to nail a qualifying simulation lap at Losail. He confirmed that was indeed the case after a floodlit FP2 session.
"Well, first of all I really enjoy this track. On a quali lap it's great and how much racing action, well see, but our day went quite OK," he began. "I think we went through all the things we wanted to test on this track, so this is good, and now it's up to us to work well overnight to try and recover a little bit of quali time because yes, on the quali pace I think we are lacking a little bit of performance.
WATCH: Ride onboard with Valtteri Bottas in Free Practice 2 as he sets the fastest lap at Qatar
"But on the race pace it looks strong, so this is a good thing to take, but now we need to work on quali. AlphaTauri looks very strong again this weekend, so I think McLaren and AlphaTauri will be our main competitors. We are behind them for now, but I think we are quite confident that we can find the pace that we lack at the moment," he added.
As for team mate Sainz, who was sixth then 10th respectively in the two sessions, the Spaniard said the track layout brought out the best in this outgoing generation of F1 cars.
"It felt really intense in these cars around this track. Just super quick. I mean the speeds that we are going, it's difficult to explain to you guys, but it's crazy," he said.
"Those high-speed corners are really allowing us to feel the beasts that we are actually driving this year and these last few years and it's been a bit of a thrill to be honest; you're also challenging yourself mentally to trust that the thing is going to grip and you are going to carry that many Gs and that much speed into the corners for so many corners like we are doing here. So it's been a good challenge."
However, when Sainz was asked whether he agreed with Leclerc on Ferrari's qualifying pace deficit, he replied: "Yes we have to, I mean especially on the soft tyre, we don't look very comfortable at the moment; we are struggling with the front a bit and we need to find pace to make this tyre last through a whole lap and make it a bit stronger in the front axle because the long runs look good.
READ MORE: Hamilton insists he's focusing on his driving after Mercedes 'Right of Review' request is denied in Qatar
"The hard tyre looks good in a long run, so we just need to make sure that we get it right in the short run with the soft," explained Sainz.
Ferrari are frontrunners for P3 in the constructors' championship as they hold a 31.5-point lead over McLaren ahead of the 2021 Qatar Grand Prix.