Hamilton insists he's focusing on his driving after Mercedes 'Right of Review' request is denied in Qatar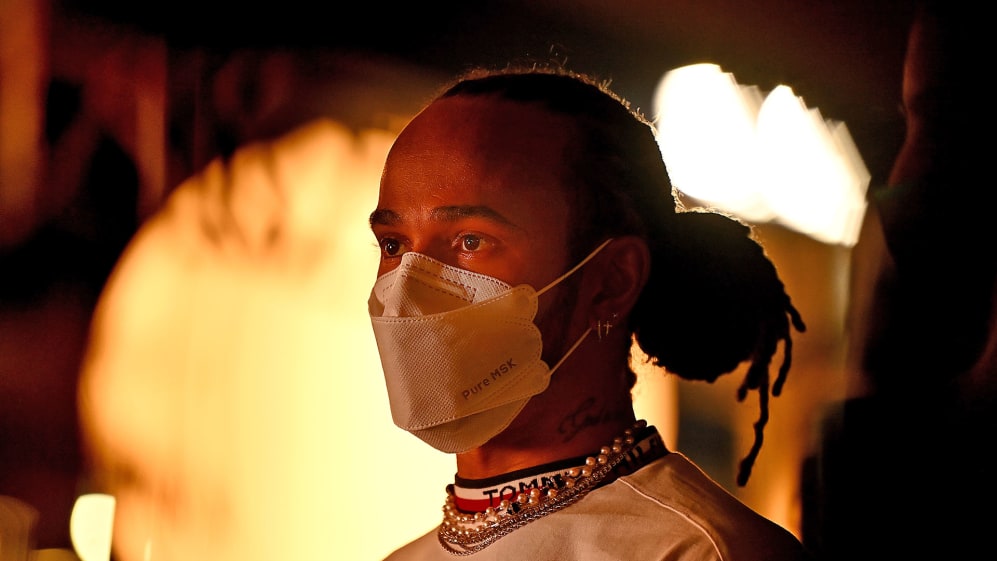 Lewis Hamilton endured an underwhelming start to running at the first ever Qatar Grand Prix weekend, finishing fourth in Free Practice 2 as Mercedes team mate Valtteri Bottas topped the times – while he also watched as Mercedes' 'Right of Review' request was denied by the stewards on Friday.
Hamilton could do no better than P4 in either of Friday's practice sessions as the Losail International Circuit hosted F1 for the first time, the seven-time champion behind Bottas, Pierre Gasly and title rival Max Verstappen – in various combinations – in both FP1 and FP2.
FP2: Bottas quickest ahead of Gasly and Verstappen in second Qatar practice session
That culminated in Hamilton failing to get within 0.422s of Bottas' leading time in FP2, leading to a downbeat Hamilton facing the media at the end of Friday.
"I don't even know how big the gap is, but I'm off, so I'm definitely not close," he said. "I'm a little bit slow, so I need to figure that out tonight.
"Driving-wise, it's okay," added Hamilton of the Losail track. "I mean it's all high-speed corners, so it's definitely physical, but then the track's quite nice, no real issues."
Midway through Friday, meanwhile, the stewards announced that they had denied Mercedes' 'Right of Review' petition following Hamilton and Verstappen's contentious Lap 48 spat at the previous race at Interlagos – although Hamilton denied that the decision had affected his performance in Losail.
"I don't have any thoughts on it," said Hamilton when asked about the stewards' decision, "because I was not a part of it and I've been focusing on my weekend."
READ MORE: Stewards deny Mercedes request for 'Right of Review' over Verstappen-Hamilton clash in Brazil
In contrast to Hamilton's unhappiness, Bottas was extremely satisfied with his day, having finished FP2 a full two-tenths faster than the next quickest driver – with the Finn saying it had been the "ideal way to start the weekend".
"Today started nicely with the set-up so actually the balance was pretty good in the first run, only minor tweaks to be done for FP2 so I would say that's an ideal way to start a weekend on a new track," said Bottas, who it was announced on Tuesday would be joined at Alfa Romeo next year by Chinese driver Guanyu Zhou.
READ MORE: Vasseur explains why Zhou is the 'right choice' for Alfa Romeo – and reveals how he and Giovinazzi have cleared the air
"I think the team did a really good job on the guestimation of the set-up. It's not far off the sweet spot, but obviously there's always work to do, and even driving-wise in two sessions, you can't yet find all the speed there is available.
"It's hard to make conclusions from today," he added, "but at least, like I said, the feeling was okay and that's promising for the rest of the weekend."
Mercedes currently sit 11 points up on Red Bull in the constructors' standings, with Verstappen 14 points clear of Hamilton in the drivers' ahead of the inaugural Qatar Grand Prix.