Ferrari drivers set for talks this week after Brazilian GP collision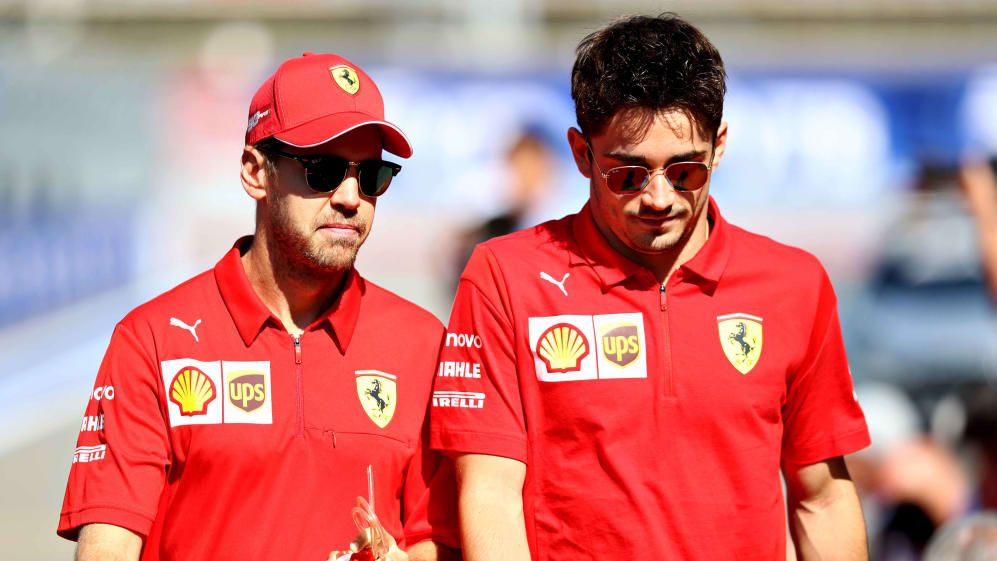 Sebastian Vettel and Charles Leclerc have had a tense relationship on track since becoming Ferrari team mates this season. But they committed F1's cardinal sin in Brazil when they collided, ending both of their races. It's no surprise, then, that their team boss Mattia Binotto has summoned them to Maranello for talks...
When fighting for fourth with five laps remaining, Leclerc pulled of a slick move up the inside of Vettel at Turn 1 – but Vettel tucked back into the slipstream and then pulled alongside before the pair touched for the first time this season, forcing them both into retirement.
READ MORE: Leclerc and Vettel apologise for race-ending clash as Ferrari boss reserves judgement
Speaking after the race on Sunday night, Binotto said: "I've not reviewed the incident and I don't want to do it today. I think that when doing things in the heat of the moment, you can come to the wrong conclusions.
"I heard from both drivers, but we will meet again [at Maranello] together to discuss what happened and there will be time for the team to analyse all the video and the data.
"Whatever will be the judgement, more important today is that we are disappointed and sorry for the team. First and foremost, the two drivers should be sorry for the team. It is true it has been a very small crash with a big consequence, but still that sort of thing should not happen."
Earlier this year, Binotto said it was a "luxury" for Ferrari to have two such strong drivers in Vettel and Leclerc – and he maintained that was the case despite several tense moments peaked by their collision in Brazil. He even added they were "lucky" the clash happened this season, as they can address it before 2020.
READ MORE: DT's 10 Hot Takes - On Red Bull's renaissance, Gasly's glory and Albon's woe
"I'm still convinced it is a luxury because they are both good drivers," he said. Very good drivers. They both represent a good benchmark for each other and we have seen how well they have improved, and Seb in the second half was certainly very fast.
"So I think overall it is still a luxury. What happened, I would say it is even lucky it happened this season because there will be opportunities to clarify in view of next year what is not to happen. So I'm happy to take this opportunity of what happened, to clarify for the future."
Leclerc's failure to score in Brazil meant he dropped to fourth in the drivers' standings, 11 points adrift of race winner Max Verstappen with just one race – and a maximum of 26 points – up for grabs.