Ferrari drivers shrug off team orders spat in Mexico after wrenching P3 from McLaren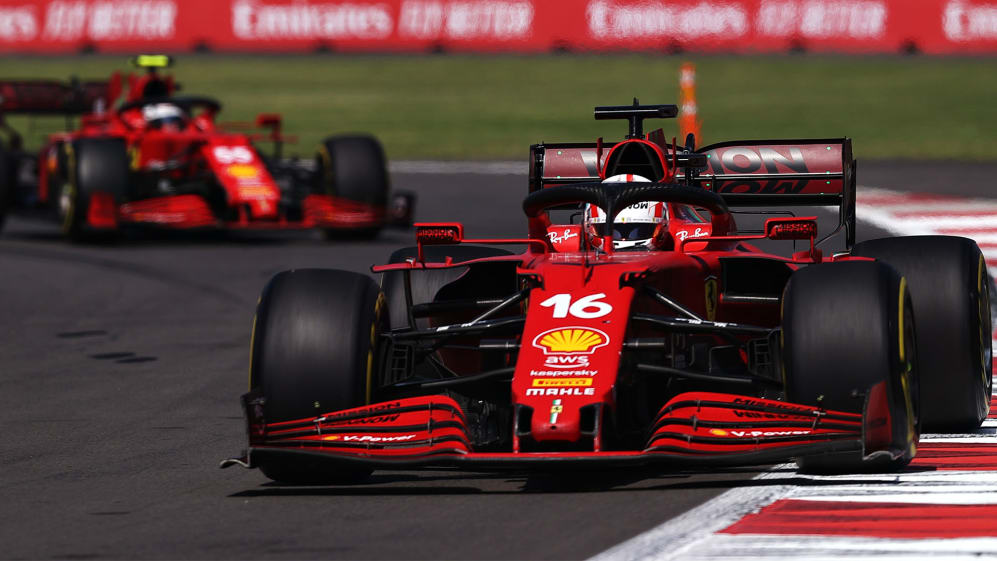 Ferrari outscored rivals McLaren handsomely in Mexico to move to P3 in the constructors' standings by 13.5 points – a result earned despite some uncomfortable moments on the Ferrari pit wall as Charles Leclerc was ordered to swap positions mid-race with Carlos Sainz.
Sainz had started P6 to Leclerc's P8, but lost out to his team mate in a chaotic first corner, Leclerc sweeping into P5 behind AlphaTauri's Pierre Gasly, as Sainz slotted in behind Leclerc.
But after Sainz was pitted 12 laps later than Leclerc, Ferrari then put in a request for Leclerc to move aside to allow the fresher-tyred Sainz to try and attack Gasly – with Leclerc taking longer than Sainz would have liked to move aside, the Spaniard at one point accusing his team mate of deliberately making mistakes to keep him behind.
READ MORE: Verstappen extends championship lead after jumping both Mercedes at the start to win in Mexico
But with the finish line reached, and with Sainz having dutifully let Leclerc back in front after failing to make in-roads into Gasly, any needling between the P5 and P6-placed pair was quickly forgotten.
"It was already discussed before," said Leclerc of the swap, "so there was just one lap where they asked me to let him by but I was overtaking, I think, a blue flag car in front of me, so I didn't do it that lap. And then the next lap I was asked to not do it anymore and then we did do it a bit later on. But overall everything was clear and as soon as I've been asked, I did it.
"On my side, we [stopped] very early to try and put some pressure on Pierre in front for him to stop and let Carlos go long, to create a tyre delta as well for the end of the race," added Leclerc. "Everything worked pretty well but once we went on the hard, on my side I struggled massively, Carlos a little bit less.
"But still we didn't have the pace of Pierre in front, so we didn't quite make it, but I think today it shows the good team spirit there is and yes, that's good to see. We maximised everything to day, I think."
READ MORE: Mexico polesitter Bottas laments 'very tricky' afternoon after race-ruining first lap contact with Ricciardo
Sainz, too, appeared to show no rancour after the race, the Spaniard instead focusing on what he was calling one of his best races of the year, while adding that he was pleased to have taken such a weighty chunk of points out of his former team McLaren, after Ferrari outscored them 18 points to one.
"We put together probably one of my best races of the season in terms of pure pace with an unlucky bit at the start – but today we were really quick," said Sainz. "The two crashes [at the start], they were just in front of me and I had to take avoiding action which made me lose positions that I shouldn't have lost, but that's how it goes sometimes in racing.
"From there on we put our head down, we showed the pace that we've shown all weekend – we were really quick," Sainz added. "I managed to… obviously get the team order to go past Charles and then try and catch Gasly, but Gasly was very strong this weekend and we couldn't make it stick. But very strong pace all day.
WATCH: Sergio Perez takes podium in Mexico to delight home fans
"We did what we wanted, which was to outscore McLaren by a fair bit. We had a good opportunity this weekend, we managed it, and now we go into the last four races of the season with the upper hand in the championship.
"It's going to be tight, I think there's going to be tracks where they're going to have the quicker car but now we need to focus to keep working well as a team like we did today, and keep going forward."
2021
Ferrari moved 13.5 points clear of McLaren
POSITION
POINTS

3

Ferrari

268.5

4

McLaren

255