Ferrari: Vettel still has priority over Leclerc in 50-50 situations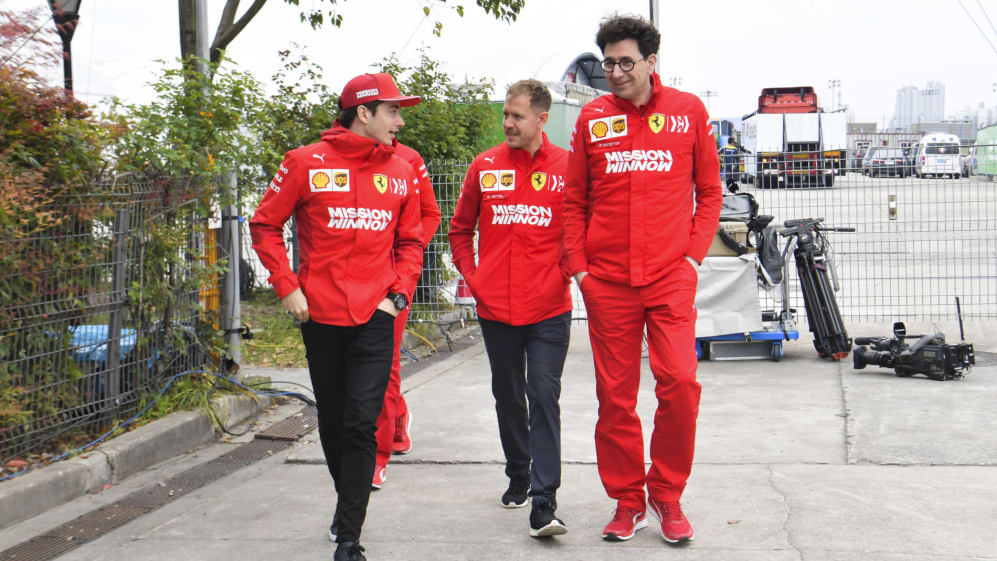 Charles Leclerc may have impressed with his performance in Bahrain, but Ferrari will still back Sebastian Vettel over his new team mate if needed.
Team principal Mattia Binotto made clear at the start of the season that Vettel would get priority in the early stages due to his experience and record as a four-time world champion. Leclerc put that approach in doubt with pole position in Bahrain, where he overtook Vettel after losing the lead and looked set to win before a reliability issue demoted him to third, but Binotto's stance is unchanged for now.
"Certainly as a team we need to give the priority to the team and try to maximise the team's points at the end of the race," Binotto said. "As I said at the start of the season, if there is any 50-50 situation where we need to take a decision, the advantage would have been given to Sebastian simply because Sebastian has got most of the experience with the team in F1. He won four championships and certainly for us he's the driver who has most probability to challenge for the title.
"Something we agreed with both drivers is, in a few races' time, things may chance for whatever reason – bad luck or whatever could be the situation – we may change our position, no doubt. But on the track, they're free to fight, on the track I think if there is one driver who is certainly faster, he will get the advantage.
"I think that Charles, as a matter of fact, he had an opportunity to be in pole in Bahrain, he had the opportunity to fight for the win and he had position in Bahrain."
READ MORE: Ferrari revert to old-spec control electronics in China after Bahrain issue
Upon hearing Binotto's comments, Leclerc was pragmatic, with the 21-year-old focusing on his own performances in order to change the status quo during his first season at Ferrari.
"Well I understand," Leclerc said. "In the end - again, as I said in the last few races - in the team I think we need a number 1 and a number 2 but I will make sure to change these things as quickly as possible!
"I have to say in front from qualifying but it's not easy. Obviously Sebastian is extremely quick but yeah my job I have to do in the car."
Vettel himself played down the comment, saying his Team Principal is talking about a hypothetical situation that is unlikely to happen given the way the team dealt with a difference in pace in Bahrain.
"This is generally a topic that is cooked much hotter than eaten," Vettel said. "It's always interesting for people to ask such questions. There are so many possibilities that can happen in the race. You saw last weekend that we don't stand on each other's feet when one car is faster than the other. There's not always as much to say as there is to ask."
Vettel was the faster of the two Ferrari driver in Shanghai on Friday, finishing the two sessions in first and second. Leclerc by contrast was third and seventh.