'Ferrari were quite lucky' declares Alonso as he narrowly misses out on podium finish at Azerbaijan GP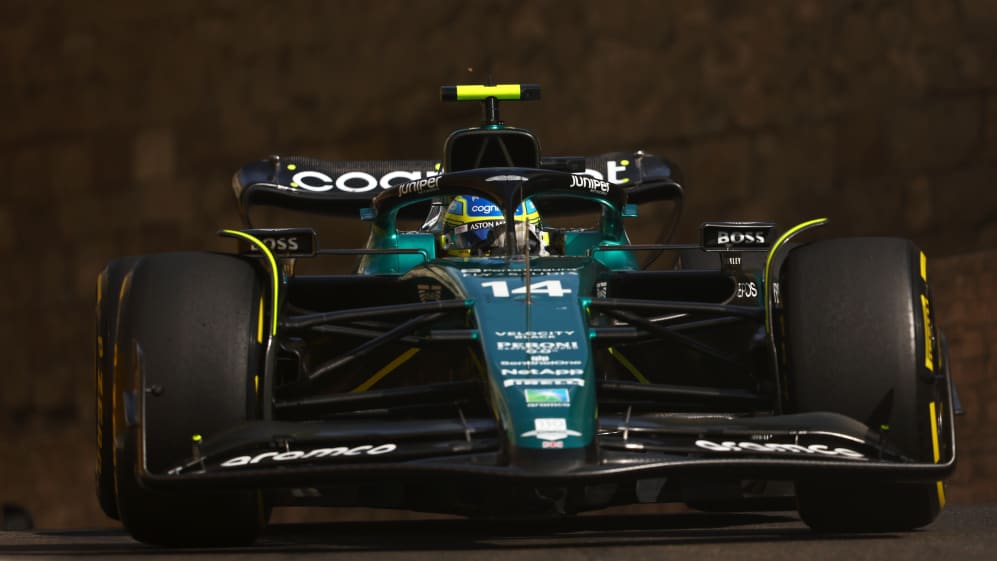 It was Fernando Alonso and Aston Martin's first race that ended with them off the podium, as the Spaniard and his team mate Lance Stroll took the chequered flag in fourth and seventh, respectively, bringing an end to a "tricky" weekend in Baku.
Alonso started sixth and maintained that position before a Safety Car allowed him to gain an extra position ahead of Lewis Hamilton. At the restart, he moved up to fourth by pulling off a stunning overtake on compatriot Carlos Sainz.
READ MORE: Perez leads Red Bull one-two in dramatic Azerbaijan GP to cut Verstappen's championship lead
The Spaniard attempted to chase down the other Ferrari of Charles Leclerc for third place, but he could not reel in the Monegasque. Instead he was forced to settle for P4, with Alonso left believing that his former team may have gotten away with one.
"Quite happy with the pace," he said. "We had the pace in the Sprint as well, but today we showed even a stronger one, especially with the medium at the beginning. Unfortunately, the Safety Car came, and we all put on the hard tyres.
"The hard tyres didn't have any degradation, which is our strongest point at the moment, so I think Ferrari were quite lucky there because they were struggling a lot in the first stint, and then they were okay on the hard tyres. But, nevertheless, I think it has been a tricky weekend for Aston.
"We were underperforming a bit compared to the first three races, DRS problems as well, and even with that we were still one second from the podium, one second from Charles."
He concluded: "And Ferrari, they did have a very good weekend - pole position on both qualifying and things like that. And, even with that, we are still one second from them, so it shows that Aston Martin is never giving up on Sundays."
READ MORE: Perez relieved his tyre 'didn't blow up' en route to becoming first ever multiple Azerbaijan GP winner
When asked to preview next weekend's race in Miami, Alonso said: "I think Miami is going to be a different thing again. It's going to be track-related now. I think the performance - Mercedes, Ferrari and Aston Martin - are so close together that every weekend is going to be different, making one of the teams a little bit ahead depending [on] the characteristics.
"I don't know yet if Miami will be good for us or not. If it's hot as it should be and there's a lot of degradation that's normally good news for us."
As for Stroll, it was an eventful race as he collided with the barrier at Turn 5, and also went wide at Turn 16, causing him to lose sixth position to Hamilton. The Canadian admitted he did not feel "comfortable" driving the AMR23 on Sunday.
"It's always tough around here," Stroll explained. "Like, you saw a little bit of a misjudgment and you can hit the wall and end your day pretty quick. Fortunately, I got away with that one. Not feeling super comfortable in the car today.
AS IT HAPPENED: Follow all the action from the 2023 Azerbaijan Grand Prix
"I hit the wall and then I had a moment out of 16, Lewis got me out of [Turn] 16 and I didn't really have great pace throughout the race. So, some stuff to look into before Miami.
"But, nevertheless, a positive day for the team. Good points were scored and considering it was a challenging weekend for us from the beginning."