Ferrari's China team orders set 'complicated' precedent – Mercedes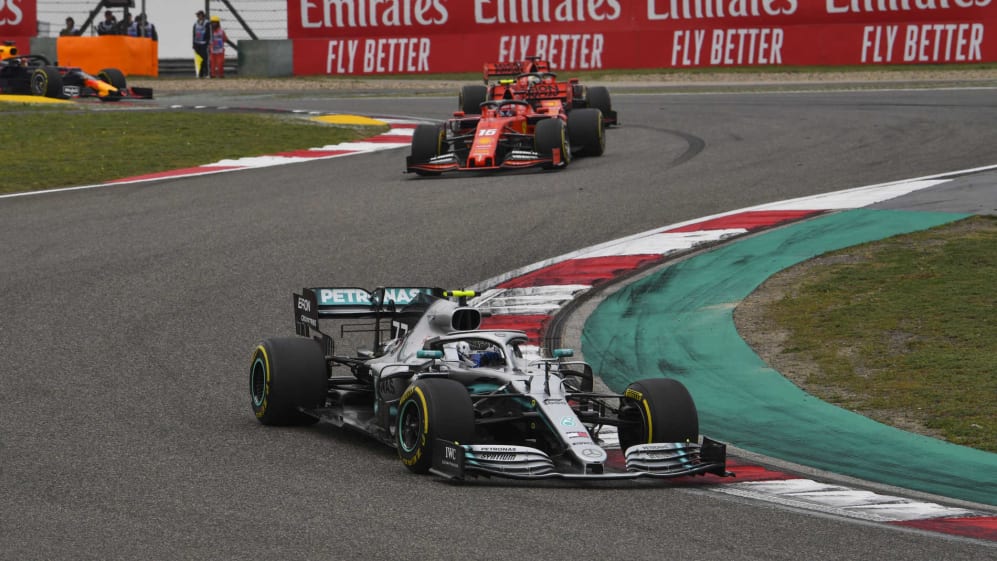 Not for the first time, and probably not for the last time, Ferrari issued team orders in China, with Charles Leclerc instructed to move over for Sebastian Vettel during the Chinese Grand Prix. It was the third race in succession that the Scuderia had employed the tactic – and rival Mercedes team boss Toto Wolff reckons the approach has the potential to open "a can of worms"…
Ferrari have admitted that in 50-50 situations, four-time world champion Vettel will get priority over Leclerc. The Monegasque was asked to give up third, which he had taken from Vettel at the start, so that the German – who had told the team he was quicker – could attempt to keep pace with the Silver Arrows.
READ MORE: Ferrari say Vettel still has priority over Leclerc in 50-50 situations
Vettel ultimately failed to do so and was in fact slower when he got in front. Ferrari Team Principal Mattia Binotto went on to defend the switch, which ultimately led to Vettel taking third and Leclerc dropping to fifth after being left vulnerable to the undercut from Red Bull's Max Verstappen.
When asked for his thoughts on Ferrari's use of team orders in China, Mercedes team boss Toto Wolff said: "That's a tricky situation of course, because you would like to have the quicker car hunting down your opponents. Sebastian said that he had the quicker car at that stage, so they reverted the order. I can understand that somehow.
"Nevertheless, once you start doing these things, it becomes very complicated, because you start to set a precedent and you're opening up a can of worms, and then you might have to call every single race that the car is behind would say 'I can go quicker'."
READ MORE: 'We had to do whatever we could' - Ferrari explain why they switched Leclerc and Vettel in China
Mercedes are no strangers to using team orders, with the Silver Arrows having famously asked race leader Valtteri Bottas to move over for championship leader Lewis Hamilton in Russia last year. It meant Hamilton gained seven points in his battle for the title with Vettel, which was reaching the closing stages.
"It's not an easy situation," said Wolff. "We have been there with Nico [Rosberg] and Lewis, and we have been there with Valtteri and Lewis as well... So it's not a Ferrari problem alone. Every team has that issue if you have two alpha drivers."
Mercedes' trio of one-twos so far in 2019, compared to Ferrari's two third places and four points finishes, mean they lead the constructors' championship on 130 points, 57 clear of Ferrari with 18 races to go.