FIA Friday press conference - Italy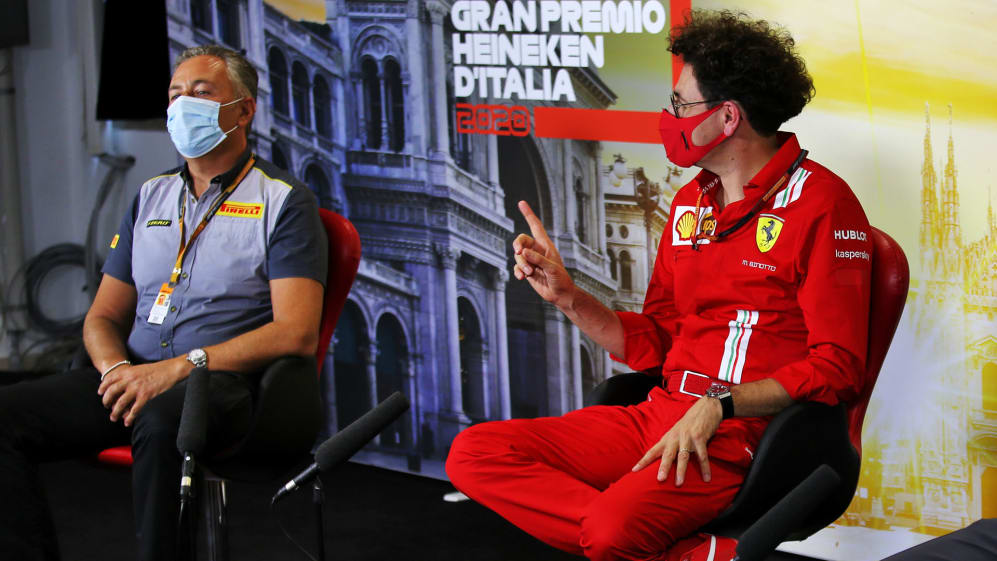 TEAM REPRESENTATIVES – Mario ISOLA (Pirelli), Mattia BINOTTO (Ferrari), Andreas Seidl (McLaren)
Q: Let's start, if we may, by talking about Williams. Can we get each of your thoughts on yesterday's news that the Williams family is leaving Formula 1 after this weekend. Andreas, you worked with Frank in the 2000s, perhaps we could start with you please.
Andreas Seidl: Yeah, first of all, obviously sad news to know that the Williams family is not involved any more in Formula 1 in the future. At the same time also positive news that, first of all, the Williams name stays in Formula 1 as far as I understand. For the future in front of us for Formula 1 there is actually interest of investors to join. And last but not least, I think it is very important for the employees as well in the Williams team that they know they have a good future. And then, regarding my personal experience with Williams. It was obviously great for me as a young, and keen engine engineer to learn my way in motorsport in a Williams garage. I always admired this unbelievable commitment and passion all these guys had at Williams in the garage, which was a great education for me. And what was simply inspiring for me was how Frank, as a team principal at this time, was also interacting on the human side with his people. I still remember when he was coming in the garage every morning, saying hello to everyone, calling out the name also, and exactly the same again each evening. That's something that, yeah, I still admire and was very inspirational for me.
Mattia, you've had a constant rivalry with Williams throughout your tenure at Ferrari.
Mattia Binotto: If I think of Williams I cannot forget all the challenges we have as Scuderia Ferrari. Our history, Williams is part of the history, always a very fair battle, a very fair challenge. I think that Williams has contributed to the F1 of today. Williams certainly is an important name, an important family for our sport so somehow it's maybe sad but it's also important and great to know that the Williams name will remain in F1 for the future because I think, as I said, it's really part of the history and as Ferrari we can only remember the great challenge we had with them.
Q: And Mario?
Mario Isola: I agree with them. I remember Maldonado's victory in 2012. It was our second year in Formula 1. Obviously I have a lot of fond memories as a Formula 1 fan but my direct involvement with them was since 2011. It's great that the new owner wants to keep the same name. I hope they can keep the same passion. I read what Claire said yesterday to guarantee a bright future of the team. It is hopefully the right decision and I wish them all the best because they deserve a better future than the last couple of years.
Q: Andreas, Carlos said yesterday that he's concerned about reliability, believing that he's lost up to 30 points this year and that he's had only two clean races. Would you agree with that assessment?
AS: First of all, I fully understand that he's disappointed that he lost out on many points this year so far but we share this disappointment because we lost the points as well for the team. And in the end it's always important to simply stay to the facts and look into the details of what actually happened. I think in terms of reliability, the issue was actually only the last race where he couldn't even start the race and lost out on many points after an engine issue. But then we had other topics as well. We had the tyre failure in Silverstone where he lost a lot of points. But also on the team side, not everything went to plan. We lost out on some points with issues we had at the pitstops early in the season and that's obviously something to look into. And, as always, as I said, it's important to stick to the facts, analyse in detail what happened and make sure. And it doesn't matter who was at fault to simply try to do better and avoid it. I'm sure that also with the way Carlos is approaching the situation within the team we will still have a lot of good results in front of us together with him until the end of the season.
Q: Mattia, coming to you. Spa was probably the team's most difficult race of the season so far. Did the post-race debrief reveal anything that will help you this weekend here at Monza?
MB: Sunday we had a long debriefing back from Spa. I think it was only a very few days to analyse because in the meantime we had to prepare Monza, to come here and be somehow ready for the race weekend. I think Spa is a difficult circuit for our car package today. It's a difficult circuit because of power, how much it is sensitive to power and aero efficiency. So, I think it did not come as a surprise, our bad performance in Spa, knowing where our weaknesses are today. We could have done better, I believe so, I think that we started in a bad position on Friday. I think we didn't optimise our entire full package there. And when you start behind on the grid the race is certainly a lot more difficult. So, we could have done a better job all through the weekend – but certainly it would have been anyway a difficult race for us around Spa. If I look at the entire season, hopefully the worst one.
Q: Coming to you Mario, it's been announced recently that you'll host a 30-minute development test at the Portuguese Grand Prix. What are the plans for that?
MI: Obviously we have collected a lot of information from Silverstone and Spa and we decided to postpone the tests that were planned at the second race in Silverstone and at Barcelona, to redesign some prototypes. The idea to slightly revise the construction for next year. As you said, it's only 30 minutes. We will supply different compounds to different teams in order to try to collect as much information as we can to define the tyre for next year. So, this is the plan for Portimão. Obviously it's a new track. We don't have a lot of data from Portimão but from now onwards we have a lot of new tracks so we had to decide on which track we wanted to test and Portimão is a high severity circuit where we probably find some good weather and that's why we decided to nominate Portimão for our test.
VIDEO CONFERENCE
Q: (Christian Menath – motorsport-magazin.com) Question for Mattia. Ferrari is struggling a lot at the moment but Sebastian seems to have even more problems. He had a new chassis in Spain but that didn't' help that much. Do you have an explanation why he's more struggling than Charles – or is it just a normal gap between the two drivers.
MB: I think at first we should say that Charles is very fast at the moment and when you are comparing yourself to such a fast driver is never easy, even if you are a four-time World Champion. I think that Seb is struggling a bit with braking stability. He's not too confident with the car and certainly it's down to us to help him. We know that he can be very fast, we know that he can be as fast as Charles but at the moment, if we look back at the last races, somehow sometimes yes, he drove well and he could drive as fast as he could – but sometimes it was not the case. There is nothing really specific. It's really him to find the right confidence with the car all through the weekend, to have a great quali and possibly to start as much ahead as he can.
Q: (Dieter Rencken – Racing Lines) Mattia, could you confirm whether or not you confirmed your appeal against the Racing Point reprimand from the Spa grand prix, and also your reasons for continuing with the appeal over the original verdict please?
MB: So yes, we confirmed our protest, so have appealed the decision of the stewards at the past races. The reason is that we are fully convinced that what Racing Point did this season is not right. We believe that's against the principles of our sport and we believe that cannot happen in the future. In that respect we are asking for and seeking clarity with the FIA. If, let me say, regulations will be put in place, a Technical Directive for the future in 2021 where we are pretty sure it will not be possible to copy, eventually we are ready to withdraw our appeal.
Q: (David Tremayne – Grand Prix +) This question please to Mattia and Andreas. Toto Wolff recently suggested a rival had been spotted trying to scan Mercedes whole car. Can I ask each of you what your feelings are about the morality of that – and how it can be stamped out.
AS: Obviously I can't comment on that because I haven't seen it and I just want to reiterate what we said also two weeks ago. For us, we are happy with the outcome of all these discussions we had since Racing Point has put this car on the track the first time in Barcelona. There's a commitment from all stakeholders in Formula 1 that they don't want to see something like this happening again in the future. That was important for us, for our existence as a team and also for our competitiveness also in the future because we don't have any of these, let's say, cooperations in place. Therefore, nothing to add really.
Mattia?
MB: Not really much to say. I'm not too aware of the facts. I think that looking at competitors, trying to understand what they do, trying to study their car has been part of F1 history and I do not see anything bad in that. I think that to copy an entire design, that's a different against the spirit because that's IP. Me, myself, had I been Mercedes, I would have protested someone copying myself. It's not within the spirit. So I think that, I don't know, taking pictures has always been done and I don't see anything wrong in it, in the fact itself.
Q: (Luke Smith – Autosport) Question for Mattia. In July, Ferrari announced there was a restructuring of the technical department in response to the poor start to the season. I was just wondering how happy are you with how that has gone. Are there any future plans to bring in any more reinforcements on that side. Andy Cowell, for example, from Mercedes, he's a free agent for next year. Are there any other sort of ringers, I guess, you're looking to bring in on your technical team.
MB: So, obviously as we said, in July, we're restructuring the technical department. Now it's only a very little time since it happened and I think normally to see the results of a reorganisation it takes some more time. I'm pretty happy, the way I can feel that the people feel responsible, understand the matter of urgency of our situation and are working hard, are committed, united in the way to progress the car and somehow progress our competitiveness. So, I think that that's great. In terms of new people joining Ferrari in the future. I think in F1 you can never be self-satisfied, so if there is anyone that can bring added-value to the team, it's our responsibility to look for it and eventually to do it. You mentioned Andy Cowell. As far as I'm aware, he's still working in Mercedes currently but certainly there are great names in F1. Is there someone very soon joining Ferrari? It's not the case.
Q: (Adam Cooper – motorsport.com) Question for Mattia on the engine mode Technical Directive. Obviously it was delayed from Spa. What sort of preparations have you made for it? Do you come here knowing exactly what you're going to run on Saturday afternoon and Sunday – or is that a decision you make Saturday lunchtime. It has to be more complicated for you because you've got two customer teams and obviously you have to run the same modes across all six engines.
MB: Maybe starting from the end, I don't think it's more complicated for us. We always run the same engine modes and same specification on our customer teams so whatever we will do for Ferrari will be applied to them. The Technical Directive has certainly affected all power unit manufacturers but maybe not all of them in the same entity. What we did since then is run our proper simulations, understand what was the optimum engine modes that can be used for the entire quali and race distance, knowing that the engine obviously needs to be used for several races. Eventually you will not use the same engine mode at every single race: there are races like in Monza where you may afford a higher performance mode while in other races you may decide to be more protective because it is less sensitive in terms of power. But we are as well running dyno simulations, reliability homologations at the bench to optimise our engine package towards a single engine mode. For what is Monza-related, I think what will be used here is not too far to what we're already using in the past in the quali and that will be for the entire race distance, obviously.
Q: Andreas, how much sim work have you been able to do with Renault ahead of this change in the engine modes?
AS: Obviously I think with us being a customer the question is better addressed to Renault. We're simply curious to find out what it does in terms of the pecking order also – especially in the battle we're in also for this P3 to P6 in the Constructors' Championship. I think to a certain degree each team is having, or was having a kind of qualifying mode and the race mode but we don't know how big is this gap between and for each engine manufacturer. We're interested in how it will pan out and also what the race power is for each team. We will find out on Sunday.
Q: Mario, coming to you, this is the first time we've seen you in this forum since the Sakhir Grand Prix was announced. Bahrain 2. Can you get your thoughts on the layout of that track, and the impact you think it's going to have on tyre performance?
MI: It looks like the second Bahrain race, the Sakhir Grand Prix, is slightly less severe on tyres compared to the first one. We've got some simulations from FOM on that, so we are analysing the simulations also because we have to announce the compound selection quite soon. It's a new layout and, as always happens with a new circuit, we perform some analysis thanks to the support of the teams, providing simulations as well and that's all. I don't have any other information on that.
Q: (Scott Mitchell – The Race) Mattia. A few races ago, when you talked about the impact of FIA clarifications and Technical Directives on Ferrari and other teams, you said there were still other things that might need clarifying from the FIA. Does this engine mode Technical Directive take care of any of your questions, or do you still think that further clarifications over the engine rules are required?
MB: Clarification towards regulations has always happened and will happen in the future. I'm pretty sure that new Technical Directives may be raised on the issues related to the power unit. Regulations being as well, so complex. So the TD that has been released here for Monza, certainly it's an important one, showing how difficult it is to police the situation, knowing the complexity of the regulation itself. I don't think it will be the last one because it's normal not to be.
Q: (Oleg Karpov – Motorsport.com, via email) Mattia, you talked recently about Mick Schumacher's chances of stepping up to Formula 1, but what about the other academy drivers? Who has impressed you the most so far? And finally, when it comes to promoting them to Formula 1, will the decision solely be based on performance?
MB: I think this season in F2 we have great drivers. We have certainly even three drivers battling for the championship – Robert Shwartman, Callum Ilott and Mick. I think they are all doing very well. They are shown progress compared to last season. For Robert, it's his very first season in F2 and normally when you are a rookie it's certainly more difficult and I think that as a rookie he is doing very well. I think the other two as well are doing well at the moment. Looking ahead, looking to next year, I think all of them merit a place into an F1 seat. But I think as well that the second half of the season will be the most important for them, especially for Robert, because he's a rookie, let's see how he will progress. Finally, will their performance be the only one. No, I think more important for a driver is to see he is developing and i think that he's showing the capacity of developing himself and to make progress.
Q: (Edd Straw – The Race) Mattia, obviously though the car performance isn't what you wanted it's clear that Charles' performances have been very strong this year. How big a step has he taken since last year and in what areas has he improved his execution of race weekends?
MB: I think that Charles is a great driver, no doubts. We all know that. He is a fantastic talent, he's very fast, he's capable of battling, protecting the position, overtaking and I think when he is on track he is certainly fantastic. I think there is nothing to prove or to demonstrate on that one. He is still very young and he still needs to get experience and he needs to develop as a man, as a person, as a leader, finally, for the team. And if there is anything he is focused on at the moment it is really developing his leadership. Developing leadership means as well to help the team to progress and to get better results in the future and I think he is doing well in that respect.
Q: Andreas, can we get your thoughts on how Lando Norris has improved from last year to this?
AS: Yeah, obviously I'm very happy with what I'm seeing so far this year. I think he had a very strong rookie season already last year. But it was also clear, which is also normal for a rookie going into F1, that there were things at the end of the season that he could improve for this year. I think he did a great job over the winter, together with his team and his engineers, in order to digest his first season. They made definitely the right conclusions and came back a lot stronger already from the first winter test onward and I think the way he has stepped up now as a person and as a driver inside the car but also outside the car in terms of interaction with the team I'm very happy with. And I think the results show that he made this step, which you also expect from a young guy. If you want become a top driver in the future you have to make this step now and I am confident that we will have a great future with him at McLaren.
Q: (Dieter Rencken – Racing Lines) A question for Mario. If my memory serves me right, when the current tyre contract was negotiated it was for four years – one year under 13-inch and three years under 18-inch tyres. Obviously now with COVID we have a situation where we have two years on 13 and potentially two on 18. Will you be renegotiating so that you have three years to spread the costs of developing the 18-inch tyres.
MI: As you know there is a tender. The tender duration was for four years. Nobody was in a position to predict what happened with the COVID-19 situation. You are right to say the plan was to have three years with 18 inches. It's a big investment for us, in terms of development, having a new tyre like that. But also it was a very good product to promote our image, our branding and also the technology transfer from motorsport to normal production. Now we have a different situation. We haven't spoken to F1 yet, but the tender is for four years, so at the moment we are in Formula 1 until 2023.
Q: (Scott Mitchell – The Race) Mattia, the manufacturers were also asked to supply some information relating to the design and architecture of their ERS recently. Do you think this is going to be a big step in helping the FIA make sure that they can police these rules effectively?
MB: A big step? Not sure. I don't know actually. It's normal to supply to the FIA information if they are required. If after so many years they are still looking for such information it means that they systems, the battery packs, the ERS is certainly very complicated to be understood. I see it as a normal action. I do not see it as a game changer.
TEAM REPRESENTATIVES – Toto WOLFF (Mercedes), Claire WILLIAMS (Williams), Cyril ABITEBOUL (Renault)
Q: Claire, if we could start with you. It was a big announcement from you yesterday. The Formula 1 paddock agrees that it won't be the same without your or your family in it. How much will you miss Formula 1?
Claire Williams: Firstly, I would like to say an enormous thank you for all the support that we have received since making the announcement and I think we felt quite overwhelmed by it. Williams has obviously contributed a huge amount to Formula 1. Certainly I think the legacy that Frank and Patrick have left behind is nothing short of extraordinary, what they have achieved. Not just the support we have received in the paddock, which we're enormously grateful for, but also the support we have received from our fans. We have some of the best fans out there and yesterday they were contacting us in their thousands and it was lovely to see and we thank them enormously for all of their support.
Q: How much will you miss Formula 1?
CW: I think you can probably imaging how much I will miss Formula 1 and how much the family will miss Formula 1. We have been in this sport for more than four decades and we have given it our all. I think we have all felt enormously privileged for the fact that we have had the time we have had in this sport, that we haver even been in this sport. I know certainly from my perspective, I've always felt incredibly lucky that I was born into the Williams family, that I have grown up in this magical world that we all get to live in and work in every day; that I got to grow up around Williams and the incredible people that we have had there past and present. I will miss the people the most. It's quite emotional for us. This has been our life for so many years. It's what has defined us and it is who we are. But this is the start of a new chapter, not just for Williams but for our family as well.
Q: Thank you Claire. Toto, if I could come to you next please. You've had many dealings with Frank and Claire over the years and could we just get your reaction the news that the family is leaving Formula 1?
Toto Wolff: The family have been the founders of this team and I will always hold the team high up. It was the start of my own journey in Formula 1. I remember the first sentence that Frank Williams told me when I went there in 2009 and that was "somebody told me that you can help repay my mortgage". This is how he is and he is super straightforward and I ended up with a shareholding in the team. I met Claire and without it meaning it in any way patronising, I thought it was very important that Claire was on the board and I'm impressed on how she grew there and what she has achieved, together with her father. I will never forget our last win in 2012 with Pastor, which was an incredible moment, also because your mum was there, and probably one of my best moments in Formula 1.
Q: Cyril, Renault has a lot of heritage in the sport, much of it intertwined with Williams, so please can we get your thoughts on this?
Cyril Abiteboul: Obviously it's an emotional moment, because as you say, the legacy that the team is carrying today under the Renault name has had its greatest moment, also as an engine supplier, particularly as an engine supplier of Williams. They were instrumental to building Renault's reputation in the world – in the world of Formula 1 but also in the automotive world as a large OEM – so it's been great sporting moments but also great business moments. We have for instance the Clio Williams, that is still a very fancy car the people love. It has clearly been a milestone of the sport but also on the road. Myself, I fell personally in love with Formula 1 during this period. Myself, one of my best memories is when I announced in Viry that we had done an engine deal again with Williams. That win of Pastor was actually not with a Mercedes engine but with a Renault engine. That was an amazing moment also for us. It's good that the name I understand it staying but also a bit sad when the people that are carrying the name are leaving. But it's good that the name stays and that there is a way forward for the Williams name and also the factory and the group of people.
VIDEO CONFERENCE
Q: (Dieter Rencken – Racing Lines) Toto, you said on the 9th of August you said: "obviously, our reputation is very important. If someone thinks we have done something wrong they should protest and we are happy to go to court." Since then variously people, team principals past and present etc have made potentially defamatory remarks about the team's involvement or possible involvement with Racing Point, some saying that you supplied data, wind tunnel models, full-sized cars. Have you taken any action or not?
TW: Of course when there are defamatory comments being put online or that are being taken on air we have reacted appropriately. I get really upset when unfounded rumours find their way into the press, especially when we are, I think, a very straightforward, very compliant organisation because obviously we represent one of the most iconic car brands in the world. But, you know, things are often being put out of context in the press, they are being tweaked, people are making up rumours, the sources are unreliable sometimes, but as long as it doesn't damage the reputation of Mercedes then you have to take it with a pinch of salt.
Q: (Luke Smith – Autosport) A question for Cyril: the Renault Group have announced that you will be heading up the Alpine brand moving forward. Can you explain what's going on there? Are we going to see a closer alliance between the Renault F1 operation and Alpine, even a renaming of the Renault F1 squad and just what the situation is?
CA: Thank you for the question. Obviously I need to be a bit more specific. What Renault has announced is really two things. First, as you know, we have a new CEO Luca De Meo come in with clearly a great vision for the group but in particular to move from value driven to a value driven organisation (sic), positioning clearly four brands at the heart of the system. One thing that he has announced is that he has big expectations indeed for Alpine and what he has asked me to do as a mission, on top of what I am currently doing, running the team, is to provide a couple of suggestions in order to build an organisation around that brand. Right now that brand is one car, one model – A110 – but we want do more and that needs an organisation: and engineering department, a product department, a sales and marketing and communication department. So that's what I'd like to do. That's what I've done for the team: building an infrastructure and a platform. That's what I will be doing on the top. But that has absolutely no implication on the marketing strategy. It will be up to him to decide what way he wants to market the different brands. I'm just running the team.
Q: (Scott Mitchell – The Race) Just to follow up on that. Given the Alpine brand's history would it not make sense for it to be absorbed as the sporting part of Renault as a company? And depending on the direction you want to go, is it effectively a decision on whether or not Renault Sport continues as a brand or Alpine takes over?
CA: I'm afraid I need to say these questions are not for me, these questions are corporate strategy questions for the CEO, so I can only say that as soon as you have access to him you can ask him. My two cents is that with the new Concorde Agreement we have finally the possibility to have a stable platform in Formula 1, a great marketing platform. Again, the way we want to make use of that platform will be up for the CEO. We have a flexible platform; we have different brands. Probably rationalisation will be one of the things we need to do given the group financial result. We need to optimise the way we do things. But first there is a strategy to define and it's not up to me to disclose.
Q: (Alan Baldwin – Reuters) Claire, you have been the only female team boss, or the only woman to run a team recently and you have given opportunities to female drivers such as Susie Wolff and Jamie Chadwick. I'm sorry to see you go and I just wondered if you feel that your departure is a setback for the aim of maybe one day getting a woman back into Formula 1 as a driver and also within the sport a role model. You are an important role model for many women.
CW: Thank you Alan, I appreciate that. We've done a huge amount of work at Williams in order to promote greater diversity across the board, with a particular focus on gender diversity. I feel that that work has been enormously successful but it will continue, whether I'm there or not. The teams we have in place at Williams now running those programmes are incredibly passionate about it and I know that they will continue that work. But I do think Formula 1 has changed over the last handful of years. I think that the world has changed and in response to that Formula 1 has become much more diverse. We see many more women working in our sport and I know that will continue. I know that my fellow team principals are now thinking about more women across the board and it's something that is on everybody's agenda. But I've always believed that this sport should be based on a meritocracy and I think only the best people work in this sport and that should continue to be the case. We do need more women coming in. As I've said, we have seen more women coming into Formula 1 over the past few years and I hope that work will continue and I absolutely believe that it will.
Q: (Erik van Haren – De Telegraaf, via email) Cyril, do you now believe that Renault now has the strongest engine after Mercedes and how satisfying is that?
CA: The strongest after Mercedes? No, I would be satisfied if we had the strongest engine full stop. There are only four! So P2 out of four is not a sufficient achievement! No, but more seriously, I think it is very difficult to know where things are standing. There is such a variation from one track to the next, where you operate, and also through the life of the engine. These things are monsters of technology and the more we push, the more we see new opportunities and that's very exciting to see. At the same time it is insane. The cost of the technology is absolutely insane. Frankly, right now, my biggest concern is given the expectation that we set after Spa to see what we can achieve in Monza, in particular with the qualifying modes that will go away and I'm very concerned that it could have the opposite effect of what people are expecting.
Q: Do you think this is your best opportunity for a podium this season?
CA: No. No, I think Spa was probably one of our best tracks from a characteristic perspective. Monza should be OK-ish. I'm not particularly excited by what I have seen this morning. So again, let's remain extremely focused and continue the work and more importantly let's try to have a car that is a bit more consistent across the different tracks. It's only through that condition that we will be able to progress into the championship.
Q: (Andrew Benson - BBC) Cyril, as a former of Red Bull, I wonder if you had any insight as to why they seem to be stuck in this pattern of starting seasons slowly and having to catch up to Mercedes afterwards?
CA: How harsh do you want me to be in that answer? No, I think Red Bull is a fantastic team… (section missing)… one team, with one mindset and we have failed to do that altogether, just looks like they are not able to do much better with Honda but it just shows that the level of complexity and perfection that is required in Formula 1 in order to have to win and in particular to beat Mercedes.
Q: Toto, can we put this to you please, just your assessment of Red Bull this season, who look like being your closest rivals?
TW: Red Bull has all the resource, human resource and financial resource to compete at the very front. I think that they had those great years with Renault, starting in 2010 with four consecutive championships – we are having a run at the moment. As Cyril said, it's about putting all things together, every parameter is needed in order to get there and that is not only the engine and chassis relationship that needs to be strong but it's also about putting all components, all these marginal gains together in order to perform. But I very much think this can be a cyclical sport or at least in the past, it has been a cyclical sport and it's something that we are very well aware of so we are trying to not rest on any laurels but just focus on what lies ahead of us.
Q: (Jon McEvoy – Daily Mail) Toto, Lewis said last week that he would be bored watching the ease with which he wins. Do you think Formula 1 should: a) worry about that and b) does it in a bizarre way undermine all that Lewis is doing in that it seems to the outside world that it seen that he's in a Mercedes that is so dominant?
TW: Of course you need to define what Formula 1 stands for and in my opinion it's very much the majority of the DNA is the sport and sport works on meritocracy but the sport has also to deliver entertainment and in that respect, obviously, if Usain Bolt wins every single race and Bayern Munich wins every single championship, it can come to a point that the result becomes very predictable and less variable and this is something that the fans cheer for. It's always the underdog, who is always the point of interest; everybody wants to see the underdog perform and we are very well aware of that dynamic and therefore we are coming up and we will come up with suggestions that must not necessarily impact our own performance. These things are done anyway, but all the other teams and the FIA and Liberty, in order to slow us down a little bit, but in things where we can use the current resource to make it more exciting. One of the ideas that I voiced last week was to open up the intercom channels between the pit wall and the garage, which would show how much drama is actually behind winning a race. When you see Spa and people think that it's a walk in the park, actually it wasn't at all. We had reliability issues, we were not sure whether we could make it on a one stop like many other teams and if that would be transmitted to the broadcasters, that would create more excitement.
Q: Claire, can I put this to you? Williams has dominated Formula 1 in the past. Do you think one team dominance is boring?
CW: Well, not if it's Williams, no, clearly. If it's another team, then yeah, it's super boring. But no, to be honest I didn't see those comments that Lewis said but I think Lewis is probably being incredibly gracious in his commentary. I think that… I've always been a massive fan of his; he is an extraordinary racing driver. I wish that we could have had him in a Williams at some point but that wasn't to be. But I've always believed that this sport is about the best rising to the top, that's what all sport is about and really I don't think we should be complaining that Mercedes has been so dominant. They've done an extraordinary job and I'm incredibly jealous of the job that they've done. I wish that I could have done the same thing. It's up to the rest of us to do a better job and to fight harder to then go and fight against Mercedes and to give them a challenge over the course of a weekend. But I also agree with Toto that I think there may be some more that we can do to expose what is going on behind the scenes over the course of a Grand Prix, to see the fight that these people – whether they be on the pit wall, whether they be in the cockpit – are having to put in order to take their victories on a Sunday afternoon, because it's not as easy as just driving round and round and putting your foot down and taking the first place on a Sunday afternoon. There's a huge amount that goes into it that a lot of the fans don't get to see.
Q: Cyril, anything you'd like to add?
CA: I was… without willing to… we open a controversy, I don't mind, again, huge respect for what Mercedes has done, playing entirely by the book but what I think sometimes we are harming ourselves when you know, you're just basically able to inspire yourself for your previous car and you're suddenly faster than everyone else and obviously I'm making a point to what Racing Point has done and I'm not talking about… I'm not questioning the legality, that's not my point, but I think Formula 1 is not necessarily doing itself any good when it does that. When Nico Hulkenberg, who I love, is coming from Majorca and jumping into the car and doing the second row in Silverstone without any preparation, we are not doing ourselves any good. The driver needs to be at the centre of it, of the thing, but we can't only be talking about it, we need to act and we need to have a set of regulations that really makes it happen and demonstrates it.
Q: (Dieter Rencken – Racing Lines) Claire, first allow me to express my personal regret that it has come to this. In 1977, 90% were independents. At the moment, as of last week, you were the last independent left standing in Formula 1. Has Formula 1 evolved in such a way that a man and a technical director could take their life savings and get into Formula 1? Are those days over, do you believe?
CW: I think, in reality, they probably are and I think that's clearly a great shame because I think that the very foundation is that this sport has been built on those kind of individuals but the world changes and the world has changed dramatically over the past… even handful of years that we've been racing in Formula 1. I would like to make the point that I think that we have received an awful lot of criticism for some of the decisions that we've taken at Williams over the past handful of years but until you actually see what goes on behind the scenes of a Formula 1, particularly operating in the environment in which we find ourselves operating in at the moment in this sport, that has become ever harsher, predominantly courtesy of the last Concorde Agreement, I think our team has done an extraordinary job… all the people who have worked behind the scenes in order to just keep our team alive and to keep the fight as an independent team and I'm very proud of that work and it's never something that I will regret having made decisions to ensure that we have retained that independence over the last few years. But I do think that Formula 1 has changed and I think it would be enormously hard for anyone of Frank's ilk back from the '70s to start with nothing. It would just be absolutely impossible. Another reason why I'm so pleased that the Concorde Agreement has been finalised because it is going to help create a much more level placing field and make it easier on teams like ours to be able to be successful in the future but also be sustainable in the future as well.
Q: (Alan Baldwin – Reuters) Cyril, you're now going to be heading up one of basically four divisions at Renault. Is there any question of your role changing in Formula 1: maybe delegate more, maybe somebody else takes over the team or… because it does seem like you're going to be spread quite thinly?
CA: That's OK. I can work a lot. No, right now, what I've been asked to do is a mission with a set of proposals in order to structure our brand. I've not been asked to run the brand so it's not in any way a permanent appointment whatsoever so that's what I will be focusing some of the spare that I have, given what I'm doing for Formula 1 and there is no question of change of team leadership for the time being, for the time that I do this mission, obviously.
Q: (Chris Medland – Racer) Claire, the press release yesterday said that Dorilton encouraged you to continue as a family within the team and we've now seen the make-up of the board of directors. Has there been or will there be any handover where you get to outline your views and recommendations for the team's future or do you feel that the new ownership have their own plans that are pre-set?
CW: There were a lot of rumours swirling around in Spa about my tenure within the team and Dorilton, I would like to make it clear, wanted me to stay. This was my decision. I felt that it was the right choice for me to step away. I've forgotten the rest of the question! Yes, there will be a period of transition. Sorry Chris. I'm going to be working… this is obviously going to be my last race weekend but I am going to be working a few days a week over the course of the next few weeks in order to hand over in order to talk to Dorilton about the team, the inner workings of the team and the expertise that they need to come in. Obviously they're in the business already, they're doing their due diligence, they're reviewing the capabilities and they are looking at what they can do in order to invest into the business and I will be helping them with that to advise them over the coming weeks.
Q: (Scott Mitchell – The Race) For Toto and Cyril on behalf of the engine companies in Formula 1. We have the new TD here this weekend outlining how engine modes need to work over race weekends going forward. Do you think that there is enough clarity now over what is and isn't allowed within the complex nature of these engines? Do you think there is any suggestion of wrong-doing and do you welcome the FIA requesting information from the engine manufacturers about the ERS designs of their respective packages?
TW: I think obviously we got a little bit frustrated with this decision because we have optimised our engine very much to perform near to the limits in qualifying. That was one of the targets we set ourselves, especially for this year, and when this is taken away, it is obviously frustrating. But on the other side I understand the dynamics in this sport, not the first time that teams that run away with a championship were penalised or were trying to be slowed down by the other teams, by the FIA and by the commercial rights holder and so I very much understand that dynamic. The second point is that we as a team, we took it the right way in a sportsmanship and I remember Howell who runs the engine group now, to say OK, if that's it, then we will be running qualifying mode all through the race next year and it's maybe sometimes you need this extra motivation to push yourself over the limits and like Cyril said, there may be an advantage of this TD for us, we will see how much we lose in relative performance to the other teams but we are certainly sure that we will gain a lot of race time on Sundays, because we can simply run the engine much harder. The damage matrix of not running qualifying modes in qualifying allows us to stretch the limit much more in the race and that brings a lot of race time so let's see what it is, I don't want to set expectations too high but on Sunday we will have a clearer picture.
CA: No, just on the question, if we think that it's clear enough. Not going back on the substance, or on the merit. There has been with the engine, very limited amount of time to try and police something that is highly complex. I still feel that the FIA will probably have to act as a bit of a referee in certain occasions because we are trying to regulate something that is so complex with defaults modes, with sensors that can fail, therefore the engine that needs to react and that could be perceived as a change of mode so it's going to actually be quite difficult to police and what's interesting is that there is with that plus also with other discussions that are going on with other topics, that the job that FIA starting to move on from being making sure that the only complies with what is written in the regulations so again, becoming a referee and having to look at the actual circumstance in a more subjective way so it would be interesting to see if we are all prepared to live with the consequence of that.
Q: Claire, this is the last time we're going to see you in an FIA press conference so I would like to leave the last word to you. Perhaps there's a message to the fans and friends of the Williams family around the world.
CW: You've put me on the spot a bit, Tom. Thank you for the opportunity. As I said earlier, we have had an extraordinary time in this sport. We have loved every minute of it. We've obviously had some amazing highs. We've equally had an awful lot of lows. I feel a bit that our family has given a huge amount to this sport. I think Frank… what he has achieved I will forever be in awe of and I know that there are probably many fans around the world as well. I hope that those fans continue to support our team like they've done over the four decades that we've been in Formula 1. We thank them enormously but we equally thank everybody that we've met along the way that have been so supportive of us. We thank everybody in the paddock that we've had such a wonderful time getting to know and working alongside. There are so many people I could thank but the list would be endless and we'd be here all afternoon and we've got practice to get to but I most of all wish our team well. This is obviously incredibly emotional. It's a very sad weekend for us but as I said, it feels the right time so leave but we will always wish our team well. We wish the new owners well and we will always follow this sport, this sport that has given us so much, a sport that we have been in for the pure love of it and for no other reason and we wish everybody in this sport great success in the future and we will all be watching.