FIA post-qualifying press conference - Las Vegas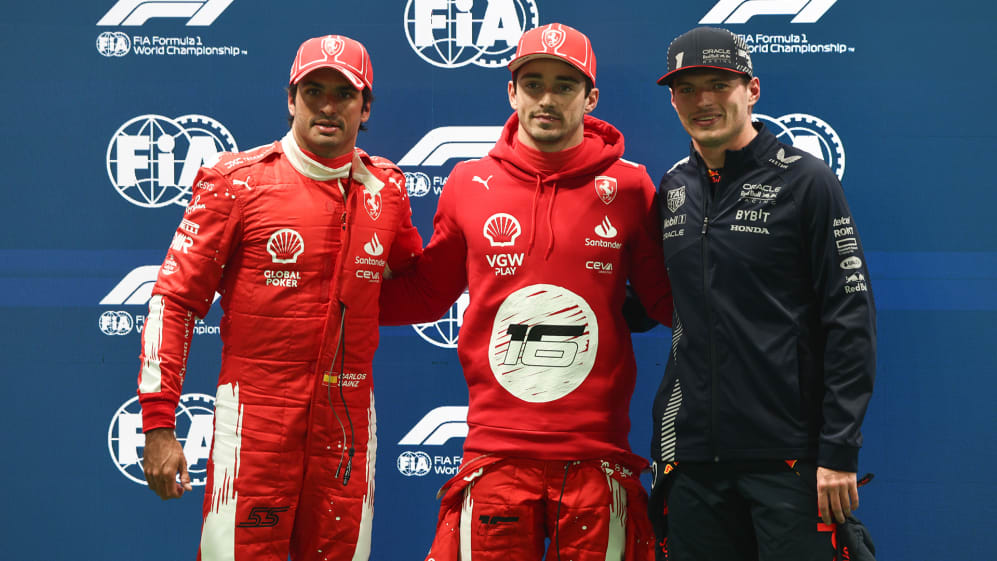 DRIVERS
1 – Charles LECLERC (Ferrari), 2 – Carlos SAINZ (Ferrari), 3 – Max VERSTAPPEN (Red Bull Racing)
TRACK INTERVIEWS
(Conducted by James Hinchcliffe)
Q: Max Verstappen P3 for the race tomorrow, but it looked a little tricky out there – low temperatures, low grip. How tough is it to find that ultimate limit when the consequences are so high with all these walls?
Max VERSTAPPEN: Yeah, exactly that. I mean, of course, it's quite cold out there, it's quite slippery. And of course, being on the street circuit as well, you're trying to get as close as you can to the walls. But that's not always very straightforward. But it was enjoyable out there. I do think that we maximised the day, I think already the whole weekend. So far, we've been lacking a little bit of one lap performance. And that was also quite clear in qualifying. I hope, of course, tomorrow in the race that we are good on the tyres again and then we can work our way forward.
Q: Obviously, no historical data to go into the race with, so how confident are you in the race car that you guys have for tomorrow?
MV: It felt good yesterday. Of course, I would have liked to have a little bit more pace today. But of course, we know that the points are tomorrow and it's going to be a tough one. First one here. You never know that might be Safety Cars. And it's a very long straight. A lot of racing will happen there. And then, of course, I hope we are good on the tyres.
Q: Carlos Sainz, here we are, front row. What a comeback after what happened to you yesterday. Just talk about, first of all, your session and then the team doing such a great job to get you back on track and a nice recovery.
Carlos SAINZ: Yeah, well, first of all, an outstanding job by the whole team. We've dominated the qualifying together, you know, after a tough Friday yesterday, to put together the whole car. Again, to get a front-row lock-out, I think it's incredible. Obviously, I would love to be on pole because it would mean I would start 11th instead of 12th. But I think yeah, we did the maximum that we could today. I'm still disappointed to yesterday. I'm not going to lie. I'm still in a very bad mood. I'm trying not to show it too much. But it is what it is.
Q: You're hiding it well and you certainly hid it well behind the wheel. Like you said, that penalty is going to put you back a little bit but you've run well on the last street circuit that we ran here. What do you think is realistic tomorrow, starting from P12?
CS: Let's see. It depends, obviously, how they start goes, how the graining on the tyres is and then how easy it is to overtake? I think the pace, clearly it looks like we have it this weekend. I would love to be fighting for the win tomorrow with Charles and Max, but unfortunately I'm going to be on a comeback mode or a comeback race. And hopefully I can get to the front at some point and battle with them. But I think it's going to be tricky.
Q: Well, unfortunate for you, but it's going to be fun for everyone to watch because we know the car is fast. Best of luck. Charles Leclerc. For the fifth time in the season and the 23rd time in your career on pole position once again. Charles, just tell us about your ride and how happy you are to be P1.
Charles LECLERC: Of course happy. Yeah, for the first time in Las Vegas, obviously, it's an incredible event and to be starting from pole tomorrow is great. However, I'm a bit disappointed with my laps in Q3, I didn't do a good enough job. But it was enough for P1. So that's all we need. And now full focus on tomorrow to try and put everything together in the race. Normally, that's where we lack most performance. So I hope we can put it all together and win here.
Q: Based on the gaps that we saw in Q2, and then the gap we saw in Q3, from what you said was a bad lap, you must be pretty confident that you have enough in hand to really take the fight to Max and Red Bull tomorrow.
CL: Yeah exactly. I think my best lap was in Q2. The track evolution is big here, so I should have done it in Q3, but I didn't. But again, it's like this and we are starting from pole so I cannot complain.
Q: Just finally. talking about the atmosphere here in Las Vegas, the fans that have sat through everything to be here today to watch you qualify on pole. How's this event treating you?
CL: I mean, I love it. I came here once in Vegas in the past and it was to party, so very different to what I'm doing this weekend. But hopefully we work hard enough in order to win tomorrow and then have a good party to celebrate that win. But apart from that it's amazing to be here and see so many people in town for Formula 1, which is a sport that I love, and to see that how much work has been put into such an event. And I hope it will be a successful one with a good race tomorrow.
PRESS CONFERENCE
Q: Charles, very well done. It's been a very dominant performance by you throughout qualifying and the weekend. Just how good is the Ferrari around this racetrack first of all?
CL: To be honest, I felt confident from the first lap in FP1. So the car has been great. Having said that, we are always very strong in quali. But then we obviously know what our weaknesses are in the race. And this is still to be seen tomorrow. But the car has felt great overall until now. So I really hope we can, we can have a good race
Q: You were fastest in all three segments of qualifying. You did just say a moment ago that Q3 didn't pan out as you'd hoped. Tell us a little bit more about those last two laps.
CL: I'm not happy with Q3, but at the same time, you can only be happy when you're on pole. So I think in Q2, it was probably the best laps I've done in a while. Both of them were really, really good. Then in Q3 I didn't put things together and I was always losing a tenth here and there. But at the end, I managed to do more or less the same lap time as Q2, but I think there was quite a bit of track improvement. So I should have gone faster. The car felt great again. But yeah, it's the way it is. It's always tricky on street tracks, but I enjoyed this qualifying session. I mean, how can you not enjoy when it's going all well like this and the car felt really good again. So it was a good session for us.
Q: How difficult is it to drive the car on the limit around this track? How easy is it to overcook it?
CL: Well, I think what was most difficult was to put the tyres in the right window. As soon as you were a little bit out then the first sector will be miles off. So that was the most tricky part with qualifying. But at the end, I think we did a good jump forward on that. And we prepared qualifying well, because in FP3 we were struggling a lot with the first lap on the tyres. And then in qualifying, we did it well, so we did a really good job as a team.
Q: Alright, let's throw it forward to tomorrow's race. Today's race actually. How much confidence do you have for this Grand Prix now?
CL: Well, the confidence is high because we are starting first. So it's the best position to start from. On the other hand, we know that Red Bull is going to be very strong, and Max obviously is going to be very strong in race pace. But I feel like we've had positive signs this weekend on the high fuel, more than other races. So I hope we can convert that pole position into a win.
Q: And you are the first pole sitter here in Las Vegas this time around. Just a word on the track. How satisfying is it to drive on low fuel?
CL: I think street tracks are my favourites. When I first saw the layout, I was like, this is going to be a boring track. But then from the first laps on the simulator, it felt good and I like the kerb riding there is in 6, 7, 8, 9. Yeah, I think it's a good track. I hope it will produce good racing. Yesterday it wasn't as easy as I would have expected to overtake but let's wait and see tomorrow.
Q: Carlos, coming to you now. What a 24 hours it has been for you. Tough Friday but have you had the same confidence in the car that Charles has?
CS: I think it's fair to say Charles maybe was a step ahead in confidence this weekend. But coming into Q3 I felt like I did a good step. I think, as a team, we didn't, I think, deliver maybe the maximum lap time that the car had available today. I think if I put my all my corners together definitely a 32.5 or something like that was available in the car… Thirty-three or 32? Thirty-two is too much. Thirty-three. What lap time did we do? Something like that. But yeah, look, we're not going to complain. We're first and second in qualifying. We've been flying all weekend, we've dominated every session and yeah, I just wish I could fight for a win tomorrow but unfortunately I'm starting 12th.
Q: Are you surprised by Ferrari's pace?
CS: No, I think when I saw the layout, I think I said it at the beginning of the weekend: except for Turns 1 and 2 everything else is a mix between Monza and Singapore which has been our strongest tracks this season, where we've been on pole and winning. So when I saw it, I said we have a good chance of going for pole. Then the race pace, like always, is a question mark for us.
Q:Tell us a little bit more about your expectations in the race with the grid penalty. I mean, how good a racetrack is this?
CS: As Charles said, we all expected maybe overtaking to be a bit easier, I think the track itself has been very tricky, you know, to follow people just because of the walls, the confidence you lose under the braking with a car in front, you cannot see the braking markers as well. And it's a bit more difficult to follow the cursor. So, yeah, I think I'm expecting to move forward for sure tomorrow, how much or at what rate will I move forward? I don't know. Let's see also the strategy, the graining on the tyres is quite bad. So let's see how that affects the racing and if it can give me a chance to get to the front tomorrow.
Q: Tell us about the start? There was no opportunity to do a practice start at the end of FP3 due to the red flag. Will that make getting away from the grid a little bit harder to judge tomorrow?
CS: I think we all have a lack of references. We only did one start this weekend. And hopefully the starts are better than Brazil where they were a problem and yeah, I'm expecting to get away OK, it's just compared to everyone else how it will be, P2 to P12, dirty side here I expect quite a big difference so maybe the launch tomorrow will not be the strongest. So we will have to do it with overtaking.
Q: Max, coming to you now. Can we start just perhaps talking about the grid, following on from Carlos, are you expecting the dirty side of the grid to be a lot slower?
Yeah, I think it's a bit like Austin, when it was the first race, it was also very bad on the inside. So that's not ideal. I mean, I was actually hoping maybe to be P4 because I would have been promoted to P3. But that's how it goes. I mean, we'll just deal with it. Luckily, the run to one is not too bad. But if you have a bad start, you can still lose a lot of positions. So we'll work with that tomorrow.
Q: And Max, how was the session for you? We're used to seeing you on pole in 2023. Are you a little disappointed, or do you feel you got the maximum?
MV: No, the whole weekend I think already we were not strong enough over one lap, so no real surprises there. I think also in Qualifying, I tried to do the best I can. I dropped the rear wing also, so it took probably a little bit of time to get into a nicer rhythm. But yeah, we were just too slow. My lap in Q3, I was actually quite happy with it. I improved quite a bit from Q2 and, honestly, yeah, there was not much more in it. I mean, I don't think there was any corner where I lost time to my Q2 lap. I improved almost on every corner, a little bit, and yeah, felt OK. Not good enough but it felt OK. Of course, tomorrow is again very different. It's not about the one-lap performance, it's about keeping your tyres alive. There's a lot of graining on the tyres, so yeah, hopefully of course we might have a little advantage there – or at least, we have a chance to fight them.
Q: So, what is the strategy tomorrow? Is it to be patient and let the race come to you?
MV: It depends. Honestly, I don't even think about it too much. You just ease yourself into the race, and when you see opportunities, you go for it, and if they are not there, then you maximise what you have. And that's what we'll try to do today. Er… tomorrow… or today… whatever. You can call it – still a bit jet-lagged. Yesterday, I think the long runs looked good, so hopefully that will be the same in the race.
Q: Final one, can we get a word from you on the track? Did you enjoy driving it on light fuel.
MV: Yeah, I mean, so naturally, I'm not a big fan of street circuits. I prefer the higher-speed tracks to really go on the limits of an F1 car. But, I mean, out there, when you are pushing on the limit, I think everything always feels quite exciting. So, I think today was not too bad. But, you know, it's very low grip. I feel like it's a bit like Baku. It has nothing to do with our car being off or whatever, I just don't really enjoy that you can't really push to a certain limit. Like you're always just limited with the sliding. That's my personal feeling, right? I mean, everyone has their own preferences. I do think that it looks amazing. I mean, what they have built in such a short time space, I think looks incredible. And also, the track itself. I mean after the little issues – especially for Carlos, it was a big one – after that, I think they solved it quite well and we got on with it, so I guess that's a positive.
QUESTIONS FROM THE FLOOR
Q: (Alex Kalinauckas – Autosport) Question to Charles please. Just going back to the lap that got you pole. I wonder if you could just explain if there were any particular points where you felt you gained time, compared to what you had previously done in Q3? Where is the car really strong? Thank you.
CL: It just was a cleaner lap, compared to my first lap in Q3, and that's why I did a step forwards from the first to the second lap – but all-in-all, both of them weren't really clean. In Q2, the second lap in Q2 was a really, really good lap, and honestly, I was just trying to achieve exactly the same in Q3 and taking the track evolution and maybe gain three or four tenths – but I just tried to overdo it – especially on the first run in Q3. And there I lost a lot. And then, on the second run in Q3, I managed to do it a little bit better, but there were still too many mistakes. So, the two laps in Q3 weren't really, really good.
Q: (Frederik Hackbarth – Speed Media Factory) The topic is Carlos' penalty but actually I would like to have the opinion of the other two drivers on that because I can imagine how he feels about it, especially Max from an opponent's point of view as well, you gain a place now through that – but what has to change from a drivers' perspective that no-one is punished like that for something that's none of his fault?
MV: The rules have to change for that. It's the same if you get taken out and you have a big accident. You can lose parts of engine, energy store, all these kinds of things. So, first of all, that needs to change. These things can be taken into consideration, that if you can take a free, let's say, penalty or not and it will not be counted. And besides that, I think the teams should not be allowed to have a say in these kind of things. Because for sure they're going to vote against that. Personally, I do think it's very harsh on Carlos, but in this political environment that we are in, of course every team thinks about themselves and they, of course, are going to say no, he has to take the penalty.
Charles, can we have your thoughts.
CL: You have everything.
Carlos, anything you want to add on this topic?
CS: Yeah, I want to add many things but I'm going to try to control myself a bit.
Q: (Rodrigo Franca – Car Magazine Brasil) Question to Charles and Max. Congratulations for the result, you were very strong rivals in karting, and would you imagine in, like ten years, after, you would be in a front row battle for winning a grand prix in Las Vegas. And what memories do you have of battles in go-karting times? Who was the best one?
MV: I always thought that, if I would make it to F1, Charles will also make it. You can see already from, I think, a young age, the really strong drivers, what they were back then, they are also in F1 now. So, it's never been a surprise to me that Charles is sitting here and, of course, then after that you need a little bit of luck to be in the right team here and there to get on the front row, but it's not a surprise that we are sitting here together, I think.
CL: No, same. But at the same time, obviously when you are young, and you are in karting, Formula 1 feels so far away that, for me it was obviously not a given that I will finish in Formula 1 one day. I think we knew that we were very fast because we were already competitive in karting and whenever we change categories, we will always be competitive – but it's still such a long way off Formula 1 that you don't really imagine yourself in Formula 1 yet. But it's amazing. I mean I have really, really good memories. Other memories that are less good but became really good with time! You get older and you look back on moments that maybe you didn't enjoy at the time that are very funny. So yeah, it was good times.
Q: (Kevin Scheuren – Motorsport-total.com) Question to Max. Was it a conscious decision for your team to give away the Qualifying today in order to concentrate more on the race because of the potential graining problems the Ferrari create?
MV: In terms of tyres, or…?
No, in terms of the general strategic decision to say, maybe I don't need to be on pole position today to have a good race result tomorrow.
MV: That's the good thing with these regulations, you can pass. For whatever reason, our car over one lap is just not always – and it is very track-specific – of course sometimes we have some unbelievable qualifyings but it really depends of what kind of corners there are on the track, and we know that at low speeds, low grip conditions, cold temperatures, we are probably not at our best, and that's probably also a big strength of the Ferrari. So, we knew that, coming into this weekend, a pole position, there would be a lot of competition. It's just sometimes, how a car works and how a car operates. It's not something that you can adjust from race to race. It is what it is – but hopefully when tyres are running out in the race it will come back to us a little bit.
Q: (Andrew Benson – BBC Sport) Charles and Max. Obviously Charles, you've been pretty resigned about Max passing you in every race so far this season, even when you've been ahead of him in Qualifying – but this is a street track and Carlos won in Singapore. Is there any hope at all of holding him off? And for you as well Max, I know it's a very different characteristic of circuit from Singapore.
CL: Yeah, exactly. I think in Singapore, in some places, you can drive one-and-a-half – two seconds off the pace and the cars behind cannot overtake. Here it's going to be very, very different and pace will have a much more important role in the race. So, we have to do a good job on that but until now, honestly, we looked quite good. Stronger than other races. Not to say that we are stronger in race pace compared to Max – but I think we are closer than other races, so if there's one race to win since Singapore, it's this one, and I'll obviously give it all.
MV: Yeah, I think this is a little bit more like Baku. But again, in the race, I think it will depend a lot on who can keep the tyres alive. Or whoever grains their tyres more. So, we'll have to wait and see tomorrow. That's the beautiful thing – there's no Sprint race to find out!
Q: (Adam Hay-Nicholls – Metro) Carlos, sorry to put you on the spot but you must think that it's madness that you're being punished for something that was ultimately the FIA's fault.
CS: Yeah, when you put it like that, the thing speaks for itself, no? There was clearly a safety issue at the track. That safety issue destroyed my car, my mechanics had to invest five hours in putting together a completely new car. And on top of that, we get a 10-place grid penalty for something that we have nothing to do for. Just simply disappointed at the same time not surprised because there's been many cases this year that I think the sport has proven that it can do things a lot better. And yeah, I think I'm surprised that the governing body doesn't have the power to – in cases of force majeure – to let's say overrule a bit in this kind of situation where it's so clear: that this is something that is completely out of the team control, completely out of the driver control but I don't know the rules, the governing body, the teams, I don't know, I expected more from the sport in this situation but for some reason, yeah, for sure there will be rival teams pushing for me to get a penalty, which surprises me in a way, in another, I've been in this sport for too long to understand that it's business, like Max said, and there's too much money involved in the finishing position in the Constructors' or whatever for a team not to threaten to apply for a penalty for me. At the same time, as I said, I'm not surprised. I'm extremely disappointed and honestly very just upset with the whole situation, with the sport. Honestly, just upset I think is the right word and in a bad mood because I just expected more from the sport in this case.
Q: (Alex Kalinauckas – Autosport) Max, I know you've touched on this topic already: what is the feeling of a full flat-out qualifying lap around here compared to other streets circuits, particularly Monaco that's always talked about as a particular highlight for drivers? So what is the thrill like around here?
CL: It's a bit of a different feeling than Monaco. Monaco is so intense, you've got no time to think, it's just from one corner to the other. The walls are extremely close and there are no way out apart from two or three corners around Monaco. All the others - you do a mistake, you're out of line, no grip, the wall and that's it. Here's a bit different. You've got ways out and the grip is so low that even if you get out of the line, it's not that you're losing a lot of grip. The grip is low everywhere. So you can still recover a little bit. As Max said, I think it feels a lot more like Baku with more curb riding, which I like. We've got a good car on kerbs, so Turns 7, 8, 9 feel really, really good. And I actually really enjoy this section where you can ride on kerbs and also position your wheel in a clever way, trying to hook your wheel inside the curb and these are things that I like and it's a very technical track there. So yeah, I really enjoyed it. I really enjoy it.
CS: It's similar in a way to Baku: very long straights, very high braking circuit, very high braking scenario, where you have to really push yourself to break those five/ten metres later and gain the lap time. Monaco is more about the flow and in particular, in Monaco you have the apex walls that you try and just almost clip them in the qualifying lap. Well, here, I'm trying to think but apart from turn three, there's not any real wall where you can get very close to an apex and hug the apex like you do in Monaco, which gives the driver the thrill a lot more. So obviously here it's more and more overtaking opportunities, more open to Monaco but I struggle to believe any circuit in the world will give you the feeling that a Monaco or even for example Macau in F3 would give a driver.
MV: Yeah, I fully agree. I think Monaco is like Champions League, this is national league.
Q: (Andrew Benson - BBC Sport) For all three of you: what's been your view of the whole weekend so far? Everyone seems exhausted, no one knows what day it is. There was a very dangerous situation yesterday, but a very spectacular qualifying session today with, as you said Max, a very spectacular backdrop. What's your overall assessment of this race so far?
CL: First of all, I was sad yesterday to see how much criticism there was around the track. Of course, it wasn't good enough and that is clear to everybody. But obviously, we must not forget also how much work there has been for many, many people in order to make this event work, and I think it looks amazing. I really hope we have an exciting race tomorrow, in order to really show what Formula 1 is and yesterday was obviously a pretty bad start. But I think it's an amazing venue for Formula 1. As I said, we are a sport for sure and we need to keep the DNA of the sport which is the most important thing for everybody. At the same time, I believe that opportunities like this need to be taken and a little bit of show around the track to attract people that maybe wouldn't have come to a Formula 1 race is needed. So you always need to find the right balance between show and sports and that's why I'm not so happy about the show just before the race because I think this is a time where we need to focus on what really matters which is racing. On the other hand, I think the venue and the event looks amazing and there's been a lot of hard work in order to get there which has to be appreciated. And then at the end of the weekend, we'll obviously look back at all the things that didn't go well in order for these things to not happen because it is clear that it's not acceptable what happened in FP1.
CS: I think we need to learn to separate things. I think there is the sport and there's the show and I think you can have both in a good combination and harmony, with the opening ceremony with all the show around the Grand Prix, in all the hotels, all the VIP access. I see the race as a very good opportunity for F1, and I think it's a good thing that F1 is coming to Vegas and I'm enjoying the experience of coming to Vegas to do a Formula 1 race there. Then there's the sport and I feel like a sport we cannot fail, knowing these important events and I felt like we started on the very bad foot yesterday and I think it was a very good opportunity to make a statement as a sport and to open Vegas with a very good image and with a very good attraction to everyone and in my opinion… I have people that have never come to a race that are still asking me why I'm getting a penalty for what happened and they've never been to an F1 race. And people… very influential people, people that are important but also all the fans that couldn't attend yesterday, honestly I think separating the two things… I'm all for the show, all for growing the sport but the sport has to be there. And I feel like yesterday, we didn't start on the right foot. I paid the price, by far the most of it. And I hope that tomorrow we have an exciting race as Charles said, that F1 shows the whole world what we're made of, what kind of racing we can produce, what kind of spectacle and what kind of sport we are. And if this goes well tomorrow, hopefully FP1 will be forgotten. My penalty, not, but FP1 will be forgotten and we will enjoy a good weekend and I think overall, it will be positive, a positive weekend for F1.
MV: I can go on for a long time. But I feel like… of course, a kind of show element is important but I like emotion and for me, when I was a little kid, it was about the emotion of the sport, what I fell in love with and not the show of the sport around it because, as a real racer, that shouldn't really matter. I mean, a car, first of all, a racing car, a Formula 1 anyway, on a street circuit, I think doesn't really come alive. It's not that exciting. I think it's more about just the proper racetracks. When you go to Spa, Monza, these kind of places, they have a lot of emotion and passion. And for me, seeing the fans there is incredible. And for us, as well, when I jump in the car there, I'm fired up and I love driving around these kinds of places. And, of course, I understand that fans, they need maybe something to do as well around the track. But I think it's more important that you actually make them understand what we do as a sport because most of them just come to have a party, drink, see a DJ play or a performance act. I can do that all over the world. I can go to Ibiza and get completely shitfaced and have a good time. But that's what happens and actually people… they come and they become fan of what? They want to see maybe their favourite artists and have a few drinks with their mates and then go out and have a crazy night out. But they don't actually understand what we're doing or what we're putting on the line to perform and I think if you would actually invest more time into the actual sport, what we're actually trying to achieve here to… As a little kid, we grew up wanting to be a World Champion. If the sport put more focus on to these kinds of things and also explain more what the team is doing, try to see them, what they are achieving, what they're working for. These kinds of things I find way more important to look at than just having all these random shows all over the place. For me it's not what I'm very passionate about and I like passion and emotion with these kinds of places. I love Vegas but not to drive an F1 car. I love to go out have a few drinks, throw everything on red or whatever, to be a bit crazy, have nice food. But like I said: emotion, passion. So there compared to some old school tracks.