FIA post-race press conference - Miami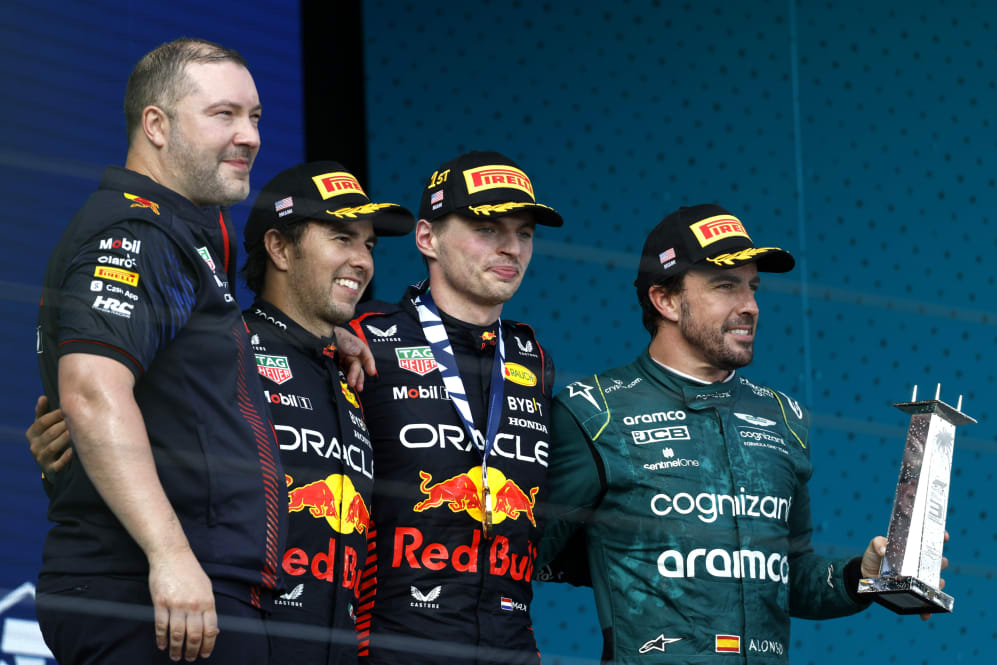 DRIVERS
1 – Max VERSTAPPEN (Red Bull Racing), 2 – Sergio PÉREZ (Red Bull Racing), 3 – Fernando ALONSO (Aston Martin)
TRACK INTERVIEWS
(Conducted by Jenson Button)
Q: Max, two-time Miami GP champion or winner? How does that feel from P9 on the grid?
Max VERSTAPPEN: Yeah, it was a good race. I mean, I stayed out of trouble at the beginning. And then yeah, just had a clean race, you know, picked the cars off one by one. And then I could stay out really long on the Hard tyres and that's where I think we made the difference today. And yeah, then a good little battle with Checo at the end. So we all kept it clean. And that's the most important and yeah, a great win today.
Q: Does it feel extra special when you've come through from so far back, especially to beat your team-mate right at the end of the race?
MV: Yeah, I mean, yesterday was, of course a bit of a setback. But today, we just kept it calm, kept clean. And yeah, for sure, winning a race from P9 is always very satisfying.
Q: And whose idea was it to do it a different strategy, starting on the Hard tyre?
MV: Well, you know, we started talking about it yesterday. We didn't know what the weather would do, but we were quite confident that this would pay off and luckily it did today.
Q: Thank you Max for putting on a great show for us. Congrats. Checo, I'm sure it hurts a little bit, finishing P2 after such a great lap in qualifying yesterday. As you can hear, the crowd are going wild for you out here. What are your words for them?
Sergio PÉREZ: Yeah, I mean, I tried. I gave it all, you know. I think the first stint was really poor, with the graining that we had on that initial pace. And that compromised, quite a lot, our race, because we didn't have too much of a difference on tyre. And Max was particularly strong today. So a well-deserved win for him.
Q: You were saying about the places where you think you lost: do you think maybe that there was too much looking after the tyres in the race or not enough? What do you think you could have done a bit better?
SP: I think the Medium initially was really poor, worse than unexpected. And yeah, I think that really compromised our pace. And then, you know, honestly, I think also Max had tremendous pace on the Hard tyre and I think I've got to analyse what went wrong with today because we simply didn't have the pace.
Q: Yeah, if you look at today as a bad race, you finished P2. We want to see you coming out fighting in the next one. Cheers, Checo. Fernando, what can we say? Four podiums out of five races. Now the smile is there, it's great.
Fernando ALONSO: Not bad.
Q: Well, you're not bad. You've always been there. The car's back…
FA: The car is amazing. And yeah, a little bit of a lonely race today. And nothing really to do in front of us, with the Red Bulls, and behind us. Maybe we did expect a little bit stronger opposition, but the Ferraris, they were little bit worse than expected today. So yeah, not easy, it's never easy, but it was a lonely race.
Q: You still had a couple of good fights out there on track, obviously with Max and keeping Carlos behind you in the race. Must have still been fun.
FA: Yeah, it is. It is always. On the start, obviously, on the wrong side of the grid we were a bit worried but yeah, everything was fine, we take the podium and going into the triple – Imola, Monaco and Barcelona – so hopefully we can keep on going.
Q: Well, we know what you're like Fernando, third place is nice, but we all know what you really want. So when are we going to see you challenging these guys?
FA: I think at the beginning of the year a podium was amazing. Now after four podiums we want obviously more and at least a second place. But, you know, the two Red Bulls they are always unbreakable and they are always super-fast. But as I said, maybe Monaco, maybe Barcelona we have a possibility.
PRESS CONFERENCE
Q: Max that looked like a near perfect race for you, P9 to P1. Of all your victories in Formula 1, where does this one rank?
MV: Yeah, it's been a good one. I mean, just really staying out of trouble at the beginning. And because, of course, the people around me, you know, they tried to gain positions as quickly as possible on lap one. But knowing that, of course, you have a quick car, then once it all settles down, you just try to pick them up one by one. And that worked out quite well. I had even a three-wide on the straight, which was quite entertaining. And then yeah, we had good pace, I could look after my tyres. And then once I was in clean air, it was just about getting to that lap number we targeted. That's why maybe in the middle of that stint, I was not entirely sure if I was going to make it. But then I was getting close to the number and I said 'OK, this is good'. So then I started pushing, I could extend the gap again, which really made my race today, I think, because once we pitted, of course, then I had the fresher tyres to the end. But also the tyres, which also were a bit more fragile today, so, yeah, then I had a good battle with Checo. I mean, we were free to race, which was said before, and yeah, we had a good go at it. But of course, most importantly, is that we don't touch but that that all worked out really well.
Q: How much patience did you have to show during those early laps when so much was going on around you?
MV: Yeah, I mean, I was in that situation as well in Jeddah, and maybe one or two times last year. So you just have to be careful not to have any damage on your car, but it worked out well.
Q: And what was the key to the victory today?
MV: Well, I think the key was just the general pace, plus looking after the tyres, which again, you know, on a one-stop, it might always look easy, but it's not that straightforward. But today, I think was a very good day for that.
Q: And there are going to be a lot of updates coming to many cars on the grid in two weeks' time at Imola. Do you expect things to close up a little bit there? Or do you think Red Bull have got such an advantage at the minute that it won't really change?
MV: I mean, I think we have a decent advantage, especially in the race. I think over one lap in some tracks, definitely some cars will be close or in front, like you could see in Baku. But yeah, that race pace advantage, I think is quite big at the moment. But yeah, it's not like, the others are bringing new bits and we're just standing still right. So hopefully we can just keep it going like we're doing now.
Q: Checo, coming to you now. The 30th podium of your Formula 1 career. That's a great tally but having started on pole, how would you sum up your race today?
SP: Yeah, it started well, but very early on, I saw that the Medium was very fragile, initially, so I had to protect the tyre quite a lot just to make lap 15 or so. And it was really hard to lean on that tyre. Basically, the whole right hand side was really difficult. And yeah, I could see that Max was closing up on the Hard. And from that point on, I knew that the race was looking difficult. And then when I went onto the Hard, Max had very strong pace, so we didn't manage to open a gap. So yeah, he simply came too close to us. And we had a bit of a fight on track, which was quite clean – to the limit, but clean and obviously putting the team the team in front of us. Again, a great team result, but obviously, today Max deserved the victory because he was the strongest car out there.
Q: Why do you think the Medium was so fragile today? What conclusions have you drawn?
SP: I don't know if the rain overnight did affect more the Medium than it did to the Hard. But yeah, it just felt quite fragile, quite easy to make some damage on it and that's my thoughts at the moment. I don't know more.
Q: You said yesterday that you weren't happy with your car during practice. Were you actually quite happy with the set-up and today was all about the tyres?
SP: Yeah, I think, as I say, I wasn't able to look after them properly. I don't know how different it would looked, the race, for Max, if he was on the on the same strategy as myself, but he was clearly the fastest car out there. I have to understand what went wrong today. And it's pretty simple: when you don't have the race pace then it's really hard to win the race. So well done to Max today.
Q: Did you even discuss starting the race on the Hard tyre?
SP: No. When you are starting on pole, starting on the Hard is much more like a gamble that can go right or wrong with Safety Cars and, I think at the time, none of us were expecting the Medium to be… because pretty much the whole grid went for the Medium start, I think none of us realised how weak of a tyre it was. I think once we did a few laps on it, we realised that it was quite a poor tyre.
Q: And physically, how tough was the race today? You all look a little bit fresher than you did this time last year.
SP: It was a lot easier, compared to last year. I think yeah, the race was a little cooler, and it was much more intense, my race, this year than last year, so overall it was quite a lot easier.
Q: Fernando, coming to you now. Great race by you as well. It looked like you enjoyed the podium as well.
FA: Ha! Why?
Q: I saw you dancing. Was there a dance or a jig or…?
FA: We have something with the guys, with the mechanics. But yeah, I did enjoy. I think the race for us, it was a little bit of a lonely race. Nothing really to do in front of us with the Red Bulls but behind us, not much pressure, so yeah, at the end P3, and we take this good result for us, fourth podium in five races, we only miss Baku by eight-tenths of a second, so yeah, I think it's a good moment so far.
Q: Fantastic result – but is there a little bit of frustration starting to creep in that it's another P3, rather than a P2 or a win?
FA: It is! It is. Obviously, we want to step on step higher on the podium for P2 and eventually one day we have an opportunity to win a race – but at the moment it didn't happen because Red Bull is better than us. It's stronger, it's faster and the reliability has been always outstanding for them as well, finishing both cars in every race. So, yeah, if one day there is a crack there, if there is an opportunity, we need to make sure we are in that position and we're still not making mistakes at any point in the weekend.
Q: And Fernando, can we just get your thoughts on why you think the Medium tyre was as fragile as it was today?
FA: Maybe we can have some explanation – but we will keep it for us.
Q: Can we just throw it forward to Imola. What do you think is going to happen there? Do you think the layout of that track will allow you to fight the Red Bulls harder?
FA: Let's see. I think in Imola it's going to be an interesting fight again. As you said, a lot of teams will bring upgrades to the car. Mercedes, probably Ferrari as well and we will try to keep finishing in front of them on Sunday.
QUESTIONS FROM THE FLOOR
Q: (Ronald Vording – motorsport.com) It's one question to Max and one to Checo. For Max, the strategy worked out perfectly well but yesterday evening when you discussed it, did you feel that starting on the Hard could be a risk or a gamble, given that you are on a harder compound in the midfield. And to Checo, you said you didn't discuss starting on the Hard – but if you did, do you feel that you would have had a better chance? Or whatever strategy, Max was better in terms of tyre management and race pace today?
MV: Yeah, this is something I wondered about already yesterday, together with my engineer. We were quite strongly opinionated on that already – then, of course, you have to discuss it with the team, with the strategists, and yeah, they were like: 'OK. In terms of race time, it was very close between doing a Medium/Hard or Hard/Medium. It didn't really matter. But, of course, when you start on the Hard, the risk is a bit higher because we only had one, so if you had a lap one puncture or whatever, then of course your race is a bit tougher. But I was happy to take that gamble and do it the other way around. I think even if it was the other way around, of course you always have to look after your tyres, also on the Medium – but I just felt like maybe it gave me a better opportunity to get through the field initially. Because I mean, by lap 14 I think, I was already on a podium position, so from there onwards it's mostly about driving in clean air and you have to look after your tyres anyway.
Checo?
SP: I think it's hard to answer this one because you don't know what the tyres would have done. Certainly my mileage would have looked a little bit better simply be spending less time on the Medium compound. That was very weak today.
Q: (Pedro Fermín Flores – TheGodFlores) Question for all of you. First Max: can you explain us what it means, your signal with the finger to the number one, when you go out of the car, you point at number one. Second question for Checo, what do you want to tell to the stewards in ten minutes when you arrive to the meeting? They are waiting for you. And third for Fernando, please by honest, what it means, your radio message today: you said: 'Plan A, minus 12.' And don't explain Spanish, we keep that for your trente trés.
MV: Plan A-12. 12 laps short of pit? Number one, that's my car number, number one, that's why.
SP: Yeah, basically, my marketing team left it too late, so I need to tell them.
MV: We need to do less marketing.
FA: What happened?
SP: I was late for the Drivers' Parade, so I have to go to the…
MV: It's too busy. We need more free time.
FA: 30 seconds penalty! And me, I did a mistake! I was just telling them which lap I think the tyre will be in good shape before the stop. And then yeah, I make a mistake, because Plan A-12 it was already gone a few laps before that. A few seconds later I said sorry, they were already laughing on the radio. So they realised I was telling something stupid.
Q: Fernando, talking of radio messages, just talk us through the comment you made about Lance's overtake. How were you able to see that?
FA: I think this circuit we have big TV screens out of some of the slow-speed corners so it was very easy to follow the race on TV.
MV: You're like a life coach! The last race you're like 'try my brake balance!'
FA: I saw one overtake to the Alpines, or to the Alfa Romeo and I was just curious which position it was. It was a little bit of an unexpected lonely race for us. We were thinking to have a more difficult race.
Q: (Laurence Edmondson – ESPN) Question to all drivers, though I think two of you had quite lonely races. There were some concerns earlier in the week about a lack of grip off line and whether you'd be able to overtake but it seemed pretty good out there. How bad was it – or was it completely fine. Also, where does this circuit rank, compared to other ones on the calendar?
FA: I think it was very good. Also the DRS…
MV: Did you even drive off-line?
FA: I did! Overtaking the Alpine and the Ferrari. I think Max was P2 by lap 14, so plenty of DRS distance, and a lot of overtakings. But eventually you are in the position you deserve with your car pace and there are no more overtakings from that point. But it's not a problem of the rules or the circuit. It's just the nature of Formula 1.
Q: Max, how did you find it offline today?
MV: Yeah, I think it improved quite a bit over the weekend. I was a little bit afraid, of course, with the rain that it would be a bit worse, but most places were quite OK. Yeah, it's a street circuit, you can't expect it to be amazing offline, that's how it goes. But overall, I think it was a lot more fun to drive compared to last year. I think the tarmac has been a lot better. So yeah, it was absolutely fine. I think it's not a bad track. I think the first sector is quite alright. I am not a big fan of [Turns] 7, 8, because you just can't really see the apex coming like you're almost trying to look over your tyre, which is already a massive thing in the way. But the rest, like 4, 5, s6 is fun. I think a good improvement was made to the chicane this year. It was a bit more fun, how you were riding it. So it's decent?
SP: Yeah, I think the main problem is only Turn 7, 8, going offline a little bit offline and then there is no grip. It's like ice there. So maybe if there can be some improvement there, but the rest of the circuit has been a very good improvement.
Q: (Phil Duncan – PA) Max, you were booed by some of the crowd before the race and also on the podium after, I think, when you got your trophy. Why do you think that was and does it have any effect on you?
MV: I think if I will be driving in the back nobody will be even doing anything in terms of reaction. Right? I think it's normal when you're winning and they don't like who is winning. So this is something for me which is absolutely fine as long as I stand on the top, that's for me the most important. I take the trophy home and they go back to their houses and they can have a nice evening.
Q: (Gustavo Mendez – WACC830AM) Checo, this is Miami, a highly Spanish-speaking people. I was walking around the stand and I saw a gazillion Mexican fans happy because you were on the pole position. But you finished second, and they felt a little disappointed. So what message do you have for them who are rooting for you until the end of the season?
SP: Well, I just want to thank them for all their support. I think today the support they gave me, I really wanted the win, it would have meant a lot to me. But yeah, it's about not giving up. It's a long season ahead and we've got to keep pushing, and hopefully many, many more good moments for all of us coming ahead.
Q: (Jesus Balseiro – Diario AS) Fernando, is there any place, any track that you think that the Aston Martin can get any closer to the Red Bull? Or do you think this may be a trend for the rest of this part of the season?
FA: I think the year is going to be difficult. The gap is quite big even though I think today has been our best race pace yet in the season. We finish, I think, closest to the leaders, no safety cars, nothing in the race and we're still quite fast. So let's see. I think the season is going to be long. Hopefully some of the tracks we will be a little bit closer to them. And some of the upgrades that we will bring later in the season maybe put us in a different or more competitive position. But I think our main focus, to be honest, is just looking behind and trying to keep Mercedes and Ferrari in the Constructors' Championship under control. But I think Red Bull, we have to accept they are doing a better job than everyone else and we need to do a better job.
Q: (Aaron Deckers – Racing News 365) Max, you're not the only winner in the family today. How happy are you for your father? And was it an extra motivation to win today?
MV: Yeah, rally? Yeah, for his first win in the rally car: completely different discipline. But yeah, I'm happy for him. He definitely spends a lot of time on it. It's nice when things pay off, when you put all that effort in and yet for him, of course, it's kind of a hobby, but he takes it very seriously. I got pictures and videos and to see that smile on his face. You never lose that kind of competitiveness and happiness if you do well, right, if you get rewarded for your efforts, so yeah, very happy to see him there, get the trophy.
Q: (Jake Boxall-Legge – Autosport) We had some incredibly lively pre-race celebrations and we heard from George Russell outside, and he perhaps wasn't a fan of the way that he was asked to spend the full 30 minutes in full kit before the race. Can I just have your honest views on the pre-race festivities and whether you'd like to see it at more races?
MV: To be honest, I did have enough preparation before, to speak to my engineers and stuff for the race. But yeah, personally, I think this is just a bit of a personality thing, right? Some people like to be more in the spotlight, some people don't. I personally don't. So for me, I think that naturally, of course, what they did today is not necessary. I prefer to just talk to my engineers, walk to my car, put the helmet on and drive. But of course, I understand the entertainment value. So I just hope, of course, we don't have that every single time, because we have a very long season, so we don't need an entry like that every time. But it also depends a bit on the crowd, I think, in terms of what you want in terms of entertainment. So yeah, I think it's just a personal preference as well from the drivers. For me personally not.
SP: I think as long as we don't do it on too many occasions, I think it's nice to do it once for the crowd, but we also have to be very respectful of the drivers, that we need our own time to get ready. It's just minutes before the race start and I think as long as this doesn't happen very often, it's OK.
FA: I understand the point of view of everybody but I'm not a big fan of those kinds of things just before the race. If we have to do it, I think we need to remove some of the other stuff we are doing like the parade lap or something like that, because it's really in the middle of the preparation with the engineers and the strategy meeting. And I disagree a little bit if we do it, we have to do it everywhere because I don't think that the Miami fans are better than the Italian fans in Imola or in Spain or in Mexico or in Japan. I think we need to make everyone with the same rules and the same show before the race.
Q: (Holly Cain – Palm Beach Post) Max, it had been decades since somebody won from the specific starting position that you did. Did you have any doubt that you were going to be here at the end of the day? Are you just that confident in the car and obviously yourself?
MV: Yesterday I said to myself minimum P2 because I think that is where we should finish anyway with the car we have. But it's always difficult to know, of course, what's going to happen. If you have a terrible lap one, you make it even harder for yourself, right? But luckily it didn't work out too bad, just making sure you didn't have any damage on the car but then again, it's all about how the performance is of the car and how well you feel in the car, how much you can extract out of it. And lucky that all worked out very well today so then of course you can move forward and win the race.
Q: (Alex Davies - The Athletic) Checo, do you think you could have defended harder against Max today and does the fact that he's your teammate play into your strategy at all?
SP: Yeah, obviously at the end of the day we have to put the team ahead of us. We are just two drivers but there's so many people working back home and working really hard we have to show respectful. In the end we had a really good fight between us and I think a bit more will have mean contact and I don't think that will have been fair for any of us. Only for Fernando!