FIA post-Sprint and champion's press conference - Qatar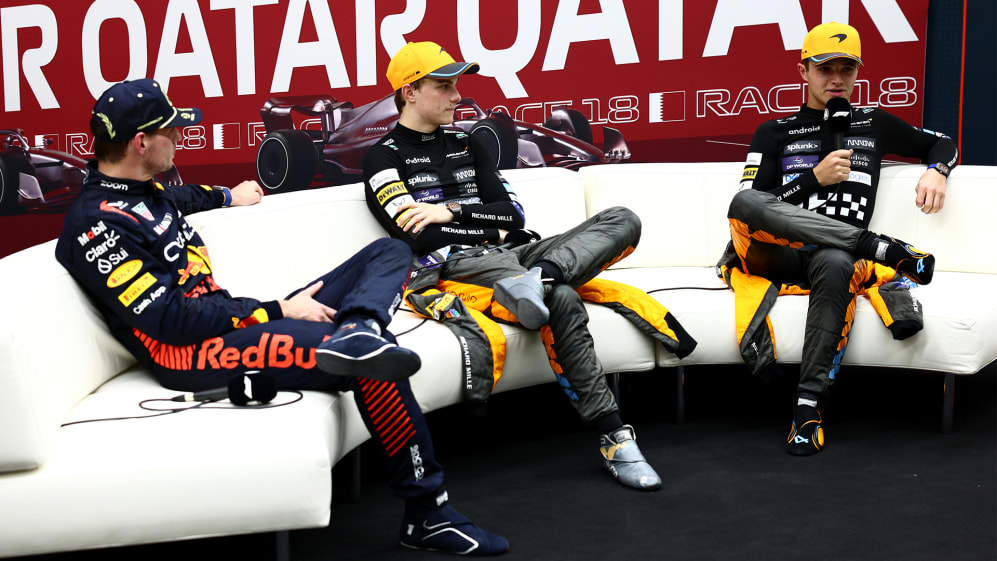 DRIVERS
1 – Oscar PIASTRI (McLaren), 2 – Max VERSTAPPEN (Red Bull Racing), 3 – Lando NORRIS (McLaren)
TRACK INTERVIEWS
(Conducted by Nico Rosberg)
Q: Max Verstappen, three-time World Champion, consecutively, how does that feel?
Max VERSTAPPEN: Yeah, of course a fantastic feeling. It's been an incredible year. A lot of great races and of course super-proud but also super-proud of the job of the team. It's just been so enjoyable to be part of that group of people. To be a three-time World Champion is just incredible.
Q: Do you think you're going to keep this going – or is it just so, so hard to keep this kind of level going for much longer in the future, do you think?
MV: We'll keep on pushing. We'll try to do the best we can. Also, today was, I think, quite an exciting race. I think it was a bit of a shame with the Safety Cars but overall, yeah, it was good, it was fun out there and of course, incredibly happy at the moment.
Q: Maybe a quick word also for Oscar? I mean, he got his first win…
MV: He drove a great race. It was not, I think, that easy, because we were on the Medium tyres and there was some Soft starters around us and they had a bit more grip in the beginning but he did very well, I tried everything I could to try to catch up but we came up short at the end. So, well done to him.
Q: Do you have a target in mind? Like, 'hey, I want to win a fourth one in a row, or a fifth one. Is there anything there for you or you just enjoying the moment?
MV: We'll just see what happens. I'm enjoying the moment and hopefully we can keep this momentum going for a while.
Q: Oscar, what a fantastic race, you just won that race out there, the first win. How does that feel?
Oscar PIASTRI: Thank You. Yeah, very happy. A very stressful race. When I saw all the Soft guys come through at the start, I thought we were in a bit of trouble and yeah, then their tyres fell off pretty quickly, so yeah, that was good. Safety Cars were my friend today, definitely once Max got behind me but the pace was reasonable and I think, in a race where you had to manage a lot the tyres, cars on other compounds, I think we did a really good job, so very happy.
Q: You said the pace was 'reasonable'. Actually it was a pretty awesome pace because Max was giving it everything at the end there and he barely came closer to you – so that's also important for you, isn't it?
OP: Yeah, definitely. I think anything you can try to learn for tomorrow is going to be important as well. I thought once he got through into second, I was going to be in a bit of trouble – but the pace was good, managed the tyres well, and yeah, first Sprint win sounds pretty cool.
Q: Lando, you've been saying it's been a little bit of a difficult weekend for you so far but can you still be happy with that comeback and that P3 there.
Lando NORRIS: Yes. Of course. First of all, congrats to Oscar and congrats to Max. First win – earlier than mine – so a big well-done to him. Tough race for me, just a bad start made everything much trickier, but we fought back well. Some fun racing, good overtakes, all the way to the last lap on George, so, tough, but another podium for us and for our team it's been a mega day.
Q: After that start, was it, like, mentally tough, or did you still keep the hope up and think 'no-no, we can still make this work today'.
LN: I think from the beginning we could, especially with them on the Softs. The Softs were obviously a lot better for lap one and the opening stages of the race, but I mean, they were lucky there were so many Safety Cars. If there weren't so many Safety Cars I think easily the Medium would have been a better choice, so, it was a tough fight. Not the best of beginnings but a good ending.
Q: If Oscar can win a race in that car, then obviously you can too. Do you feel your win is coming very, very soon?
LN: I hope so! I mean, I've been trying a long time, but Oscar's done a mega job this weekend. I've made a lot of mistakes and he hasn't and he's capitalised and he's done a better job, so just hats-off to him.
PRESS CONFERENCE
Q: Oscar, you were second in the Sprint in Belgium, you're the winner here today in Qatar, how sweet is this moment for you?
OP: Yeah, very happy. I like Sprint Saturdays, apparently! It's been a really good day, started off well, in the Sprint Shootout, and yeah, pretty crazy Sprint this evening and I'm happy to come out on top. Also, I think it was really exciting for everyone to watch as well, with the Soft guys at the start – I thought I was in a lot of trouble with how much pace they had but they dropped-off just as quickly. So, yeah, very, very happy.
Q: As you say, it was a very eventful race. You also described it as 'stressful' a little bit earlier. How confident were you that the race would come to you and your Medium tyres?
OP: I think at the start it was a bit difficult to judge with the Safety Cars. That wasn't helping the Medium tyre at all, because it would cool-down way too much. I think it was when Carlos, or whoever was in the Ferrari, was behind me, tried to overtake and…yeah, after that, they dropped back very quickly. It was like from one lap to the next, George lost a lot of pace, so at that point I knew I was in a good rhythm. It was just how quickly Max was going to come through, how quickly Lando was going to come through as well. So, it was stressful at times, but glad we could see it out.
Q: At what point in the race did you become wary of Max rather than George Russell, for example, on the Soft tyre?
OP: It was just before the last Safety Car really? That last Safety Car was pretty nice for me, I'll be honest. So yeah, I knew that I had to try and get as much of a gap whilst Max was behind George, as quickly as I could. Which… managed to get out enough and then the pace at the end was also pretty good too. So yeah, but once, I think was about 10 laps to go, or eight laps to go at that point, I thought it might be a tough ask to the end. So, I'm thanking the Safety Car drivers today.
Q: And Oscar what does this mean for the Grand Prix tomorrow, in terms of what did you learn about the car? What did you learn about the track?
OP: I think we learned a lot. I think the Soft at the start was obviously extremely strong and dropped off. Everyone's tyres stayed together, so that was a bonus. I think it was more or less as we expected, the wind dropped a bit. And with so many Safety Cars, it gave you a lot of restarts and different tyres temperatures and stuff. So yeah, obviously, tomorrow's going to be a very different kind of race. But yeah, a lot of interesting things to learn.
Q: Max, very well done to you. So much for you to celebrate this evening. Can we just start by talking about the race, because you had to fight today. How much did you enjoy it out there?
MV: Yeah, I think Lando and myself, we got eaten up a bit in the start. And, yeah, we lost quite a few positions there because of the Soft runners coming through. And that made it, of course, a bit more difficult. Plus, I think in general, we're always quite strong on tyre deg, but with two Safety Cars in the Sprint, it's not ideal, let's say, for us. So, that definitely worked against us. And also, I was about to pass George just before that Safety Car came out, so, yeah, I had one more lap behind him where I lost a lot of time, because in high speed, he had no front tyres left, or left front. So, it was a bit of a shame. But overall, I mean, it was all about just making sure that we would win it today. That would always be nice for tomorrow. And yeah, I think we had good pace but just a bit, let's say, unlucky in the race with the Safety Cars.
Q: You say that your car is good on its tyres. Were you tempted to start on the Soft this evening?
MV: No, not at all. I was very surprised when I saw it. Of course, you know, the first few laps, they were flying, but I was like 'okay, I'll see you in a few laps.'
Q: And what about the performance of your car relative to the McLaren at the end?
MV: I think it was OK. Yeah, just needed a few more laps, I think, to really see where the deg would go.
Q: And Max, we will have a Champion's press conference with you immediately after this one – but I did just want to ask, were you aware that Pérez had gone off and the significance of that moment?
MV: Yeah, I mean, I saw that of course but I was focused on trying to win the race at that point.
Q: Lando, a hard race for you out there, down to sixth at the start, you fought your way through. How tough was it?
LN: It was very tough. Any chance to go backwards I pretty much took! Just, from the right-side of the grid, which was a lot worse than the left, on the Medium, was just always going to be very, very tough. But yeah, I hung on, the first few laps and then just as soon as you got in the rhythm, had the Safety Cars and so on, the same as the others. As soon as I caught the Ferrari then he had DRS, so I couldn't get him the first lap, so I was just a little bit like out of rhythm in a way, to get past and keep up with what Max was doing. And then I caught the wet patch in Turn 2, where the guys crashed, so I went backwards again! It's just not been my weekend in a way, and just made some mistakes here and there, but still fought well and I didn't think I would get George, to be honest, but the DRS was pretty significant. So I managed to get him into Turn 1 from a long way back and yeah, finish with another double podium from McLaren, which is great. But obviously a big congrats to Oscar and Max. I feel like Max has stolen Oscar's limelight a little bit, but both deserve it today.
Q: As you say it's a double podium for McLaren but are you feeling a little bit frustrated at the moment?
LN: It depends what with. With myself, I don't think I've ever been so frustrated. But with the team, less than ever, you know. The team have done an amazing job. It's always a 'shoulda, woulda, coulda' but I should have been on pole today. I should have at least had a good chance to go for it yesterday against Max, but I just made too many mistakes which have just cost me. Cost me positions today, cost me positions for tomorrow, I have to start P10 when we have a good enough car to finish in the top three easily. So I've just made my life tough, the team's life tough, when it should be the complete opposite and we should be going from the front. But I guess everyone has those weekends. This is the weekend for me. It's just a shame I'm doing it when the car's as quick as it is. So that's what makes it more frustrating.
Q: What is it about the car that is proving so tricky for you?
LN: Nothing. Just a lack of talent.
Q: Alright, let's throw it forward to tomorrow's grand prix Lando. You're starting, as you say, P10. What can you do from there?
LN: I hope a lot! I just need to stay out of carnage. The first couple of corners are pretty sketchy. Depending on what tyres we start on, and so on, but the main thing is staying out of harm's way the first few laps. We have the pace. I think we have reasonable degradation, maybe not the best, compared to the Red Bulls, but reasonable degradation. So yeah, we want to score good points. I think we have pace to be on the podium but whether we can do it or not from P10 is going to be the question. So, it's a long race, we don't know what rules and stuff Pirelli are going to make us do with the tyres and things like that yet, but we'll find out soon.
QUESTIONS FROM THE FLOOR
Q: (Alex Kalinauckas – Autosport) Two questions to Oscar please. As Max said, he and Lando got rather eaten up at the start with the soft tyre runners coming through. How did you think you avoided that? And also at the very end when it was two or three laps and Max was bearing down? What were you thinking? Were you pushing flat out at that stage?
OP: Thanks. Yeah, I think I probably got a bit of a better launch than Lando and Max. And then there's obviously the Safety Car, which spaced everyone out a bit more for me. Yeah, once George got past I thought I was in a lot of trouble, because I tried to stay on the outside of him and it was like he had the grip turned up double. So yeah, that was difficult. And I think staying in front of the Ferrari at Turn 1 was pretty important for me. I think if I had gone behind I would have been in a bit of trouble. So that was a pretty important moment in the race. And whenever you've got Max behind you, it's not the most confidence-inspiring feeling, I'll be honest. You know, I think the pace was actually probably better than I expected. But yeah, pushing flat out, you know. When there's two or three laps to go at that point just trying to hang on as best as I could. And the pace was solid.
Q: (Matt Coch – Speedcafe.com) Oscar, congratulations. Can you tell us about the emotions? What was going through your head as you crossed the line? Was it relief, happiness, joy. What were you feeling at that point?
OP: I was obviously happy to win the Sprint. I have to say, it's a bit of a weird feeling because it's not a race win. It does feel a little bit strange. But no, very, very happy. I think, you know, it's just been a really good day. And I felt like, as a race, more than the result, I was really happy with how I managed things. Obviously a difficult race with tyres as well. So, yeah, I think good learning for tomorrow and I guess happy that I executed well. Yeah, and the fact that it gives me a number one trophy at the end is a bonus.
Q: (Luke Smith – The Athletic) Just picking up on the comments about the tyre situation, can I just get your thoughts on what we're looking at going into tomorrow's race – a potential mandatory three-stop race? I know the steps have to be taken, but is it a very good look for F1 that we've got these question marks?
OP: I mean, I think today's Sprint probably we didn't get the best read on what the tyres are going to do, with so many laps behind the Safety Car. So, I think Pirelli, the FIA need to be sensible going into tomorrow. Obviously if a tyre lets go through the high-speed section… Yes, there's quite a lot of run-off, but it's not a very enticing prospect. So yeah, we'll see what they do. Obviously, it's not ideal for anybody to be in this position. But I think it's been at least encouraging that they've been willing to try things to keep us safe. Yeah, obviously, it'd be preferable if that didn't happen in the first place. But you know, there's not much we can do about that now.
MV: Yeah, I think it's never, of course, a good look for the sport. But let's first wait and see what they come up with, with the analysis after the Sprint race, what the findings are. For sure, even in the Sprint race, you could see that there was a lot of deg and the front tyre, especially the front left was wearing a lot. So yeah, it's very tough around here. Of course, they already changed two corners, in the high-speed corners, which I find quite interesting, like how quickly these things can be changed, when we speak about it, that we want to have track limits changed here and there with a white line or whatever, it's all very hard. So I think, yeah, that's also something for the future that we need to speak about, because I think we need to be heard a bit more. And in general, I think tomorrow it's important, of course, that safety is foremost and that we don't get any punctures or even worse accidents, so let's see what happens tonight.
CHAMPION'S PRESS CONFERENCE
Q: Max Verstappen you are a three-time world champion. How good does that sound?
MV: I mean, of course it sounds great. It's something I never even really dreamt of. It's, of course, a very proud moment for myself, for my family, my close family. I think everyone within the team I'm working with, you know, to be able to experience all of this together is amazing. And I said it on the radio already on the in-lap. Of course, we talk about performance and, you know, you can always thank the team for that, but I also find the whole atmosphere and how much I enjoy working with all these people, I find that probably even more important. It's very important to come to the track and know that you have nice people to work with.
Q: Of your three titles, where do you rank this one?
MV: This one is the best one. I think the first one was the most emotional one, because that's when your dreams are fulfilled in F1. But this one is definitely… It has been my best year. Yeah, well, so far, you know, consecutive wins and stuff like that, and the car itself has been probably in the best shape as well. So for me, this one is probably the one I'm most proud of in a way because of consistency.
Q: Throw it back to the start of the year. When you first drove the RB19 in testing, did you know instantly that this was the car that could take you to your third title?
MV: It's always difficult to say. I mean, it always felt nice. And I thought it had good balance. But you never know what the other teams have come up with over the winter time. And we really expected it to be close into Bahrain. But I think we were all positively surprised with how good the car was there. But that's one track. And, of course, when you go to the next tracks, and you can see, you know, the cars always been quick, and especially in the race, like we always had really good race pace, I think that's, of course, always very promising. And yeah, throughout the year we did… I think we had a lot of great results in tough conditions as well, where it was easy to make a mistake as a team, even if you would have a dominant car. But yeah, I think for most of the races, we just did an incredible job.
Q: At what point in the season did you know you had the title in your hands?
MV: Well, not until this point, right? But no, of course the momentum was growing and race after race the gap was getting bigger. So I was just, you know, looking at myself, just trying to go through every single weekend trying to get the best out of it. That for me at that time is more important than dreaming about the title, because dreaming doesn't really bring you anywhere. It's about the effort and work you put in to try and achieve your goals.
Q: Christian Horner says you're operating at a level he's never previously seen. Do you think you've raised your game this year, to a new level?
MV: I keep trying to improve. And of course, I don't necessarily think I have become a faster driver, but you have a lot more experience in the car. You grow as a driver, you grow also, I think, as a person in life. And I think all these kinds of things, when I compare to my first season in Formula 1, they help you a lot in terms of just dealing with every kind of pressure situation throughout the weekend, you know, everything that might be thrown at you and in difficult conditions, for example. And in the end it's all about you know, trying to deliver every single weekend, which is I think very hard in Formula 1.
Q: Where have you felt the most pressure this year, which race?
MV: It's a good question. I don't know. I mean, it has to also do with track conditions or whatever. For example, the race in Zandvoort, when you're driving on slicks and it's raining, and I know of course I normally enjoy driving in the wet, but I also know that I'm leading the championship and if I go off and I'm stuck, you know, you lose a lot of points. So naturally, you're always driving a little bit under the limit, but that can be, in a way, dangerous as well. So probably when I was out there on slicks, you feel a bit pressured. Sometimes there are people behind you that are a bit faster, because they have nothing to lose. So it's a very different mindset as well that you're in when you are fighting for a championship.
Q: When you look back at the season as a whole, can we just talk about some of the highlights? Best win?
MV: It's a few. I think my win in Miami, I really enjoyed. Spa, Zandvoort, but also Suzuka, like, winning the Constructors' for example with the team there was fantastic. It's difficult to really pick one to be honest.
Q: What about the most satisfying pole position? MV: Probably Suzuka. Yeah, I've had a few. I mean, OK, maybe it didn't count but the one in Spa probably that I enjoyed – those kinds of conditions where you really have to pull it out of the bag. But yeah, in Suzuka the car was on rails. It was unbelievable to drive. And, you know, while driving, I was smiling and that's quite rare in a qualifying lap.
Q: What about the best team performance we've seen from you and Red Bull Racing this year?
MV: Almost every weekend to be honest. I can't pick one. And a lot of different tracks and difficult situations. I think we managed to do a great job, so yeah, I can't pick one race over the others.
Q: And Max, how much more can you achieve in this sport? How many more titles have you got in you?
MV: Depends a lot also on the package, right? That's how Formula 1 works. Personally, I'm still young even though I'm already in F1 for a while. Yeah, definitely, I have quite a few more years in me to be able to operate at my best. But yeah, we'll see how long that is. To be honest, I think it's more about how long I want to be here. That's different.
Q: Final one from me. We still have five races left, the championship is in the bag. Does that change your approach to what we've got left this year?
MV: Not really. For example today, I know, of course, that I only needed to score three points to win the championship but I still want to win, I'm still out there to try and do the best I can. That's got to be the same tomorrow. When I go to the next race I will try to win again because we are having a great car. I know that people around us are catching up maybe a little bit. So here and there it becomes quite tight. But the mindset is pretty much the same. I mean, it's not like suddenly you go more risky in any kind of battle. I think I'm quite happy with what I'm doing at the moment.
QUESTIONS FROM THE FLOOR
Q: (Adrian Rodriguez Huber – Agencia EFE) Max, congratulations. I can believe it's going to be a party tonight and you deserve it. But knowing that there's nothing you like more than winning, this year, with the good package you have, you can out-score score Alain Prost's victories and also you could reach Sebastian Vettel. Is this your goal right now?
MV: Yeah, of course I want to win as much as I can. I know that from third place to second is quite a big gap. So I hope maybe in my career I might end up somewhere there in the middle. That would be nice. But I don't know, it depends a lot on what's going to happen in the next few races and the next few years as well. I don't know how long this is going to last. I'm enjoying the moment and I think that's also very important. I've achieved more than I could have ever even dreamed of, or set any goals that I wanted to achieve in F1, right? So I'm loving the moment. We'll see where we end up but it's already way more than I ever thought I could achieve. So it's perfect.
Q: (David Schneider – Hershey Shiga Global) Max, congratulations first of all, you mentioned the package. How would you rate Honda's contribution to this third championship?
MV: It's massive. It's the chassis together with the engine that allows you to achieve these kinds of things. I'm very happy to work with Honda. I always have been. They are amazing people, they're always super polite but also super motivated and always willing to listen and of course willing to improve. And so yeah, they will always have a special place in my heart even when, of course, they leave at the end of '25. But for now, let's just enjoy the moment together. And yeah, I'm very proud also for them, from where we started as a team together and where we are at now. I think we can all be very proud of that.
Q: (Alex Kalinauckas – Autosport) Max, I wondered, were there moments this season where you felt like you were sending a message to your opposition? For example in Miami, you've already mentioned you had that terrific race performance, only one week on from what seemed like a slightly frustrating weekend in Baku. Then at Suzuka, you had that shock defeat in Singapore, you were first out of the pits in practice. You were massively clear on your first lap there. You won the race very handsomely. I just wondered, has it felt like at times you've wanted to send a message to your rivals?
MV: No, not at all. I'm always out there just trying to do the best I can. And, yeah, of course sometimes I'm not happy with the performance or how the weekend was going but I always tried to be perfect and I try to become better every single race weekend that I enter. Of course in some of them you maybe learn a bit more than others. But overall, yeah, for example Baku, maybe it was not fantastic that I didn't win the race but I learned a lot and sometimes that's more important than actually winning a race because from there onwards, of course, we had a great run. Then yeah, Singapore wasn't good but we were very motivated, of course, to do a good job again in Japan because we knew that we would have a strong car there.
Q: (Luke Smith - The Athletic) Max, on the radio after you crossed the line Christian rattled off the names of the other three-time World Champions and he said, it's not a bad list. I know you're not really one for records but in terms of the names you're joining, and maybe going to now surpass in the years to come, do you think about the legacy that you're going to leave in Formula 1 or is it still very much focused on the here and now?
MV: I find it always a tricky one because I'm not in Formula 1 to leave a legacy in a way. I'm here to win and I'm here to try to do the best I can and try to enjoy the moment with the people who helped me achieve these things. That's, for me, way more important than trying to leave a legacy. But yeah, it's something that I never thought was possible, to be in that list. When you see those names, you're like, wow! that's incredible what these people have achieved in their careers and now you're alongside them. It is, of course, an amazing feeling.
Q: (Phil Duncan – PA) Max, firstly, how do you intend to celebrate tonight? And do you think that might have any bearing on tomorrow's Grand Prix? And secondly, I don't want to keep going back to it but obviously you've won three titles in three years, you've wrapped them up pretty speedily, you must be looking at Michael on seven, Lewis on seven and thinking I can get there. I could get to eight.
MV: The first one, yeah, I guess quite a few sparkling waters tonight but I'll be here tomorrow! Yeah, to be honest, the second one… it's a bit different to some other sports where you can really set out targets and you're like, if I just keep myself in a good shape then these kind of things are possible or whatever. In F1 it doesn't always work like that so I just live in the moment. And like I said before, I've already achieved way more than I ever thought I would.
Q: (Arjan Schouten – AD Sportwereld) So shortly after your title, you're already talking about tomorrow and about the remaining races that you want to perform, that you want to win. I didn't expect anything else but do you fear that there will become a moment in your life that that insatiable hunger is not there anymore?
MV: For sure. Yeah, I think that that's normal. I don't think that someone will… Of course, I'm still very young but at one point I think you've had enough. I think everyone at one point has that if that is because you realise that your body can't handle it anymore in some sports then you have to accept that. And you have to just, in a way retire, but for sure, at one point, you might want to do other stuff or race a bit less, absolutely. But not right now.
Q: (Rebecca Clancy - The Times) Max, congratulations. Do you think you could ever go back to being the underdog and still enjoying F1? Or do you think you'll only really enjoy it now that you're winning and winning these championships after such a period of domination?
MV: Depends how far back on the grid… I know, of course, there will be a time when you're not winning but yeah, probably when you're driving P15 and maybe not. But if you're still fighting up front, trying to win races and you have this prospect of coming back to the top, for sure.
Q: (Ben Hunt – The Sun) Max, I just want to get your immediate feelings having won this year compared to 2021, which we know was waiting and finding out whether Mercedes were appealing. Last year, we had rumblings of cost cap and all that nonsense. How does it feel just to win this one straight out and in this moment right now?
MV: Well, it has nothing to do with that to be honest because I think it's more about when you look at the performance of the years, because in '21, people always talk about the last race, but I think a championship is won over the whole season, right? The same in '22. So yeah, a little hiccup in Japan that takes a few more minutes to find out if your champion or not. For me, those kind of things, they don't really matter. I think I analyse my performances race after race and not only the race; how I handled leading up to run plays and stuff, or what I did off the track. And the same this year and that's why I think this year is performance-wise, definitely the best one. The first one has been the most emotional one. The middle one… is now the middle one.
Q: (Alex Kalinauckas – Autosport) A similar note to what Ben was just saying, the difference between all three of your titles. In 2021 you fought against Mercedes all the way to the end. Last year, it was against Ferrari, OK, their challenge fell away. This year, your only rival really was within your own team and even that didn't last very long. How did it feel not having to really go against another team this year?
MV: Well, of course for F1 you would like to see more competition, but for me, I don't need any other team or like a team-mate to get the best out of myself. I'm putting a lot of pressure on myself to always try and be the best I can, try to prepare in the best possible way. That's what I enjoy and that's the only thing that I really look at.
Q: (Luke Smith - The Athletic) Max, is it a bit of a shame that you don't get your hands on the World Championship trophy for another six weeks or so? You're given that P2 plaque by the FIA president in Parc Fermé but would you rather get your hands on the trophy for being the World Champion there and then?
MV: It's OK, they look the same. I have two at home so they're not changing. It's just one extra name on it. But it's OK, I can wait a little bit. Yeah, I got one next to my sim rig and one next to the TV.