FIA Thursday press conference - Sao Paulo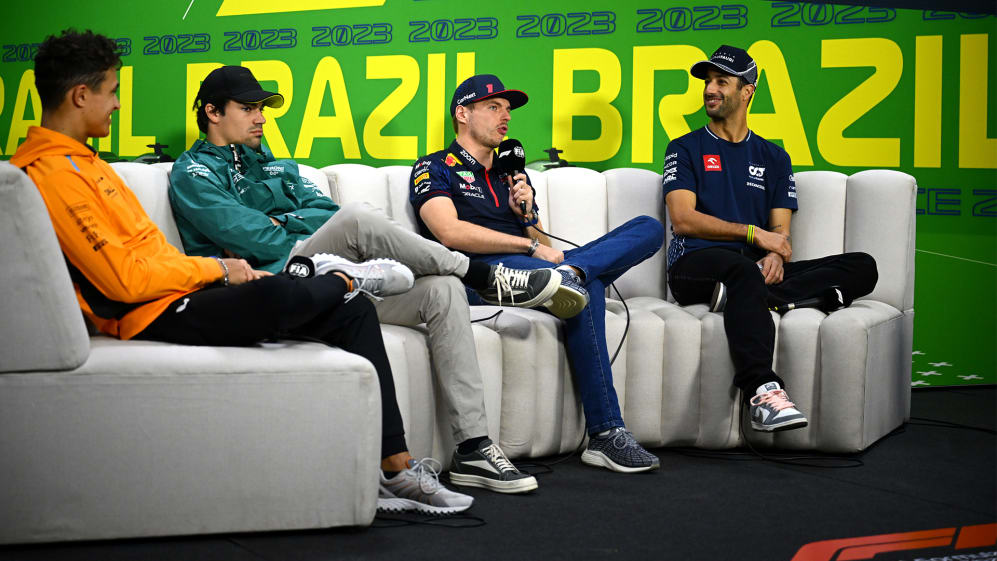 DRIVER GROUP 1 – Lando NORRIS (McLaren), Lance STROLL (Aston Martin), Max VERSTAPPEN (Red Bull), Daniel RICCIARDO (AlphaTauri)
Q: Daniel, lots of positive headlines in the press this week, saying Daniel Ricciardo is back to his best. Is that how it feels after last weekend?
Daniel RICCIARDO: Yeah, like it felt… well definitely, obviously this sport you've got to kind of keep backing it up. Obviously it's nice to have a good weekend but to just have one, in my mind, it's not enough. But, of course, for me, to have a strong weekend from start to finish, I think spoke something. It was something that obviously I have struggled with the last year or two. Didn't have many weekends like that. I think also this year was just about me, like rebuilding I guess, myself again and just trying to find, as people say, that old form or that old me. So, Mexico felt a lot like that. Even the lead-up. Everything about that week, I was just very, very ready. Ready to go. So it was nice to back up everything I hoped the weekend would be.
Q: DR, when did you last feel that comfortable in a Formula 1 car?
DR: 1996, I think it was! It's been a while. It wasn't like every weekend at McLaren was bad. There was some that were good but I'd probably have to go back to more… 2021 as opposed to 2022. It was a while – but I think from start to finish, that was one that, in a car that is still relatively new for me, obviously it was my fourth proper race weekend of the year, so I think to have that feeling quite early, and also just to have an understanding… already I think I have a good understanding of what I want from the car. So, in terms of set-up, we were able to change a few things going into Mexico, and I think that as well, translating into the feeling I was looking for, I think that's also really positive.
Q: You made those changes going into Mexico – but were you still surprised by the competitiveness of the car there?
DR: Yeah. I think fourth in Qualifying, coming into Qualifying, it was clear in my mind that we were going to be Q3. I had a lot of confidence and faith that we were going to have no issue getting into Q3, especially with a couple of extra tenths from a tow from Yuki. So, that obviously got us in there quite comfortably – but even Friday night, I'd played a lap out in my head. And I was, alright, maybe everything going well tomorrow, it won't just be like a Q3, like a tenth. It'll be maybe a seventh. That would be amazing – the fourth was a little better that we probably thought. Honestly, it wasn't after 'til… I was very happy with it, doing the press afterwards and that, but it probably wasn't until Monday, Tuesday where that kind of sunk in a bit more.
Q: Just a tenth behind Max in qualifying…
DR: Yeah, so… I don't know what you want me to say! I was going to try to say something funny! It was cool. That was one thing I said. Fourth, yeah, fourth is great but it's not like Max or Charles on pole in that case was eight-tenths down the road. We were just over two-tenths from pole and that as well felt as good as the fourth. We were there, we were competitive.
Q: Alright, what about this weekend in São Paulo?
DR: As obviously positive and awesome as Mexico was, now you switch the focus to this weekend. It's nice coming into a weekend after a good result but we have to start from scratch here in terms of… we've got one practice session. I think we have a bit more confidence in where to start the car with set-up – but different track, different conditions, so we'll come in with the confidence but definitely staying grounded.
Q: Max…
Max VERSTAPPEN: Keep it a bit shorter please!
Q: …Are you going to win this weekend Max?
MV: Erm… maybe! I don't know.
Q: After that record-breaking 16th win in Mexico last weekend, do you think it is going to be a little bit closer here in Brazil?
MV: Well, last year we didn't have a great race weekend here. And now, with also the Sprint format, makes it quite difficult to straightaway be on top of things. We had a few ideas why last year was not that great but one practice session to make sure it's better this year. I think there's a lot of high-deg here, and the way you have to set up the car, a lot of low-speed corners. I don't think our car is particularly, let's say, amazing in the low-speed corners, so I guess we'll find out.
Q: So, a little bit apprehensive, is that what you're saying?
MV: Yeah! Last year it was definitely not a great weekend, you know? We'll definitely have to try to do better.
Q: You said in the past that you learn more from losing than you do from winning. This is actually something I touched on with Christian Horner last week. Given that you've been so dominant this year, just tell us some of the lessons you've learnt during 2023.
MV: A lot of different things but it's every single weekend, you know? Different things happen. Some weekends you learn more. Some weekends you learn less. Sometimes you hit the ground running, the car is unbelievable, you barely touch the set-up of the car. Whereas sometimes you have weekends, where it's a bit harder to get on top of things, driving wise, set-up wise, and you might find out a bit more. You might learn a bit more in the race, certain scenarios, you learn more. Yeah, we can go on forever but every single weekend is different.
Q: Final one for me, then. Away from Formula 1, there's been an interesting merger in the world of esports. You're involved. What's it all about?
MV: Yeah, I mean, I, of course, got my own esports team, and of course, Red Bull as well. So, basically, we kind of merged for a few particular platforms. I think the most important one is, is F1 esports. We'll take over the performance side of things. So yeah, very exciting stuff ahead. I mean, yeah, I think we all have a lot of great drivers in the teams. So, putting that force together, I think is very exciting. And hopefully, of course we can do well.
Q: Are you going to race?
MV: Not in F1 esports. I'm too slow. I'm too old!
Q: Lance, can we come to you now? So, Mexico proved problematic for Aston Martin. And then of course, neither you nor Fernando finished the race. What were the issues with the car last weekend?
Lance STROLL: Just yeah, I mean, speed we, you know, we're just lacking speed in the corners. You know, the high-speed corners? Yeah, everywhere. You know, we just weren't very competitive last week.
Q: Were you expecting more? Were you caught out by the problems?
LSt: Yeah. I mean, it wasn't what we were expecting, hoping for, after a really strong race on Sunday in Austin. We started from the pit lane, changed a few things from the car, you know, had a strong race on Sunday in Austin, finished in the points, then going to Mexico, really struggling again. So, not, you know, what we were hoping for last weekend. But we'll see what we can do this weekend.
Q: Well, have you got some ideas for this weekend? Do you think you'll be more competitive?
LSt: I hope so. We have a few ideas. For sure. I think a lot of, you know, analysis has gone into last weekend, coming into this weekend. So yeah, we'll see how we go.
Q: Lance, it's been such a topsy turvy season for Aston Martin. If you took the car that you have now, back to Bahrain, would it be faster or slower, than at the start of the year?
LSt: I don't know. It's a good question. I mean, we started the season really strong. You know, always kind of fighting, finishing in the top five. And yeah, I mean, you know, coming into Bahrain, we were, you know, second, kind-of, quickest car. But it's, you know, been more challenging lately. So, it's a tough question. But, you know, Formula 1's a development race throughout the year. So, I think there's no doubt, you know, teams have improved. It's a relative game. You know, no one has the same car that they had at the first race of the season. So tough to say, but yeah, good question.
Q: Lando, let's go to you now. T-minus two weeks for you before the Netflix Cup, just prior to the Las Vegas Grand Prix. Are you in good shape on the golf course?
Lando NORRIS: Nope! I played yesterday here in São Paulo, but… I'm feeling alright. I've not been playing a lot of golf at all over the last few months, just for different reasons. So, I've kind of lost touch but I've tried to get back into it in the last few days, and I will continue to, before Vegas next week and before the event. So, I'm sure I'll be alright – or at least get carried by my team-mate.
Q: Well, who is your team-mate? Can you give us any details?
LN: I don't know if I'm allowed or not. But sure, Rickie Fowler. A good guy. I watched all of the guys and Ricky is kind of a bit more back on form lately, comparing to where he was at the beginning of the year and last couple of years. I'm excited. It's going to be the first live event for Netflix, which is a cool thing to be part of. Nice course and everything. And yeah, I don't know, like how the whole event is going to work but I'm sure it's going to be good, fun.
Q: Lance, just to bring you in quickly. You're a very good golfer, were you're not tempted to play in this?
LSt: I used to be. And I guess when I played more, I haven't really played much lately. But yeah, I'm starting to get my swing back. So, I was there yesterday at the same club as Lando and a few of the other guys and getting back into the groove of it.
Q: All right, Lando, back to you. I hope you've been basking in the glory of a great race on Sunday. What was your secret?
LN: Basking? Just what was my secret? Qualifying badly was my secret! Makes it a lot more fun coming from starting at the back. So, I mean, the pace was great all weekend. Maybe not amazing Qualifying, but good enough easy to be into Q3 and so forth. So, we knew the pace was going to be good on Sunday, maybe not almost as good as what it was, especially that that final stint. I think the first stint was good, but just hard to make a lot of progress at the beginning. But a second stint, yeah, you know, once you get the tyres in a good window and things start to come towards you, then things started to flow. Felt very good out there. So, many different reasons but, yeah, just good pace, good tyre wear, good management, and that made it a very enjoyable race.
Q: Could you have challenged Max if you started at the front?
LN: No. No chance.
Q: What about here then, Lando? How hopeful are you for the São Paulo Grand Prix?
LN: I mean, I don't know. Like, I hate answering this question. I don't think anyone knows, really. Just some weekends we're good, sometimes not so good. Definitely here and Mexico are the two races we weren't expecting to be too strong comparing to Qatar and Suzuka, and things like that. So, not expecting to set the world on fire but I think considering how good Mexico was in the race, and where we potentially could have finished, if we started higher up, then I still look forward to it. But it's never tended to be our strongest weekend, or one of the strongest weekends. So yeah, we'll keep our feet on the ground and keep pushing. But I'm sure we can still have a good weekend.
QUESTIONS FROM THE FLOOR
Q: (Naomi Schiff – Sky Sports F1) This question is for all of the drivers. We are heading into our last Sprint race of the season. There were some mixed feelings about the Sprint races earlier this year, both on the grid and off of the grid. So, I'd love to get all of your reflections on how it's been this season.
DR: I think, yeah, I've done four. Spa was a sprint? I think yeah, then Austin. So, out of now, which will be my fifth race, three of them have been Sprints. So I'm like a Sprint veteran! I liked some of them. I think there's room for a few of them across the calendar. It does change it up a little bit. I still, like, prefer a conventional weekend. You know, if it's one or the other I'd take the conventional. But, look, if we have obviously in a season of 23-24 races, if half a dozen of them are Sprint, I think yeah, it adds a little bit of spice. But I wouldn't want to go down, say, the MotoGP route and have it every weekend.
MV: Yeah, it's been absolutely fantastic. So much fun.
Q: Would you care to elaborate?
MV: I get so excited by having a Sprint again. I'm all for it.
Q: Lance, please, your thoughts
LSt: I mean, yeah, I don't mind them. I think it's exciting every time you get in the car, you know, there's something to fight for. And yeah, more action for everyone kind of watching back home too. Sometimes I kind of felt like last week, you know, after having the Sprint in Austin and then going to Mexico and kind of having that, you know, more normal weekend, I felt like there was a lot of practice and just, you know, Friday was a long day and Austin was kind of just full-on, you know, every session just, like I said, something, something to fight for. And yeah, I think it was a much more kind-of exciting weekend than Mexico. So, I definitely think it, you know, spices things up and makes it, yeah, interesting for everyone watching at home.
Q: Lando?
LN: I'm in the middle. I've always liked the normal race weekend, to be honest. So, if I could just choose, I just go back to having that. But the reason is for the fans and to put on more of a show and things like that. I like the challenge of just FP1-Qualifying. I think it's better. I think it's, for me, more enjoyable, more of a challenge for the engineers and for us as drivers. So, if we just had FP1-Qualifying and a main race, you know, Saturday-Sunday, there'll be nice. Two days. So yeah, I think that's maybe the only thing, but it's not my choice, so doesn't matter.
Q: (Tom Cary – Daily Telegraph). Question for Max. Yeah, obviously it was here last year that there was a bit of a controversy when you declined the team's request pull over for Checo. Obviously, with the situation as it stands, and he's 20 points ahead of Lewis, trying to tie up second, and with the championship already tied-up, how would you feel this time if a similar situation occurred?
MV: Good question. I think at the end of the day, I think that it shouldn't always matter on me, you know, to get the points, but I'm confident that in Checo, that you know, he can stay ahead, because I do think that, on average, you know, we have the faster car. And I think also last year, it wasn't really well spoken about before we got into the race weekend. But yeah, let's just hope that we don't get into that situation, I think is better for everyone.
Q: (Phil Duncan – PA) Daniel, Sergio's future at Red Bull is obviously in the spotlight, given what happened to him last weekend, and obviously your performance there too. Has there been any dialogue with Red Bull about taking his seat next year? Do you think it's possible you could be there in '24? And to Max, Would you welcome Daniel back at the team? Thank you.
DR: I haven't. Yeah, obviously, all the stuff around my contract next year has been related to AlphaTauri. So yeah, that's, I would say that's honestly as far as that goes, I think. Yeah, for me personally, having a weekend like Mexico is just definitely good for the soul. And also, like, for the team, you know? I haven't been here long but for them to be tenth in the Constructors', and to jump two places in the space of two weekends was huge. So, I think that kind of creates a very happy atmosphere around everyone. So that's, yeah, kind of happy doing that. And try to just keep charging on where I am.
MV: Yeah, nice questions today here. I always had a great relationship with Daniel, when were team-mates, when, of course, we weren't, but at the same time, also, I have a great relationship with Checo and I find it a bit unfair to now sit here and say who I would prefer as a team-mate or whatever. I mean, they have been great team-mates, and it's not up to me at the end of the day to make these kinds of decisions, because I'm very focused on my own performance. So yeah, I mean, if it's Checo next year, then, you know, great. I have a great working relationship with him, but also personally, I think he's a great guy. And if it's Daniel, then also we will get along fine and we have a great time. But yeah, F1 can be a tough sport and you're asking these kinds of questions, but yeah, maybe also nothing happens right, so we'll see.
Q: (Jake Boxall-Legge – Autosport) A question for Lando. Lando, your team principal Andrea Stella said that it was one of the best races that he'd ever worked on with you, your P5 in Mexico. How would you rate it amongst your races over the years? Obviously, you've had great results, very nearly a win in Sochi in 2021, a few P2s this year, so where do you stack it up?
LN: I think it's tough to mix it in with races of podiums, you know, whether it's P2s or P3s and things like that, it's always hard to ever say it's as good as one of them. But I think in terms of management and not giving up, that kind of thing, especially after the restart and dropping to 14th, I think in terms of management, and from that stage of it, it was probably one of my best races. Race pace was never my best and my strongest suit, even a couple years ago, so to have now almost turned it into one of my strengths and qualifying being almost a thing I need to be working on a bit more, then that's a good sign. So I enjoyed it a lot. It was definitely one of my better performances. But it's also a very different situation to Austin and going from the front and kind of trying to lead the race and control the pace and things like that. It's a very different situation to be in. So one of my best? Yes, but difficult to compare to the rest.
Q: (Emanuel Colombari – Band.com.br) This is always a very special weekend for motor sport fans in Brazil and I'm pretty sure you all have good memories, some particular memories from this Grand Prix. And I would like to ask to all of your What are your best memories from this Grand Prix? What do you love most about Interlagos?
LSt: Yeah, it's a great place to come racing. I love Brazil in many ways. Yeah, food's good and the track's great. And yeah, the atmosphere around the weekend is always incredible. So it's nice to be back.
LN: I don't have many great memories from Brazil. Just because I have not had many good races here. Not for any other reason. I don't remember any race growing up, here in Brazil, probably apart from [Timo] Glock. That's probably about it. That's the only thing I remember watching growing up. So I think it's just always enjoyable coming here, because of, like you said, because of the fans, and just the history of motor sport here. A lot of fans nowadays are fans who have got into Formula 1 through Netflix, and they don't know a lot about the history of motor sport and Formula 1, and all of those things. Whereas I feel like the Brazilian fans are fans who have been in it for a very long time and are very passionate within racing. And I've watched it since Senna was here and Piquet and all of these guys, and Massa and all these guys. So yeah, I know, a weird one for me because I just never grew up watching a lot here and there's nothing that's special from a driving side. But I have a lot of good friends here and a lot of support. So it's always a pleasure to come back.
MV: Yeah, quite a few good memories. I think the wet race [in 2016] that is typical Brazil style. You know, you have weather incoming and I think it makes it all a bit more special. It seems like it's going to be dry on Sunday, but you never know. Of course getting your like your first win here at this strike. I think that was very nice. Could have been one more, but that didn't work out. Yeah, I mean the track doesn't have a lot of corners, but it's quite a technical infield. Yeah, I always enjoy coming here. The support has always been great. Very passionate, as well. So hopefully again, a great weekend.
DR: The atmosphere is definitely one. A lot of passion. Yeah, sorry, it's a triple header. I feel like we're all starting to feel the effects of it. But I remember my first race here. Like the Drivers' Parade was cool. It felt like what you'd get at probably like a football match or something, you know, with lots of drums and flares and a little bit of dancing and so that was cool. And yeah, even though, like 2016 maybe for me wasn't like a highlight result, just that race was wild, you know. I remember that as a crazy one. Obviously Max, my team-mate at the time, had a really phenomenal race. And I remember after the race, I realised he nearly crashed and then saved it and it was just, yeah… Even, I think maybe Kimi was stuck on the straight and there was a red flag or something. Maybe it was that year and I didn't even see Kimi. I didn't know what the red flag was for. So visibility was just insane. Yeah, foggy visor. It was just wild. So that was a chaotic race, but certainly still a pretty probably iconic one in in my time. And then as a fan, as Lando mentioned, the 2008 season finale, that was wild.
Q: (Carlos Costa – Motorsport.com) Lando, we know that you are a fan of Palmeiras football team. And Max, you kind of have a family here. How have the last days been in Brazil for you guys.
LN: Yeah, I mean, Palmeiras won last night against the leaders. They were 3-0…
MV: Who are the leaders?
LN: I don't care. Not Palmeiras. That doesn't matter. I don't want to name them. The other team were leading 3-0 at halftime and Palmeiras made a great comeback to win 4-3, so it give them a chance…
Q: Did you go to the game?
LN: Not this year.
MV: Did you watch the game or not?
LN: Yeah, I watched the game. Yeah, I was supporting Palmeiras. I do ever year, actually. I mean the last three years. Last year I went to the game and it was nice to go to the stadium and Abel [Ferreira] the manager, I invited him to the circuit last year too. So he came. I mean there's not many football games that I've ever been to but I've probably been to more Palmeiras games than I have anyone else, but it's just become a bit of a thing every time I've come here so I'll just say congrats to them for yesterday. And they kept the championship fight alive. So I hope that they can go on to win it.
MV: Yeah, it's been very good. I was in Brasilia, it was very relaxed. Yeah, good weather. A bit of rain here and there as well, but it's quite nice to cool off a bit. I don't what else say. I think it's always great, you know, to spend a bit of time with your close ones and family.
Q: (Luiz Gustavo – Parabolica) Lance, there were some rumours recently that maybe you're not so in love with the sport as you have been in the past. Can you confirm you will be on the grid in 2004? Or is this decision yet to be made?
LSt: Yeah, I mean, the plan is I'm staying next year. You know, it's been a challenging season at times for sure. You know, some great highlights but also some really frustrating days of recent. But yeah, the plan is to keep going next year for sure.
DRIVER GROUP 2 – Valtteri BOTTAS (Alta Romeo), Logan SARGEANT (Williams), Charles LECLERC (Ferrari), Lewis HAMILTON (Mercedes), Carlos SAINZ (Ferrari)
Q: Now Valtteri. Can we start with you? You seem to have lost something since we last saw you in Mexico?
Valtteri BOTTAS: That is correct. It's November, so I've got to start from zero. Actually I do it for charity, for Movember, I had a bit of a scare this morning when I looked in the mirror, but only a few days and we're good.
Q: How can people sponsor you if they want?
VB: I've got my own Movember page. You can find the link from the link tree on my Instagram account.
Q: Now Valtteri, let's throw it back to last weekend. It was a disappointing race for you guys after a great qualifying. Do you understand now the issues with the car?
VB: I think the race pace wasn't quite as we were hoping for. But the bigger issue was track position. Pretty much the whole race being stuck behind cars. And that way, you can't really show the pace and see the real pace. So I think that was the bigger issue. Not the luckiest race as well with timings. You know, the Safety Car became for both of us in the worst possible timing. So just a bit unlucky as well.
Q: OK, so not so concerned about the pace of the car. And does that give you a little bit more confidence coming to Sao Paulo?
VB: It does. I think we had a good one here last year in terms of pace. So yeah, I have full confidence that we can score. And that's what everyone in the team needs to believe.
Q: Now, you had the team dinner last night, Having lost a little bit of ground in the Constructors' Championship to AlphaTauri. What was the mood in the camp? Just tell us a little bit about how everyone was and how bullish people are feeling?
VB: Everyone just wants points. You know, everyone has the right mentality. We know that. We didn't succeed in the last event or in the last couple of events, but it's important to get together, you know, to make sure that we all work as a team towards the same goal. So it was nice to get together.
Q: Alright, Valtteri, good luck this weekend. Thank you very much. Logan, let's come to you then. Now you've done FP2 here last year. How important is that going to be for you this weekend, given that we're going into a Sprint?
Logan SARGEANT: Obviously it was a weird one. It was a Sprint race last year and I still did FP2, with a different format. But yeah, it was pretty much a session where I was just told, don't use kerbs, look after the car, it was already under Parc Fermé. But no, it's still good to know the track. It's a Sprint weekend. So that's going to be tricky. The weather looks a bit mixed, but yeah, at least I have a base understanding of it.
Q: Now, Logan, the race pace has been really strong for the last few events. But you've said since Sunday, that you're looking for a breakthrough in qualifying. What do you mean by that?
LSa: Yeah, I think it's been, like you said, a food few Sundays on the bounce, which is nice. But yeah, Saturday's haven't gone as well, for multiple different reasons. But yeah, I think it's all there. Just need to do it. And we can start by doing that this weekend, put ourselves further up the grid and keep our strong Sundays.
Q: And how are you feeling about the team still waiting until the end of the year to confirm you or otherwise for next year? Are you happy with that situation? Or do you wish they just get on and make a decision?
LSa: Yeah, I mean, it is what it is. I'm just taking it race by race. I think, as I said, Sunday's are getting stronger and stronger. Now. It's just about getting qualifying together. Take it race by race, enjoy every weekend and wherever leaves us, it does.
Q: Now, it's a bit odd to be asking you about Vegas, given that we haven't even started this Grand Prix weekend, but it's your third home race in two weeks' time. Williams have just released their Vegas merch for the weekend. Just tell us a little bit about how you're going to prepare for that home race between now and the Vegas Grand Prix.
LSa: Well, that's going to be a busy one for me for sure. We already have a lot of media lined up. But other than that, we have already done our work on the sim, which is nice to have already been able to do that. I'll go back do a little bit more after this weekend. And then just, yeah, get ready. Relax, go through the normal routine. And it's going to be cool because I raced in Vegas multiple times in karting as a kid. So to be able to go back there and race in F1 is going to be a special weekend.
Q: Charles, let's come to you now. So we've established since Mexico that you're better at chess than Pierre Gasly.
Charles LECLERC: I am. I am. [To Lewis] Oh yeah, we have to play for sure. But I am better than Pierre, yes.
Q: He claims that you won one game and now you're telling everybody on social media and he feels that it's a bit unfair.
CL: Yeah, but we only played one, so I've won 100% of the time, which is a good record to have. But I'm sure we'll have many more chances to play together.
Q: Alright, before we come on to the business end of what's happening here in Brazil, tell us a little bit about what you got up to on Tuesday. Ayrton Senna is, of course, one of your heroes. How was it?
CL: Oh, yes, Ayrton is the one and only idol I've ever had. And the foundation and the family invited me to the foundation in São Paolo. So I had the chance to see the car he has been racing in. Also a few helmets that he's been using, and it was really, really emotional. And also the family has been welcoming me in the best way possible. Viviane has explained me many stories, and also the stories of the helmets and the cars in there. And it was a very, very special moment for me for sure.
Q: Now, let's bring it on to the on track action here. How confident are you first of all of getting a hat-trick of pole positions?
CL: I mean, it's always nice, but at the same time, for me, it matters the most on Sunday and in races. And at this time we don't we don't really have the car in order to make those pole positions a win, or at least a really good result on Sunday. So we really have to work on that. And that's where we are all focusing at the moment, to try and find performance coming the race. And we've still got quite a bit of work to do. So it will be amazing to be on pole. But I would rather have a win than a pole this weekend.
Q: Do you think the harder tyre compounds here in Brazil compared to Mexico will help you in the race?
CL: I don't think this has a big influence on our performance. I think it's more down to the track characteristics. But again, it's very difficult to predict this weekend, and especially on Sprint weekends, FP1 is super important. It's very easy to put a foot in the wrong direction, if that's a good expression, and then the whole weekend you cannot really recover if you do a mistake in FP1 with the set-up. So it's going to be super important to have a strong FP one. And hopefully that will be a positive weekend for us.
Q: Good luck with that. Lewis coming to you. So, just how special is this Brazilian Grand Prix weekend for you. You're an honorary citizen. You have a great record here at Interlagos. Senna, of course, was a hero. In fact, I love the outfit that you came to the track in today. Just tell us a little bit about what this race means to you?
Lewis HAMILTON: Yeah, so it's been a special race for me. I mean, I won my first World Championship here. It was kind of crazy back then, because I kind of felt like public enemy number one. Obviously, I was racing against Felipe. But the growth that I've felt here and the reception that I've had here, the amazing support… But I mean just as a kid, growing up at home, being a fan of football, for example. Always loved the Brazilian colours. And me and my brother would play FIFA, for example, and he would always take England, so I'd always take Brazil. And then there was Ayrton Senna, as Charles mentioned, who was just such a big hero for so many of us. And when you come out here, you really feel his presence. And it's just such a beautiful culture. And the track is iconic. You know, they don't build circuits like this anymore. So it's a race that I think all the drivers really love. It's a race that it's fun to drive a single lap but the races are very strong here, you've got that long straight which you can overtake on and the follow through, Turns 1, 2 and 3 and then have a fight down to Turn 4 so a good overtaking place as well.
Q: And given your podium last weekend, given the pace of the car here, with the 1-2 last year, what are your expectations for this weekend?
LH: I don't really know. I expect the Red Bull to be very fast, as always! It seems to work pretty much everywhere, except for Singapore. And we expect the Ferraris to be quick. I hope that our car works well here like it did in Austin but you can just never predict – it could be bad, it could be good. So we're just trying to prepare the best way we can.
Q: And how do you see the fight in the Constructors' Championship between Mercedes and Ferrari? You've got the advantage by 22 points at the moment.
LH: Yeah. It's a really fun, enjoyable battle and these guys did a great job in qualifying at the last race but fortunately we were able to leapfrog them but I think it's going to be close. And these last three races, it's going just take all hands on deck to stop these guys.
Q: Carlos, a bit of golf chat before we get into the real business. How are you preparations for the Netflix Cup coming along?
Carlos SAINZ: Yeah, all good. I'm playing as much as I can but not as much as I would like, because of how busy we are with F1. But yeah, hopefully next week I'm getting a few rounds in. I'm going to go on holiday for a week before Vegas, staying out in the US and then flying there so by the time I get there, I'm hoping to be a bit warmed up for the match.
Q: Can you give us any details? Who's your team-mate?
CS: I've been told, but I'm thinking I'm not supposed to tell you. I would be revealing something that Netflix wants to reveal.
Q: It's not Lewis, it's not Charles?
CS: No, no I'm playing with a pro golfer. But I think I don't want to screw it up. I think Netflix might want to announce that themselves. Although maybe they're there. Maybe, can I?
Q: But let's pick up on that Constructors battle that Lewis was just talking about. How do you see it between Ferrari and Mercedes?
CS: I do believe that Mercedes has a bit the upper hand, mainly because they're heading the championship and 22 points is quite a bit. And also, given the points are done on Sunday and that's where the Mercedes comes stronger and we are the weakest, I think for sure they have a bit of the upper hand. But at least we're managing to keep the pressure on and they cannot afford to make any mistakes because we're there to capitalise on them. It's a fun battle, like Lewis said. We're always very close to each other in the races. Normally, it's them chasing us or overtaking us in the race and hopefully we can reverse that in the last three races and at least not get overtaken and manage to finish ahead because that's where the points are given.
Q: Let's follow up from what Charles was saying about the race pace of the car. How do you assess the performance on Sunday?
CS: I think we simply have a bit of a weakness there. It's been there all year. We always tend to do better in qualifying than we do in the race. Then we have the inconsistency of the stints. There's some stints during the year that we've been very good in the race, and then other stints that we've lost out a lot depending on the compound, on track conditions and the way we treat the tyre. So we just simply seem to be a bit less consistent on that front and that's where we're putting all of our efforts into these last three races and going into next year, to see if we can manage to change that deficit that we have.
QUESTIONS FROM THE FLOOR
Q: (Naomi Schiff – SkySports F1) My question is to all of the drivers. I asked the same question to the last group of drivers that were in here. We're heading into the last and final sprint of the season. There were some mixed feelings about it both on the grid and off the grid. I'd love to get all of your reflections on it?
VB: I like the Sprint always. I've never been a big fan of three practice sessions. I prefer to have one and then straight to action so that's the nice side of a Sprint weekend. Obviously there's always things that could be changed. For example, for us as a team at the moment, unfortunately it is only the top eight that can score in the sprint so most often it's a bit of a long shot at the moment for us, which is not ideal but of course it's depends on which car you are. But other than that, I'm more than happy to do a sprint.
LSa: For me, it's not preferred. I think one, as a rookie, it's nice to have the three practice sessions. But on top of that, I just feel like Saturday is a bit of a standalone day that doesn't offer a whole lot, as Valtteri said, if you're not in the top eight. So I prefer a normal weekend.
CL: I quite like it. I like the fact of having only one free practice session. I don't think we should have more than six Sprint weekends in a year. I think six is good. But to have one free practice and go straight to qualifying is something I enjoy. I think the Saturday could be changed and improved but I really like the Friday, to not have three free practice sessions is really long and sometimes it can get a bit boring. We always go through the same programme. So I like the fact of having only one free practice and go straight to the action with qualifying.
LH: Yeah, I feel pretty much the same as these guys. Saturday's not the greatest of days, but I like the single practice session straight into qualifying. I think we can learn. I love that we do have a different format, rather than just the same three practice sessions and then the qualifying and the race. But the best Sprint race I ever had was when I started last and so I'm in favour of the reverse order, except if we had that then everyone will just try and qualify last! But I think it maybe should be a little bit longer the Sprint race because it's something like 19 laps or something.
Q: Carlos, reverse grids?
CS: Yeah I wouldn't mind. I think right now, I agree that six is enough. I agree that Saturday's too revealing of what's going to happen on Sunday. It is basically the first stint of the race of Sunday, what you're watching on TV, and this doesn't help, I think, the show for the main race that is the Grand Prix. So you arrive to the point, you'd better try something else on Saturday. Is that reverse grids? Is that single lap qualifying? Is that… whatever, I don't know. But I think given that the Sprint format is a bit of an experiment going on right now in Formula 1, I would be open to keep experimenting to see which format is best because for me the one we have now, just Saturday, doesn't feel completely right for what then comes on Sunday.
Q: (Matt Kew - Autosport) Valtteri, Lewis and Carlos, just following on from that thread about Sprint races and reverse grids and whatever, where would you guys like to see resources focused to make F1 as good as it can be, like one fell swoop? Would you change… make the cars smaller? Lewis, you mentioned about track design, can this be mega, change in the format? What's the one area you guys would pick to make F1 mega overnight basically?
VB: I think many of the things have been… well, some of the things have been addressed for the next generation of cars. So I believe they should be a bit lighter, that's naturally going to go to improve racing. Maybe a little bit smaller as well was the right direction. But yeah, I still think with the format, especially on the Sprint weekend there's work to do. And I always keep saying single lap qualifying would be exciting so that you would synchronise that, yeah, that's one by one, people could follow each car. And imagine the amount of tyres we would save? We are using so many tyres in the weekend and if we want to be more sustainable as a sport, I think that's one argument.
LH: I don't really have an interesting answer for you. I've not sat down and thought 'this is how you can make the sport better'. I think it would be it would take a lot of work. I agree with some of the things that Valtteri said, but yeah I don't have a solution for it just yet.
CS: I think the raceability of the cars has been improved and we need to keep working on that direction, make them maybe a bit narrower, bit lighter and keep the aero under control so we don't suffer too much when we're behind each other. I think the circuits can make a bit of an effort too. I think when we go to circuits like São Paulo, Austin, there are circuits that are just simply a lot better for overtaking than others. And I think there can be made a bit of an effort in other track designs, future track designs or even designs that are already made. But that's pretty much it, everything else, I think Formula 1 is in a very good moment right now. And it's giving a good show, even though obviously Max is dominating, the races are sometimes still quite exciting. So if it's not broken, don't change too much.
Q: (Phil Duncan – PA) Lewis, I know you said that the Mercedes is isn't always easy to predict but given that Mercedes won here last year, obviously you had a great drive here a couple of years ago. Do you think that this is your best chance this year to win, to ensure you don't go a season without winning?
LH: I said it's not easy to predict. I really don't know. After the last couple of races, you get messages from people like 'oh, it's looking good'. I'm like 'it was looking good at the end of last year, too'. But we started 1.5 seconds behind at the start of the year. So I'm not dazzled by where we are currently. I'm proud… the only reason I'm on the podium is the great work that's gone in the background, but I'm more thinking quite long-term at the moment. And then short-term just trying to solidify second in the Constructors' because that's so important for everyone within the team. But I anticipate the Red Bulls are going to blitz it because their car has been great but if that's not the case, then I'll be ready to take the fight to them. If it can be anything like Austin and we can get the strategy better than that would be incredible. And I came away empty handed last year, so I don't plan on that this year.
Q: (Maria Clara Castro – Car magazine, Brazil) Charles, but I don't mind if Carlos also feels like sharing his thoughts. Well, Ferrari is undoubtedly a historical team. In WEC, after Toyota's dominance, Ferrari has won this year's 24 hours of Le Mans. Back here in F1, there have been poles and a win. Yet, there's still the 22-point gap to Mercedes. So what I would like to know is, what is it that is missing from your perspective? Is it really only race pace? Maybe a little bit of magic?
CL: I don't believe in magic. So I will say race pace is what we are missing the most but I will also say that yes, we are missing 22 points to Mercedes and short-term, this is where we should focus. But I think the whole team is well aware that that's not the target for Ferrari. Ferrari wants to be back on top. And there are many more points to recover to be the first team, especially against a Red Bull that is extremely strong at the moment. And that is the medium to long-term target and yeah, so that's why we are putting all the efforts in order to be back to the level of performance we've seen at the beginning of last year, where we were fighting for wins and fighting for the championship. Then, unfortunately, it was more difficult since then. But as you said, I think what we are missing at the moment is mostly the race pace. But I think since Zandvoort, we've done big steps forward in the understanding of our car, in the concepts that we have and the directions we've been taking. Until now the first part of the season was mostly down off experiencing what were the best directions to go into for the future. And then since Zandvoort we've set it a little bit more and understood which is the direction to push. So this gives me the confidence that we can close the gap in the future, then how close or when is much more difficult to answer.
Q: (Emanuel Colombari – Band.com.br) We've heard some good memories that Logan, Charles and others have from Brazil, from the São Paolo Grand Prix and I would like to ask Valtteri and Carlos about best moments from here, some good things they both love from Interlagos?
CS: Yeah, well my best memory by far is obviously getting my first ever podium in Formula 1, thanks to a five-second penalty to you, Lewis. When was it? 2019? So I kind of owe you a bit of a podium there. That made me happy. And yeah, once that happens, then all the rest of the podiums came, so I always come back to São Paulo with that emotion or that memory. I was on the podium here last year too. But for me mainly it's just… also I remember 2015, the first time I travelled to São Paulo for a Formula 1 race and getting to race on this iconic track. I always remember like, yeah, São Paulo, like it's happening. I played so many times on the PlayStation, but also I remember watching all the world titles being decided here when I was a kid, and I saw Lewis winning on the last lap, Fernando winning his first World Championship. It's always a track that I wanted to come to and I remember 2015, the first time I came, as a special weekend.
VB: Oh, yeah, lots of good memories from here always. It really provides good racing and unpredictable races and weekends as well, sometimes thanks to the weather. But favourite ones? Have I won here? I don't know. I can't remember. No. A Sprint, maybe. I've been on pole. I take the pole as the best memory. But also yeah, like Carlos said, watching the races in the past. Yeah, some really iconic moments here.
Q: (Jake Boxall-Legge – Autosport) Logan, you've had a really good couple of races over this triple-header: point in Austin and then Mexico was very, very clean until the fuel pump issue. Given that you've had a bit of a bruising first year, and there were a few incidents, I guess, especially around the summer break, what have you done to be able to turn that around? Is it mental coach, performance coach? What are the key things that you worked on?
LSa: That's all been work in progress from the start of the year. I haven't really changed anything other than just continue to work hard, keep trying to build on each weekend. Look at myself through the free practices and then look where everyone else is when we get to qualifying. But other than that, we've just been going through the same procedures as always and just feel like cleaning some things up. Yeah, it has been a few good races but not good qualifying so that's the bit we need to get together.
Q: (Felipe Mendes – Estado de SP) It's a question for all of you. I would like to know your opinion about Felipe Mass's quest for the 2008 title.
CS: I don't think.
LH: I honestly pay no attention to it. So I don't really… also the same.
Q: Has anyone got anything they would like to say? No? Let's move on.
Q: (Luiz Gustavo – Parabolica) Logan, it's your first time here at the end of a triple-header. Could you tell us about the preparation for a race like this? How much have you trained in a simulator? And how long ago? Do you feel confident to get in the car and give 100% or you need to build confidence?
LSa: Yeah, I drove FP2 here last year so that's a good start because I do know the track. But other than that, we just do the same thing we do every weekend. We go through the process, we prepare as best we can on the simulator. I feel like one thing we do we always put the car on the ground in a in a relatively good place. And it's a sprint weekend so there's a lot less time, you need to speed everything up, from my side, from the team's side. Everyone needs to be in a good place going into qualifying so that's the main goal of free practice. And yeah, we're always ready to push 100%