FIA Thursday press conference - Singapore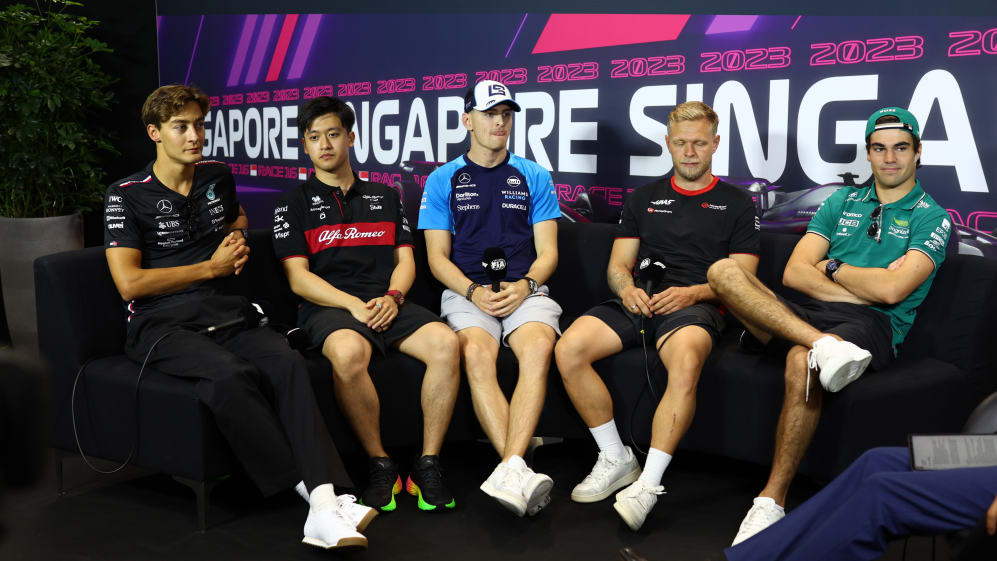 DRIVER GROUP 1 – George RUSSELL (Mercedes), Zhou GUANYU (Alfa Romeo), Logan SARGEANT (Williams), Kevin MAGNUSSEN (Haas), Lance STROLL (Aston Martin)
Q: I feel we should start with the man of the moment. Zhou Guanyu, you have just re-signed with Alfa Romeo for 2024. The news has just broken. Can we get your thoughts?
Zhou GUANYU: Yeah, firstly, very happy to be obviously continuing with the Alfa Romeo team. And I feel like the work that has been done in the past and also the trust between the team also from my side is being extremely, let's say, well and transparent together. So just very happy to be finally announced in Singapore. I think last year I announced here as well to continue for this season. So yeah, really happy and exciting for where the team is heading and to be taking more into this project, you know, for the future. So yeah, hopefully we can start off the weekend in a good way.
Q: Start off this weekend in a good way, but what are your ambitions for 2024 with the team?
ZG: We're going to be taking part into the future development on next year's cars. I mean, the team is already starting on that project. But knowing me, staying in the team, I can definitely put a lot more effort into that and guiding together the guys at the factory, with Valtteri, together, to make sure that everything is heading in the right direction and to improve the weakness of the car and remain all the strong points. So yeah, I really feel, you know, getting everything done here, we can really focus on just continuing improving as a team, as a group of people, and from my side, just really happy to be able to settle more into Formula 1 and of course, next year we have the home race, so I've been waiting for that for two years already.
Q: That's going to be special isn't it?
ZG: I mean, it's a nice place, and I think it will be forever a memorable weekend for me in Formula 1, because I grew up obviously watching, in 2004, the first race. Back home in China, it's 20 years and now we're heading back next year. So it's going to be amazing just to catch up with the fans and with the people in the home crowd.
Q: Now, what about this weekend? You were taken out last year in this race, so we couldn't really see what you could do. What are your expectations this year?
ZG: Yeah, I remember that. I was actually waiting a lot on the marshal post, knowing the pit lane was literally one minute walk from that. But yeah, obviously last year was not great, I haven't finished the Grand Prix here. So this year, I'm really looking forward to the new layout, first of all, and on the other hand, I do feel that we have some package here, so hopefully it's working correctly, for us a step stronger to our main rivals, competitors, and yeah, finish the weekend off in a nice way together.
Q: Good luck this weekend. And congratulations again on the new deal. George, can we come to you? Just before we came on air, you were telling us about a Padel competition last night. It's getting pretty competitive among the drivers. Who were you with?
George RUSSELL: Yeah, it's getting very competitive and bumping into a few familiar faces. We reached out to the Padel, the local Padel court here, to see if we could get some courts after hours. The first night we did it was totally fine. The second night they said it's sold out after hours and when I arrived there I had Lance playing on the court next to me, then there was Lando and I playing and then on the other court was Pierre and Antonio Giovinazzi. So Lando and I had a good battle. Three-two in sets to team Russell, so I was happy with that one.
Q: Good day at the office. And of course you've been busy since we last saw you at Monza. You took in the Rugby World Cup as well. What was that experience like?
GR: Yeah, it was great to see the opening game of the rugby. It's a sport I follow a lot. I've always been to the Six Nations in the UK. I would have loved to have seen England play but didn't get the chance to do that. But I was there with Ineos, watching the All Blacks and France go head-to-head and I was sat next to Richie McCaw. So that was a good experience, obviously a rugby legend, and hearing his views on the game and getting to know him.
Q: Alright, well, let's bring it onto this weekend. Zhou mentioned the changes to the track. What are your thoughts on what's been done since last year?
GR: I think it's going to make the race a bit more exciting. I think Singapore is a really great circuit to drive, but it's a little bit challenging to race on. And historically, it's only really been Turn 5, which has been an overtaking opportunity, whereas now I hope maybe into the new Turn 16 there'll be another chance. It'll make it slightly easier physically for us, because it was obviously the longest race of the season in terms of time duration. So I think the track will probably be nine seconds or so quicker this year. So a bit shorter on Sunday. But as I said less fun in quali, should be better for the race.
Q: What about the race? It was a difficult one for Mercedes last year. And if you look back through the history books, it's a race where the team's fortunes have fluctuated quite a lot. So what can we expect from you this weekend?
GR: Last year, we had a really fast car and unfortunately we didn't make the most of it during the weekend. But I think it's so close at the moment between ourselves Ferrari and McLaren, Aston Martin are fluctuating in performance. Hopefully, we can close the gap slightly on Red Bull here, on the high downforce circuit. So I think it is that battle for P2 on the road. But you're going to have to nail every single detail because it's going to be by the smallest of margins.
Q: Thank you, George. Logan, if we could come to you now. First time racing in Singapore. How excited are you?
Logan SARGEANT: Yeah, definitely. I love a night race to be honest and I feel like it's a track… When I first started playing the F1 game a long time ago, this was the track I always came to. I don't know why. But it's exciting and I've always wanted to drive here. So I think it's going to be a special weekend.
Q: Now, the heat and the humidity are well documented. How have you been preparing physically?
LSa: Well, I've been preparing as much as I can in hot rooms. I feel, I don't know, maybe I already have a little advantage from Miami. But, no, I think for the most part, it hasn't felt too bad yet. I think considering it's at night as well, it'll be OK, I'm sure. I might change my mind come Sunday afternoon. But no, I think it'll be OK. But we've definitely been prepping for it slightly differently.
Q: And what about the car's performance? It's been quick at Zandvoort and at Monza, two very different racetracks. Now that we're back at a high-downforce circuit are you confident?
LSa: Well, I mean, if you look at the circuit on paper, it's not ideal for us. You know, those corners that have been removed from the last sector honestly, you know, play in our favour, but we're not too sure. We'll be positive about it, try to get the car in a good window. We were quick in Zandvoort, which was high downforce. So hopefully we can keep that going and try to find some pace here.
Q: Now Logan, what about 2024 with you? The guy on your right has just been confirmed. So the game of driver musical chairs is coming to an end. What have you been told by Williams? What have you got to do to stay with the team next year?
LSa: Yeah, I think, you know, from the team side and what I want to see from my side is just constant improvement throughout, from now until the end of the season. You know, just keep making steps forward. And I feel like I have made steps forward, you know, starting to deliver laps when I need to in qualifying and, you know, just being more controlled and comfortable. So I feel like as long as I keep doing that, keep coming into these weekends as well prepared as I can. The goal is just keep making steps forward.
Q: Final one from me. Are they your team-mate's shoes that you're wearing? Because of course Alex Albon has just come out with a new range.
LSa: These are Jordans, so I'll probably just stick to these. But yeah, he has dropped some merch, which is cool. But I'll stick to my J's.
Q: Alright. Well, Alex, if you're listening. Thank you and good luck to you, Logan, on your first weekend here in Singapore. Kevin, coming to you now. Painful race last time out for Haas, at Monza. You and Nico Hulkenberg, finishing 17th and 18th. Were your issues worse than you were expecting at that track?
Kevin MAGNUSSEN: Yeah, I think we were the weakest that we've been this year, I think, in Monza. It was super difficult for us in both qualifying and the race. So yeah, tough one to swallow. But we know that we have been lacking in development throughout the year, I think we started the year in a decent spot, you know. We were able to squeeze into the top 10 once in a while. And, you know, other teams have just made bigger improvements. Williams have made a big step forward. And, you know, obviously McLaren has made a massive step. But we're waiting for that step for us. You know, I think there's some interesting stuff going on in the background that we might be able to bring to the car this year. And I'm excited to see those things get to the car and try it out.
Q: There's talk of a B-spec car coming for Austin. Can you confirm that?
KM: No, I don't think I can confirm that. But it's certainly, you know, a lot of stuff that we're trying to bring to the car. Whether it's B-spec or not, I don't know. But it's a lot of stuff and it's exciting.
Q: In time for Austin?
KM: Hopefully. I don't know exactly when it's due to arrive, but hopefully sooner rather than later.
Q: And Kevin, what about this weekend in Singapore? Do you feel a return to high downforce will be better for you?
KM: Yeah, I think low downforce for us is not great. I don't think it's going to change the world that it's a high-downforce track. I still think we are where we are. We're behind. We know that. So, every race we're trying to maximise our chances of some kind of opportunity with a safety car or any sort of odd opportunity that we can try and grab. We know on pace we're not there to score points. But yeah, we're still trying everything we can of course.
Q: Best of luck this weekend. Thank you, Kevin. And Lance, coming to you now. Difficult race for Haas last time out, not the easiest one for Aston Martin either. Do you think you'll be more competitive here at a high downforce circuit?
Lance STROLL: I think so. Throughout the year we've generally been more competitive on the high-downforce tracks than the low-downforce tracks. I think we struggle a bit on efficiency. So yeah, I'm hoping we can have a better weekend here.
Q: And this seems to be a track where you go well. I mean, I look at your race last year when you finished sixth. Great race.
LSt: Yeah, I always enjoy coming back here. It's a lot of fun to drive around here. You know, it's a great track, and a night race, which is kind of nice. And I get to sleep in a little bit in the morning. So yeah, it's a fun place to race.
Q: What are your thoughts on the changes to the layout, as well? Do you think it'll help you or hinder you?
LSt: I think it's good for racing on Sunday, for sure. You know, like George said before, it's been a place that's a lot of fun on Saturdays but can be a little bit dull on Sunday. So hopefully, they can give us a bit more exciting racing on Sunday.
Q: Lance, final one for me. The team has gone public with its objective for these remaining eight races, which is to return to second place in the Constructors' Championship. Do you believe that you have the tools underneath you to do that?
LSt: I mean, if we have the pace in the car that you know we had early on in the season and we execute every weekend, it's definitely possible. But it's much more competitive than it was earlier on in the season. I think early on in the season at times we definitely had the second quickest car, you know, between second and third quickest car. And we dropped back at a few of the events, like I said, the kind of lower-downforce tracks we've been struggling a little bit more. But I think if we get back to the form where we want to get to and we capitalise each weekend, it's very possible. It's a very close battle between ourselves, you know, and Ferrari, Mercedes, McLaren now, who are looking really quick, even Williams some races are looking really quick, so it's definitely very competitive between the whole field but I definitely you know, believe if we like I said, if we find the pace and the car that you know we've had earlier in the season and we capitalise, it's very possible.
Q: Final one – did you win the paddle last night?
LSt: Yeah, it was some good fun. We did win our last match, but it was a lot of fun.
QUSETIONS FROM THE FLOOR
Q: (Ka Leung Wong – Jansan Images) The question is for Zhou. First of all, again, congratulations for the contract confirmation on next year, but is it a multi-year contract or a one-year contract? And also, are you excited for your first home race and friends from China?
ZG: Obviously, it's settled for next year. So, 2024 I'm secured, and after that, obviously, you know, how the team is settled into another project so everything will be decided after that year, so to keep the options open. And on the other hand, I'm so excited to be going home because just the fans back there, they've been waiting, or a lot of them actually came here, even some other races they come to watch. But I think it's just different when you have the home race, which you grew up watching as a kid in the grandstands, braking or turning into Turn 1 I remember that first two years, I was in exactly the same spot, because I felt like you can see the start, where the action is, and then going back there as a driver [inaudible] and also, I think it's going to be just a sensational weekend, so yeah.
Q: (David Croft – Sky Sports F1) Zhou, I can't wait to see you in Shanghai either, that's going to be a great weekend and congratulations on that contract extension. Were Alfa Romeo the only team that you wanted to carry on with or did other teams express an interest and were you tempted to move elsewhere?
ZG: I mean, I think it was very clear, you know, after a lot of teams announced their driver line-ups. Of course, you know, beginning of the year, I was just focused on my pure driving. And then halfway up or before summer I was looking for what are the options. And of course, there were other options. But for me, the priority was trying to stay with the team. And like I said, of course, this year maybe went a little bit longer than expected, just because we wanted to make sure we maximise all the little details we have together into the collaboration with Alfa. So yeah, for my side, I was very keen. That was my priority option for what was coming. And as we see, you know, it's not like we have a lot of seats available and I feel like I was very happy being in that happy place with my engineer and with a group people that I know already.
Q: (Scarlet – Sky Sport F1 Juniors) So I've got a question that's kind of for everyone. So as we said, the Singapore Grand Prix is a very hot one. I mean, drivers, you can lose up to four litres of water. That is a lot of fluids. So how do you guys stay hydrated while you're driving?
KM: Yeah, Singapore is one of the toughest, if not the toughest race of the year, just because of the humidity and the heat, but also because the track keeps turning, you know, you never get a rest. And because it's so low-speed it also extends the time duration of the race. So often it goes close to two hours. So it really is the one race where I think, you know, the tough days in the gym, you know, you keep going because of this race. You know this is going to suck if you don't work hard on your fitness. But hydration-wise, we do have drinks in the car, but it gets very hot, very quickly. So you kind of get the first, I don't know, 15-20 minutes of the race, where you can drink cold water and then it gets almost like tea, too hot to drink. So I don't tend to drink too much. And it's actually hard to swallow liquid when you're driving and being thrown around in the car. You need to be careful not to drink too much, it can get tough on your stomach. But yeah, it's a tough race for sure.
LSt: Yeah, I mean, I drink the tea! Yeah, I get pretty thirsty in there with 15-20 laps to go, so I go for the tea. But, like Kevin said, the humidity is brutal around here and it's always a very long race, and not much rest time in the car. So, you know, it's one that I prepare for throughout the year, you know, just in the gym but it's always a grind. It's never, you know, easy to get to the end around here. It doesn't matter how hard you train, it's always a good workout in the car.
GR: Nothing more to add, same as what these guy's said.
Q: (Jake Boxall – Legge, Autosport) George, obviously Mercedes has made quite a bit of progress with this year's car. I guess the attention now is very much on getting towards next year. Are you satisfied with the lessons that you've learned from this year's car? And what was your feedback in developing what you want for next year?
GR: Yeah, I think we've made some good gains this season. In all honesty, there'll be a few more little things to come towards the end of the season, which will aid our learning into next season. I think it's clear that we made some mistakes ahead of the 2022 season, and again over this winter, but I'm definitely confident that these mistakes are going to aid us and help us a lot for the future. And, you know, you need those setbacks, and you need those errors to set you on the right path. And I think, as a team, we're incredibly motivated to get back to the top. And as I said, I think the lessons we've learned over these two years, will only help us in the years to come.
(Q: Michael Butterworth – Xinhua News Agency) Another quick one for Zhou. Congratulations on your new deal. Just wondering if Alfa had given you any specific aims or objectives that they wanted you to hit in order for you to be given a new contract?
ZG: To be honest, obviously, I have my targets before the year, I think everything was given before the season that they want to see me making a step, which was clearly up to the performance, making sure I tried to be as consistent as possible and try to always together match the similar pace of my teammate. And then yeah, from that side, obviously, it's up to them if they were happy or not, and clearly everything is working on both sides, we were very happy with what we were able to achieve. Maybe not so much in terms of how we finished off P6 in the Constructors' last year, and this year has been a little bit more struggle. But I think in general, on my side, I was able to make a step but it's just hard to put that all together into the points at the end of the day. But yeah, I think in general, the object was able just to achieve on that side, but of course, we still have a long-term object we want to aim for with the whole team, also for the remaining races, because I think in a way, P9 in the championship is where we shouldn't be. And I think we can still, you know, making this step further up.
Q: George, while we're talking contracts, it's the first time we've had you in the FIA press Conference since you were announced for two more years at Mercedes. Can we get your thoughts, two weeks on, about how you feel about that? But also, why two years?
GR: I don't know why two years, to be honest. No, I think that was mutual between us both. And this is a long-term partnership between the two of us and we want to continue building on what we've built over the last couple of years, the lessons we've learned. And yeah, from my side, it was sort of never really in doubt and a bit of a formality really. When I signed, two years ago now, this was always the plan to be together, and hopefully, you know, try to keep this relationship as Lewis has done with the team and obviously, I could only dream of success like they have achieved together.
Q: (Zuhrah Beevi – Vavel.com) Kevin this question is for you. How does it feel to race in Singapore knowing that since 2018, you have the record for the fastest lap on this circuit. And do you think that you can maintain the fastest lap despite the layout changes?
KM: No, I don't think so. You know, I got the lap record here because we had a terrible race and I had to pit at the very end of the race. I got new tyres with low fuel in the car, so you know, got a lap record there. Yeah, it was a smoking lap, for sure. To beat it this year? I think it's going be tough with the new layout. Sorry. Yeah, it's going to be beaten for sure. Whether I'm going to take it, I don't think so. I don't hope so, almost, because it means I'm going to have to pit at the end.
Q: I think you have two fastest laps here actually, Kevin.
KM: Yeah, it's true. Yeah, it's happened twice. One of the times I got, like, some kind of fast food plastic on the front wing and had to pit for that. So that was great, but I got the fastest lap.
Q: (Muhammad Pratama Supriyadillah – Motorsport Indonesia) This is a question for all the racers. Singapore is, as you said, a hot track. How do you compare to other hot tracks, such as Miami or any other hot tracks? Bahrain, and other hot countries? And maybe the next question for Lance and Logan, did you watch the Basketball World Cup between USA and Canada – because Canada beat US and maybe Logan you want to take revenge on this one, finishing ahead of Lance? Thank you.
LSt: I had no idea! But that's kind-of cool. I didn't realise we were better than the Americans in basketball. It's kind of a big deal!
LSa: I don't think some of the stars were happy, so I think we're going to have some of the all-stars coming in and suiting up for the Olympics in a couple of years.
Logan, stay with us, what do you think about this hot track and the other hot tracks that we go to in Formula 1. What are you expecting?
LSa: I think in terms of pure temperature, it's not as bad as some of the other ones we go to. It's just the humidity that gets you, which is why we do that humidity training. I think the biggest thing is that dehydration through the race. I personally don't drink, so I just have to live with it through the race. But I mean, honestly, I don't find it warmer than Miami. I think Miami is even more humid, to be honest. So, I think it just comes down to a track characteristic that it's pretty non-stop and that's what makes it so difficult.
Q: Just to clarify, you don't drink anything during the race?
LSa: Yeah. No. I don't find it easy to do. So, I just live with the fact that I hydrate before the race. And yeah, just live with it.
Q: George, what about you, just comparing this track with other hot ones?
GR: Yeah, I think this is definitely the toughest one of the year. And, as Kevin said, I think a big factor is because you're constantly turning. It'll be made easier this year with the layout change. But also, being on a street circuit, you get no airflow from doing the highest speeds like you would do in Spa or Monza: you get a lot of cool airflow when you're doing 300km/h-plus in the straight. So, that's another factor. But it's enjoyable. It's enjoyable to have such a challenge, and you never want things to be straightforward, week-in, week-out.
Zhou, your thoughts?
ZG: Yeah, from my side, maybe Logan will experience that after the weekend but last year, this was my toughest race that I experienced out of the 22 we had last season. I think it's more, just like George said, the streets layout. The heat, humidity, and how much you're constantly turning the steering wheel, trying to focus on that. You don't really feel like… you know, when you do a good lap here in Singapore, you really can feel you nailed the lap. And yeah, you know, drivers always do extra preparation for that. I actually never drunk, the first half season but I did start drinking a bit of tea afterwards.
Final one, Lance, your thoughts on the track, and you've told us you like drinking tea while in the car.
LSt: Yeah, I mean, it's all we get out there with 20-30 laps to go. So, I get pretty thirsty, so I go for the tea. But it's a tough one. I think the guys covered everything. It's humid. It's not much rest time. And, yeah, that's what makes it hard around here.
DRIVER GROUP 2 – Pierre GASLY (Alpine), Liam LAWSON (AlphaTauri), Max VERSTAPPEN (Red Bull), Fernando ALONSO (Aston Martin), Carlos SAINZ (Ferrari)
Q: Liam, can we start with you. Great to have you in the FIA press conference. Race Three. How do you feel it's going so far?
Liam LAWSON: So far, it's been okay. Obviously, a big adjustment and a lot to learn very quickly. I think Monza was a bit more straightforward, it was a track that I think I knew more, and with full preparation, but then I think this weekend, it's a little bit more tricky, obviously a new track, but yeah, pretty excited.
Q: What has been the biggest thing for you to get used to so far?
LL: It's not really one thing. It's a lot of things. The car is probably the biggest thing alone, but it's stuff that comes with it, like tyres, different compounds, running Inters at Zandvoort, I hadn't done that before. Working with a much bigger team. I think it's a lot of things, not just one thing.
Q: So what about Singapore? You haven't raced here before? But you've wanted to come here before, haven't you?
LL: Yeah, I have. It's been a race that, when I was a kid, I think because it was a night race, it was something that I always really liked. And my dad, he promised me like every year from when I was seven years old that he'd take me to the Singapore Grand Prix, and we never could go. So, yeah, this weekend, he's actually coming, both my parents. I'm taking them this time.
Q: And tell us about your preparations for the race both physically and how many laps have you done on the simulator?
LL: A lot. Yeah, a lot of laps in the sim. And then away from that, just lots of time in the heat, uncomfortable situations, lots of clothing, high-intensity work basically to try and do as much as we can to prepare for it.
Q: And are you just living race-by-race at the minute, or what have you been told about Daniel Ricciardo's return to the to the team?
LL: It's race by race. Right now, it's race by race and basically, we see in the future. I think I'll prepare for the next races like normal, but it's race by race.
Q: And this must have whetted your appetite for 2024.
LL: Yeah, I think now that I'd say now that I've had a taste, it's definitely something I've fallen in love with. And I don't think I can settle for anything less.
Q: Pierre, thank you for joining us. First of all, you were at Le Mans since we last saw you at Monza. For a guy who grew up just down the road, it must have been pretty special to do some laps there?
Pierre GASLY: Yeah, I must say it was it was definitely very special to take a Formula 1 car around the small Le Mans track. Even if it was only two laps, managed to do a couple of doughnuts. And it was a fantastic event with over 60,000 people showing up there. And for a quite unique race and event. So it was definitely very cool.
Q: Now it was a difficult race for the team at Monza. Tell us why Singapore is going to be better.
PG: We expect it to be slightly better. I mean, obviously, very different conditions, very different track characteristic, more corners. We know why we struggled in Monza and some of the weaknesses. And I think it's probably on paper it's a bit closer to a track like Zandvoort, where we showed slightly more competitiveness. It's not going to be night and day but definitely we prepared ourselves in the best way possible and I hope we were in the in the mix for the points.
Q: And what do you make of the track changes they've done since last year? Do you think that will help you?
PG: Usually more corners, the better it is for us, so I wasn't so keen. But yeah, I think the track is… I've always loved Singapore for how twisty and technical it is, in a way, so yeah, it's just two chicanes which have been taken away and no wide grandstand which is facing the wrong way there. So hopefully, they didn't sell too many tickets there. But yeah, apart from that it's still going to be very, very cool.
Q: Max, coming to you now. Now, after your victory in Monza, you told us this race is going to be harder for Red Bull. Tell us why.
MV: I think we just are not as competitive as at other tracks. I think the street circuits are a little bit tougher for our car. I still think that we can do a good job but it will be very tight.
Q: And can we get your thoughts on the track changes they've made since last year? Do you like them?
MV: They're fine. I mean, less braking, less steering, bit more relaxed.
Q: And just from a technical point of view, does it? Is it less strain on the tyres? What can you tell us about that?
MV: Yeah, it will probably be a little bit less but I am hoping that it also helps the racing. It will depend if we can get a DRS zone in there or not.
Q: Now, what about this record? You've got 10 in a row now, you have the record. Does that take the pressure off? Or is there almost increased pressure because you want to see how far you can take this run?
MV: I never really looked at number eight, nine, ten. I just always want to do the best I can. So naturally, every single weekend, it's basically the same amount of pressure you put on yourself to try and get the best result out of it. So, nothing really changes actually from that side.
Q: And remarkably, Max, Red Bull Racing can, mathematically at least, claim the Constructors' Championship this weekend. In your eight years at the team, has it ever been operating at such a high level as it is in 2023?
MV: I think we always had quite high level performance as a team, but we just didn't have that good of a car, I think, up until this year. Of course, you know, last year already the car was very good. But the years before we were close, winning here and there and not fighting for the Constructors', but yeah, I think everything really came together. We understood this new regulation really well. And yeah, when you have the good people also in every single position and you can achieve something like you're witnessing right now.
Q: Fernando coming to you. Two-time winner here in Singapore. What do you need from your car to win this race?
Fernando ALONSO: A lot of things, I guess. Need to see the chequered flag first, it's a very demanding race. Everything runs a little bit hotter than normal. The walls are very close, as all the street circuits. And you need to have that confidence in the car that you need to have as well in Monaco and Baku. So, let's see if we can build that confidence from the free practice and get a good race.
Q: Confidence, yes – but you also need that inherent performance that you didn't really have in Monza last time out. Do you think you'll be faster here?
FA: I hope so. I think it's difficult to say. In Monza we were not competitive, that's for sure. Here we hope to be a little bit in better shape, but I think it's very tight. And some of the street circuits we had kind of feeling, like Monaco, that we were okay. In Baku, we were not okay. So, I think we have to wait and see. And as I said, build from FP1 a momentum.
Q: The team has said coming into this race that its objective for the last eight grand prix is to reclaim second in the Constructors' Championship. Do you believe you've got the car to do that?
FA: Let's see. I think it's going to be long until Abu Dhabi, I think it's going to be up and down for everybody. We saw during the season some moments on some races it seems that we were the second fastest. Some of the races, we feel that we are the fifth or the sixth fastest. So this, as I said, is difficult to guess. But you know, we are confident. Obviously we are in a position that is a privilege to have, fighting with top teams, and we're still enjoying every moment in every weekend. But yeah, let's see. I think we have to go race-by-race and be very open with our chances, and if we can score many points, we will fight for second.
Q: Fernando, last one for me. Can I ask you about Sebastien Vettel, who said last weekend at the Nürburgring that he's not going to rule out an F1 comeback. As someone who's taken a breather from Formula 1 and come back are you surprised to hear Sebastian say that?
FA: I don't know. I was not in the in the interview or in the conversation. So sometimes we will read the headline and you don't know exactly what it comes from and, and what is the tone of the answer. So, it's up to him obviously, if he thinks about it. As I said, I think when Daniel came back, it is a challenge. It cannot be underestimated, going back to F1. And yeah, it could be a challenge.
Q: Carlos, you said in Monza that it was your best weekend as a Ferrari driver, even better than the win at Silverstone. It seems that you're just getting stronger by the race at the moment. Is that the reality of the situation?
Carlos SAINZ: I'm not sure I've definitely felt good the last few races in the car. Yeah, we are starting to understand it a lot better and making sure that we put the car in the right place in FP1 and it gives you confidence and it's an easier build up. But yeah, this year I feel like I understand the car a lot better and I'm driving better than last year. It's just maybe the last two, three weekends I've managed to put everything together a bit more and it shows in the results. But the driving and the comfort in the car is good and now, hopefully in the second half of the season, my target was to be more consistent and just nail more results, nail more weekends, we can keep doing that like we did in Zandvoort and Monza.
Q: And what about this weekend? Do you think it'll be harder for Ferrari than it was at Monza?
CS: Yes, we are realistic and theory says that we should not be as quick as Monza. Normally, up until now, all the high downforce races we've struggled a bit more than the low downforce ones and this is a very (inaudible) long, not long combined corners, they are more sharp apices where our car tends to suffer a bit less. But at the same time, it will be hot, it will be tough on tyres, which we also know can be tricky for us, so let's see. Like Fernando said, this year is going to be changing a lot race to race and we need to stay open minded.
Q: You guys put a lot of effort in FP1 at Zandvoort into trying to understand the car in that type of racetrack: high downforce. This is another high downforce track. What did you learn at Zandvoort that you can apply here?
CS: We did actually learn some very interesting stuff about how our car performs in that sort of track and what our high downforce wings are doing and yet in some other cases they don't work as well as we like and that's why we're changing a lot the package race-to-race, and hopefully for this weekend we found a better solution than in Zandvoort and it can give us a bit more performance. But honestly, I think it's a much bigger thing than just the rear wing and it's more a car characteristic thing.
QUESTIONS FROM THE FLOOR
Q: (David Croft - Sky Sports F1) So four drivers here who have raced in Singapore before and Liam, welcome to Singapore. I'm not going to ask for advice but what's the best and the worst thing - the other four - about racing in such high humidity and heat here in Singapore?
MV: You're already talking a little bit: just hydrate well, not dehydrate, but hydrate well. What is the best thing about racing in the humidity? Well, you just lose weight. Well, then the negative of course is that it's just quite uncomfortable driving, like you always feel just very warm and you have to get used to just sweating and it can't really go anywhere, it's just in your suit, and so you have to just get comfortable with that. Yeah, it's a tough track. You need to keep focused throughout the whole race. It's easy to hit a wall here and there. But that's always tough on the street circuits, but then of course with increased heat, just trying to stay focused for almost two hours or two hours is the hardest bit, I guess.
PG: Yeah, I guess he's said it all. It's extremely humid and very challenging. So I hope you did a good a good training, good workout before coming here because if you didn't, it's a bit late. But I know you're working with Pyry (Salmela) so I'm sure this body is well looked after.
FA: Same.
CS: Just wish for a couple of safety cars to break up the rhythm, to get a bit of a… open the vizor for a bit when you're feeling really warm. And enjoy the tea that we have in the car because that's not a drink, I think it's more a tea that we have to drink during the race to rehydrate because it doesn't taste good at all. It's not what you want to have when you're struggling in the heat.
Q: (Mat Coch – Speedcafe) You're not quite Australian, but Liam you mentioned that you're not going to be happy with anything less next year, I guess, than a race drive. What do you need to do between now and then to secure that? Have you had conversations? What's the outlook look like?
LL: A little bit, but I think it's just making the most of the situation now. I guess we'll see what happens but it's obviously very rare to get an opportunity to drive in Formula 1 and I have it now, so it's just making the most of it.
Q: Liam, how many times have you driven at Suzuka this year in Super Formula?
LL: We raced once but we did two tests there so I have driven the track a little bit. It would be obviously super cool to be able to race Formula 1 there but yeah, we'll see what happens.
Q: (Zuhrah Beevi – Vavel.com) Pierre, luck didn't seem to be on your side during last year's Singapore GP. So now you have switched to a new team, how do you anticipate the race experience to differ from last year?
PG: Yeah, luck is not really a consistent factor. It's not really going to affect it so much. Obviously it's a different car, different conditions, different track: everything is kind of different to what it was last year. So just approach it... I did my training same as usual. I did sim prep with the team. Obviously quite a lot of question marks after Monza because we struggled definitely more than we expected but yeah, we know we are ready for this weekend and confident we can extract everything out of the package we've got.
Q: (Jake Boxall-Legge – Autosport) Max, your technical director Pierre Wache said that the secret of the RB19 isn't any silver bullet? It's just that it's average good in all areas and that's created a really good car. Is that a sentiment that first of all you agree with and with regards to your driving style, what is it that you and the RB19 click together with so much?
MV: Yeah, I wouldn't go against my technical director! No, I agree. It's not one area, I think, it's just very good in basically all the areas. I think I've said this before; when people ask you what is your driving style, of course, maybe naturally you have a driving style, like what you like more than others, but it's also about adapting. If you keep forcing your way of driving in a car which doesn't like that it's not going to work so you have to adapt. And adaptability, I think, is key in Formula 1 all the time, every single race weekend, every single session can be different and that's what I try to do.
Q: (Zac – Sky Sports F1 Juniors) My question is for all the drivers: as we often see in a race, the start you can get an end up determining your race so clearly it means a lot to you. In the event of a safety car or a red flag, when you get the full restart or safety car restart, how would you prepare your mind? And how do you prepare yourself for the restart?
CS: It's a difficult question. Smart kid. So how do you reset? Well, if it's a red flag you do have time to cool down, chat with your engineers and maybe plan a bit around that second part of the race that is about to happen. It's like a full reset. And you think about strategy and how you're going to do the restart. Normally there's some weather condition that has changed or whatever. If not and it's just the safety car, under a safety car you keep focused, you don't really fully disconnect and you're constantly thinking about keeping the tyres and the brakes up to temperature. And probably you're deciding how you're going to do the restart, where you're going to attack if you're going to attack. What's your difference in relative performance to the others, like, for example, I am on a softer tyre than the guy in front or are they on a harder tyre so are they going to struggle in the restart or not? So you start planning a bit your restart and how you're going to attack it and you just don't fully disconnect on a safety car, while maybe on a red flag, you do get some time to cool down. MV: He nailed it, yeah.
PG: His (Max's) restart is slightly different. He doesn't need to think where he's going to attack; most of the time he's got no one in front of him so it's just about how am I going to secure my position?
Q: (Phil Duncan – PA) Max after the last race, Toto Wolff described your record as completely irrelevant and for Wikipedia. I just wanted to get your thoughts on that. Were you a bit disappointed that Toto said that?
MV: Well, I'm not disappointed in that. But they had a pretty shit race, so probably he was still pissed off with their performance. He almost sounds like he's an employee of our team sometimes. But no, luckily not. I think it's just important that you focus on your own team. That's what we do as well. That's what we did in the past as well, when we were behind them and when they were dominating, and I think you should be able to appreciate when a team is doing really well, which I think we've done in the past because it worked also as a kind of inspiration. You know to see someone that dominant, it was very impressive at the time and we knew that we just had to work harder, try to be better and try to get to that level. And now that we are there, we are very happy of course that we are there and we are enjoying the moment and honestly, that's all I can say about it.
Q: (Claire Cottingham – Racefans.net) Carlos, you were mentioning that you're feeling much more at one with the car. Could you just elaborate a little bit more about that? Is that more the technical side of things, is that that you've changed your driving to do it? And who are you racing this weekend? Are you the second fastest car? Obviously it's a track that's suited you in the past.
CS: I think now I feel more at one with the car since the beginning of the season, really. It's not like something's changed recently. It's just maybe just putting the weekend together has been a bit more the case but I feel at one with the car from the beginning of the season while last year that wasn't the case and I had to change quite a bit of things with my driving and adapting and tuning a bit the car to my liking. But in terms of who we will be racing this weekend? I have no idea. I think it could well be Aston, it could well be Mercedes, could well be McLaren or even Alpine if they are as competitive as in Zandvoort. I think Red Bull will be one step ahead but if we nail everything then anything can happen.
Q: (Don Kennedy – Hawkes Bay Today, New Zealand Herald) Liam, you've got a team maybe of five million back home cheering for you for the last few races and this one as well. Does that support add to the pressure or does that bring you a lot of joy? And secondly, you've had some tips from the other drivers here on how to race Singapore; do you think that will help you get that one point you seem to want to get?
LL: I think the support from home has been amazing honestly. It's obviously very very cool for New Zealand and a lot of people have followed this journey for a long time so I appreciate a lot all the messages and support from home. Obviously I'll try and do a good job this weekend. I think for New Zealand it's much better timing to watch the race as well rather than at two in the morning like it normally is. And as far as all the drivers… everyone's been super supportive and helpful.
Q: (Akari Miyamoto – Hersey Shiga) Liam, you're driving Super Formula in Japan this year and it's really successful. So how was the team against the action when you told them to drive Formula 1?
LL: Now that you mention it, I never told them. It all happened very, very quickly. And I've spoken to them since then but it wasn't something I actually told them. But they've been super supportive, all season as well they've been amazing to work with and I think it's helped honestly a lot to be ready for something like this.
Q: Will you finish the season in Super Formula?
LL: I think so, at this stage, yeah. I think there's plenty of time before our last round for Daniel to come back. So right now it's race-by-race here but I should have enough time.
Q: (Muhammad Pratama Supriyadillah – Motorsport.com) Max, you came here with a very long winning streak and a very dominant performance this season. So do you think this dominance is like the same as Sebastian's dominance back in his Red Bull era? Or have you ever thought that this is my time, this is my era, this is a different dominance? Have you ever thought about that?
MV: I think every single one is a bit different. But I think also at the time, he was probably in the middle of that streak. I had the streak so now.. Yeah, they're completely different cars, different times so you can't compare. But yeah, of course naturally I want to try and continue that streak but I know that there will be a day of course that it will stop. Normally, street circuit, Singapore is always a bit more of a risk, a bit more chaos. But we are here to win and we'll try to do that.
Q: (Ka Leung Wong – Jansan Images) Fernando, if you finish 16 laps on Sunday, you will become the first driver in F1 history to drive over 100,000 kms. So what does it mean, this record means for you and what do you think numbers will be when you finish the race?
FA: Well, let's see. I think that's raced kilometres. They never count free practice, qualifying or testing. So I remember the first year, testing in 2002 when I was test driver, I did 40,000 kilometres, only that season. So if you put all the numbers together, they are a lot of laps but yeah, hopefully we'll see the chequered flag on Sunday, normally gives you some points here because anything can happen and yeah, let's see the next few years, how many more laps.
Q: If you add it all up, Fernando, including testing free practice, a million kilometres in a Formula 1 car?
FA: I don't know. In racing cars, for sure. Because yeah, I've been testing and doing a lot of laps every week, off-road as well. Well, there are eight thousand in Dakar, plus 10,000 of testing or something so there is a lot of kilometres always.
Q: (Tan Ming Yaw – Lianhe Zaobao) Max, there are talks about the new TD, upgrade version which may affect Red Bull's performance in Singapore, how do you see that?
MV: I don't think it will. We never really had any flexible front wing or whatever. So I don't think it will hurt us.