Fifth-placed Leclerc suggests strategy switch could have netted podium at Imola
Charles Leclerc took his second consecutive top-five finish at the Emilia Romagna Grand Prix, coming home fifth as he appeared to confirm once again the step-change in performance taken by Ferrari after their recent upgrades. But Leclerc hinted that an alternative strategy from the team might have seen him score his third podium of the 2020 season at Imola…
After starting P7 on the grid, Leclerc was strong throughout the race at Imola, shadowing the Renault of eventual podium finisher Daniel Ricciardo for much of it, as both drivers opted for a one-stop strategy.
READ MORE: Hamilton wins wild race in Imola as Mercedes clinch seventh-straight constructors' title
But having been passed for fourth in the latter stages by the AlphaTauri of Daniil Kvyat – who'd pitted for a second time for fresh soft tyres under the Safety Car – Leclerc was left wondering whether Ferrari should have adopted the same strategy.
"I thought of the podium at one point," said Leclerc, who ended up leading home the Racing Point of Sergio Perez, who he now heads by three points in the drivers' standings. "It didn't happen but we were very close to it. The restart, being behind Daniel with the cold tyres, I was struggling quite a bit, and then Daniil passed me.
"I'll have to analyse a bit better… whether we should have gone on the medium [at the first stop, when Leclerc took on hard tyres] and probably stopped a bit later for the soft.
"We'll have to look further into the data to understand, because [the team] see the whole situation, and I don't from the car," he added. "It's always tricky to know whether it was the right move or not, but at the end [we kept Perez behind] which was the most important, as he's the closest to us in the championship."
READ MORE: 'We gave the podium to Ricciardo' – Perez rues 'painful' Racing Point strategy call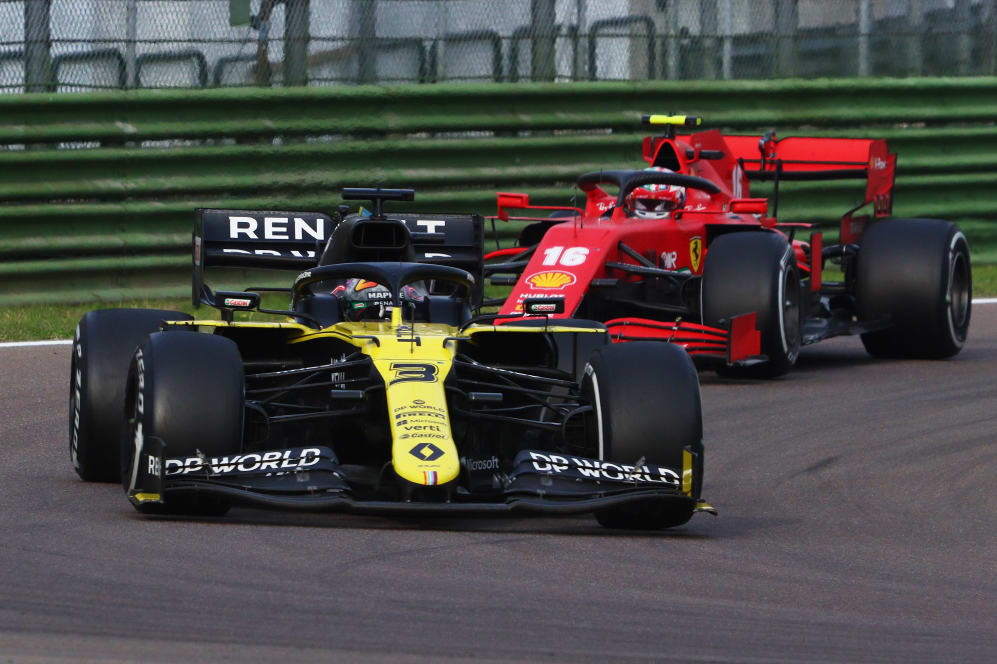 Despite a hint of reservation, Leclerc is now on a five-race streak of points for Ferrari. And the Monegasque was pleased at how competitive his recently-upgraded SF1000 car had been at Imola.
"I was pretty comfortable," he said. "We were actually quite competitive during the whole race. We were maybe a tiny bit quicker than Daniel on the hard compound at the beginning [of the second stint] but not by much – not enough to overtake for sure – and then at the restart, I struggled a bit more compared to Daniel, who did a great job, so P5, I'm happy."
Leclerc's Ferrari team mate Sebastian Vettel was left to come home P13, meanwhile, after a 13.1s pit stop dropped him out of contention, ruining what had been an improved performance from the German, who'd climbed as high as fourth at one point.