Feature
FIRST LOOK: Get the lowdown on F1 Manager 23's exciting new features – and watch the official trailer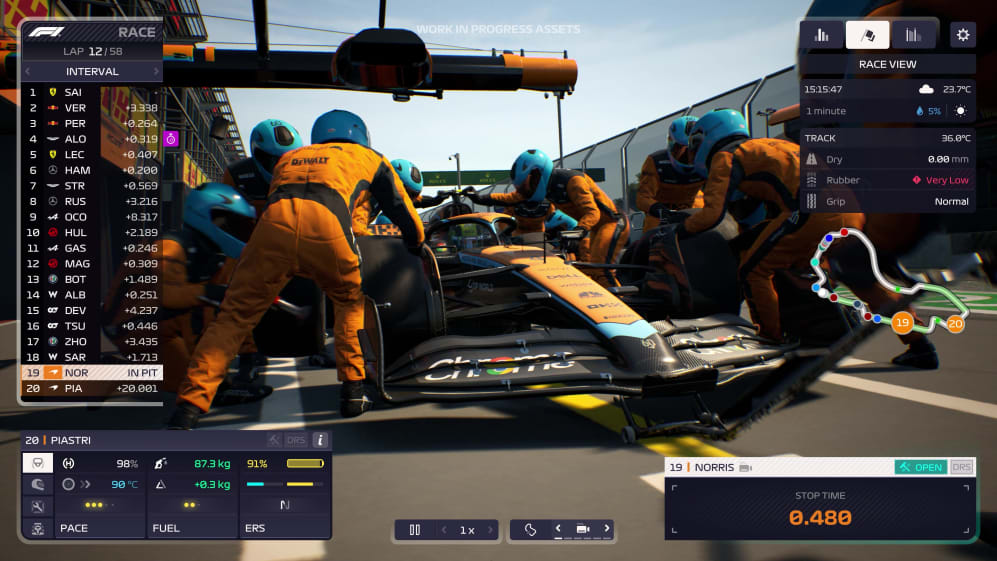 Fancy yourself as the next Christian Horner, Toto Wolff or Guenther Steiner? Well, F1 Manager is back for 2023 and better than ever, with a host of carefully crafted new features adding even more detail to an already highly sophisticated offering.
Created by British video game developer Frontier as an officially-licensed F1 product, F1 Manager 23 allows players to live out their dream of becoming a Team Principal and oversee the multitude of elements that make an F1 operation tick – from car development to staff management and everything in between.
READ MORE: Launch date and new features confirmed for F1 23 game – plus watch the official trailer here
After a successful debut edition, the first glimpse of the 2023 version has arrived with the official announcement trailer (see below), capturing year-on-year car developments, driver changes, new circuits in Las Vegas and Lusail and F1's six Sprint events.
But in addition to these 2023-spec updates, there are several highly requested all-new features that budding team bosses can try out when the game hits the shelves – features that F1.com recently experienced with an exclusive demonstration.
The wide-ranging changes begin with the addition of a Sporting Director, whose role it is to train pit crews and boost their performance throughout each season. Get the balance right and your pit stops will be quicker, with the risk of mistakes reduced, but get the balance wrong and you could lose valuable time when changing tyres.
Another arrival is expanded series simulation, which allows you to track the results of up-and-coming talent from feeder series Formula 2 and Formula 3 (and scout them accordingly), with their form affecting how each driver develops en route to F1.
Revised driver development enables performance ratings to be homed in on and improved with a selected focus area, while the development rate of experienced drivers fades over time, meaning consistent, strong performances are needed to ensure they do not regress.
FORMULA WHY: Tyres, car set-ups, points and more – your 'why' questions answered
Alongside this, contract changes give Team Principals greater flexibility in terms of how they build their F1 operations for the future, as drivers and other staff members across the squad can now be signed for the beginning of the following season.
On the track, significant developments have been made across three key areas: driver confidence, tactics and tyres. These will each bring new considerations for players – where plenty of time can be won and lost – over the course of each Grand Prix weekend.
A new ERS 'battle assist' option applies to both overtaking and defensive strategies when DRS is in use, with the tactics deployed affecting tyre temperatures. Surface and carcass readings change throughout a race, considering ambient temperature and driver ability, having an impact on degradation levels and the likelihood of mistakes.
These features go hand in hand within a new driver confidence system, which gives you a visual indication as to whether your drivers are over or under performing, adding yet another layer of understanding when deciding how hard those behind the wheel can be pushed.
READ MORE: McLaren share progress across several key areas in latest sustainability report
Improved racing simulation further enhances the experience, with drivers encouraged to try bolder overtaking manoeuvres through racing lines that shift from corner to corner. An updated incident system also replicates thrilling wheel-to-wheel battles and dramatic incidents.
Last but not least, Race Replay is an exciting new game mode coming to F1 Manager 2023, bringing players closer to the real-life action from the current season and allowing them to rewrite key moments – Frontier promising that there will be more to share on this topic soon.
As players get stuck into the 2023 edition, every key moment will be narrated by the returning Sky Sports F1 commentary pairing of David Croft and Karun Chandhok, the icing on the cake that makes the Career mode journey feel as authentic as possible.
F1 Manager 2023 is set for launch in the summer of 2023 digitally on PC via Steam and the Epic Games Store, as well as both physically and digitally on PlayStation 5, Xbox Series X|S, PlayStation 4 and Xbox One. It can be added to your wish list on Steam, the Epic Games Store and the PlayStation Store now.
WATCH: Laughs, an epic penalty shootout and targeting the host as Tsunoda and De Vries take on 'Goggle Games'