'First to come in, last to leave' – Vettel praises 'incredible job' from Schumacher in rookie season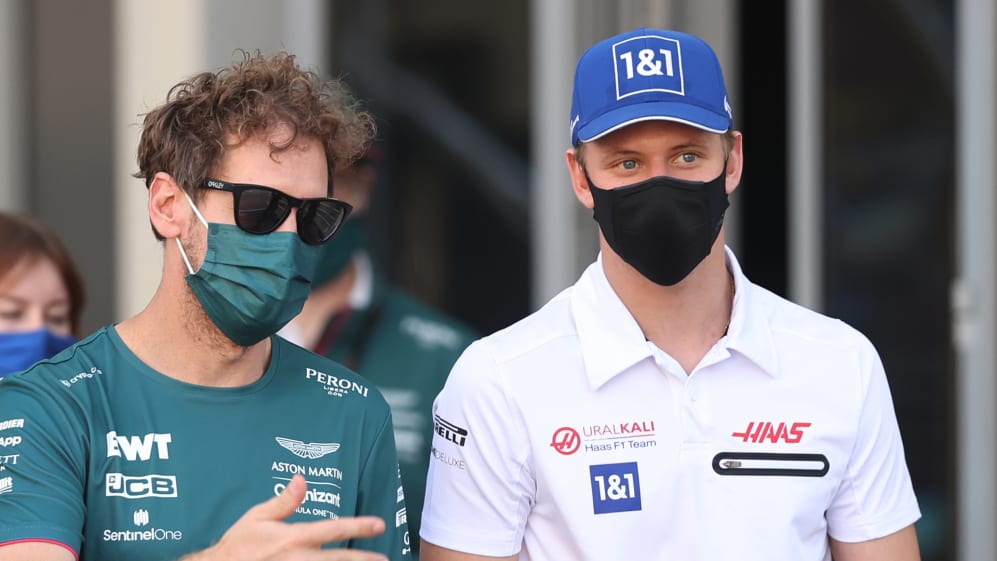 It's no secret that Sebastian Vettel and Mick Schumacher are great friends. And the four-time champion has offered ringing praise to the Haas rookie, as he commended his fellow German's work ethic amid a tough first season in F1.
Vettel has played something of a mentoring role to Schumacher, who just finished his debut F1 season at Haas – the team having decided to forgo development of their VF-21 car with 2022's new era in mind – without having scored a point. The Aston Martin driver acknowledged just how hard it's been for Schumacher as he evaluated the 22-year-old's performance over 22 races.
BEYOND THE GRID: Horner, Ricciardo, Leclerc and more star in our best of 2021 episode
"Well I think it's difficult to judge because the car has been so far off," began Vettel, "but for those who were looking and looking closely – obviously I've been following and yes, I think he did an incredible job with such a poor car to reach qualifying segment two a couple of times, to have strong showings in the race, fight some of the other cars that are much faster, stick with the cars ahead that are supposed to be much faster. That's a great effort.
"More so, he's been a huge lift for the entire team; I think the offset from the start of the season for that team was poor because they had no development and they were far behind. But I think if you look throughout the year, Mick's been very happy and enthusiastic and happy to put work in. He's been one of the first ones, if not the first one, every single day to come to the paddock and one of the latest ones to leave," continued Vettel.
Schumacher managed a best finish of P12 this season (from P20 in Hungary) and ended up with 14th in Abu Dhabi as the sole Haas starter, given team mate Nikita Mazepin had to sit the finale out with a positive Covid-19 test.
As Haas have spent 2021 preparing for next season, Vettel concluded by adding that he hopes Schumacher will get a car worthy of his performances in 2022.
FAN POWER RANKINGS: Your chance to rate the drivers on their 2021 performances
"He's shown great interest in trying to push the team along, so apart from the job on track that he did, apart from some small mistakes that happen in your first year, I think he's done a great job.
"So I really wish he gets a much better job next year to show what he's able to do," concluded the veteran.
The pair will be reunited for February 2022's Race Of Champions as they pair up to represent Team Germany – just as Michael Schumacher and Vettel did to win the Nations Cup six consecutive times.