Formula 1 and Automobilist announce special poster collection to celebrate F1's 70th anniversary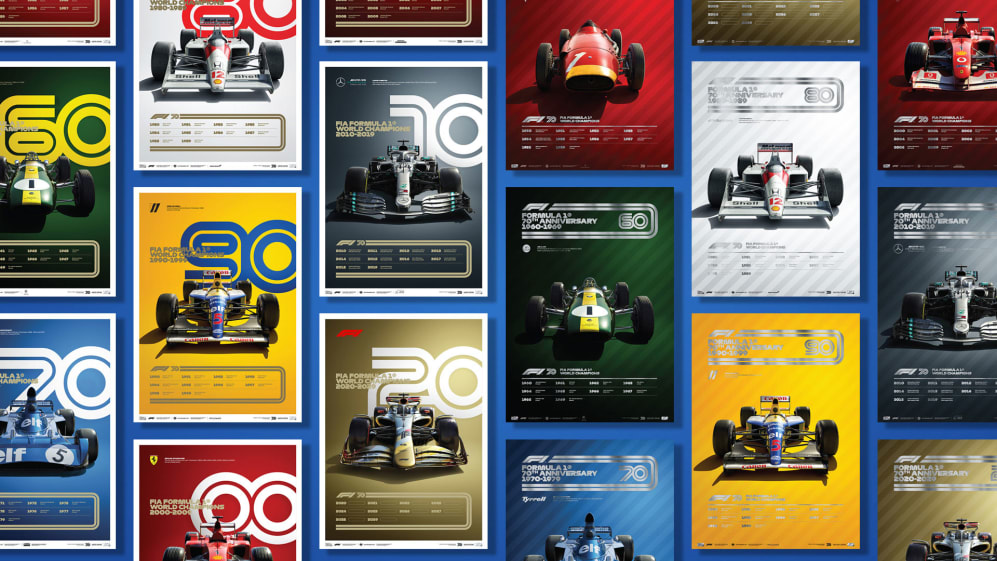 Formula 1 and Automobilist have once again partnered to celebrate the sport's 70th Anniversary, with a special collection of Limited Edition and Collectors' posters honouring the most iconic cars from the last seven decades of F1 racing.
The eight-piece collection will be available ahead of the 70th Anniversary Grand Prix, which takes place at Silverstone on 7-9 August.
Whilst the last 70 years has seen some brilliant drivers become sporting icons, it is their vehicles that have propelled them to world championships and it those cars which have become the feature of the collection, symbolising significant design and technological changes over the decades.
Five-times world champion Juan Manuel Fangio's Maserati 250F features on the 1950s design, encompassing the Argentinian's dominance in the sport's opening decade. Jim Clark's Lotus 25 is represented on the '60s design, while the '70s artwork shows Automobilist brand ambassador Sir Jackie Stewart in the striking Tyrrell 006.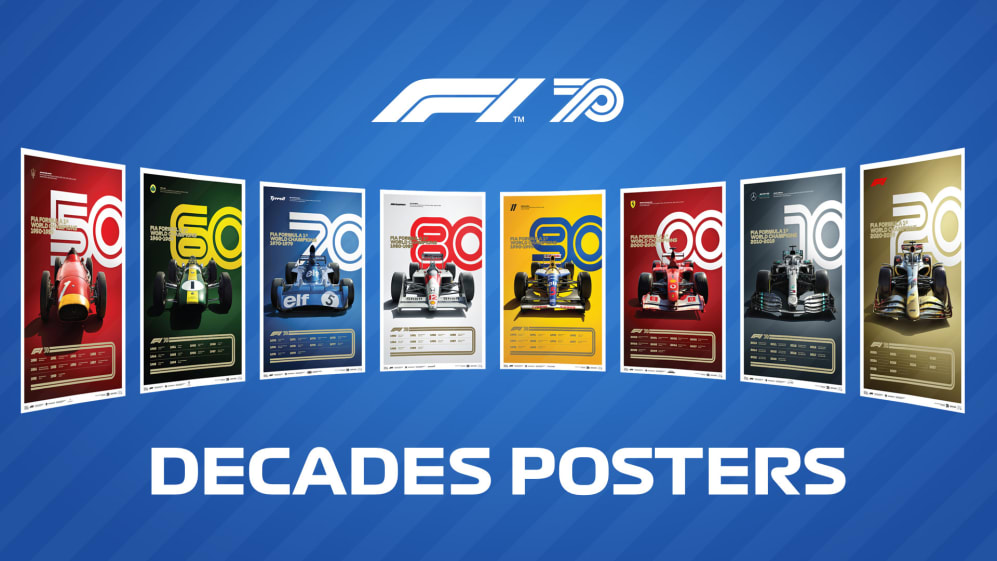 Ayrton Senna's McLaren MP4/4 delivered him the first of three world championships, and is statistically the most successful car in F1 history, making it an obvious choice to feature on the '80s poster. Nigel Mansell stopped Senna getting a hat-trick of titles in 1992, and it's his title-winning "Red 5" Williams FW14B depicted on the 1990s design.
The 2000s are represented by the F2002, which Michael Schumacher drove to his third successive world championship, and the fifth of seven titles during his F1 career. Despite Sebastian Vettel and Red Bull Racing's early dominance in the 2010s, it is Lewis Hamilton's Mercedes-AMG F1 W10 EQ Power+ which has been chosen to represent the last decade after winning 15 races in the 2019 season.
READ MORE: Get your hands on a brand new, limited edition F1 #WeRaceAsOne poster
Every world champion from each decade is detailed on the relevant design, while each poster is embossed in gold and silver, uniquely numbered and comes with a hologram mark of authenticity.
The final poster in the collection features an imagined design due to be introduced with the new regulations before the coronavirus pandemic saw these delayed until the 2022 season. There is room on this edition for fans to fill in the champions through the 2020s themselves as F1 looks forward to its most exciting decade yet.