FP2 - Ferrari to the fore as Grosjean crashes out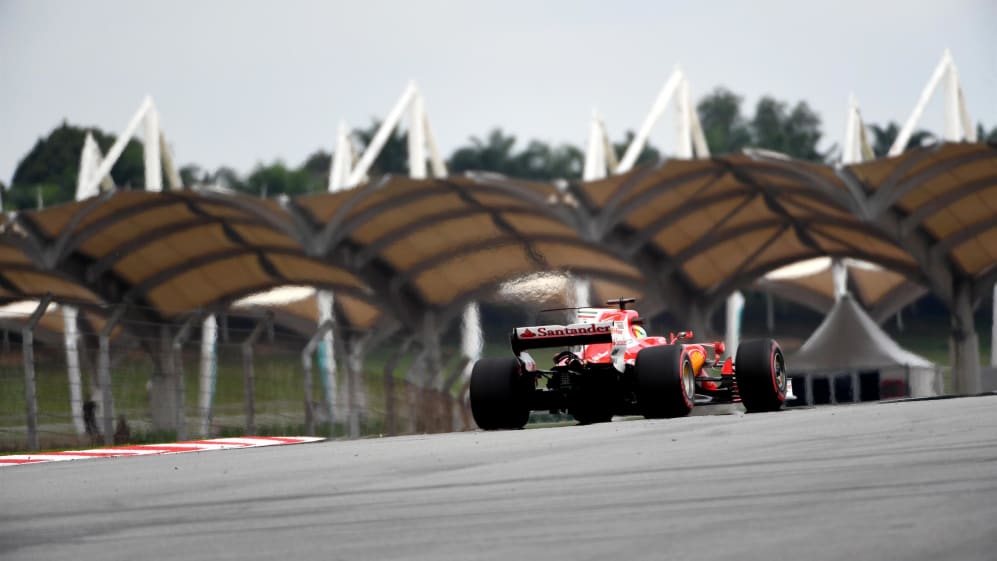 Dry conditions saw Ferrari's Sebastian Vettel and Kimi Raikkonen set the pace from Red Bull in Friday afternoon's second practice in Malaysia. However, the session was stopped 10 minutes early after a loose drain cover punctured a tyre on Romain Grosjean's Haas, sending the Frenchman into the barriers.
It was not a great session for Mercedes either, who were beaten to fifth place by McLaren's Fernando Alonso, with Lewis Hamilton and Valtteri Bottas sixth and seventh respectively. Completing the top ten were the Force Indias of Sergio Perez and Esteban Ocon, split by the Renault of Nico Hulkenberg.
With just over 20 minutes to go, Bottas and Raikkonen had been lucky to go through Turn 13 shortly before Grosjean, without completely dislodging the drain cover, which was coloured red and white like the kerb. Grosjean was less fortunate, and the metal cover ripped his right rear Pirelli supersoft tyre to shreds before spinning him across the gravel beds and into hard contact with the tyre wall.
Fortunately he was unharmed as the session was red flagged. Due to the nature of the incident, it was not restarted and FIA race director Charlie Whiting confirmed that all such covers will be examined and, where necessary, rewelded in place this afternoon. He put it down to the greater cornering forces being generated by the 2017 F1 cars.
Prior to that drama the Ferraris of Vettel and Raikkonen were comfortably ahead of the Red Bulls of Daniel Ricciardo and Max Verstappen.
Vettel lapped in 1m 31.261s on the supersofts, Raikkonen in 1m 31.865s, Ricciardo in 1m 32.099s and Verstappen in 1m 32.109s.
Mercedes' best runner, Hamilton, was 1.416s adrift in sixth place, Valtteri Bottas 1.459s in seventh. Both drivers had offs: Bottas had to go the long way around a slow Felipe Massa in Turn 10 and went through and over the gravel, Hamilton got a rear wheel over the kerb in Turns 7 and 8 and had a prolonged sideways slide through a gravel trap.
Even more surprisingly, and tending to confirm suggestions that the silver cars are in trouble here where they were expected to be very quick, Alonso put his unloved McLaren ahead of them with 1m 32.564s, 1.303s off Vettel.
Perez pushed his Force India up to eighth on 1m 32.862s ahead of Hulkenberg in the Renault on 1m 33.060s and Ocon in the second Force India on 1m 33.096s.
The other surprise was that rookie Pierre Gasly out-paced Toro Rosso team mate Carlos Sainz. As the Spaniard complained of oversteer on his way to 1m 34.104s, the Frenchman lapped in 1m 34.043s to continue the good start he made this morning.