Feature
France 2004: How Ferrari stole victory from Renault with a secret 4-stop plan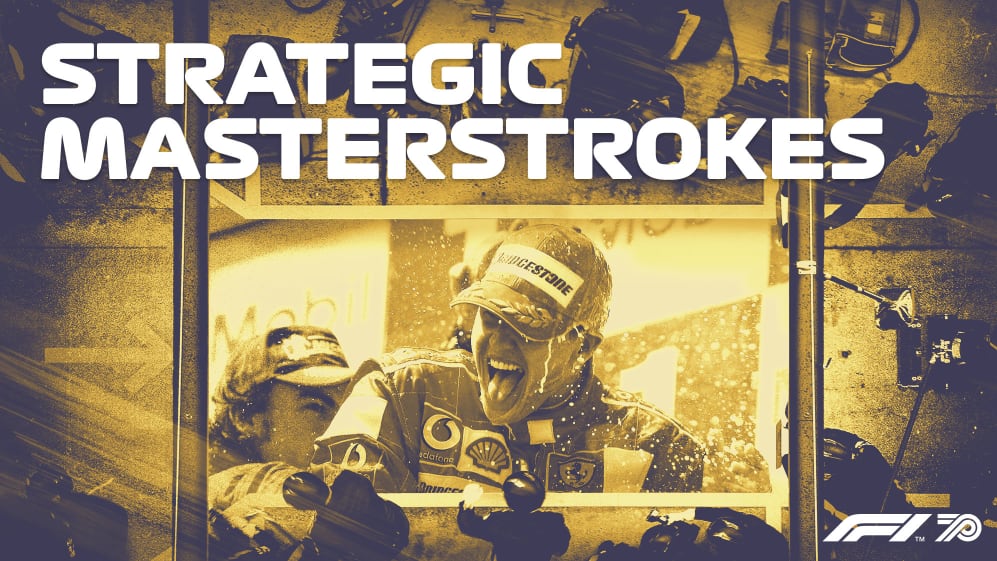 Renault scored their very first F1 win in France in 1979, and the desire to emulate that success burned bright when Renault returned as a fully-fledged manufacturer in 2002. In 2004 at Magny-Cours it looked like they had the speed to make it happen – but they were outwitted by some inspirational thinking by rivals Ferrari. In the first in a new series looking at great tactical calls over the sport's history, Mark Hughes remembers a strategic classic…
It needed a four-stop strategy for Ferrari and Michael Schumacher to prevail over Renault and Fernando Alonso at the 2004 French Grand Prix – an unheard of strategy in this day and age. But back then it was the perfect strategic dummy by the Scuderia to get around the conundrum posed by losing track position to a slower car at a track where overtaking was near-impossible.
In this era of refuelling, Ferrari's short-fuelling of Schumacher at the second of what was assumed by everyone to be a 3-stop race fooled Renault into doing the same. It was at this moment that Schumacher's victory became locked in place.
But how did this inspired thinking come about? The reasons were complex...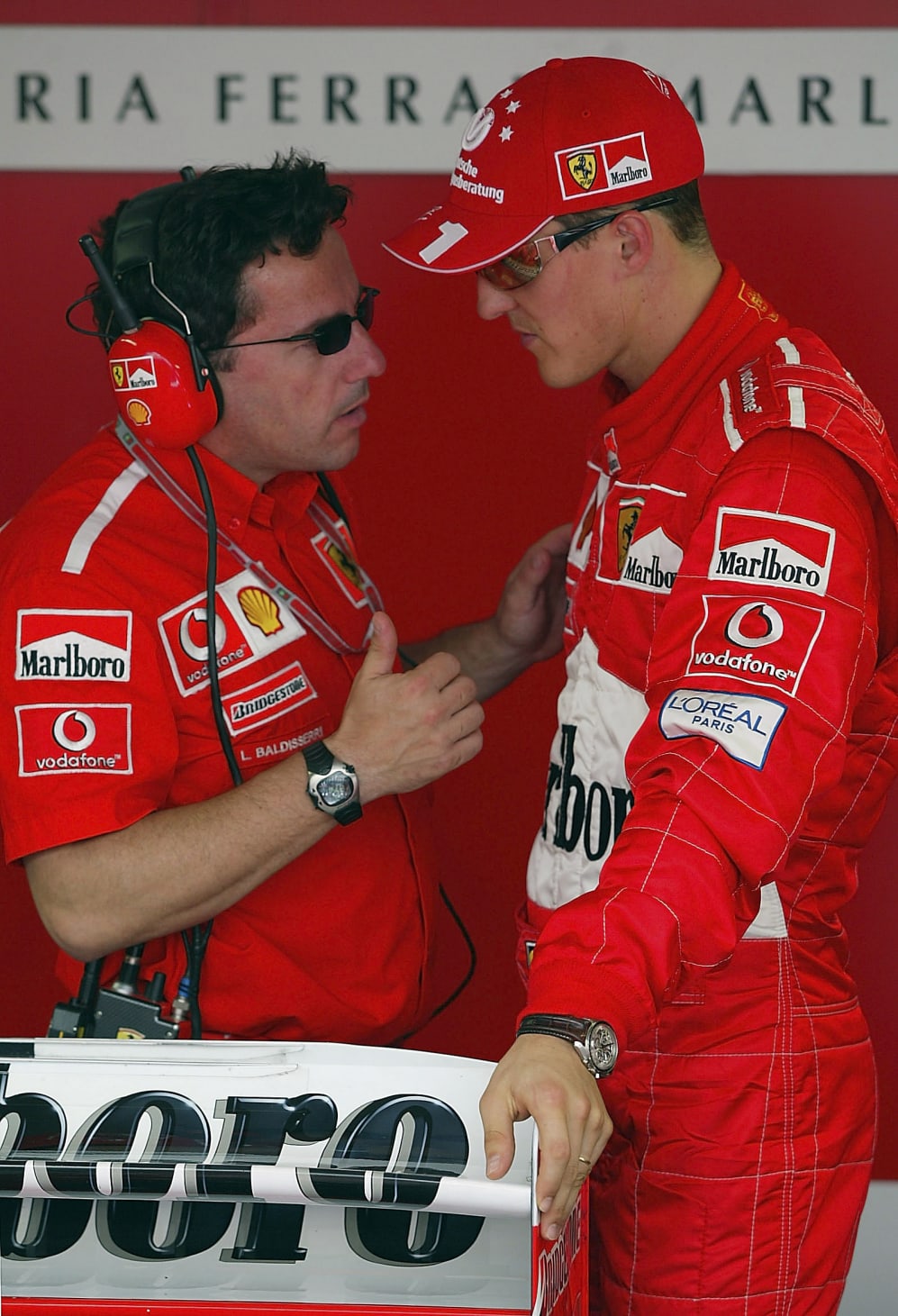 Ferrari was enjoying an incredible season of dominance in 2004 and Schumacher had won six of the first nine races as F1 gathered at Magny-Cours. But this race was always going to be a particular challenge for Ferrari – for two key reasons, both to do with the Renault.
Firstly, the uniquely smooth track surface worked to the advantage of Renault's Michelin tyres and against Ferrari's Bridgestones, which were very good over a race stint but took a long time to reach their peak performance whereas the Michelins were fast immediately. This would help Renault enormously in qualifying – and at the beginning of the stints.
READ MORE: Why Ferrari have bucked the trend with their 'odd one out' nose concept
Secondly, the circuit's layout and surface always induced massive heat degradation in the performance of the tyres, more so than at any other track. So much so that a refuelled car running 30-40kg heavier but on new rubber would still be faster than an old-tyre/low-fuel car. So you could potentially undercut your way past a rival – but not if you were Ferrari with your slow-to-warm Bridgestones.
This combination put Ferrari into a particular bind. It potentially made them slow in qualifying, slow at the beginning of the stints but fast at the end – exactly the opposite of what was needed in France. You'd potentially lose track position but then be unable to use your greater performance as the stint went on – and be unable to counteract that by undercutting. What was the answer to this conundrum?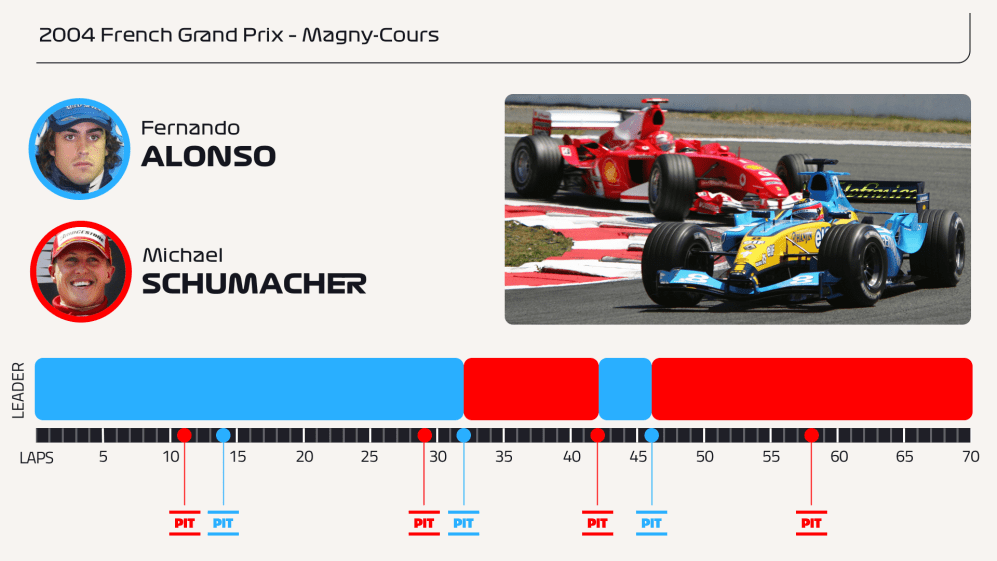 Ferrari's chief strategist Luca Baldisserri had given this some thought even in the week before the race, in the full expectation of what Ferrari's challenges would be. If – as seemed feasible – Schumacher did not get pole and also lost out at the start to the Renault's renowned rocket-like getaways, Ferrari needed to think outside the box, needed to find a way of getting Schumacher the clear track to properly express his car's performance. Otherwise Renault could win this purely on always having the track position advantage.
The Ferrari F2004 was a faster car than the Renault R24 but on this weekend at this track, the Renault had faster tyres, over one lap at least. As had been feared by Ferrari, Alonso was able to set pole, 0.25s faster than second-fastest Schumacher. Ferrari could in fact count itself lucky that it had even made the front row, thanks to Jarno Trulli not putting together his usual super-quick qualifying lap in the other Renault and starting back in fifth after locking up on his single run (this was in the days of single lap qualifying).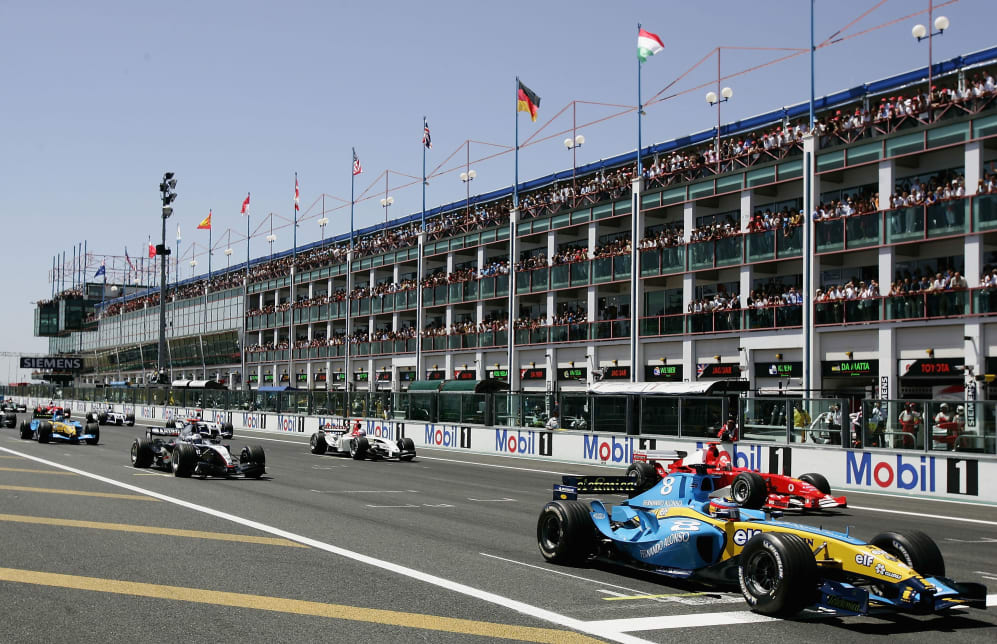 As expected, Alonso's getaway off the grid was way better than Schumacher's. Not only did the Michelins give much better traction than the Bridgestones anyway, the Renault's unique rearward-bias weight distribution just accentuated that advantage. Trulli vaulted the second row at the start to run third – but couldn't maintain the pace that Alonso/Schumacher were about to set. This big gap behind them would later be crucial in allowing Ferrari to put Baldisserri's secret plan into action.
Alonso pulled clear of the Ferrari initially but the longer they ran the better Michael's Bridgestones became, relative to the Michelins, their performance degrading at a lesser rate. By the eighth lap they were nose-to-tail, the Ferrari potentially faster now but unable to pass.
READ MORE: Ferrari's Binotto on the coronavirus, Vettel's contract and the SF1000
Ferrari brought Schumacher in at the end of lap 11 of the 70-lap race and he rejoined in the mid-pack. Renault's Pat Symonds timed the Ferrari stop and was surprised at its short duration. "I assumed they were just trying not to lose track position to some of the midfield runners," he said afterwards. "So when we brought Fernando in [three laps later] we matched that, making our second stint a little shorter than planned."
Ferrari's trap was beginning to fall into place…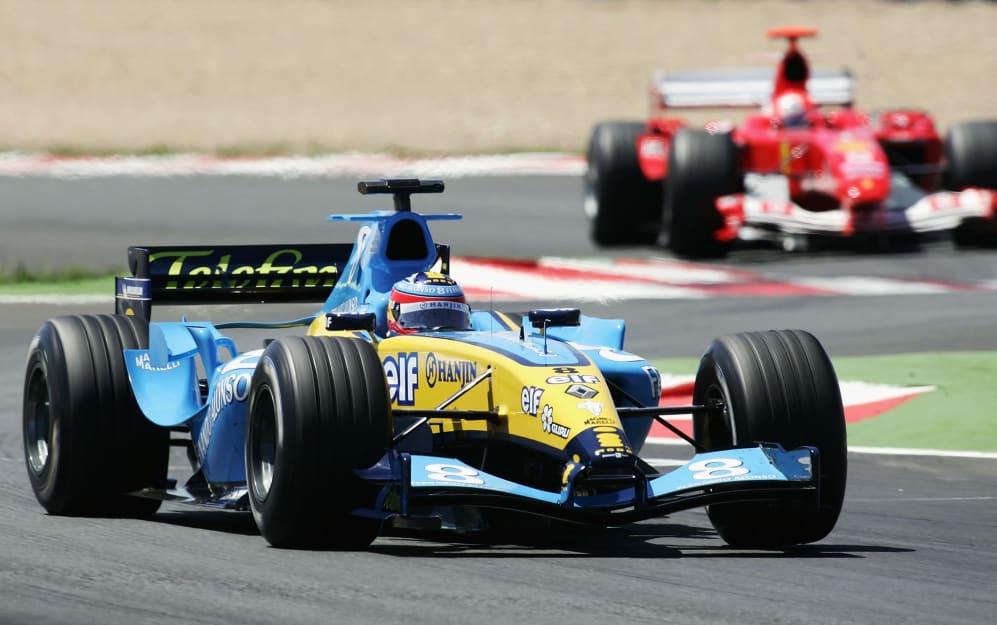 By lap 15 Schumacher was back up to second, 3s behind Alonso initially, falling back to 4s as the Michelins and Bridgestones repeated their earlier cycles, then enjoying the clear space as he closed that gap back down. By the 25th lap he was back on the Renault's tail – and again unable to pass. That decided it for Ferrari's Ross Brawn: they would now definitely commit to Baldisserri's disguised four-stop. There was nothing to lose; do the same as Renault and they'd be beaten and there was a big enough gap behind them that they were not risking second place in trying to win.
Schumacher made his second stop on lap 29, and again was short-fuelled to an extreme degree (enough for only nine laps). Renault again took note – and short-fuelled Alonso too, but not to such an extreme degree, putting in enough fuel for a 14-lap stint when he came in three laps after Schumacher.
Renault's second stop was five laps earlier than they'd been planning, but the early Ferrari stop had induced them into it. Those extra laps on old tyres did indeed cost Alonso the lead to Schumacher this time – and Michael made fantastic opportunity of the clear track, finally able to properly express the Ferrari's superior performance.
Renault was assuming the super-short Ferrari second stop had been just to get Schumacher into the lead for this stint, but that he'd be hopelessly heavy for the final stint – making him slower even on new tyres than Alonso would be able to go on his light-fuel load and that Alonso would thereby regain the lead and win.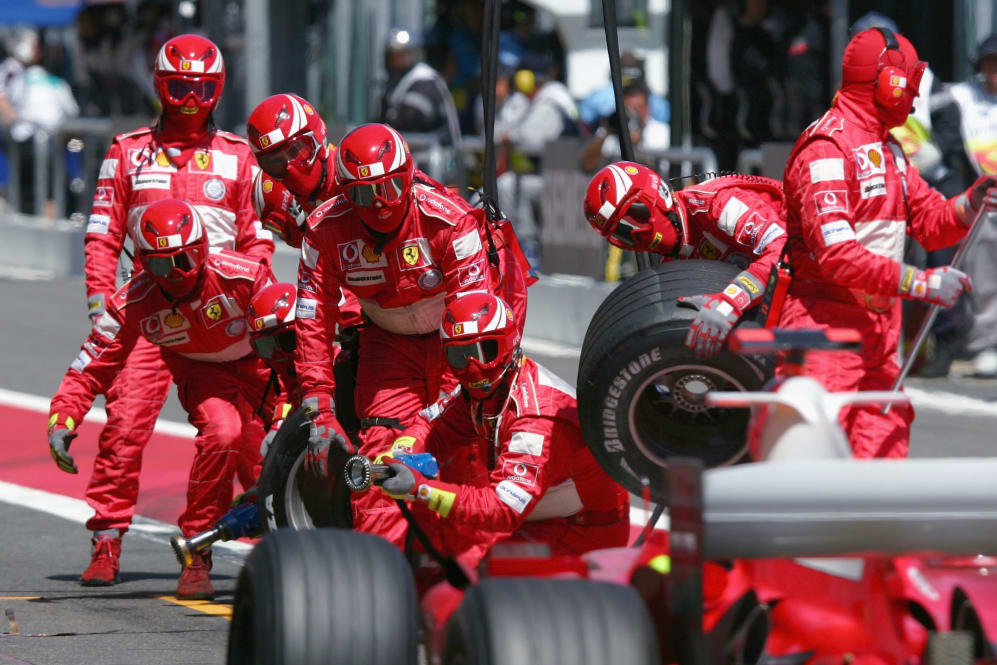 Schumacher made his third stop from a 5.5s lead on the 42nd lap. Renault watched, expecting the stop to be very long, as he'd need 28 laps-worth of fuel to get to the end. But it wasn't. The stop was way shorter than would be needed to put in that much fuel. He was able to rejoin only around 20s behind the Renault, which still had its third stop to make. Alonso stopped for the third time already defeated.
READ MORE: The insider's guide to... F1 strategists
Inevitably he rejoined behind the Ferrari, putting Schumacher in the lead in a very light and intrinsically faster car. All Michael needed to do at that point was extend his lead to 25s or more over the next 12 laps – enough to allow him a fourth stop without losing position. Had Renault matched Ferrari's short-fuel third stop it would only have increased its losing margin. The trick had been getting the faster Ferrari into clear air and trusting that it was sufficiently faster to make up the necessary time. It was.
As Alonso said afterwards: "We didn't lose through strategy. We lost through not being quick enough."
True. But Ferrari had definitely needed strategy to make use of being faster.
You can watch this race in full if you sign up for F1 TV – where you'll also be able to watch highlights of every race going back to 1981, with more than 1000 hours of on-demand content, including season reviews, on-boards, qualifying highlights and much more! It's all available on F1 TV here.