Feature
Friday Pace Analysis – Azerbaijan
Some of the best Grands Prix in recent times have come after running in Friday practice was limited, which bodes well for this week's Azerbaijan Grand Prix after a loose drain cover in Free Practice 1 damaged George Russell's Williams and forced an end to the session without a competitive lap being set. Second practice was more straightforward, but everyone was playing catch up. So of the laps we did get, who's looking in the best shape ahead of the weekend? Let's crunch the numbers…
ONE-LAP PACE
Ferrari left China disappointed, Sebastian Vettel and Charles Leclerc soundly beaten by a Silver Arrow that looked at its most impressive in 2019 on the expansive Shanghai International Circuit. Ferrari had hoped to have caused them more of a headache, but they struggled to get the tyres to work once more.
But, as has been the case consistently this year, Mattia Binotto and has team have steadfastly refused to get downbeat, instead preferring to look at the positives. An upgrade, which has been months in the planning, made its debut in Baku. It would be their first major improvement to the SF90 since testing.
Best single lap
All times set on softs, in second practice
1 Ferrari (Charles Leclerc) 1:42.872s
2 Mercedes (Lewis Hamilton) 1:43.541s +0.669s
3 Red Bull (Max Verstappen) 1:43.793s +0.921s
4 Toro Rosso (Daniil Kvyat) 1:44.177s +1.305s
5 McLaren (Carlos Sainz) 1:44.183s +1.311s
6 Haas (Kevin Magnussen) 1:44.901s +2.029s
7 Alfa Romeo (Antonio Giovinazzi) 1:45.366s +2.494s
8 Racing Point (Sergio Perez) 1:45.436s +2.564s
9 Renault (Daniel Ricciardo) 1:45.483s +2.611s
10 Williams (Robert Kubica) 1:48.111s +5.239s
The initial signs are good. Charles Leclerc set a blistering pace in second practice, the Monegasque's best lap on the soft tyres just over three-tenths quicker than his more decorated team mate Sebastian Vettel. "The Ferraris are clearly very quick," lamented their Mercedes rival Lewis Hamilton.
The reigning world champion was understandably concerned, given his best effort was a staggering 0.669s adrift. "It's unlikely that we will find seven-tenths overnight, but we will do everything we can to push the car in the right direction," added Hamilton. But Leclerc isn't too sure that quite rings true.
"We are pretty strong," he says. "On the other hand, I'm absolutely sure there is more to come from Mercedes. I am sure tomorrow when they put everything together, it's going to be very tight."
Looking at corner analysis, Mercedes appear to have an edge – but it's marginal at 0.02s over Ferrari and McLaren. When it comes to power limited corners, it's Ferrari who are king, the Scuderia holding an impressive 0.43s over Mercedes and 0.85s over Red Bull.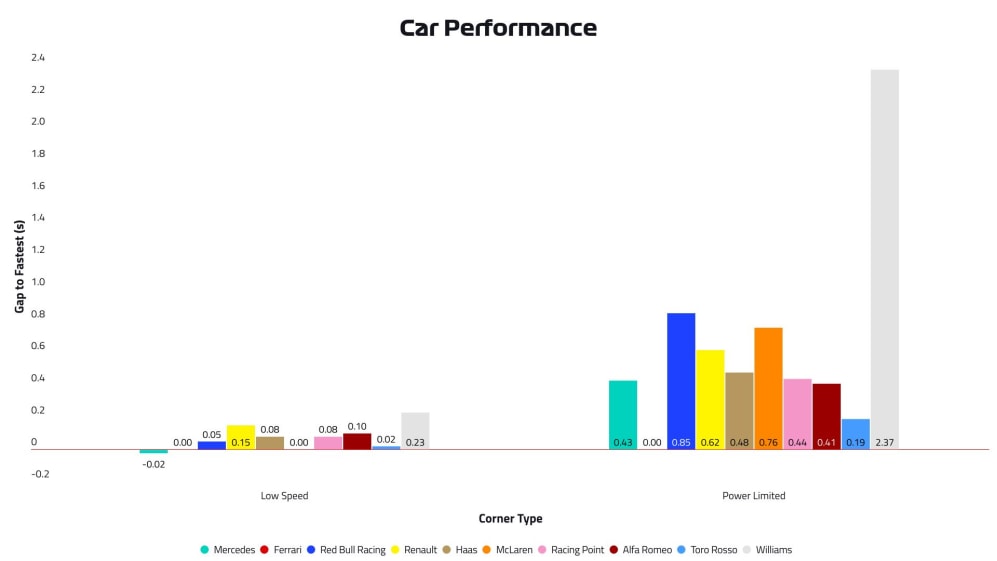 Given the track didn't get 'cleaned up' after FP1, and was therefore still very dirty and slippery, we should be wary of reading too much into today's leading lap times. But it's notable that both Ferrari drivers appeared happier and more positive about their chances than last time out in China.
Red Bull have an upgraded Honda power unit this weekend, and while it was introduced mainly for reliability reasons, Team Principal Christian Horner suggested they will be able to run more aggressive modes in the race, which bodes well for Sunday. On one-lap pace, though, row three looks like their limit right now.
Toro Rosso are their closest challengers, Daniil Kvyat's quick lap – before he stuck his car in the wall – just four-tenths of a second slower. Watching the Toro Rosso on track, the car looked strong through the tight and twisty section and pretty handy in the fast stuff, too. A spot in Q3 has to be the target.
A fraction behind were McLaren, although Carlos Sainz was keen to point out he and team mate Lando Norris set their best lap around 30 minutes after everyone else, when the track would have rubbered in more. They're expecting a tough fight to get into the top 10 on Saturday, but both are driving well.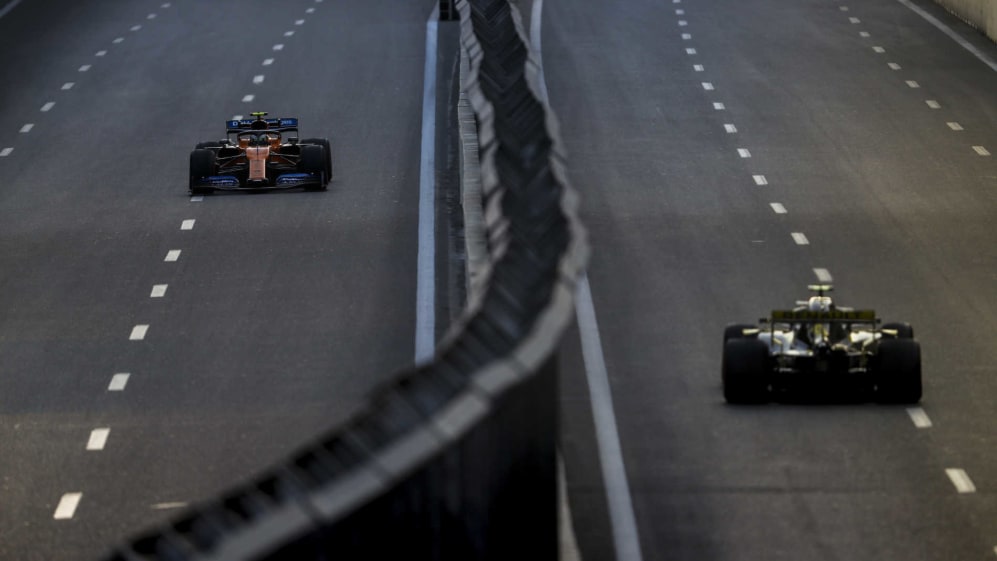 How quick are Haas? Well, sixth overall in this metric – but Haas Team Principal Guenther Steiner says he doesn't have a clue. "I wouldn't call it a lottery, but I don't think there's a clear set pattern for tomorrow," he said. "I don't really know where we are at the moment."
The American team found themselves seven-tenths a lap slower than McLaren, but nearly half a second clear of Alfa Romeo. Maintaining their record of having had both cars in Q3 in every race so far this season may be a challenge too far for Haas. Racing Point were just under a tenth off, but their day was heavily disrupted by Lance Stroll's crash in FP2, which not only gave them plenty of repairs to do but left the Canadian with limited data.
Williams' senior race engineer Dave Robson said the team were "expecting a difficult day" but perhaps not as difficult as it turned out. Within minutes of the first session starting, Russell pulled up a drain cover that had become dislodged and caused damage so significant, he required a new chassis. That ruled him out of FP2.
His team mate Robert Kubica got some laps under his belt in the second session, but he was hurt by the loss of running in FP1, given he had never driven this circuit before. His best lap was more than five seconds off the pace and suggests this could be yet another humbling weekend for the iconic British team.
RACE PACE
This is not an easy section to complete this week as not only was FP1 essentially a write-off but FP2 was disrupted by two red flags, courtesy of Stroll and Kvyat, which meant long runs were disrupted. We've crunched the numbers, based on the data that we have got, and Mercedes have emerged on top of the pile.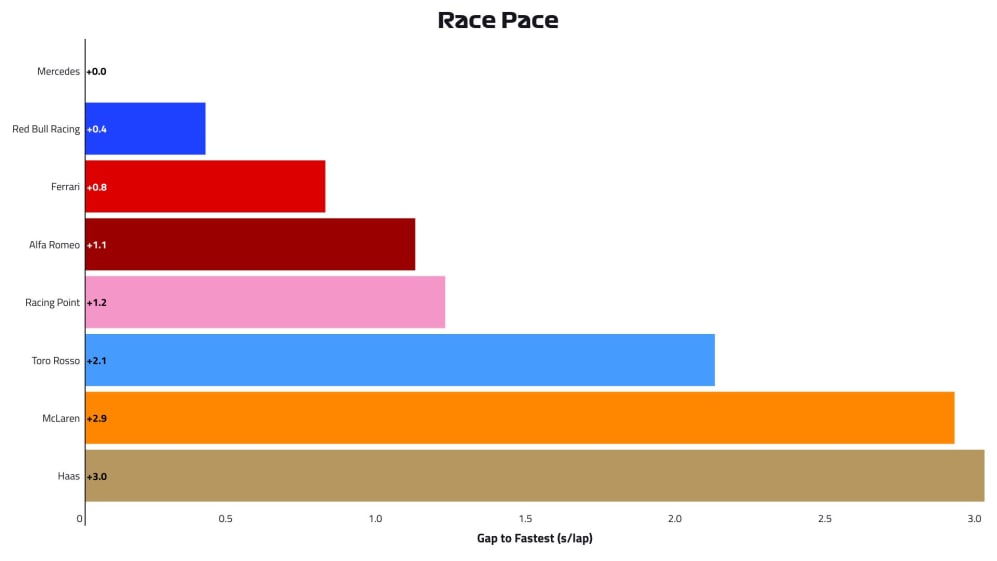 The Silver Arrows have a 0.4s/lap advantage over Red Bull, with Ferrari a further 0.4s/lap further back in third. Leclerc was pretty impressed by Mercedes' long run pace, but talk to people in the know, and they feel that Ferrari are actually much closer than the numbers suggest.
Red Bull's race pace looks decent, as it so often does, and while Max Verstappen will very likely be in the mix and in a position to take advantage if Baku delivers one its crazy races, his team mate Pierre Gasly will have to do it the hard way after being given a pit lane start for failing to stop at the weighbridge in practice.
Alfa Romeo were best of the rest in terms of race pace, and word is that Kimi Raikkonen looked pretty handy on his long run on the mediums, with Racing Point a fraction behind. There's quite a gap back to Toro Rosso, but they seem pretty encouraged by the data they managed to collect in a fragmented session.
McLaren were seventh overall, with both drivers admitting they had plenty of work to do overnight, with Haas in eighth – just 0.1s/lap separating the two outfits in our race pace ranking.
It was a difficult session for Renault, with Daniel Ricciardo running out of tyres after flat-spotting both his allocated sets and both he and Nico Hulkenberg struggling with tyre warm-up, a lack of downforce and braking stability. As a result, they didn't complete enough laps to analyse for long run pace, as was the case with Williams.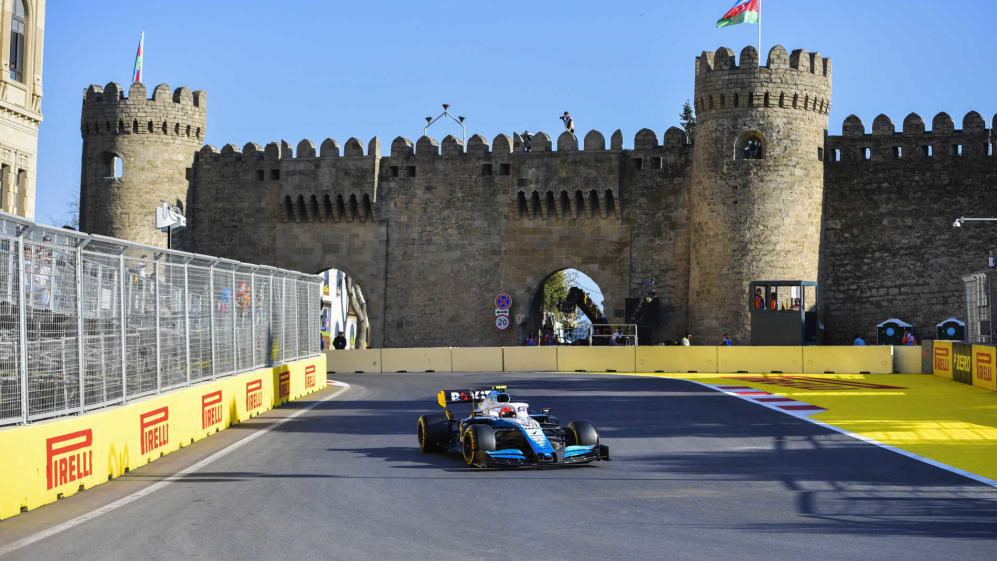 VERDICT
Ferrari had high hopes for the extensive aerodynamic upgrade package they brought to Baku, and while we only have one session on which to judge it, the timesheets, the team and many of their rivals suggest they have made a step forward.
In turn, that means we should get a great battle between them and Mercedes in qualifying, with the Ferrari drivers appearing marginally more comfortable with their cars than rivals Hamilton and Valtteri Bottas, especially when it comes to qualifying trim.
And qualifying is unlikely to be straightforward given how the Pirelli tyres are behaving. There's little to no degradation and very little graining, which meant that in practice we were seeing drivers set their best laps on the second, third or even fourth laps of a run. That means it could get very busy out there, particularly in Q1, and traffic is highly likely to be a problem.
Come race day, a routine race would be one-stop, but strategy will be dictated by the Safety Car – which we've seen in each of the last two years. We've already had three red flags this weekend as a result of incidents, and several drivers found themselves heading down an escape road after locking up, so the signs of an exciting race are strong.
Good news, then. Roll on Saturday!