Frustrated Hamilton says Mercedes 'could have easily won' in Singapore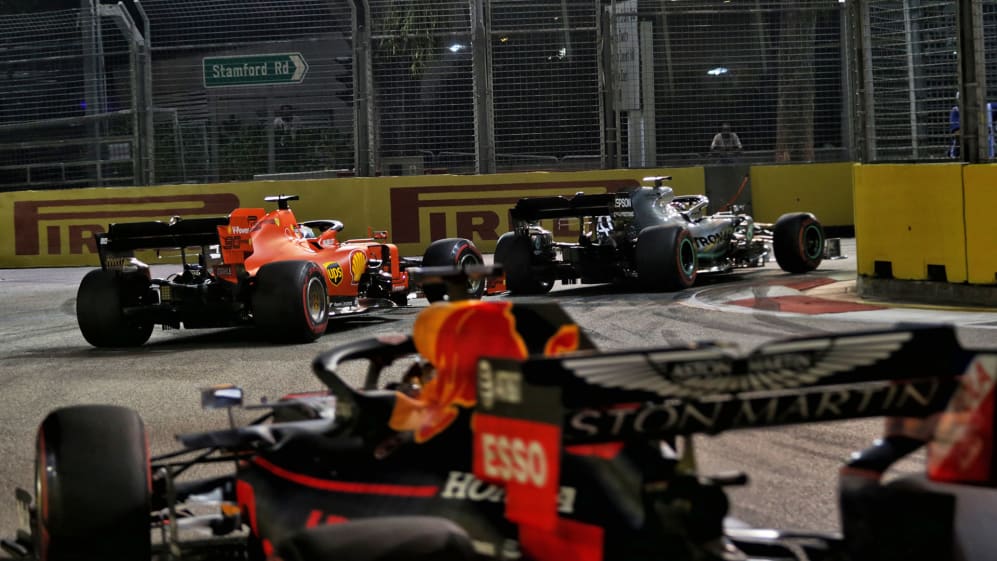 Lewis Hamilton cut a frustrated figure after the Singapore Grand Prix, as he finished off the podium for the first time since the German Grand Prix in July – a victim, he claimed, of a flaw in Mercedes' strategy calls.
Having stuck his Silver Arrow on the front row in qualifying, championship leader Hamilton was lapping comfortably within reach of race leader Charles Leclerc in the first third of the race at the Marina Bay Street Circuit, holding a watching brief in P2 as the frontrunners tried to eke out the life of their soft tyres.
READ MORE: Opportunistic Vettel snatches Singapore victory to end barren run
But a relatively early stop for Sebastian Vettel on Lap 19 allowed him to perform a textbook undercut on both Leclerc and Hamilton, with the latter badgering his team over the radio to match Vettel's strategy. But after missing the opportunity, a failed attempt at the overcut saw Hamilton eventually come home fourth, as Red Bull's Max Verstappen snuck ahead and Vettel held a net lead for the rest of the race to claim his first win in over a year.
We win and we lose together as a team. We all take this on our chins
And post-race, Hamilton was less than happy with his team's strategy.
"I knew that we should have undercut," he said. "I kinda knew it this morning in the brief, I was like, 'Let's just take the risk'. But they didn't. We win and we lose together as a team. We all take this on our chins. It's painful for us, I think, because we could have easily won today, but it just didn't work out."
READ MORE: Vettel dedicates victory to fans after 'difficult' few weeks
Although it was Vettel, rather than Hamilton, who secured his fifth Singapore Grand Prix victory, Hamilton at least had the comfort of finishing in front of his team mate and main championship rival Valtteri Bottas, with Bottas having received a call from Mercedes' chief strategist James Vowles to slow his pace after his pit stop to allow Hamilton to slot in ahead of him after his.
That meant that Hamilton was able to stretch his championship lead to 65 points over Bottas with just six rounds remaining, while he's now 96 points clear of Leclerc and and Max Verstappen.
"We still got some points, but looking back today we really had the pace to win the race and it didn't work out for us," said Hamilton. "We just have to try better at the next one."
Asked if there was a big debrief coming, Hamilton's answer was succinct:
"Yeah, definitely…"