Frustrated Perez implores Red Bull to get on top of reliability issues after DNF in Montreal
Having crashed into the barriers during qualifying in Montreal, Sergio Perez's difficult Canadian Grand Prix weekend went from bad to worse after he retired from the race with a gearbox issue – ending the Mexican's seven-race streak of finishing in the points.
As a result of his Q2 crash, Perez started the race all the way down in P13, but had made his way up to 10th place after a good start when, on Lap 8, he was forced to pull over at Turn 8. A gearbox issue was found to be the culprit, bringing an end to a weekend that Perez wouldn't look back on with much fondness.
"It's been a weekend to forget," said Perez. "We think it was a gearbox issue and I got stuck in gear unfortunately. Things were looking good, I had a good start, I was on the hard tyre and making progress.
READ MORE: 6 Winners and 5 Losers from the Canadian Grand Prix – Who mastered the Circuit Gilles Villeneuve?
"I had finally got Daniel [Ricciardo] in the McLaren out of the DRS zone, and it should have been a race where I could have worked my way through the field, so it's a big shame. I felt I had plenty of potential in my race to make up a lot of places and recover good points."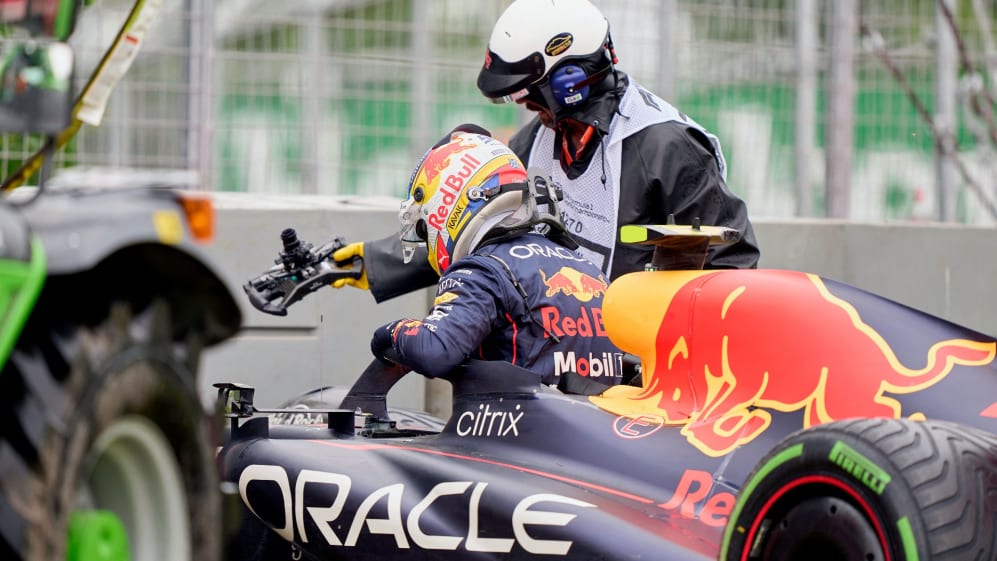 This is now Sergio Perez's second retirement of the season – after Bahrain – making it Red Bull's fourth retirement in total, after Max Verstappen also retired from the race in Bahrain and in Australia. And with both championships in mind, Perez implored his team to get on top of their reliability issues.
"We need to keep on top of the reliability because a zero, when you are fighting for the championship, is very painful and costly," said Perez, who despite the DNF maintained his P2 in the standings, but is now 46 points adrift of Verstappen. "You go into new regulations and there is always going to be new problems to face. Today hurts a lot, it has been a weekend to forget for me, so I want to forget about today and move on to Silverstone."
READ MORE: 'It was proper racing' says Verstappen after withstanding Sainz assault to extend title lead in Montreal
Red Bull Team Principal Christian Horner sympathised with his frustrated driver, and said his team planned to investigate the issue to try and ensure there are no more repeats – with Red Bull now leading Ferrari in the constructors' by 76 points.
"It was a frustrating weekend for Checo, and we think he had a suspected gearbox issue," said Horner. "So, we'll need to get the car back and have a look at what happened… He's now had the same amount of mechanical failures as Max has had and we need to understand that and address that."