'It was proper racing' says Verstappen after withstanding Sainz assault to extend title lead in Montreal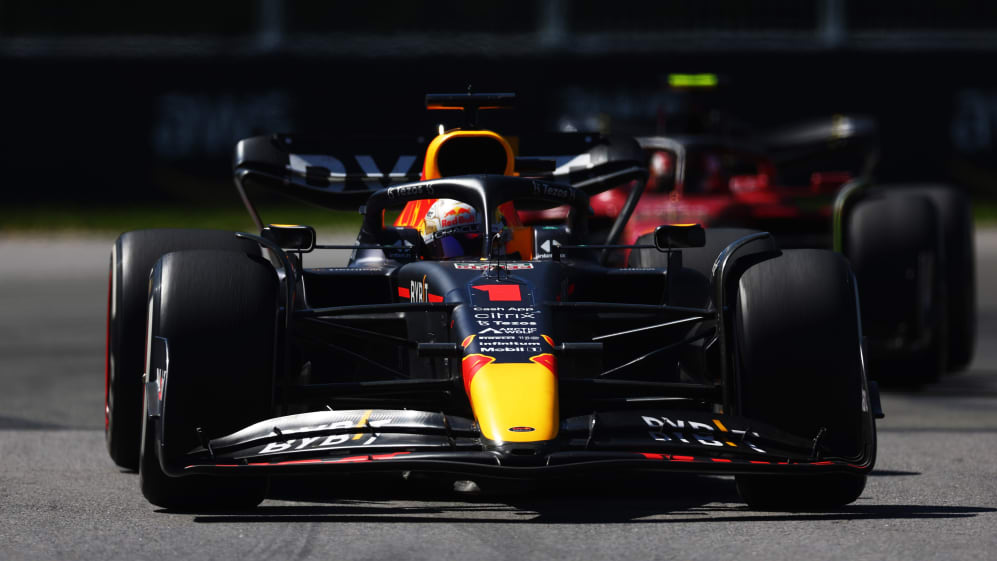 Max Verstappen extended his lead at the top of the drivers' strandings to 46 points after the Canadian Grand Prix. But he was made to work hard for it by his former Toro Rosso team mate Carlos Sainz, Verstappen relishing in the "proper racing" with the now-Ferrari driver.
Verstappen was looking set for a relatively stress-free afternoon in Montreal, leading comfortably from Sainz in the opening stages, having claimed pole on Saturday.
But after Verstappen dropped behind the Spaniard after making a second stop, Yuki Tsunoda then crashed into the Turn 2 barriers, the Safety Car allowing Sainz to pit and close up behind Verstappen – with the pair then treating fans to a fantastic 16-lap battle to the flag as green-flag racing resumed, with Verstappen holding on to win by just 0.993s.
READ MORE: Verstappen survives late Safety Car to beat Sainz to Canadian GP victory
"It was a tough race," said Verstappen. "I expected to have a little bit more pace, but we seemed to lack a little bit compared to Carlos… It was a bit more difficult than I expected.
"We did our strategy, and I think for us it worked, that was the right one to do. At that second stop, of course I had the fresher tyres and I was closing in on Carlos, but I wasn't sure if I'd actually fully close that gap to the end of the race.
"But then the Safety Car came out and I was also not very happy with that, because then I knew of course he had fresh tyres behind me, and already with I think a little bit more pace compared to me… But the last 15, 16 laps, we were flat-out pushing to the limit, and I knew of course that I couldn't make a mistake. But it was good racing. It's always more enjoyable to be able to really push in a Formula 1 car instead of just saving your tyres."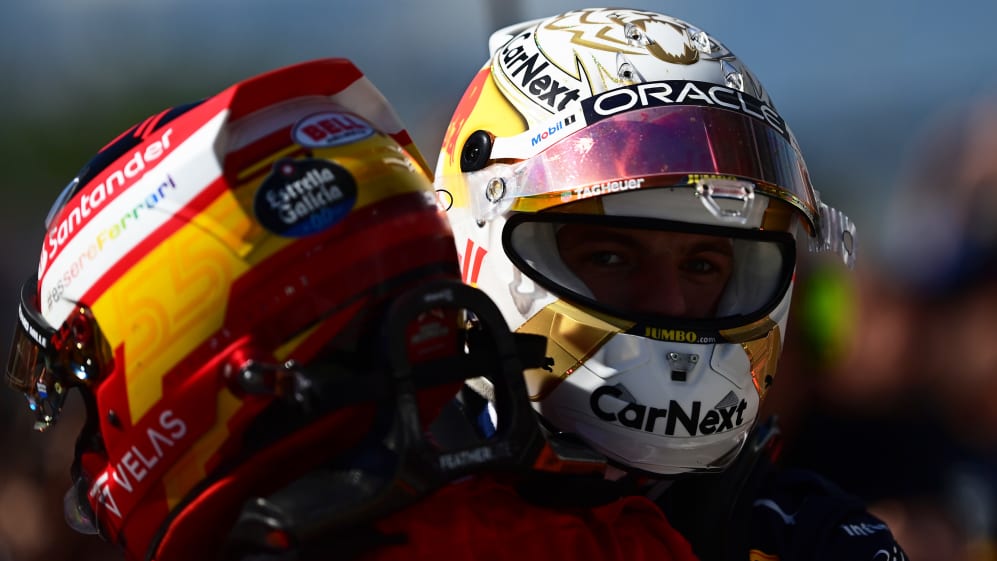 Asked what the key had been to keeping Sainz at bay, Verstappen replied: "Well, of course you always had to make sure that the places where he had DRS, you have a good exit the corner before. But it was all about just really pushing to the limit, not making a mistake in general, because I knew even in Sector 1, if I made a tiny mistake Carlos would gain a tenth on me and that might have been enough to then be closer in the first DRS zone and then in the second.
DRIVER OF THE DAY: Leclerc's superb recovery drive gets your vote
"It was proper racing, proper pushing. I had my moments where I had a bit of oversteer, then I looked in the mirror and I saw Carlos having the same amount of moments! So it was really on the edge but that's good to see."
With Verstappen's advantage in the drivers' standings now close to two race victories over team mate Sergio Perez – who failed to finish in Montreal after a Lap 8 technical issue – the Dutchman could be forgiven for believing that the 2022 title was already going his way.
But the Red Bull driver refused to follow that line of thinking, despite having won five of the last six races.
"It's still a very long way [to go]," said Verstappen, whose Red Bull team have also won the last six races, a feat they've only achieved once before. "I know the gap of course is quite big, but I also know it can switch around very quickly. I mean, race three I was 46 behind, so we just need to stay calm, we need to focus and we need to improve because today we were not the quickest.
HIGHLIGHTS: Watch the action from an exciting race in Montreal, as Verstappen holds off Sainz to seal victory
"It swings a bit," he added. "Last weekend [in Baku] it looked good in the race, now it didn't look as good, but we still managed to win and that I think is also a quality, and we just have to work together with the whole team try and just find little improvements in the car."