Podcast F1 Unlocked
FULL TRANSCRIPT: Read every word from Nico Hulkenberg's Beyond The Grid interview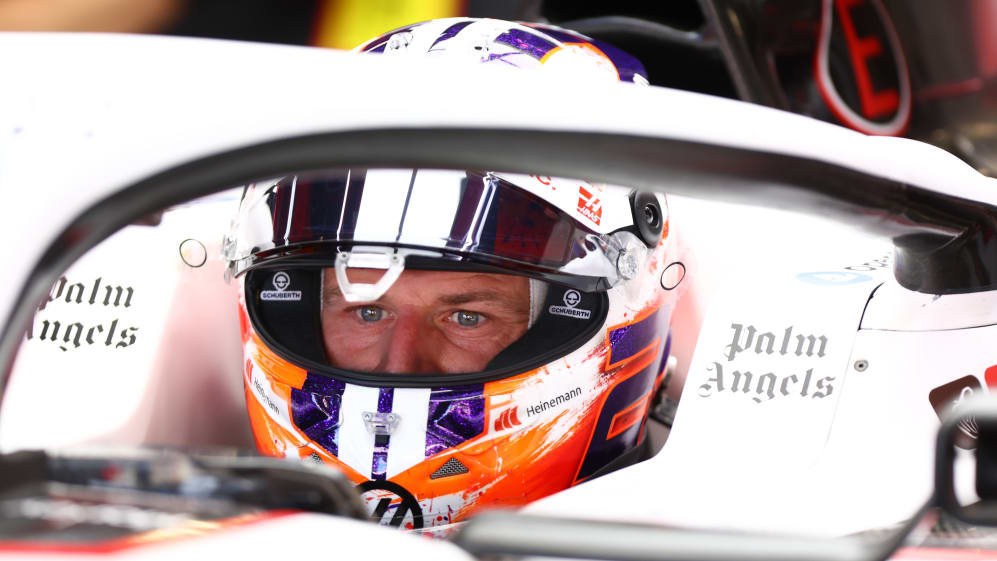 Nico Hulkenberg was the rookie who grabbed a shock maiden pole position in his debut season for Williams back in 2010, and who is now back on the grid full time with Haas after three years on the sidelines as a super sub for Racing Point and Aston Martin.
Hulkenberg – who was recently signed up for another year with Haas – is this week's guest on our Beyond The Grid podcast, and you can read every word from his interview with pod host Tom Clarkson in the transcript below, listen to the episode in the audio player, or head here to catch it on your preferred platform.
Tom Clarkson: Nico, fantastic to have you on the show again. A lot's changed since you were last on in 2019 as well – new team, you've got married, you've had a daughter, you've been busy…
Nico Hulkenberg: All true facts, yeah. It's been an interesting couple of years from the end of 2019 until now – a lot has happened, a lot has changed, and now obviously back on the grid, which is also very good times.
TC: You look very happy and relaxed, if I can say that.
NH: Thank you. Yes, I also feel that way. I'm having a good time in the comeback and just enjoying myself. I think as a whole, as a team, we're not super happy with how the season has gone so far. We wanted more, as everybody always wants, but obviously we have to work with what we have right now. The package is clearly not competitive enough, but I'm still trying to make the most of it. I'm enjoying the ride, to work with the team, travelling and everything that goes with it. So I'm feeling good and confident.
TC: You say you're enjoying the travel but I thought one of the downsides when you're a dad and you're married is the travel, or do you take them with you?
NH: They have been to some races and they will come to a few more later in the season. But I like the travel and actually I enjoy the planning stuff with the travel. I'm a little geek. It's one of my hidden things, to plan the travel as efficiently as possible, to source the right flights, the connections, and this and that to make plans.
TC: Are you one of these people that likes to arrive at an airport last thing?
NH: Yeah, definitely. Minimum time spent at the airport is always a little challenge, almost, you know, how much can I get away with? How late can I leave home and still make it?
TC: I'm going to give you an example. You have a 10am flight from Nice. What time do you leave your apartment in Monaco?
NH: So, let's say hand luggage only, because when you check in, obviously that makes it a little bit more difficult. It depends if I take my car myself or if I have a driver. But usually I like to drive myself, park the car and I don't like always sitting around in cars being driven around, but I would leave at probably 10 to nine.
TC: Wow, have you ever missed a flight on that schedule? You must've done?
NH: I probably did, but it was probably intentional. I didn't want to be on that plane…
TC: Oh my goodness, we're building a picture. But can we talk about Haas? You came back to Formula 1 with this team after three years away and already you have re-signed with them for 2024. What is it about this outfit and these people that gives you so much confidence?
NH: I'm enjoying myself. I enjoy the challenge being back in Formula 1, racing, working with the team, everything really that comes with it. Even the press side, the interview side, there were times in F1 where I really didn't enjoy it, and that was a major downside for me. But that's also kind of changed. I guess it just comes down to everything that's happened on my private side - the disconnection from Formula 1, I took the focus away from F1 and from racing for about two years, and just discovered normal life.
READ MORE: Haas retain Magnussen and Hulkenberg as drivers for 2024
I was able to reflect a lot about my career, about the things that had happened in the previous years and then kind of reset and refocus. Also in the meantime, I built a family, got married, I have a young daughter now, who almost turns two, and all these things just put me in a happy and a good place and it feels very stable and balanced. Basically, I live now for the family and for F1. These are my two main focuses and where all my time and energy goes.
TC: Did your time out change your perspective of Formula 1?
NH: Yes, it did. It did. It gave me proper time to think about things and digest everything, because season after season, even though the winter break is about two months, it happens quickly. You never really have time to step aside properly and digest it all. I think that time away was really good and valuable for me and in a way also needed because at the end of 2019, I felt like somehow things weren't so good and not heading in the right direction. So, definitely, in hindsight, it was a very productive and refreshing break.
When you see the sport then from your couch, what happens, what goes on, and you think 'actually, it's pretty cool what we do there, pretty special, pretty privileged'. So I feel that I embrace it more and enjoy it more. I think everything is just more relaxed now and obviously when you are a Formula 1 driver, there's many things that come with that. It's not just the driving. The driving is what I call the 'end product', what people see on television. But there's so much else that goes with it and goes into it, before and after. Obviously, if you're not really an insider, you don't see that. But I enjoy that side as well a lot now.
TC: Now, Hulk, do you know who I feel I'm talking to right now? I had exactly the same conversation with Fernando Alonso. I feel that his time away from Formula 1, he drew the same conclusions about the sport that you did, and he's come back and is determined to enjoy every second.
NH: Sounds like there's big parallels and a lot of similarities. I think that's the way it is though, because, F1 is very consuming. You have good days, you have bad days, and the bad days or bad weekends, they really come at you. It takes a while to digest because at the end of the day, we care what happens. We're very passionate about this. We give everything into this. So it is sometimes tiring and draining. I think then, when you step away, it gives you this opportunity to reflect and digest, but then refresh and refocus.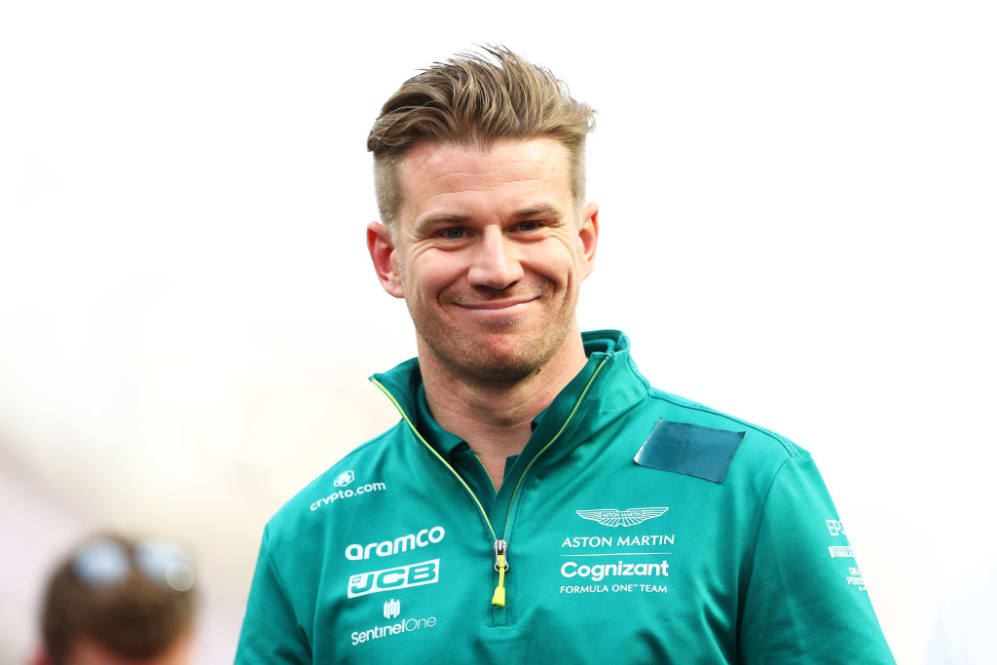 TC: Do you think you're a better racing driver now than you were?
NH: I don't think so, because all your career, you try hard and you always want to do your best and that's what you aim for. But obviously, with experience, you might become a better race driver. You're always learning, things change all the time, so you kind of have to keep on learning. It's a very dynamic sport. I think that's the natural progress that happens, but I think I'm not necessarily a better driver now than a couple of years ago before my break.
TC: And how different are these new spec cars to drive to the ones you had in 2019?
NH: Yeah, they're different and they're not different. The physics and the law of driving doesn't really change. It's still the same car with four wheels, you go as fast as you can through a corner. But obviously, I feel there's more downforce now, and more weight compared to back in the day. So maybe the dynamic has changed a bit, but it's still the same sport, the same animal.
These cars, they're real aero beasts and monsters, I call them, because these ground effect cars produce so much load, especially in high speed corners. It's really mind blowing and astonishing, and it's pretty damn hard on the neck, I can tell you that. But yeah, the weight, almost 200 kilos more, is also a massive impact.
TC: Right back to the team. How different is Guenther to any Team Principal you've had before?
NH: Well, they're all different characters. I've had other Team Principals who are characters, too. Everyone has their own style, their own way, their own character. But I get on with all of them pretty much, you know, I adapt. I'm a straight guy, I like direct, open and honest communication. I feel that's what Guenther values and he's very much alike. We get on very well and have a very good collaboration so far.
TC: Is the Guenther that we see on Netflix the same Guenther that you deal with on a day-to-day basis?
NH: I don't know. Kevin keeps saying I haven't discovered and seen the real Guenther yet. So this year, it seems he's been very chilled. He hasn't had any outbreaks. He's just been a different version than the one you might know from Netflix. But to be honest, for me, it's been nice and a pleasure, and very good working with him and alongside him.
TC: Now he's told me that he wanted you to re-sign with the team as early as the Australian Grand Prix, when you finished seventh. Is that when the negotiations started or were you in your mind even thinking earlier than that?
NH: The truth is that there wasn't really a negotiation going on because the contract was designed so that it was kind of a two-year thing. Then there was an option that kind of triggered so we go into the second year. That was all pre-designed and decided way, way before anytime soon.
READ MORE > PADDOCK INSIDER: Haas choose experience and stability in pursuit of the next step
TC: He definitely admired your tenacity last year and that you were always on the phone?
NH: Yeah, that's true. I was pushing. I knew what was on the line and this was my only shot, my only opportunity. So I was really invested – pushing him, showing that I'm hungry, that I really want to come back, sending him information, sending him presentations about the past, what I could do, what I have done etc. So, yeah, I was on the throttle pedal to convince them.
TC: Did you have any doubts in your mind as to whether you could still do it after such a long break?
NH: No, not one. I knew it might take some time to groove back into the racing rhythm, to be absolutely smooth and perfect in a Grand Prix. But about the speed and the ability to do the job, I had no doubt whatsoever. Obviously I've done the job for quite some time. I knew what's coming my way, what I need to do, what is expected. On top of that, I obviously had all the corona races. They gave me reassurance that I know how things changed and that I can still do it. Like I said earlier, the laws and the physics didn't change, and I haven't aged enough yet.
TC: Was it those two races for Aston at the start of last year that convinced you?
NH: Actually, not at all. It wasn't the races that convinced me. It was more the feeling after that grew within me and the desire to be back and to do it again, to compete, to work. The thrill, the F1 job, the adrenaline, the rush being on the grid, driving to the grid, doing the formation lap, the start, the wheel-to-wheel battles. That is something you don't find outside of F1 in the normal world. Maybe in other racing series for sure there is that, but F1 is the pinnacle of motorsport. So that's still very, very attractive.
TC: And has there been any kickback at home in Germany, the fact that you've replaced Mick Schumacher?
NH: No, I don't think so. Not that I'm aware of.
TC: Were you wary of that?
NH: Yeah, of course I was wary of that. Mick was racing for Haas last year. He's a German but he's one of 20, you know, if he was Mexican or whatever nationality, it wouldn't have made any difference to me, to be honest. For me, it was just that's what I want for me and my career. In F1, we all fight and work for our careers, and we all fight for the same piece of tarmac.
TC: Well, going back to Aston Martin – formerly Racing point and Force India – how does the vibe of that team compare to what you have now?
NH: I feel every team, there is similarities. Last year as a third driver at Aston Martin, obviously it became a much bigger operation, a much bigger team, a global car manufacturer that is very serious about business. Pushing forwards, recruiting a lot of people, investing huge in infrastructure etc. So yeah, now at Haas, it feels a lot more like a smaller, private team. You definitely feel and see the difference there. It's more back to that feeling that I had in the Force India days.
TC: Do you think the cost cap and the new regulations have slightly done away with that feeling of being an underdog, being on the back foot? Do you feel there's more equality now in Formula 1?
NH: Yeah there is not one backmarker, one team that is always at the back. It's like one giant midfield now from like P10 to P20, but we're all very close and it feels like every time there's someone else at the back. One weekend, it could be this team, one weekend, it could be that team. So it's definitely changed under the budget cap.
TC: And within your team, you're obviously pushing hard to develop this car and to get rid of the tyre issues primarily, that you've struggled with all year. How does it work between team mates in terms of, are you and Kevin Magnussen wanting the same thing? Or how do you persuade the design team in Maranello to follow more what you want than what Kevin wants? Or is that too simplistic a view?
NH: Yeah, I think that's too simplistic. I think we want actually to do the same things. Obviously we work a lot in the debriefs and give our view and feedback and tell them where the problems are and what we need from the car. Then even in between races, there's further meetings that involve us. We can tell them what we want, but it's really the designers and aerodynamic guys that need to come up with the answers and the solutions. That's where we're pushing right now, where the focus is.
TC: And if you can solve that, is this car good enough to fight regularly for points?
NH: I would like to think so. It's difficult to predict that and there is no guarantees in F1. But we've been in the points a few times this year. We need to improve a good chunk and I think then we'll be able to challenge for points consistently because that midfield is very tight, so every little has a big impact and change at the end.
TC: But Nico, look at the Q3 appearances you've made this year. There is inherent pace in this car obviously, because you're able to do that?
NH: Yeah, but quali is different. New tyres, they are very powerful. Soft tyres, new tyres, they give a lot of grip over one lap and they mask the car issues and balance issues that we have. So for those 90 seconds that a lap is, a new tyre can really hide that quite well. But then lap two, lap three and later on is where the problems are and where we overuse the tyre. It's not quite where we want it. So that's the challenge. That's our mission now to improve that.
WATCH > TECH TALK: Which teams have got faster and cut the gap to Red Bull so far this season?
TC: Tell us a little bit more about your relationship with Kevin Magnussen.
NH: It's good. It's very good. Hungary 2017 is way past us. Actually since last year, we started to have a good relationship. So Bahrain last year, Sunday morning, drivers turn up on the grid to do the beginning of your photo with everyone. I stood in for Seb and I think Kevin was the first guy standing there. He was on the little podium and my designated spot was right in front of him. So I approached him and then reached out my hand and gave him his exact words to his face. He found that quite funny and amusing. We kind of started to have a relationship from there, started talking more and there's no hard feelings. Actually, I think we're in a very similar position and there's a lot of parallels. We both had time away from F1 and came back. We both have family now, we've aged a few years, so we're a bit more mature. There's zero tension or friction between us.
TC: How quick is Kevin?
NH: He's quick, but I'm quicker… Everyone is fast but it's such small margins and the smallest difference can have a huge impact on the outcome. At the beginning of the year, I got a little bit of a better start with the car. I felt more confident and faster than him in the car. Then he gained some momentum, but then my momentum came back. I feel in quali, over one lap, very confident and strong right now because the car gives me what I need and I'm able to execute it pretty cleanly. I think if that's the case, if I have that feeling, I'm not the easiest guy to beat over one lap.
TC: Do you enjoy the role of the 'elder statesman' in Formula 1, if you like, when Oscar Piastri's 22, Yuki Tsunoda's 23?
NH: To be honest, I don't feel that way. They're a bit like the young kids from around the block. There is definitely a difference, but in terms of a feeling, it doesn't trigger anything inside of me.
TC: Wind the clock back to 2010, when you first came in, do you feel that the older guys then treated you well, or is the vibe among the drivers different now?
NH: I mean, when I came in, we had a lot of experienced guys. There was Michael, there was Rubens, there was Trulli. There were a lot of guys with 200 plus Grand Prix under their belt. But they treated me fair and nice. They had respect. All the drivers have respect for each other and amongst each other. I think maybe, you might not like one guy as much as the other guy, but there's always mutual respect for what we do.
TC: Has the intensity among you changed? I mean, just recently, Max Verstappen, George Russell, Lando Norris and Alex Albon were all playing Padel together in Monaco. There's lots of golf foursomes. It seems that everyone gets along now, whereas I certainly remember when I came into Formula 1, 25 or 30 years ago, there were more rivalries. Whereas now, I feel everyone seems to rub along pretty well. Would you agree with that?
NH: I think everyone rubs along pretty well, with the occasional issue where something happens on track and things get a bit heated between drivers. But compared to start of my career, I don't think it's very different, maybe slightly. I think also back in the day, social media wasn't such a thing. You wouldn't have had those pictures of guys playing Padel. Now everything is much more out there, much more visible, much more pushed or celebrated or whatever. But that was obviously a big difference back in the day.
Oops! Error retrieving Twitter post
TC: Just while we're talking about other drivers, can I get your thoughts on the job that Max Verstappen is doing this year?
NH: It's phenomenal. He's just delivering regardless of the circumstances, regardless of the track, the time of day. Whether it rains, it snows, it's 40 degrees, he's just always there. Max is killing it this year. There's no way around it. I think at the beginning of the season he started strong, but he needed to groove in. Since he grooved in, he's full of confidence and, like I said, regardless of the circumstances, he's just always able to get 100% out of his package and himself. It's very impressive.
TC: Right, let's move off track. Let's discover your family with your wife and daughter. Just how has a happy home life made you a better driver?
NH: Well, it's certainly given a lot of stability. You have that port – you come home and there is more than in the past. Now when you come home, it's very settled. Married life is good, it's happy. In the past, it's not always been like that. It's been sometimes more up, more down, more rocky or alone. But like I said, I'm happy where it stands with everything that I have at the moment. It's very balanced.
TC: And has your daughter Naomi Skye changed you in any way? Are you softer?
NH: I don't think so. I would say no. Other people would maybe say different, but I believe as a racing driver, when you put the helmet on, when the visor goes down, you just forget things around you. You just live in that moment in the present and you want to do the job. For me, hand on heart, I don't think it has changed my approach or my feeling or my fears in the car in any way.
TC: Are you a hands on dad? Do you change nappies in the middle of the night?
NH: Yeah, I did a few times and then a few times I did them the wrong way around so I would not have to do that so much anymore…
TC: Would you like to have a big family? Have you thought about that?
NH: Not sure. I think for now we're good. We're happy with where we are. I'd like to focus a bit more on the career now and what's ahead, because it's intense as well. As much as I love it and enjoy it, it is intense too. So I think for the moment we'll keep it steady.
TC: And do they help you relax away from the racetrack?
NH: Well, sometimes, yes. Sometimes no. Noemi can be pretty demanding and challenging. She's pretty strong-willed and hot-headed sometimes. But the relaxing side of things is not bad at all. I feel, as a driver, it's a lot of races, but we still have time in between, we usually come last and are one of the first people to leave the track, so we can't complain about that. I think it helps in the bad moments when you come back and you take the little one, you forget at least for some moments that you've had a bad weekend, and it's just all good. It's a nice feeling.
BEYOND THE GRID: Heinz-Harald Frentzen on being Germany's F1 cult hero
TC: Now, what about the Mexican Grand Prix this year? It is a milestone and we like to deal in round numbers. 200 races. That's a hell of a number. What is the secret to your longevity?
NH: Consistency, performance – I don't know, you name it. There's not so many people on the planet that have done that. It's definitely an achievement for me to have done that, as a non-Grand Prix winner. So I'm very happy to break through the 200 there.
TC: And have you had any thoughts as to how much longer you want to keep going? Lewis Hamilton at Monza announced that he's going to do another two years. That takes him to 40. Fernando Alonso is still delivering at 42…
NH: Yeah, right now I can see myself also racing for another couple of years. I don't have the crystal ball. As long as I enjoy it and have the feeling that I have right now, I can imagine to continue as long as I get a job, as long as I can get a contract. We're in a performance business and if my performance wouldn't be good enough anymore, I would soon run out of a job. But let's see how things go.
TC: Do you think you lose your talent, or do you just lose the motivation?
NH: No, I don't think you lose the talent. But obviously with age, certain things become not as good, not as dynamic. I think then you have the cases of Fernando and Lewis to demonstrate it's still very doable. Every human is different. It's a matter of if you feel the passion still, if you feel the desire, and if you're happy and ready to put in the work and you have the talent, then you can go a long, long time in F1.
TC: And physically, are you still pushing out the same stats that you were 15 years ago?
NH: No, even better now. I think now my fitness stats are better than the first stint of my career. I think I've adjusted a few things. Experience helps as well, but especially last winter, I've taken very seriously and invested a lot on the fitness side for the comeback because I know in the past what my problems were and where I needed maybe to be better. I took that very seriously and really put in the work to be in great physical shape. I run faster. In the gym, I can do more reps, more HIIT training, I'm just stronger.
TC: Can I ask you for your favourite race so far out of those 200? There's one that I've got very clearly in my mind. I'm going to go Brazil 2010 and the pole. I just thought that weekend was the moment that you really arrived. You'd had a phenomenal junior career. We'd all seen it. But then in those changing conditions in qualifying, you got the job done. And then you actually delivered on Sunday in an uncompetitive car, so that one stands out for me.
NH: No, you're right and also the circumstances, I kind of knew I was out of a drive. It was mentally not the easiest time that end period of 2010 for me. [Also] 2013 in Korea with Sauber, I actually just watched it by coincidence the other day. I finished fourth but the way I drove and kept Lewis and Fernando at bay for half of the race, it was a very strong drive from my side. I really liked that track and how I drove there.
2012 Brazil was also one of them. That was a real big missed opportunity. There, I should have been a bit more patient – that could have been a big payday. That all seems too long ago, there must be some a bit more closer to now…
TC: What about Australia 2023? That was a great race.
NH: No, that was fun too. It was just a shame that it was red flagged at the end again.
TC: You've done a beautiful segue into what I wanted to talk to you about next, because you mentioned Sauber 2013. Audi 2026 – obviously they have bought Sauber. They are now run by Andreas Seidl, with whom you won Le Mans back in 2015. I feel the stars are aligning. What do you think of that project? Would you be interested?
NH: It's definitely one of the very attractive projects right now and prospects for a new brand coming into F1. It's very exciting, a German manufacturer as well. They are people that I've worked with and done really well with before. It all sounds really nice and good on paper. Obviously, I need to put in the good work, keep driving convincing drives to maybe have a shot there. But only time will tell.
TC: We will watch that space. But looking outside of Formula 1, do you have any motorsport goals beyond this paddock? IndyCar, for example? In 2021, you tested the McLaren IndyCar…
NH: I mean that was on the table. I tried that, but came away with the feeling and the conclusion that it's not for me, for various reasons. I think it's more ovals that are the issue. It's obviously a very different thing to a normal street circuit or normal race track. But it was just a feeling that that wasn't meant to be and a year later, I'm back here so I think the feeling was right.
TC: What about Dakar?
NH: Maybe. I've learned to never say never and things change. I don't know in five years' time, maybe I will like something else. Maybe I like Dakar. Maybe I would love e-racing by then. Who knows? For now, I'm very happy just focused on F1. What's after that for me? I have no idea.
TC: Well, outside of motorsport, are you involved in other sports, other businesses?
NH: I would say I have other stuff going on outside of F1 that I learned relatively early. I've always had an interest and an appetite to do other things business wise, outside of F1 and away from racing. If racing doesn't go well, or doesn't continue forever, you want to be doing something else. We all need a purpose and there's some other things that I'm passionate about. I love real estate stuff and doing projects there. I'm a petrolhead so I love my cars, too.
BEYOND THE GRID: Lando Norris on driving McLaren's revival and the responsibility of being the team's senior driver
TC: Have you still got your collection of vintage Porsches?
NH: Collection is a big word. I would say I have one vintage Porsche. It's a 993 Carrera 2S.
TC: A beautiful car. How often do you drive it?
NH: A few times a year. It's not long distance stuff, it's more short distance stuff. But these cars, they're not to just drive. They're also just to look at, to sometimes just sit and listen to music inside of them, and just appreciate and enjoy them.
TC: And are you still playing a lot of tennis?
NH: Recently a bit less, but I'm still a big tennis follower and fan. Right now, the US Open is on, which gives me something to watch at night. I love watching all the different matches. I follow the tennis tour quite a bit and enjoy watching. I still play occasionally, but not as much as I used to.
TC: Have you embraced Padel?
NH: Yeah, I tried Padl a few times, but it's not for me. It's not physical enough. It's a group sport as well. I just want man versus man in tennis, an honest fight.
TC: Are there parallels between the mental demands in tennis and motorsport?
NH: Yeah, I think so. In tennis, obviously the pressure always is immense. You're very visible. Your every move is seen on TV and analysed by the experts, by your own team. If you're playing in these huge arenas and you have 15,000 people, I imagine it's quite intimidating. We are kind of hidden away. We are incognito. Nobody sees us, we just do our work, but we're invisible. And that's quite a big difference to tennis. I imagine it's not easy. I guess you get used to it but to play in front of people is not easy.
TC: Who really impresses you on the tennis circuit at the minute?
NH: I always love watching Sir Andy Murray. Obviously, he has been more successful, but he's gone through a lot. He's just such a warrior, he never gives up. His style and his attitude, he just cracks me up. But he's just such a legend. I really like him.
TC: And what about the new kid on the block, Carlos Alcaraz?
NH: Yeah, very impressive. So powerful, so strong and dynamic. It feels like the new younger version of Rafael Nadal all over again.
TC: Well, Nico, it's been fab to have you back on the show. We really appreciate your time. It's the end of the European season so we all start traveling like mad after this. Now all the listeners know that you will enjoy that planning.
NH: Yeah, I've got my travel all laid out and planned!
TC: Best of luck with everything, both at home and with Haas, and we'll see you soon. Thank you very much.
NH: Appreciate it. Thank you, Tom.
To read on, sign up to F1 Unlocked for free
You'll unlock this article and get access to:
Live leaderboard data
Epic experiences and rewards
Money-can't-buy competitions