Interview
Fun to be had, even with little title hope - Daniel Ricciardo Q&A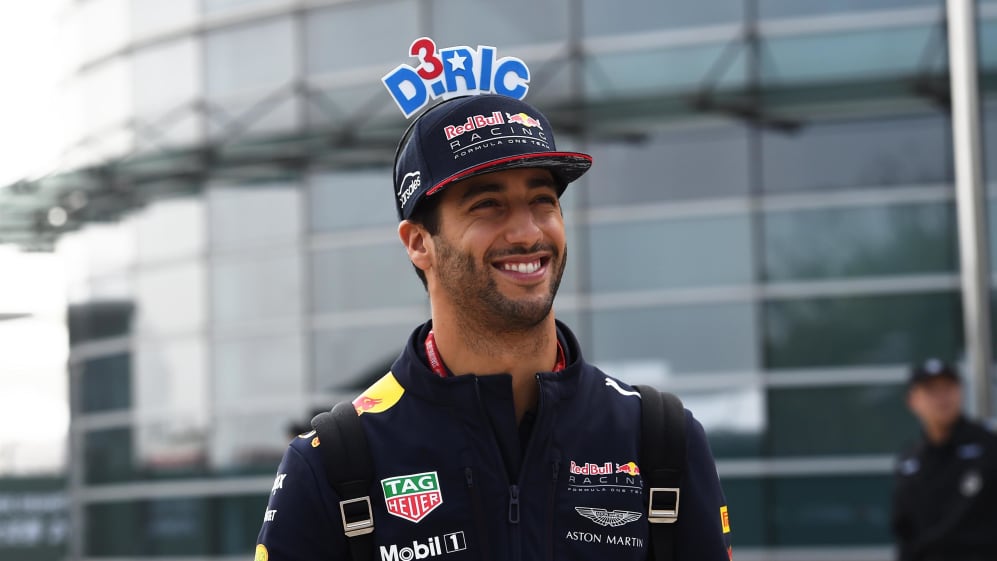 With its major regulations shake-up, 2017 was meant to be Red Bull's - and Daniel Ricciardo's - big chance to get back on top and bring some championship silverware back to Milton Keynes. But two rounds into the season it's already clear they have a lot of work to do, even to get on terms with Mercedes and Ferrari. Ricciardo is a realist and admits his title chances already look extremely slim, but that doesn't mean he won't enjoy helping the team close the gap. We sat down for an exclusive chat with the effusive Aussie ahead of this weekend's Bahrain race…
Q: Daniel, Red Bull motorsport consultant Helmut Marko predicted during the Barcelona tests that if the car is good enough - and it looked good back then - you will fight for the title this season. How far off are you from that right now?
Daniel Ricciardo: Ha, simple answer: 1.3 seconds!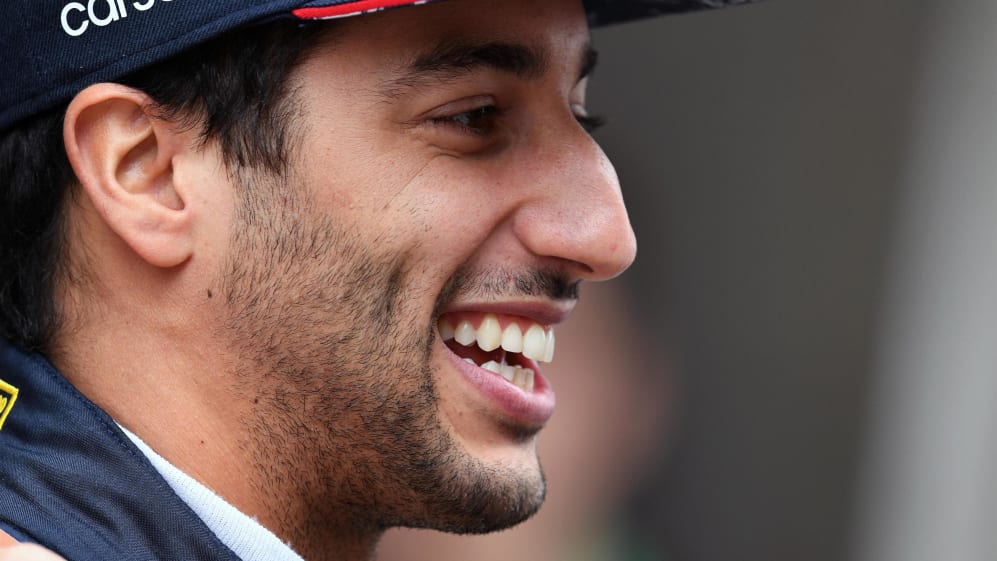 I don't see any change in one week - it will be the same as in Shanghai
Q: How much time and effort will it take to overcome that gap?
DR: Quite a lot of time and effort. This is not an overnight fix. We have to look at it just day by day and try every day to find something to be better than the day before. We can't say this weekend or the next race we will be able to win. Not even if the circumstances are right.
Q: How much of a wake-up call were Melbourne and Shanghai? Enough for sleepless nights?
DR: Not sleepless nights, but it's also not the wake-up call that we wanted. Unfortunately we had similar wake-up calls the last four years. But look, it is what it is. Yes, we are behind, but now we need to figure out the smartest way to come back. In all honesty we didn't expect to be that far off. In Barcelona we already knew that we weren't the quickest, but we thought that we could be within half a second - maximum half a second behind - and with a good chassis we could compensate quite a bit. But not 1.3 seconds. So yes, we've got some work to do.
Q: It is understood that the next engine upgrade will come in Barcelona…
DR: …funny, I hear all different kind of dates. Now it seems to be Montreal. Or a chassis upgrade in Barcelona and the engine upgrade in Montreal.
Q: But by then Vettel and Hamilton will very likely be up and away. Will it ever be possible to catch up?
DR: To start thinking about the championship, well it is still very early in the season - but at the moment it is also very unrealistic. For the next couple of races they will get a lot of points - and then bye-bye title. If we were three-tenths off, then yes there would be a chance to catch up - but with this gap, no. So we have to focus on putting ourselves in the best possible situation there is.
Q: For four years you have been waiting to get a shot at the title - and now you have to add another year to the 'queue time'?
DR: Seems so. None of us wants to be in this position, of course. For the next 18 races I am here, so I have to make the best out of it and have fun in the race.
Q: Going back to China, Sebastian (Vettel) really had to get his elbows out to pass you - you even touched at one point. How did you see that - being pushed to the side? How much fun was it?
DR: To be honest it was fun - I enjoyed it very much, as that little bit of contact was no problem. I think it was exciting for the fans to see drivers fighting that way: hard but with brains. But, of course, I would rather be the attacker!
Q: Can you recap your Shanghai race for us: you started from P5 and your team mate Max (Verstappen) from P16, yet he ended up on the podium and you in P4. What went wrong with your strategy?
DR: I think the main reason for losing positions was the first stint. When the track was still a bit damp I struggled a bit and lost some time - and then we started to hurt the tyres. Maybe it was all a combination of not having the right set-up and me missing something. In the end I came back, but it was too late.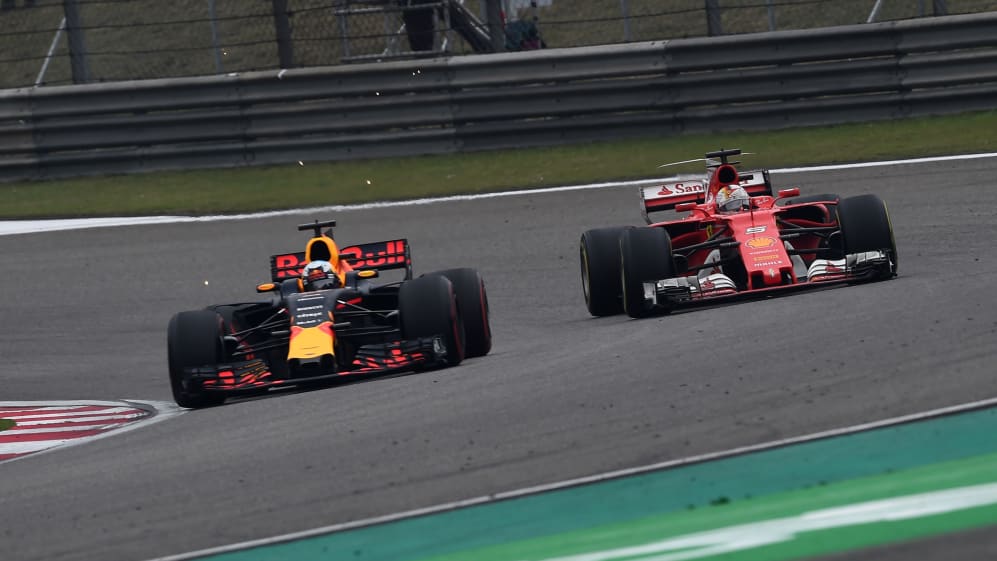 It was exciting for the fans to see drivers fighting that way: hard but with brains
Q: What can be different this weekend? It will be significant hotter - could that help you?
DR: I don't want to sound pessimistic, but I don't see any change in one week. It will be the same as in Shanghai. If everybody of the two frontrunners stays in the race then we will be fighting for P5. It's not really satisfying believe me. And the only thing worse than that would be finishing in P6 - this would be disappointing indeed, as it would mean that Max (Verstappen) is one place ahead of me! (Laughs)
Q: How much of a downside is it not to be in a manufacturer team, as Red Bull Racing will always be a customer to an engine manufacturer and have to rely on their 'skills'?
DR: I have not known anything else. Well, I could imagine that the situation at Mercedes would be a bit smoother - but as I said, I have never experienced anything else.
Q: Right here right now, what is the weakest point of your car?
DR: We lack downforce. We don't have the grip like Mercedes or Ferrari. They can brake later and carry more speed. Yes, their power unit is stronger, but in reality I don't think that less horsepower is our biggest shortcoming - it's the lack of downforce.
Q: Your Bahrain stats are not bad, but you've also never made it to the podium. That sounds like it's about time! This weekend?
DR: Yes, It's still a white spot for me. Actually I look at Bahrain and feel that I have rather better memories than not. I don't believe in history or superstition, but to be on the podium here on Sunday we would need Mercedes or Ferrari to have some fun! But I doubt that they would, so probably I settle for P5.