Gasly hails 'pretty incredible' 100th Grand Prix after pit lane to points run in Belgium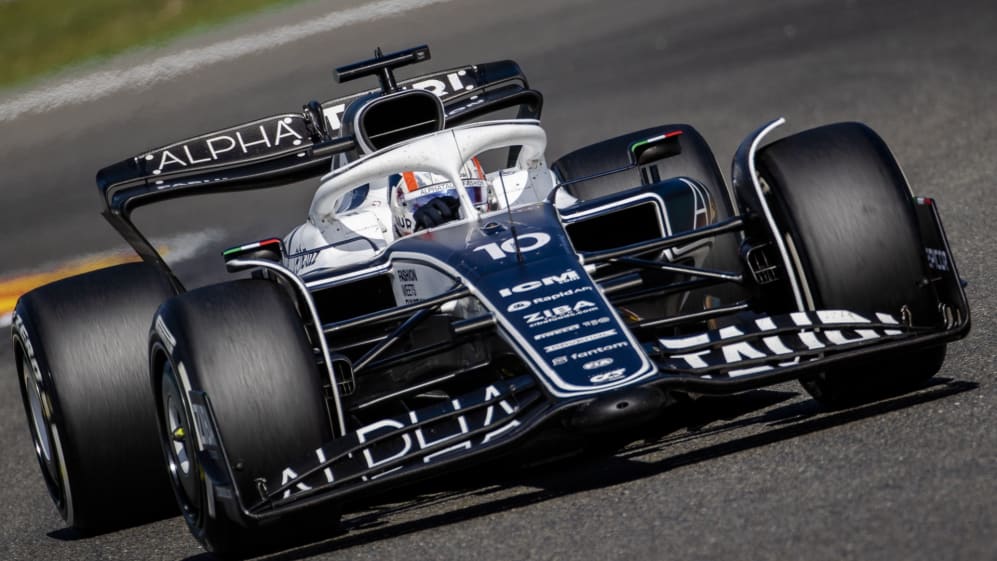 As the drivers lined up on the grid for the formation lap at this weekend's Belgian Grand Prix there was the notable absence of Pierre Gasly in P8, with the AlphaTauri driver forced to start from the pit lane as his car would not fire up. But despite the tough start, the French driver recovered to finish in P9, much to his delight at his 100th Grand Prix.
In his 100th Grand Prix as a Formula 1 driver, Gasly was in the garage after suffering an electronics issue on the grid before the formation lap. But after getting the car to start, the French racer made steady progress from the pit lane throughout the race, using the pit stops to undercut his rivals as he made it to P10 by Lap 30.
And on the final stint, Gasly was seen battling with Sebastian Vettel and Esteban Ocon for seventh place, as they went three-wide down the Kemmel Straight. And while the AlphaTauri racer was forced to settle for ninth, he took joy in his fourth top-10 finish of the season.
F1 NATION: A dominant performance from Max and Audi's announcement – it's the Belgian Grand Prix review
"Well, I thought… not to lie, two minutes before the race start, I thought I was never going to participate in this race," Gasly admitted afterwards. "I was a bit fuming inside the helmet, somehow the car just came alive again, like one minute thirty before the race start and started from the pit lane.
"Obviously, it was quite a lot of smoke inside the helmet, but I tried to stay focused and we didn't expect to make such a comeback, just tried to stay composed and execute the best race I could. [We] made the right calls, we had pretty good pace and we managed to come back in the top-10, so it is pretty incredible for us."
When Gasly was asked about his strategy during the race to get him up into the top-10, he said: "The first two stints were extremely hard, and I was stuck in traffic and I was quite vocal that I wanted to pit early and undercut because I could see I was sliding and losing a lot of lap time, and that is what we did.
READ MORE: 6 Winners and 5 Losers from the Belgian Grand Prix – Who shone in the Spa sunshine?
"Don't know how many cars we undercut the whole race, but it was clearly the way to go, and I just had to manage the last stint which wasn't easy, but it definitely paid off. From the pit lane to get these two points, my 100th race feels pretty good."
He continued: "The car isn't quite where we want it to be yet, we've still got some areas we need to work on, but I'm pleased we managed to be back scoring points again today."
Gasly's team mate Yuki Tsunoda also started from the pit lane in Belgium after a late change to his power unit components. And while the Japanese racer was happy with his performance, he was left ruing a slow pit stop and a DRS train that halted his progress up the field.
MONDAY MORNING DEBRIEF: How Mercedes went from pole in Hungary to 1.8s off the pace at Spa
"The pace was quite okay," said Tsunoda. "I just took quite a long time in the pit stop and I think I nearly lost more than 10 seconds but anyway that definitely made me back step but pretty happy for the pace what I had today and obviously I didn't have to take an engine penalty in Netherlands which is more difficult.
"So, we will see how it goes in the Netherlands but today is just what it is. It is what it is, and the DRS train was really difficult… performance was okay. Hopefully, I can maintain this performance even more, especially in qualifying. Just have to put it all together, need a clean race week overall."