Feature
MONDAY MORNING DEBRIEF: How Mercedes went from pole in Hungary to 1.8s off the pace at Spa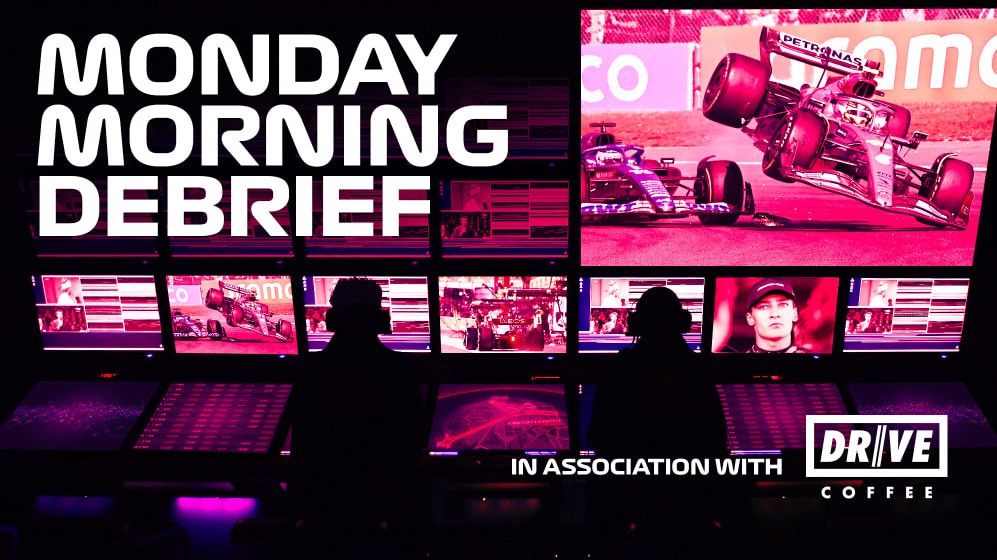 Mercedes came crashing back down to earth at Spa in more ways than just Lewis Hamilton's first lap flight after interlocking wheels with Fernando Alonso's Alpine at Les Combes.
Following the pole position and competitive race in Hungary before the summer break, at Spa the W13 qualified further off the pace than at any race this season (see accompanying chart below).
A big part of the reason was that at Spa, Max Verstappen and Red Bull moved the performance goalposts, with the biggest advantage anyone has enjoyed this season to date. Verstappen's advantage over everyone, not just Mercedes, increased.
READ MORE: 'I don't expect it to be like that every single race weekend' says Verstappen after leading dominant Red Bull 1-2
The other part was Mercedes' difficulty in getting the tyres to work in qualifying. In the race, they looked more respectable, with George Russell pressuring Carlos Sainz's Ferrari for third position. The fact that Russell could race so closely with a car which had qualified 1.5s faster just underlined once more the riddle which the W13 represents to the team.
Mercedes' deficit to pole
| Race | Deficit |
| --- | --- |
| Bahrain | 0.5% |
| Saudi Arabia | 1.0% |
| Australia | 1.2% |
| Miami | 0.9% |
| Spain | 0.8% |
| Monaco | 1.0% |
| Baku | 1.3% |
| Austria | 0.7% |
| France | 1.0% |
| Hungary | 0 |
| Belgium | 1.7% |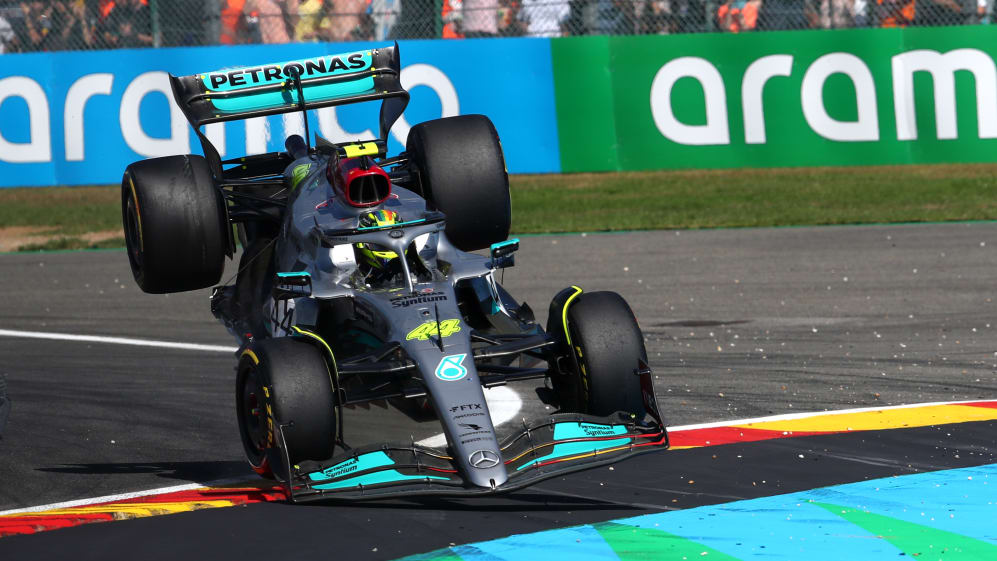 Throughout the practices and qualifying, Hamilton and Russell could be seen being super-aggressive on their out-laps, even Spa's 4.4 miles not enough to get the rubber into its temperature window on a cool track.
"It's difficult to comprehend how we were on pole in the last race but 1.8 seconds off today," said Russell after qualifying only eighth-fastest, "and we aren't just losing time to Max; we were six-tenths behind the Alpines. When the temperatures are cold, we struggle and as we also saw in Imola this year, we find it difficult to get the tyres working."
READ MORE: 'It was my fault' – Hamilton takes blame for Lap 1 clash with Alonso, as Spaniard clears up 'idiot' comments
Andrew Shovlin, the team's Trackside Engineering Director, summarised the situation after qualifying. "The car has been really difficult to get into a good working window here; we're having to make a lot of compromises in how we're running it in terms of balance and stiffnesses. That's part of the problem, but we've also failed to do a decent lap on new tyres all weekend which is probably a separate issue that we need to investigate and understand."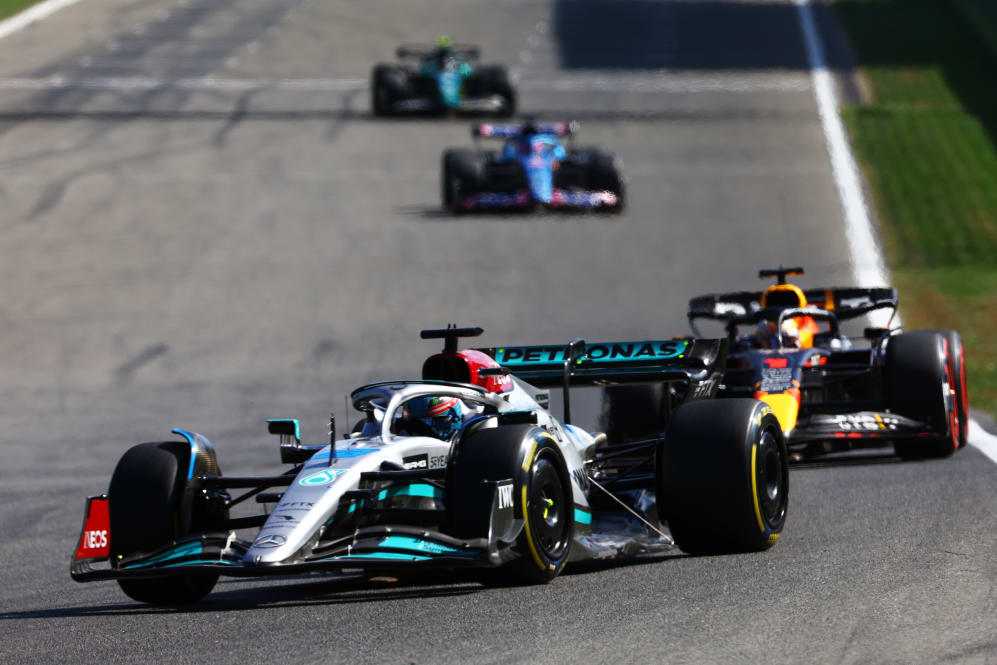 The fact the car had shown this trait before (albeit not to quite the same extreme) was one of the factors in Mercedes choosing a relatively high wing level. The more downforce a car produces, the more energy is being fed into the tyres. But that just seemed to compound the competitive shortfall, as it didn't provide a solution to the under-temperature tyres but imposed a high drag level on the car which limited its straight-line speed.
The practices had shown that when running on its own the car was losing 1s per lap on the straights. Much of that could be overcome by getting a good tow on the two flat-out stretches, but trying to do that in qualifying meant being constrained to the same slower out-lap speed of any car they were trying to pick up a tow from.
READ MORE: Russell left to ponder 'what could have been' after settling for P4 finish in Belgium
Invariably the other cars were driving slow out-laps – the Ferrari in particular – as their problem was preventing the tyres getting too hot before the start of the lap. So the Silver Arrows could either lose time on the straights but have an aggressive out-lap or offset their drag disadvantage with a tow but have even cooler tyres.
One possible clue to the cause of the problem may have come from Russell when he observed: "It's a really tricky circuit because the tarmac is so open. But the grip level in that Turn 8/9 where it's been resurfaced is substantially higher compared to the rest of the track. The car always felt good in those two corners but really poor everywhere else. At Budapest, the whole circuit had been recently re-laid and you could push flat-out."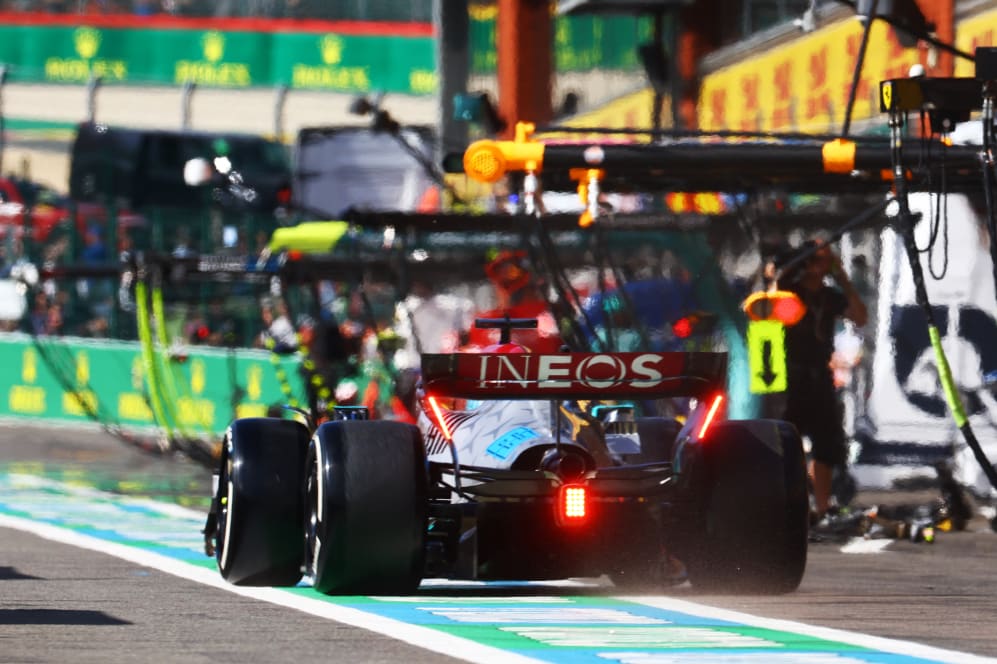 But load the car up with fuel for race day, drive a few consecutive laps, and the problem is much reduced, the much warmer track of race day (around 14 degrees higher than in qualifying) also helping. Once Hamilton made his first lap error and was forced to retire the car with suspension damage, Russell was able to run the first stint in third place at a reasonable pace, keeping Sainz and Sergio Perez's Red Bull in sight and leaving Alonso's Alpine (which had been so much faster than Russell in qualifying) far behind. He would soon be passed and left behind by the recovering Verstappen but in the final stint of the two-stop race, Russell was gaining quickly on Sainz.
Partly this was because Russell's hard compound C2 tyres were five laps fresher than Sainz's – but also because the degradation rate of the tyres on the Ferrari was much higher, with Sainz having to drive to a delta time to keep the rubber temperature beneath a critical threshold while Russell was able to push.
READ MORE: Leclerc demoted to P6 at Spa after pit lane speeding penalty – and admits title chances 'start to look very difficult'
By Lap 38, with six laps to go, Russell had closed what had been an 8s gap down to just 1.8s. "When I was closing in on Carlos at the end, a second a lap, I thought here we go – we're in for a really good shot here. But then I just had two really scrappy laps and got the tyres out of the window."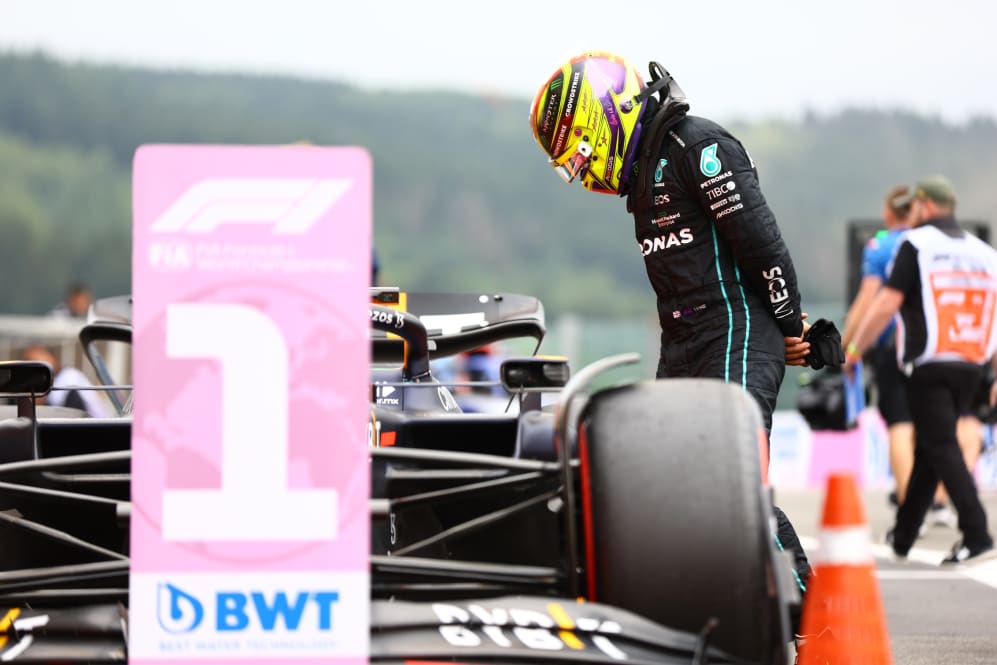 Pushing hard, he ran wide through Blanchimont on the 39th lap. That was enough to lose the tyre temperature, illustrating what a knife edge they were on. The more worn a tyre is, the more difficult it is to regain the lost temperature from backing off. "When the tyres are in that sweet spot, the car is transformed but as soon as I lost them, I knew the podium was game over."
Ignore the chasm to Verstappen, and Russell's was a respectable race day showing, way more competitive than in qualifying. But it still presents a puzzle to the team in exactly what is driving the inconsistency from track to track and from one day to the next. "We have massive swings of performance that we can't really get on top of," admitted team boss Toto Wolff. "Are the tyres something that we fundamentally don't understand and all the rest is good? Or is the aero messing it up? Or the mechanical balance? That is so difficult to dissect."
HIGHLIGHTS: Watch the action from the Belgian Grand Prix as Verstappen dominates to lead Red Bull 1-2
"The car isn't yet performing well enough over a range of tracks so it's clear we need to widen the working window," said Shovlin. "We were also poor on the single lap which is another area we have to focus on. With a bit more track temperature today, the warm-up was much better but it's been a recurrent issue over a range of conditions and circuits – and something we have to improve."