'It's a blessing there's nobody in the stands,' says Vettel after nightmare Italian GP for Ferrari
Sebastian Vettel's miserable Italian Grand Prix weekend ended when his SF1000 car suffered brake failure in the early laps of the race – and the German said it was "a blessing" there were no fans at Monza to witness Ferrari's worst home race for decades.
Vettel could only qualify 17th on the grid for the race, with Charles Leclerc not much better off in 13th as the Scuderia continued to struggle with their low downforce set up at the high speed Monza track.
READ MORE: Q2 exit at home 'hurts' says Leclerc as Ferraris start outside top 10 at Monza for first time since 1984
And the four time world champion's race was even worse than his qualifying as a brake failure saw him go straight on at the first chicane, smashing through the plastic markers in the process, before he slowly brought the car back to the garage to retire.
"It's very difficult for us at the moment for sure, for the whole team," he said once he was out of the car. "Mega frustrating, obviously. I don't know what to say. You're not even in the car, you don't have a chance to do anything, so obviously a tough day.
"Obviously if I could choose then I don't want to be here [conducting interviews] I want to be in the car on the track right now – and not in the back of the field but in the front, but sometimes you don't get to choose."
Vettel is leaving Ferrari at the end of the season, meaning this was his last Monza race as a Scuderia driver – and he admitted it was probably a good thing the passionate tifosi were not present at the track to witness the poor showing by the team.
"Tough times are part of life and part of sports but at the moment I think it's not fair to all the guys that put so much effort in, that we are that bad," he said. "But on the other hand it's a testimony of where we stand and it's poor obviously where we are, especially here for our home race – I think it's probably a blessing that there's nobody in the stands."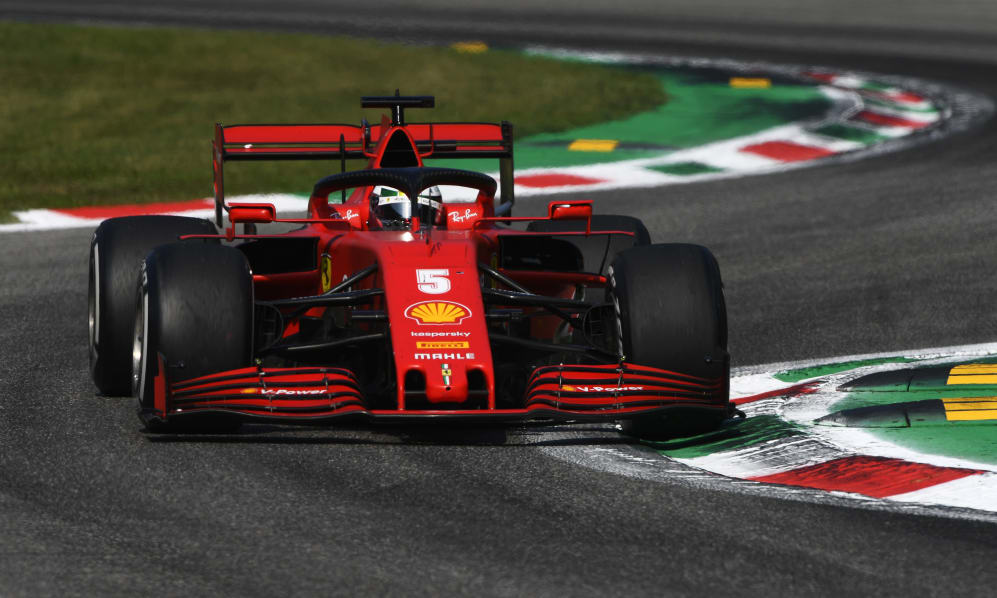 And he isn't holding out much hope for a marked improvement in next week's race at Mugello – the race that will mark Ferrari's 1000th F1 Grand Prix appearance.
"You see where we are. I hope in Mugello we're in a little bit of a better place but that doesn't mean we're fighting for the podium.
"You need to be realistic. Expectations are very low. Hopefully we have a smooth weekend, a weekend without trouble – that would be a good start, at least on my side, and then we'll see."
Ferrari's weekend got even worse after Vettel went out, when Charles Leclerc lost control of his car and crashed heavily at the Parabolica. The Monégasque was uninjured, but with him out of the race as well, the Scuderia recorded their first double DNF at Monza since 1995.
WATCH: Italian GP red-flagged as Leclerc walks away from huge crash