Great Britain preview quotes - Williams, Mercedes, Toro Rosso, Renault & more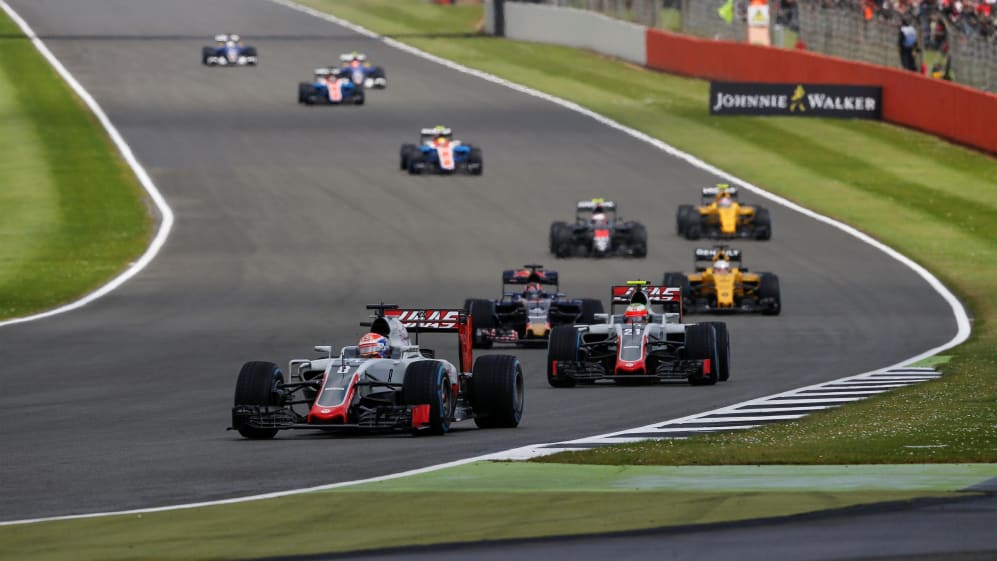 There's no let up for the teams as they head straight from Spielberg to Silverstone, exchanging one historic high-speed track for another. Those involved in this weekend's 2017 Formula 1 Rolex British Grand Prix look ahead to the action...
Williams
Felipe Massa
"Silverstone is always a very important race. It's the home Grand Prix for the team, and we know how important that is for everyone, especially with the 40th anniversary celebrations. It's going to be a very important weekend for Williams and I really hope we can have an amazing race, and an amazing result, to celebrate even more. The track itself is really nice. There's a lot of high speed corners and the car normally performs very well there."
Lance Stroll
"This is going to be a very special weekend. I know the 40th anniversary celebrations for the team will continue, and, as I witnessed at the fan day we had at the circuit on the 2nd June, we will have a lot of support. I have only had a few laps there in our 2014 Formula 1 car, but I do know it from racing there in 2015 in Formula 3. There is a lot of history surrounding the track and that always adds to the enjoyment. It is a very fast circuit and I find the Maggots/Becketts section really interesting. I think we will have a lot of fun this weekend."
Paddy Lowe, Chief Technical Officer
"Our home race; the British GP. It's always great to go to Silverstone as they have one of the biggest crowds of the year, and the fans are all super-enthusiastic. It's a circuit with a rich history, and has produced some memorable races over the many years we have raced there, particularly for Williams. The weather can be a bit of a lottery, so you always need to keep an eye on where the next rain shower may come from. It's a high-speed circuit so it is really important to have good aerodynamic performance. It is quite easy on brakes, aggressive on the tyres, but very demanding on the driver with the high loads. We hope we can put on a great show for the home fans as we continue celebrating our 40th anniversary."
Mercedes
Toto Wolff, Head of Mercedes-Benz Motorsport
"The British Grand Prix is one of the highlights of any Formula 1 season. It's a combination of the history of the circuit, the knowledge and racing culture of the fans, unpredictable weather conditions and, of course, the unique feeling of racing just a few kilometres from our factories.
"All of our team mates who don't normally travel to the races will have the chance to come and see the cars in action on Friday and that is a very special moment of our year. It gives every team member the connection to what we do in the most powerful way.
"The entire weekend is like a celebration of motorsport in the UK and of course also a celebration of the driver who is in my view the country's greatest ever F1 talent, Lewis. He enjoys a very special relationship with the fans at Silverstone and has a fantastic record there in recent years.
"From the team's perspective, we come to Silverstone with a feeling of unfinished business and needing to put things right, even though we took the win in Austria. In both Baku and Spielberg, we left points on the table that were there for the taking because of car problems that had nothing to do with our drivers. We are determined to make sure that doesn't happen in Silverstone.
"Silverstone is a circuit that we hope will suit our car. It is a very different challenge to the most recent tracks, with its sweeping corners putting the emphasis on aerodynamic efficiency. It will be an awesome sight to see these 2017 cars defying the laws of physics in the fast corners and we are all excited to see that."
Toro Rosso
Daniil Kvyat
"I like Silverstone because there are very fast, legendary corners which make this track absolutely unique – it's a track with a lot of history… It's so cool!
"Every time I've raced in Silverstone I've ended up in the points and done some very good races there. I have to say I really like the track but this doesn't guarantee you points: every year it all starts from zero but hopefully I can carry on with the positive tendency also this year…we would really need it!
"I've lived in the UK for two years and I like it. It's a particular country and you have to get used to it, but once you're settled in, it's all very easy going and easy to understand. You can have fun there, go to the pub or enjoy some fish and chips every now and then!
"The UK has an enormous passion for motorsport because the history starts there. There are always plenty of fans during the race weekend, probably also because there are many English teams and most of them are based close to Silverstone.
"You always have to have one eye on the weather when racing in Silverstone. But I have to say I enjoy the British weather, especially in the summer – you can sleep with an open window, feel the breeze, wake-up with a bit of nice, fresh air… I like it!"
Carlos Sainz
"Silverstone is one of my favourite tracks because I think it's simply a 'driver's track' – it's so fast! The part I like the most is Sector 2 because it's the quickest part of the track and it makes it probably one of the most exciting sectors of the season, with Maggotts, Becketts, Stowe… I've always enjoyed my qualifyings at this track and I can assure you I always have a smile on my face when I drive there!
"It seems to be all about eight for me at Silverstone! In Formula 1, I've always qualified eight and finished the race eight! It's not a bad position and it's fair to say we've done a very good job so far every year at this track. I hope this continues to be the case this year…or even better…why not!
"I always welcome the rain and if there's a place where you can never be sure about the weather, that's Silverstone - last year was a good example! What also amazes me is the fact that the fans, even if it rains and thunders, they never leave the track until the end of the day and this makes it special. That's what I call real passion for motorsport!
"When I have some free time I like to spend it in London and become a 'normal Londoner! It's a really cool city and I live quite close to Hide Park, where I always do my running or boxing training. I also love having such a big choice of restaurants and go for a meal with friends. My favourite 'cheat meal' is a hamburger and chips, and London have some pretty good places for this!
"At Silverstone is where I tested a Formula 1 car for the first time back in 2013, and it's a day I will never forget – it was one of the most special days of my life! I remember driving the Toro Rosso and being fast straight away, enjoying every second!"
Renault
Nico Hulkenberg
"Silverstone is a high-speed circuit with lots of old corner combinations such as Maggots, Becketts and Chapel which are truly awesome. There are so many great corners where you really feel the forces of a Formula 1 car. You have to really work your neck in the build-up before Silverstone to get ready for the high G forces and it's important to be ready for it. At Silverstone we'll really feel the extra cornering forces from the cars this season. We need good high speed balance on the car to maximise our performance. It's a challenging lap but also a lot of fun and very special.
"Silverstone is one of the historic races on the calendar. You really get a feel for the roots of racing there. The atmosphere is buzzing and that always give me an extra boost, especially as my Formula 1 home for so many years was just outside the gates. You get a great feeling when you're driving with the thousands of fanatical Formula 1 supporters cheering you on. It's one of those special races because the grandstands are full – all around the circuit and across the entire weekend. There's a really cool, traditional atmosphere about the place which is great to experience. You always see how much the fans love the sport. It will be a busy weekend with lots of people and lots of sponsors there to see us, especially with the 40th anniversary celebrations."
Jolyon Palmer
"I'm really looking forward to racing in front of the home crowd. I love the track and it's always a special weekend at Silverstone. People always turn out in huge numbers and they are very passionate which really pushes us drivers. My first Grand Prix at Silverstone was when I was six and a fan, so it's special to be there with lots of reminiscing. It's always a great experience.
"It's certainly the Formula 1 track that I know the best so I'm hoping that gives me an extra boost along with all the home support. There are lots of high-speed corners which are cool to drive and a lap has a really good flow to it. I had my first race at Silverstone when I was 15 so I know the place pretty well! I've been on the podium a few times throughout my career including a win in Formula 2 and second and third places in GP2.
"I am going there after a fairly positive weekend (in Austria), so I am aiming to keep the momentum and get those points."
Bob Bell, Chief Technical Officer
"It's a flowing circuit, quite different to what we have seen so far this season, so it will be an interesting benchmark. As a circuit, it's fast with numerous high speed corners. It's not the smoothest circuit, but it doesn't have particularly nasty kerbs like Austria which gave us bodywork damage. It's not as hard on brakes as Austria, but it puts a lot of energy on the tyres, especially the left-hand side so you usually get left-front graining amidst other issues.
"It will be interesting to see how the medium compound goes around Silverstone. Sometimes drivers don't like the softer compounds, they prefer the more robust tyre for the high-speed turns, so we will have to wait and see. The layout will test our car's balance as it has shown a propensity to be a bit nervous in the high speed corners, so that's something we'll be monitoring."
Cyril Abiteboul, Renault Sport Racing Managing Director
"Silverstone promises to be a special weekend for the Renault Sport Racing family. Sunday 16th July will be particularly memorable as it marks the 40th anniversary, to the day, of Renault's first Formula 1 Grand Prix when the RS01, pioneered by Jean-Pierre Jabouille, graced the legendary British circuit. Of course, this ignited Renault's passion for Formula 1, and 40 years and masses of success later, we are still going with the same grit on the grid today.
"We left Austria with mixed feelings after a weekend which highlighted a number positives, whilst underlined the areas which require improvement. We are satisfied with Jolyon's race, even though we didn't secure any points, an impressive outing from him means he has the confidence going into his home Grand Prix. Jolyon needs to be better placed on the grid, which of course helps for a better Sunday. This is one of his targets and we hope to see him improve in that area.
"As well as reflecting over our 40-year history at Silverstone we will also be looking very much to the future and we will unveil a new garage. The garage at a Grand Prix is where all the race weekend work takes place to the cars and it's also a showroom to our participation in Formula 1.
"The British Grand Prix marks the beginning of a sequence of strong chassis developments and I hope to see the installation progress on the upcoming races. It's an important few weeks before the mid-season break and it's vital that our hard work is maintained.
"Silverstone is located a short drive from our Enstone base so we look forward to welcoming many friends and family to come join us for a cup of tea. We hope for all to be able to celebrate a positive result on Sunday."
McLaren
Fernando Alonso
"Silverstone is a racetrack that I enjoy coming back to year after year. Everyone knows it as a real driver's track, with an incredible history and amazing support from the fans, so it's a special weekend for every driver. For a McLaren driver, it's even more special, and the reception we get from the British fans is always fantastic.
"I really enjoy the challenge of this circuit, and a good result there always feels like its well-deserved, because it's a tricky track and a tough race. I hope we will have more luck at our home race than we did last weekend in Austria – it was an unfortunate incident and I hope we can bounce back, fight hard as always, and see what we can do in the race.
"The characteristics of the Silverstone circuit are high-speed, but also high-grip, and I'm excited to see how this year's cars perform on this track – especially on the faster sections of the circuit. Let's see if we can maximise the strengths of our car in the corners and fight for the best possible result for the team. It's important that we can stay out of trouble at the start, and have good reliability throughout the weekend so that we can build momentum in every session leading up to the race."
Stoffel Vandoorne
"I'm really looking forward to going to the British Grand Prix for the first time as part of a British team. At McLaren Honda, we are lucky that we receive amazing support from fans all over the world, but I know that the atmosphere at Silverstone is extra special. I've raced in the UK a number of times and I spend a lot of time there with the team, so it does feel like a second home to me now.
"The track is really fun to drive – very fast and tricky in places, especially at the start of the lap, and then the last sector with its infield section requires a different set of skills and a stable, responsive car. I'm looking forward to seeing how our car behaves, particularly in those sections, and hopefully we can stand our ground against our nearest rivals.
"I've stood on the Silverstone podium twice in GP2 and it was a great feeling. I hope I can have a positive weekend there again and have a smooth run up to Sunday, so we can maximise the package that we have. I feel comfortable in the car and we're definitely making progress, so the aim is to be able to show that in front of the loyal fans and make the most of the weekend."
Eric Boullier, Racing Director
"For obvious reasons, the British Grand Prix is one of the stand-out races of the season for everyone at McLaren Honda, and not only because we are a British team. From a fan perspective, it means incredible enthusiasm and support, huge crowds and a passionate audience, the like of which we don't often see at any other venue.
"The Silverstone racetrack is also the stuff of legends, with its infamous corners – Copse, Becketts, Stowe – and it's a circuit that has tested many a champion and delighted fans with its epic racing. It's tough, too: high-speed, challenging, and very demanding on both the car and the driver – especially with the 2017 cars, which promise to look spectacular around this track.
"While it won't be the easiest of circuits on which we will put the MCL32 to the test, we are immensely looking forward to the typically awesome atmosphere that enjoy every year at Silverstone from the relentlessly vocal and passionate British fans, who never fail to lift us and carry us through the weekend. We will work as hard as ever, and we hope to put on a good show for our loyal fans, colleagues, partners and guests alike."
Yusuke Hasegawa, Honda R&D Co. Ltd Head of F1 Project & Executive Chief Engineer
"The British Grand Prix marks the halfway point of the season, and is one of the highlights on the Formula 1 calendar. It is one of the oldest and most iconic races, but also one of the most demanding for the team and drivers.
"The layout, with its long straights and high-speed corners, has a great flow to it but puts every area of the car to the test – including the PU. It's long and flat, and fuel and power hungry, so I'm expecting it to be challenging for us. And of course we will have the notoriously unpredictable British weather to contend with too.
"The result in Austria wasn't what we had hoped for or expected, but having said that, we showed some genuine progress which I hope we can continue to build on this weekend. We're as motivated as ever, and working to move forward as quickly as we can.
"Finally, Silverstone will also mark the first of two home Grands Prix for the McLaren Honda team this season, so we're looking forward to what will be a busy but special weekend. The crowd is always amazing and we expect to have many fans, colleagues and family members watching, so we will do our very best to show them a good race and collect some points in front of the home crowd."
Haas
Romain Grosjean
"It's a really cool track, especially the fast part through Maggotts, Becketts and Chapel corners. When you have the grip in the car there, you really get the sensation of the g-forces. Everything's pushing down. You really want to get the first part of the flowing corners right. If you don't, you just lose a lot of time. When the car is very stable and has good balance, you can go flat out and really push it to the limit.
"I think it's going to be one of the most exciting tracks of the year to drive. With the new cars, we're really going to have a lot of downforce, a lot of g-forces through the high-speed corners – which were already really good with the previous cars. Now we're going to get to another level and I'm looking forward to discovering that.
"There are a few [overtaking] spots. On the straights and through the high-speed corners, you have an opportunity if your car is much better balanced than the car in front of you. After turn three or turn four, there's the long section after the slow-speed corners, and that's a good opportunity as well. But the thing about Silverstone is really the difference between a well-balanced car and an unbalanced car – that's where the opportunity lies.
"I've had some good races there. I remember GP2 in 2009 – I scored the pole position by a big margin, that was pretty good fun. In F1, back in 2012, I had a first-lap incident where I had to change the front wing and from there I just pushed all the way. I remember overtaking (Jenson) Button and (Lewis) Hamilton through Maggots, Becketts – the high-speed corners. I came back to sixth from being last on the first lap, which was pretty good."
Kevin Magnussen
"Silverstone is definitely one of the good circuits. It's really fast and you've got some big sections with fast change of directions. I really enjoy driving the circuit.
"I'm just looking forward to having a go. These cars are going to be much faster in those corners than the previous cars. I'm looking forward to it massively.
"It will be quite difficult to overtake at Silverstone, perhaps more difficult than previous years. Probably in the DRS zone and perhaps down Hangar Straight, it will be possible. Qualifying is going to be very important.
"You need good high-speed balance as most of the corners are high speed."
Force India
Sergio Perez
"I'm feeling really upbeat after our strong weekend in Austria. We recovered well from some difficult practice sessions and picked up some important points. I think we can do the same in Silverstone. I love the track and I think the car will perform well there. We have some small updates coming on the aero side and I feel very comfortable in this car. I really can't wait to experience the high-speed corners at Silverstone with all the downforce we have on these 2017 cars.
"I always say that Silverstone is one of the best tracks of the year. There are great corners and it's a real pleasure to drive in a Formula One car. The fans also make the British Grand Prix special. We always see a huge crowd – even on Friday – and the atmosphere always feels special. It's one of those races where the drivers' parade gives you huge energy when you see the support from the fans."
Esteban Ocon
"I am very excited about racing in my first British Grand Prix. Silverstone has a special atmosphere: there is always a big crowd, everyone is coming here to show their support and enjoy one of the best races of the season and it's really exciting.
"I can't wait for the race. The track is great: I like the combination of fast corners, especially Maggots and Becketts. Those corners are awesome. In this year's cars they're going to be especially crazy. I have some very good memories from racing Formula 3 in Silverstone. I was on pole, got three podiums and won a race: it was the first event of the season and the results gave me so much confidence for the rest of the championship.
"Our team headquarters are just across the road, so the race feels extra special for us. It's a home race and the chance to see everyone who works at the factory all year. It's also where we have our Fan Zone at the Woodlands Campsite. I am looking forward to going there on Saturday night and meeting everyone who has come to support us."
Tom McCullough, Chief Race Engineer
"Our home Grand Prix in Silverstone is one of the toughest tests for a Formula One car. The current layout is a mix of low, medium and very high speed corners, meaning you have to find the ideal compromise when it comes to set up. We expect the current generation of cars to be very impressive in the high-speed sections, a challenge the drivers will love: this means, however, that we need to produce a car that gives them the confidence required to attack those corners. The high tyre degradation will open up the strategic options, and the weather is always unpredictable – even when dry, the high winds on this exposed track mean conditions can change between a lap and the other, which is an added challenge. At 5.89km, this is one of the longest circuits of the year – we only have 52 laps, quite the opposite from Austria."
Vijay Mallya, Team Principal
"After a double points finish in Austria, we now head to our local race at Silverstone. The VJM10 is working well and we expect to build on our recent competitive form with another strong showing this weekend. Our performance in Austria showed the strength in depth of our team in all areas. Despite chasing the car balance through practice, we got on top of our issues in time for qualifying – when it mattered. Even when we don't have the perfect weekend, we can be well inside the top ten picking up important points.
"The British Grand Prix is always a huge weekend for this team. Our factory couldn't be any closer to the circuit and it's one of our busiest events of the year. Once again we have created a Force India stage and fan zone in the Woodlands campsite so that our drivers can visit during the weekend and meet the fans. For me, this is a highlight of the week because it's these dedicated supporters who create such a special atmosphere at Silverstone. It's important that we involve the fans as much as possible and I'm glad that we can give something back to them again this year."
Red Bull
Max Verstappen
"Heading straight to Silverstone the weekend after Austria will hopefully again bring me a good result. With the new cars and regulations I think it will be really physical so I'm looking forward to testing myself there. I always enjoy driving Silverstone and now with the new cars I think Becketts and Maggotts are going to be the stand out corners and a bit different than last season. Flat out through Copse is also something that gets the heart beating every lap, it's a unique circuit and one I am always looking forward to on the calendar."
Daniel Ricciardo
"Looking ahead to the British Grand Prix, I actually made my F1 race debut at Silverstone so it will always be a special track for that reason. I have driven at Silverstone since I raced in British F3 and I've always enjoyed the high speed combinations of Copse, Maggotts, Becketts and Stowe; that part of real estate is seriously some of the best in Formula 1. This year with the higher speeds Silverstone will be even better. I think Copse should be full throttle and if so, that will be intense. We will be getting a lot of Gs through the high speed sections and it will be one of the biggest physical challenges this season.
"The British fans are amazing, we have raced there in boiling heat, well not boiling heat really but for the English it's boiling heat, also hail and rain and they will come early in the morning and stay until late in the evening. They are real motorsport fans, they love it and they are also loyal. Loyal to the local drivers but also happy to see any of us drivers and show us support, it's a great atmosphere."
Pirelli
Mario Isola, Head Of Car Racing
"The decision to bring softer tyres to Silverstone than we had originally planned was taken by Pirelli, but with the full approval of the drivers, FIA, teams and promoters, who have appreciated what we are trying to do with this more aggressive nomination. This should open up extra possibilities for different strategies and push teams towards more than one pit stop, although we'll obviously have a better idea of exact wear and degradation rates when we get there, especially with the supersoft that makes its Silverstone race debut. With Silverstone being among the most demanding tracks for tyres of the entire season, it will be interesting to see how one of the softest tyres in the 2017 range performs there. A lot will depend on the weather: in the past, we've seen an extremely wide range of conditions and temperatures."
More to follow.