Grosjean: 2019 Haas needs to cooperate better with tyres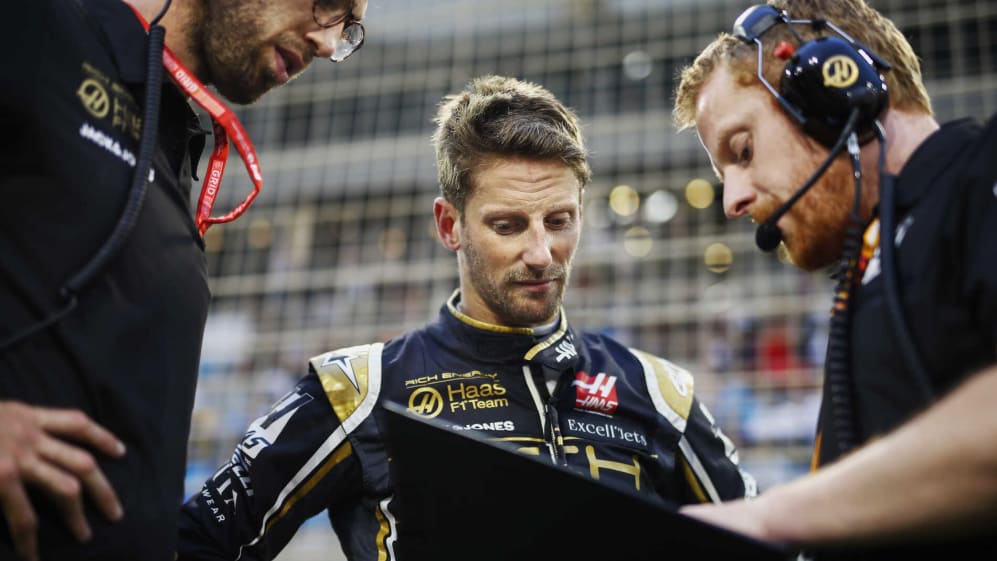 The Haas team were left bemused after the Bahrain Grand Prix, having witnessed Kevin Magnussen's fantastic pace in qualifying desert him in the race, the Dane sliding from sixth on the grid to finish a dismal 13th at the flag. But after analysing the problem during two days of testing in Sakhir, Magnussen's team mate Romain Grosjean believes Haas may have identified the problem…
Grosjean himself endured his second difficult race in succession in Bahrain, hitting Lance Stroll on lap one before the resultant damage eventually forced him to retirement. But asked to analyse Haas' performance over the weekend in Sakhir, the Frenchman singled out tyre performance as the single factor that had hurt the team's long run pace the most.
"Bahrain wasn't our best showing in terms of race pace," said Grosjean. "Unfortunately, that was the feeling I had from the Friday of the weekend. We didn't quite manage to get on top of it.
"Our testing in Bahrain has been another good opportunity to learn a bit more about what happened in the race there. It has to be tyre usage related because the car is the same as we had in Melbourne and in pre-season testing, where we were fast and we were fast again in qualifying in Bahrain. We've got the downforce and we've got the balance, we just need a little bit more cooperation on the tyres. If we can process the information from testing, we should be fine for the race."
READ MORE: Guenther Steiner talks shaping Haas and that starring Netflix cameo on Beyond The Grid, the official F1 podcast
Haas don't have the best record in Shanghai, the team having scored just four points at the track in the three Grands Prix they've competed in (all claimed by Magnussen across 2017 and 2018). Despite that, the different layout of the track compared to Bahrain, combined with the strong pace the team's VF-19 has demonstrated in flashes in 2019, left Grosjean confident that this could be a Chinese Grand Prix to remember for Haas.
"Shanghai is a tricky track because it's very different from the early stages in the year," said Grosjean. "It's a front-limited circuit, meaning that the car needs to work well with the front tyres.
"In general, if the car is good in qualifying, the race should be quite good too. If not, then in the race you're going to struggle. If you qualify in the top 10, you should finish in the top 10. If you're not, then it's harder.
"[But] I think China's going to be great. It's a very different circuit [to Bahrain, and] I think we've got some good tools to get ready for China."