Grosjean: Qualifying penalty led to Turn 2 clash with Stroll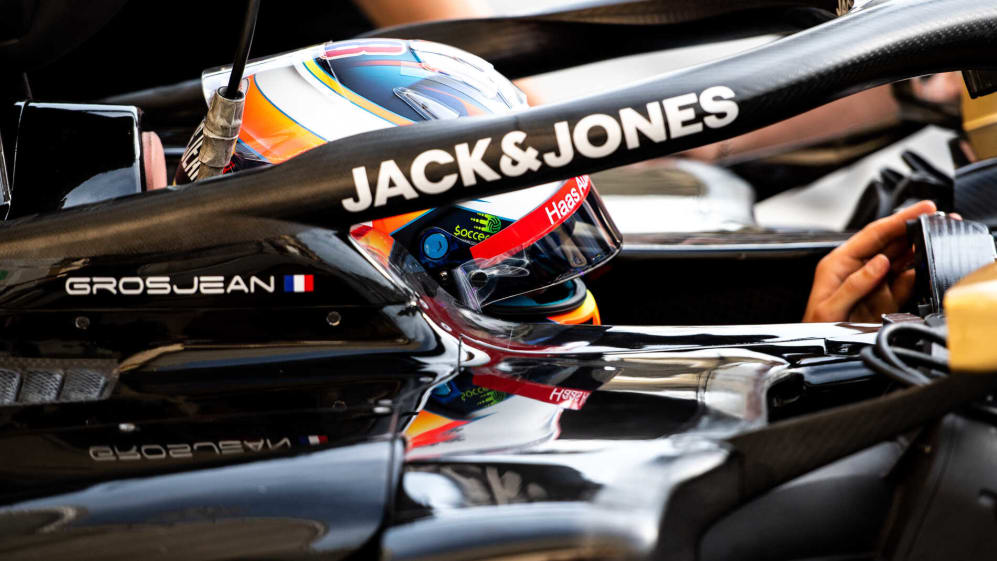 Romain Grosjean's Bahrain Grand prix was effectively over after three corners, the Frenchman's Haas getting tagged by the Racing Point of Lance Stroll, causing punctures for both drivers and damaging the floor of Grosjean's car.
As the pair limped back to the pits, Grosjean took to team radio to vent his displeasure. "Look at the damage. Stupid," he yelled at his engineer, adding, "they can't f***ing take a Turn 1 without crashing."
Sensibly, Grosjean's engineer decided that it wasn't the moment to tell his irate driver that the contact had actually been at Turn 2 – and Grosjean was still fuming about the incident when he returned to the paddock, after the damage on his car forced him into retirement on lap 18.
"Pretty much," Grosjean replied when asked if the Stroll contact had ruined his race. "Someone just came and f***ing hit me from behind and that was it. The car was very damaged, and anyway, with a rear puncture, you lose so much time [driving to] the pits and then the car was damaged and that was it."
For his part, Stroll described the clash as a racing incident: "Unfortunately we touched, there was damage, and I had to pit for a new nose. We were racing wheel-to-wheel and these things happen, but it was really costly because my race was pretty much over after that." 
The collision ended what had already been a difficult 24 hours for Grosjean, after he was handed a three-place grid penalty for blocking Lando Norris in Q1 – which dropped him from his promising eighth on the grid to 11th. And asked on Sunday if he thought the penalty had been fair, Grosjean replied: "I won't comment because I don't want to go into that.
"The only thing I want to say is that it had no consequences on anyone's qualifying, and obviously today it ruined my race. So all in all, it's not great."
Grosjean went the first eight races of 2018 without scoring a point – and after his second score-less finish of 2019 in Bahrain, the Haas driver will be desperate to get some on the board at the Chinese Grand Prix in two weeks' time.