Grosjean penalised for triggering first-lap shunt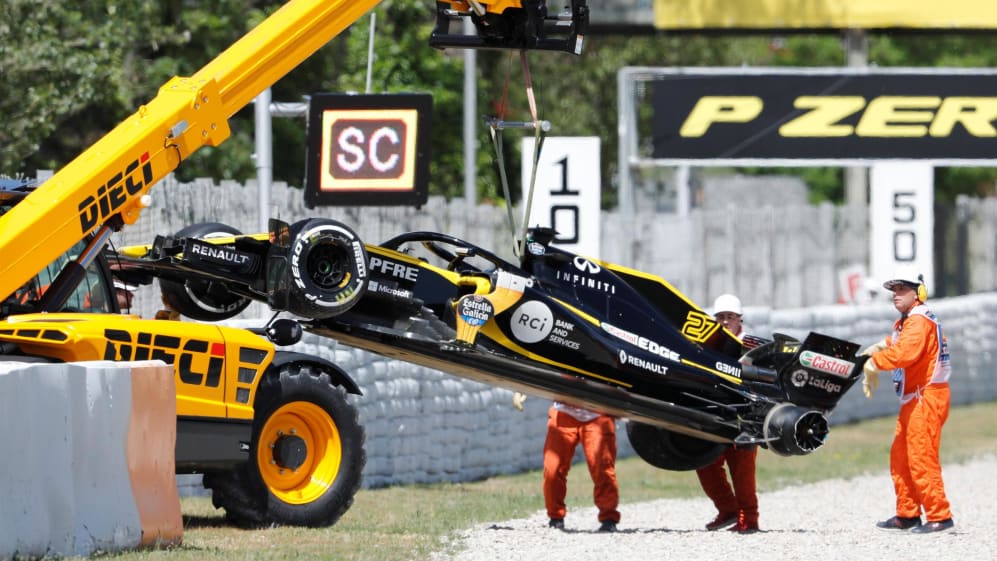 It was the most dramatic moment of the Spanish Grand Prix, and Nico Hulkenberg says Romain Grosjean has to "work on himself" after being wiped out by the out-of-control Haas during the opening lap of the race. It was an incident for which Grosjean was later handed a three-place grid penalty for the next round in Monaco - not to mention two penalty points on his license...
Grosjean - who embarrassingly crashed out of the previous race in Azerbaijan after losing control behind the Safety Car - lost control of his Haas around Turn 3, spinning across the track in a huge fog of smoke before taking out the unfortunate pair of Hulkenberg and Toro Rosso's Pierre Gasly.
The DNF capped off a disappointing weekend for Hulkenberg – who failed to reach Q2 on Saturday for the first time since the 2015 Spanish GP – and the Renault driver was less than pleased with the role Grosjean had played.
"I got crashed into, Romain spun, came back into the track and I couldn't go anywhere," he told the BBC. "I couldn't avoid him and he took the back end of my car, there was nothing I could do.
"He (Grosjean) didn't look great in that scenario, generally he likes spinning, but the first lap is not a good time to do it with everyone there. He has to look at it and do some work on himself."
It was a chaotic start to the fifth race of what has been a thrilling season so far – and the incident left Hulkenberg frustrated.
"It was quite messy Turn 1, 2, cars all over the place and then in Turn 3 I didn't see so much because my vision was blocked with other cars, then last second I saw smoke coming up and saw a car rolling [coming] towards me.
"I tried to avoid on the right but he was coming at me with too much speed and took the whole rear left corner off and that was the end of that.
"I've seen a replay on the way back, [there's] not much I can do in that situation, Romain he spins on his own, he's doing the ballet dancer and wipes two out so it's very frustrating."
The incident was triggered after Grosjean's team mate Kevin Magnussen, immediately ahead on the road, momentarily struggled for grip, unsettling the Frenchman who later told stewards he had kept his foot down as he began to spin, as he had felt it was his best chance of moving out of the path of other cars.
"I lost the rear end, and at one point I thought the car would come back to me and it did not so I spun," said Grosjean. "I tried to put it back straight as soon as I could to avoid an incident but it didn't work."
When asked if it was the correct move to keep his foot on the power, he replied: "I think it's the natural thing to do. If you look at [Nico] Rosberg with [Sebastian] Vettel in Malaysia in 2016 that's what he did, and [Michael] Schumacher in 2010 Abu Dhabi. It's just the fastest way of bringing the car back in the right direction, you don't want to face the others.
"Kevin had a little wobble, I lift off to avoid any contact, as the first thing you don't want is to hit your team mate, and I lost it. It came back a little bit but that's why I went on the power. I don't know if I touched the astroturf or whatever and it spun again. If I brake, or if I'd stayed on throttle, I think it would have changed nothing."
The early exits means Grosjean remains 19th in the drivers' standings and has now gone nine races without scoring a point. Hulkenberg meanwhile drops to eighth with 22 and Gasly remains P12 on 12.