Feature
GROSJEAN SPEAKS: On how he escaped fiery crash, his secret injury, whether he'll race again – and more
Romain Grosjean spoke to the written media for the first time since his fiery crash in the Bahrain Grand Prix, giving an enthralling and vivid account of his recollections of the accident that gripped the motorsport world, revealing an injury he had kept secret and discussing whether he'll race in Abu Dhabi, or indeed again…
Describing the amazing details of his great escape
"I am a running fireball"
Twenty eight seconds. That was how long it took from impact for Grosjean to escape the inferno. But the Frenchman said it felt more like 90 seconds.
In a harrowing tale, he said his first thought was to wait, but when he saw the fire, he knew he had to find a way to get out himself. But as he tried, he got stuck. "I try to go up a bit more on the right, it doesn't work, go on the left, doesn't work so I sit back down and thought about Niki Lauda, his accident, thought it couldn't end like this, it couldn't be my last race, it couldn't finish like this, no way, so I try again," he said. "Then there's the less pleasant moment where my body start to relax, I'm in peace with myself and I'm going to die.
READ MORE: As a driver, you never think it will happen to you, but Grosjean's crash was a stark reminder of F1's risks - Jolyon Palmer column
"Then I think about my kids, and I say 'no they cannot lose their Dad today'. So I don't know why I did what I did but I decided to turn my helmet on the left hand side and to go up like this and try and twist my shoulder, that sort of works, but then I realise my foot is stuck in the car so I sit back down, pull as hard as I can on my left leg, the shoe stayed where my foot was but my foot came out of the shoe, and then I do it again and the shoulders are going through and the time the shoulder was through I know I'm going to jump out."
But in doing that, he's put both of his hands in fire and he can see the gloves starting to melt. "I feel the pain, my hands are in the fire but also I feel the relief that I am out of the car, and then I jump out, go on the barrier, feel [Dr] Ian [Roberts] pulling on my overall so I know I am not on my own anymore and there is someone with me, I land and they touch on my back so I'm like 'I am a running fireball'.
"Then I shake my hand as they're very hot and painful, I remove the gloves straightaway as I've got the image that the skin is like doing bubbles and melting and is going to stick to the gloves so straight away I want to remove the gloves.
"They put some cold compress on my hand as I told them my hands are burning and my foot is broken. Then the pain really starts going very high, especially on the left foot. Ian explains the ambulance is coming, they're going to come with the bed and you're going to be okay and we keep talking at the time. I say 'no, now we walk to the ambulance, they say 'no no the bed is coming', I say 'no no no, I walk out of the car', and say 'we are walking'.
"I guess on the medical side it wasn't a perfect decision but they understood for me it was key there was footage of me walking towards the ambulance, so even though I walked out of the fire I needed to send another strong message that I was okay."
On the secret injury that proves his pain threshold
"I'm quite strong with pain"
Grosjean left hospital on Wednesday after receiving treatment for burns on the back of his hands, and will continue to receive treatment privately.
Throughout his time at the track and the 30-minute long press conference with written media, Grosjean was all smiles, the Frenchman evidently happy to be alive and have escaped serious injury. But the demeanour masked the intense pain he is feeling, Grosjean admitting in certain situations, he has a high pain threshold, revealing he broke his hand earlier this year but did not tell anyone.
"I'm joking, I'm happy, but the pain the last two days has been high," he said. "I'm quite strong with pain, I broke my hand earlier this year falling down in the kitchen and I haven't told anyone. It was an open break, two bones, and I went to the hospital and the pain was OK, so I am very strong with some pain.
"Fever I am not good with. If I have got 39C of fever I am going to die. But I am OK with that type of pain."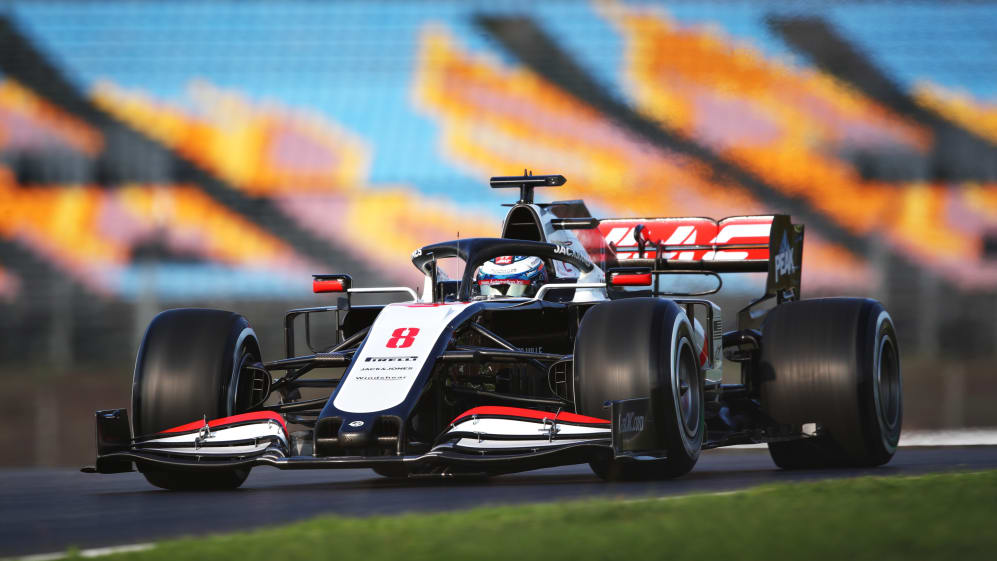 On racing in Abu Dhabi
"I won't take the risk to lose mobility of my left index finger and thumb"
Grosjean wants to get back in his car for the season-ending Abu Dhabi Grand Prix, so that his story in Formula 1 doesn't end this way. He wants to be able to cross the line, in whatever position, one final time. But he will not do it any cost, the Frenchman aware that he is young and has a life ahead of him, so there's no point risking further damage to his hands.
"My right hand, 100 percent will be ready [for the final race in Abu Dhabi]," he said. "The strength in the left hand gets better and better every day. The strength is there. In terms of the mobility, there is still a lot of swelling from the inflammation, so it needs to start reducing, but the [skin] graft hasn't been ruled out yet.
"We will see, I won't take the risk to lose mobility of my left index finger and thumb just to go to Abu Dhabi.
"Obviously I've got 60 years or so to go with my left hand so one race is important to me but it's not as important as living a normal life for the rest of my life. We will see. I cannot tell you yet. It's a target and it helps me to keep positive and moving."
Grosjean spent some time at the track on Thursday, meeting the rescue team and catching up with his team as well as looking at his damaged car before returning to the hotel with his wife to rest.
"The first step was to go to the track and one of the first things I did was to go to the car and I looked over the halo on the cockpit just to see if there were any strange feeling, panic, scary moments," he said. "It was fine, so already that's kind of a positive step."
Haas are going to leave the decision on whether or not he races as late as possible, even until Thursday, with their reserve Pietro Fittipaldi racing this weekend and set to travel to Abu Dhabi as back-up anyway.
On his future beyond 2020
"My priorities are different"
If Grosjean doesn't recover in time to compete at Yas Marina, he does not think that will be the end of his story in Formula 1. He pointed out that that Covid-19 has prevented drivers taking part in races, with Sergio Perez, Lance Stroll and then Lewis Hamilton all testing positive, so there could be opportunities next year, whether that is as a super sub like Nico Hulkenberg or in a private test.
"If it [Abu Dhabi] doesn't happen, well I'm alive, I'll have plenty of other opportunities in the future," he said. "I'll have a super licence in 2021 and we have seen no one is safe from COVID-19."
"Or I will call every single Formula 1 team and see if anyone would offer me a private test in January or so, to jump back in the car and have 10 or 15 laps for myself."
Beyond this season, Grosjean says his priorities have now changed and he will take time to consider his future, including previous plans to potential head to America to compete in Indycar or indeed competing in motorsport at all. "The first and only target at the minute is to try to get back to Abu Dhabi," he said.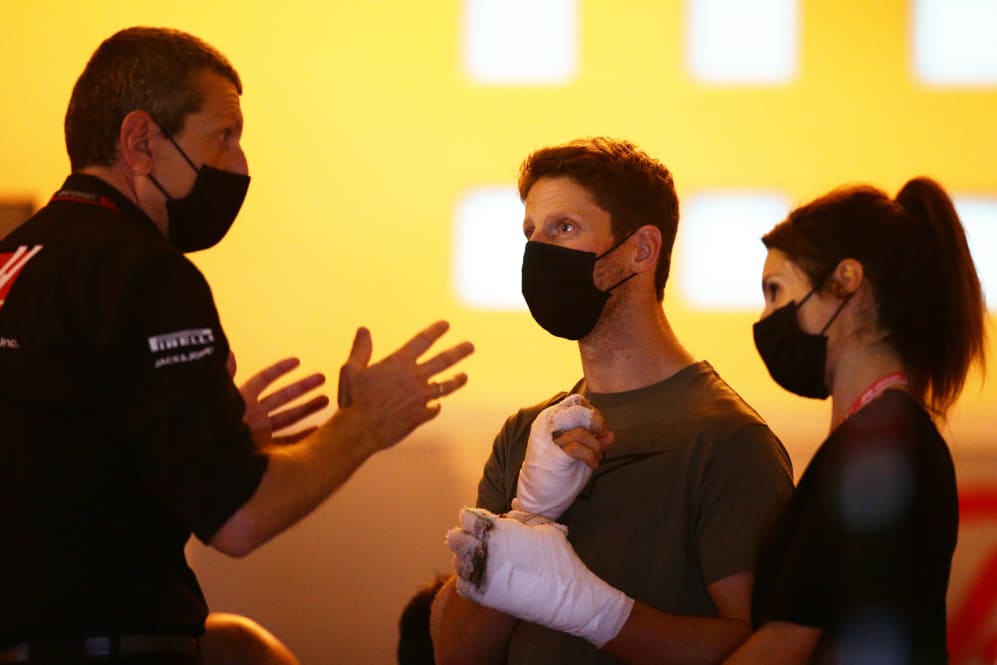 "After that, we were talking about IndyCar at one point, the thought now is to have the risks of ovals and having a big shunt. My family will be far away and seeing it on TV, it's hard and I don't know if I could make it.
"But it's all going to be work, I have decided not to take any decision for now until I get to Abu Dhabi. Last week the priority was to sign a contract and find a way to go racing in 2021. My priorities are a bit different. If I don't race in 2021 I'll be cycling, kite surfing, spending time with my kids, enjoying life and having time off, which I didn't have since I am 17, probably."
On in-car footage of his crash being released
"I am the king of the extraction test!"
A number of angles of the crash were broadcast, but the in-car footage has yet to be released, with Grosjean admitting that he hasn't himself seen it yet, but has asked to see it.
"I think the whole thing needs to be studied but in the future I am not against the fact this footage is broadcasted and how we can educate other racing drivers on how to proceed in such a moment," he said.
"Obviously there are rules and so on of when and how we can share it, but I hope one day this will come out and we can share it. I made a joke to Ayao Komatsu, our chief engineer, and I said if I come back in Formula 1 and Jo Bauer makes me want to do an extraction test, I am exempt of that!
"I am the king of the extraction test! I don't think I need to do the test any more, I should have a pass that says he doesn't need it."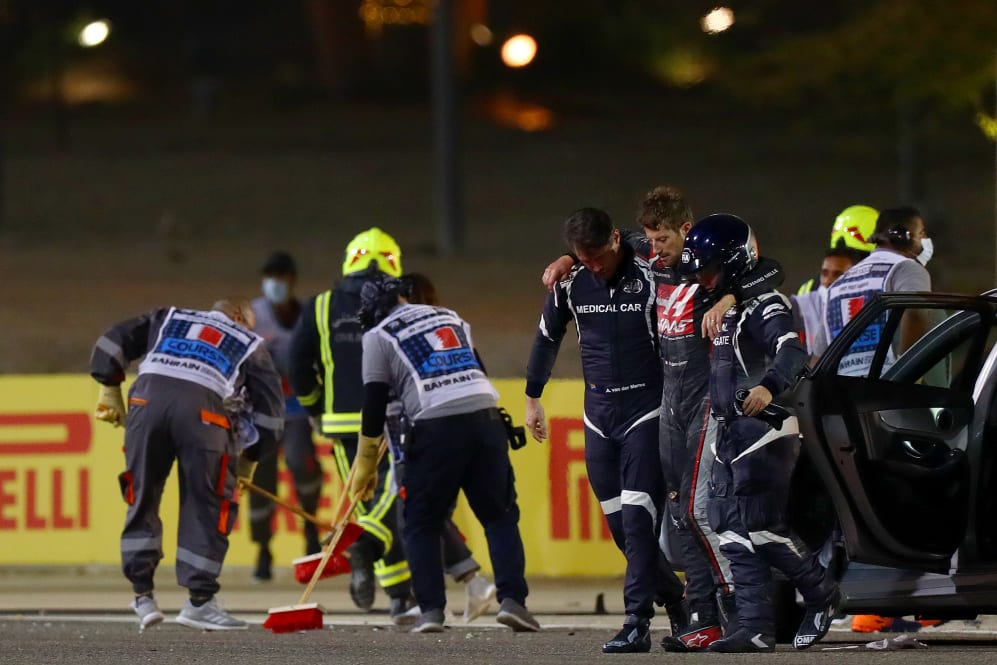 On the impact of the crash on his family
"My son thinks I have a love shield and I can fly"
When we sat down earlier this year, Grosjean spoke eloquently about how fatherhood had changed his outlook on life, saying his kids Sacha, Simon and Camille view him as their hero. So it'll be no shock to hear that the impact of his accident on his kids and wife were at the forefront of his mind.
"I really spoke a lot with my wife and my kids [after the accident]," he said. "My kids had many questions, my oldest son Sacha was worried that I would be all black, all burned and never be the same, so it was relief when he saw I looked the same.
"My son Simon, five years old, is convinced I have a love shield and I can fly. He doesn't process the fact I walked out of the car, he thinks I flew out of the car. That's why they think I'm a super hero.
"My daughter, three years old, it's a bit harder to know exactly what she thinks. She draws me, every day, something for my hand injury and sends me a kiss and a hug every day. She thinks I'm going to heal like this.
"But they're OK because yesterday I video phoned them and they wouldn't even come to see me, they were playing outside. They weren't bothered about coming to see me. It was probably the first time I was happy they wouldn't come to see me because that means they were OK, back to their life.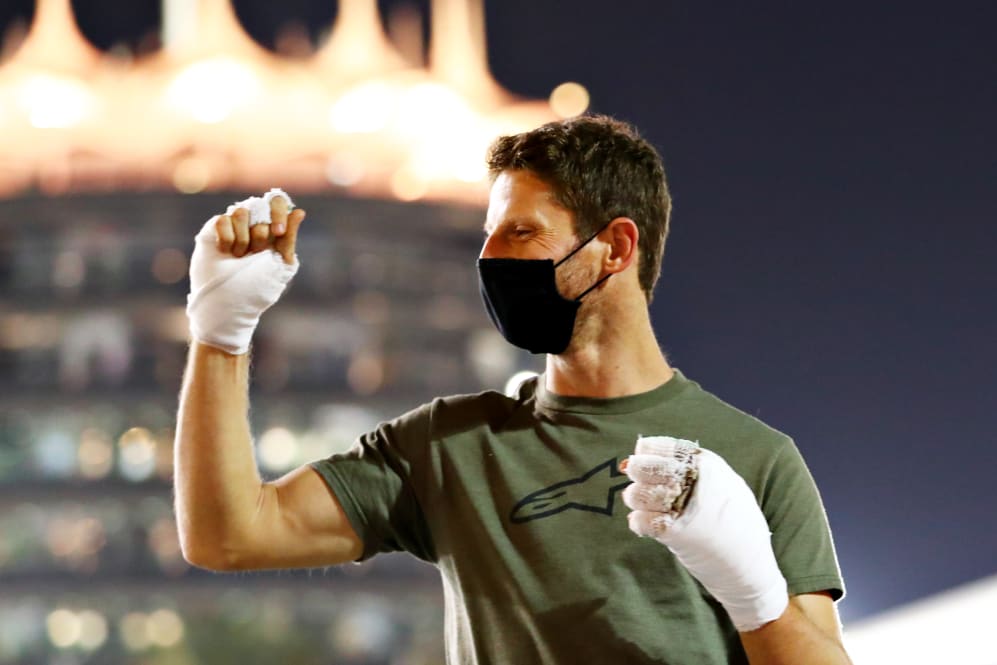 "They did a lot at school, both of the boys. Sacha went in front of his class for 45 minutes in the morning talking about it, his friends asked questions, he explained and told them what happened.
"Marion, it's been very hard for her. She flew to Bahrain, Wednesday night she arrived. I think for her it was key to hug me. Even though she could see me on the video, it was hard to process that yes, I was in one piece. She flew, she hugged me and since then it's getting better.
"What is the hardest? For me it's not what I went through, this is my life, my job and the risk we take. But it's what I put people through, my family, my parents, my kids, my wife, my friends. For 2 minutes and 43 seconds they thought their friend, their father, their husband, was dead. That is what I'm working on, because that made me cry. That I made people suffer to that extent."
On getting mental support
"I haven't had nightmares"
Sports psychology is something Grosjean has long engaged in, the Frenchman consulting with a psychologist after his crash in the 2012 Belgian Grand Prix which earned him a one-race ban. He's been in touch with her ever since, their last session taking place on Tuesday and another one planned for today (Friday).
He's previously said speaking to a psychologist "changed my life", and it's evidently helped him cope with the aftermath of his near-death experience in Bahrain. "There will be post-trauma things, so we need to treat them early," he said. "I haven't had any nightmares, I haven't had any flashbacks and as I said I can talk you through everything very calmly."
If anything, his greatest concern was not of himself but for the people around him. "The fact I made people suffer, that's what we got to work on," he said. "The drivers – [Sebastian] Vettel, Louis Deletraz, Kevin [Magnussen] came on Sunday night [to visit him in hospital]. Esteban Ocon and Alex Albon also came to the hospital.
"I felt it was to reassure them and make sure they were ready to go again this weekend. That's what I felt they had to do. They came and were very happy to see me, and so on. But I wanted to make sure that they were OK to go back to race. I said to everyone, if you have any questions, if you want to call me, don't hesitate.
"Also the parents, some of the parents of the drivers, if you want to call me, whatever, just do it. We can walk through and I will talk you through and joke about my Mickey Mouse hands. Just move from there."
On how the crash happened
"I went for it quite aggressively"
Grosjean's crash happened on the opening lap of the Bahrain Grand Prix, and until now, he has not spoken about the moments leading up to it. The Frenchman was running towards the back of the field, and then moved sharply right causing contact with Danill Kvyat that speared the Haas into the barriers.
"I had a very good exit out of Turn 1, into Turn 2," he said. "There is no one in my right hand side at that point. The momentum I carried out of Turn 3 was very good and there is a lot of debris and sparks coming on the left hand side of the track. So I already moved a bit to the right. By moving to the right, I checked my mirrors and there is nothing, there is no one.
"I am catching the cars in front of me with a big delta speed, so that means that I am having the positive momentum. If there was anyone next to me, it would have been side by side and I would have passed him. That doesn't happen. Then there is a gap, I went for it, quite aggressively, I agree.
"The turn right was quite strong. The thing that I know is that in Bahrain there is the race track and then that painted sand colour. So even if you push someone to the right, as we have seen with the Mercedes and Ferrari some years ago, the guy on the inside still has the possibility to move to the right, worst case scenario is to have contact.
"If you took all the elements, what I did was not crazy. But I watched the onboard, Daniil is in my blind spot from Turn 2 to where it happens. The whole way is completely in my blind spot. Mirrors, as we know in F1 are not the greatest technology. So this is all the thinking that told me to turn right."