Haas drivers disappointed after pair of crashes leaves team point-less in France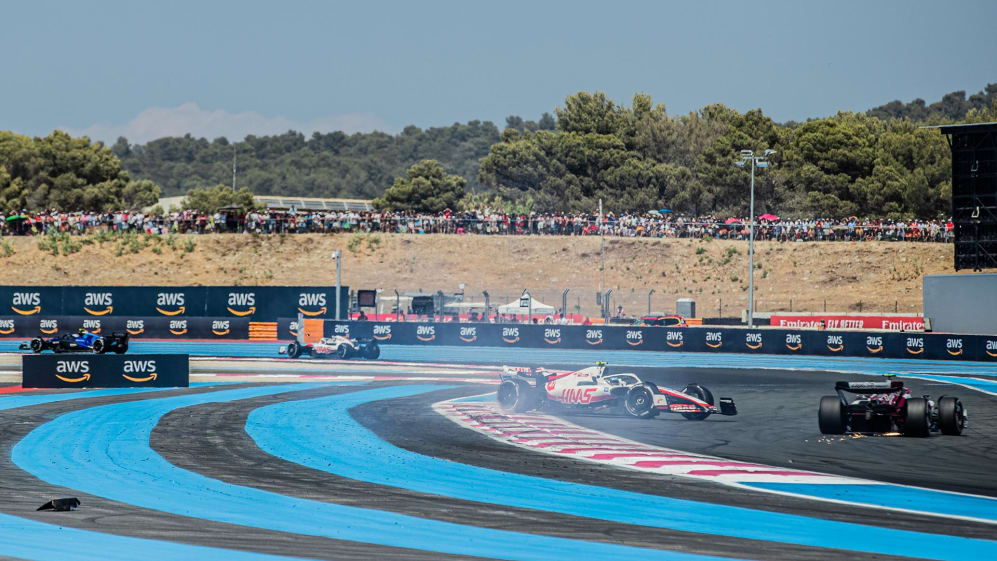 Haas had been on a mega run of form heading into the French Grand Prix. But that run came to a grinding halt at the Circuit Paul Ricard, courtesy of a pair of crashes for Kevin Magnussen and Mick Schumacher, which left Magnussen with a DNF as Schumacher finished just P15.
With Haas having scored points with both cars in consecutive races for the first time since 2018 in Great Britain and Austria, hopes of continuing that run were ignited by Kevin Magnussen's P8 finish in Free Practice 2 on Friday.
READ MORE: Sainz defends Ferrari strategy after late pit stop sees him finish fifth in French GP recovery drive
But a change of power unit elements saw Magnussen start Sunday's race P20. And although he jumped to P13 on Lap 1 after a searing start, the going was tougher from there – while late contact with the Williams of Nicholas Latifi saw the Dane forced into retirement. But despite the disappointment of that incident, Magnussen didn't feel the DNF had cost him a shot at a top-10 finish.
"No, I don't really think they were," replied Magnussen, when asked if points had been on the cards without the crash, "because we had more degradation than our competitors basically. The pace in the beginning of the stints was great but we dropped off massively so yes, onto the next one."
Asked for his view on the incident – which the stewards deemed didn't merit a penalty for either driver – Magnussen said: "I mean, [Latifi] attacked, ran me out of road and then on the right-hand we made contact. From how I see it, there was nowhere I could really go except off-track and through the bollards, and at that point it was too late.
"I think he should have given me more space; tough to say now, I need to go see it on television and judge just from there. A shame. We tried our best, started last today, had a good car in one-lap pace but not as good in long runs. So we struggled a little bit, but gave it our best."
HIGHLIGHTS: Relive the action from a dramatic French Grand Prix, as Verstappen capitalises on Leclerc's misfortune
Schumacher's weekend took a bad turn when a rapid Q1 lap was deleted for a track limits infringement, with the German driver similarly having struggled to make headway from P17 on the grid when he collided with Zhou Guanyu's hamstrung Alfa Romeo – Schumacher giving his view of the crash after the race.
"Well, I think he had an issue, and it was unnecessary for him to stick to that inside," said Schumacher after finishing P15. "I haven't seen it from the outside, I'll probably come back to it later."
Asked to reflect on his race as a whole, Schumacher said: "We had a difficult start on the medium, the tyre didn't really work as well as we imagined. We knew it was going to be tough, but not as tough, so we came in early. Unfortunately there was a Safety Car, so it meant for the following people it was a free stop essentially.
READ MORE: What the teams said – Race day in France
"The pit lane is such here, the difference is quite big, so we were quite far back and then we had contact with Zhou. Overall quite tough, but nonetheless we learned some stuff and hopefully we'll have a better weekend in Budapest."
Haas head to the Hungaroring for this weekend's action P7 in the standings – their P6 rivals Alfa Romeo, and P8 rivals AlphaTauri, having similarly failed to score at the Circuit Paul Ricard.