Haas drivers 'looking forward to trying the new toys' as long-awaited upgrade package debuts at COTA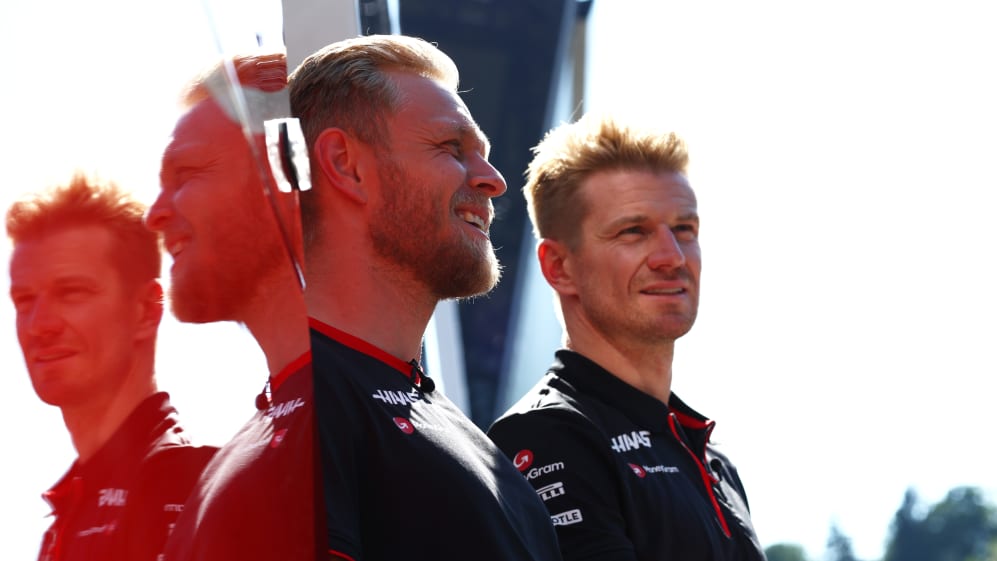 Haas drivers Kevin Magnussen and Nico Hulkenberg have declared their excitement over finally getting their hands on the team's major upgrade package for the 2023 season at the Circuit of The Americas this weekend – with the new concept giving the American squad hope of increasing their performance in the seasons to come.
Race day performance has been the Haas VF-23's Achilles' Heel in 2023, the team having chalked up just 12 points so far this season, compared to 34 at the same point last year.
LIVE COVERAGE: Follow all the build-up ahead of the United States Grand Prix weekend
But with the eagerly-awaited upgrade package debuting at the United States Grand Prix – a second consecutive weekend featuring the Sprint format – both Magnussen and Hulkenberg were excited to get their hands on the re-worked car.
"We are [excited], very, very much," said Hulkenberg on Thursday in Austin. "Obviously, we're only really going to learn and find out about it once we hit the track tomorrow, and it's going to be a busy, hectic weekend, given that it's a Sprint.
"On top of that, obviously we have this new car to get our head around and only one hour of practice and then we go into parc ferme, so not easy but, obviously, it's been a long time coming and look forward to try the new toys!"
"It's nice to see the upgrade on the car finally," Magnussen concurred. "It's been a tough year in terms of just finding performance. The guys have been really struggling this year to make gains on the car we've had, and this upgrade is an exciting one because it's very different.
"On paper, it's not actually meant to be more downforce as such, but it's a new concept and it's hopefully the concept that we'll be using for next year's car. And if not a big gain in performance, then at least it's some good learning and research into next year."
READ MORE: Red Bull reveal fan-designed stars-and-stripes livery for United States Grand Prix
Expanding on where the team had struggled this year, Magnussen added: "I think a big problem with our car this year has been that it doesn't treat the tyres very well in the race, so we are often… we'll just struggle with tyre life in the races.
"The pace that other people are able to maintain, we seem to fall off much more, and that problem might be – although you're not putting extra downforce on, like peak downforce [with the new package] – if you can [improve] the characteristics of the car, the through-corner balance, hopefully the structure and the strength of the [air] flow on the car, that could solve that issue, or help that issue. So that's of course what we'll be hoping."
Meanwhile, Magnussen credited new title sponsor MoneyGram for giving the team the financial clout to bring the upgrade package, saying: "It's a good sponsorship. It's money, and we all know what that means in Formula 1. I think this situation we have right now where we have five races left of the season and we're bringing a fairly substantial upgrade – that is something that wouldn't have happened in the past.
"We haven't brought many upgrades this year, but that's because the team hasn't found the improvements that justified producing a big upgrade and spending that money for not a big gain. So they've changed concept and they're now finding much more in the wind tunnel, and it looks much more promising for future development.
READ MORE: Haas share special car livery and upgrade plans for home Grand Prix in Austin
"So bringing this upgrade with that few races to go is a very positive thing. As I said, of course we're hopeful that it will improve our pace on track right now, but even if it isn't, then it's still very good learning and very good research for next year's development."
Meanwhile, one other upgrade the team will have in Austin is to their livery and driver race suits, with a 'Stars and Stripes' theme set to feature on both at one of Haas's three home races this year – along with the Miami and upcoming Las Vegas Grands Prix.