Haas to modify fuel hatch and headrest as FIA release report into Grosjean's Bahrain GP crash
Haas boss Guenther Steiner says his team have modified the fuel hatch and the headrest on their car for 2021, as a result of Romain Grosjean's shocking accident at last season's Bahrain Grand Prix.
Grosjean hit the barrier after Turn 3 at high speed on the opening lap of the race, ripping his car apart as he pierced the barrier, and causing a fuel spillage which led to a fire. Grosjean managed to get himself out of the car before he was helped by marshals and safety officials.
Motorsport's governing body the FIA released their report into the accident on Friday after concluding a thorough investigation, and although Steiner says Grosjean's car adhered to all safety rules, the team have still made changes to it for this year.
READ MORE: 'Delighted' Grosjean to race IndyCar in 2021 after recovering from fiery Bahrain GP crash
"I think the biggest one is the fuel hatch cannot be attached to the chassis anymore and we're working on the headrest to make it smaller," he said. "The headrest is still there but in parts, so it cannot get stuck when it comes off.
"We changed because we think it is better to do it in a different way," he added. "You always learn out of these situations. Everything was within the regulations what happened, there was nothing wrong with our car.
"It never happened before and what happened [was] some very strange incident to rip off half of the chassis at the back. If there is a better solution we should try to adapt to them all of the time. As I said, you always learn and you always need to stay up with the times."
The FIA said Grosjean's crash was one of 19 "significant accidents related to circuit racing" they investigated last year, as a result of which they are looking at a raft of new safety initiatives, including an update of the FIA standard for safety fuel bladders, increased load testing for survival cells, and reviews into several areas of the car, circuit safety measures, driver safety equipment, and rescue procedures.
WATCH: 'Thank you for saving my life' – Emotional Grosjean meets his Bahrain GP crash rescuers
FIA President Jean Todt said: "Important learnings have been drawn from these investigations that will drive our continuous mission to improve safety in Formula 1 and global motor sport.
"The enduring commitment of the FIA, particularly the Safety Department, on reducing risks associated with motor sport enabled Romain Grosjean to maintain consciousness and survive an accident of this magnitude. Safety is and will remain FIA's top priority."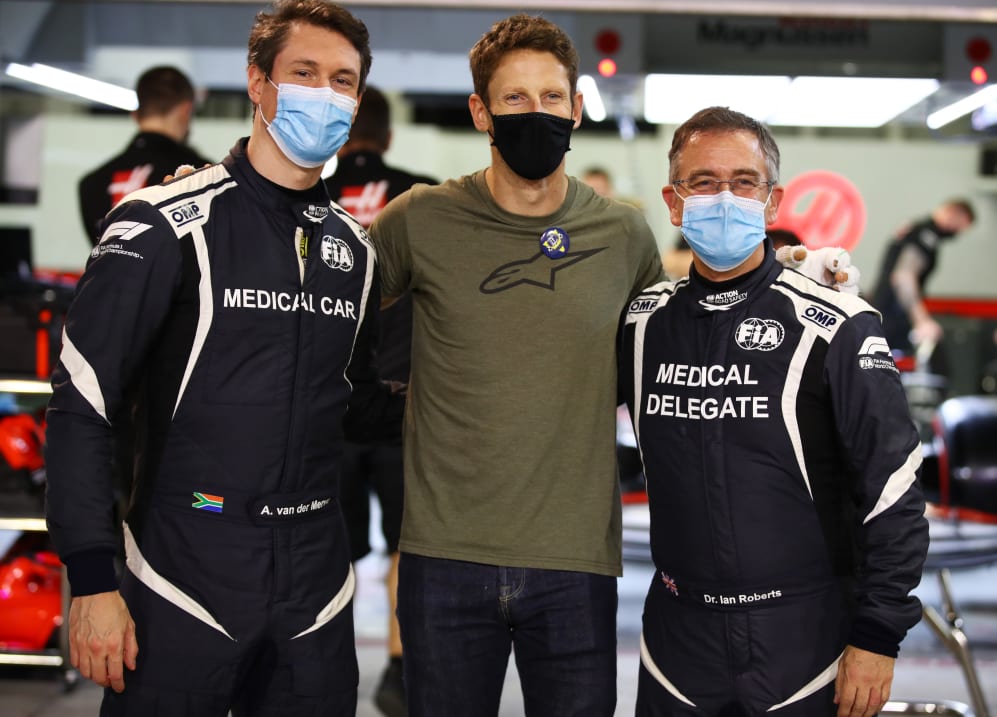 FIA Safety Director Adam Baker added: "Incidents involving fire of this scale are thankfully rare, so it is very important to learn what we can, including the interaction with the high voltage system.
"The efforts of those involved were heroic and have quite rightly been the subject of much praise. Following the approval of our findings by the World Motor Sport Council, we will integrate the actions into the ongoing work."