Hamilton and Russell taken aback by McLaren after front-running pace 'comes from nowhere'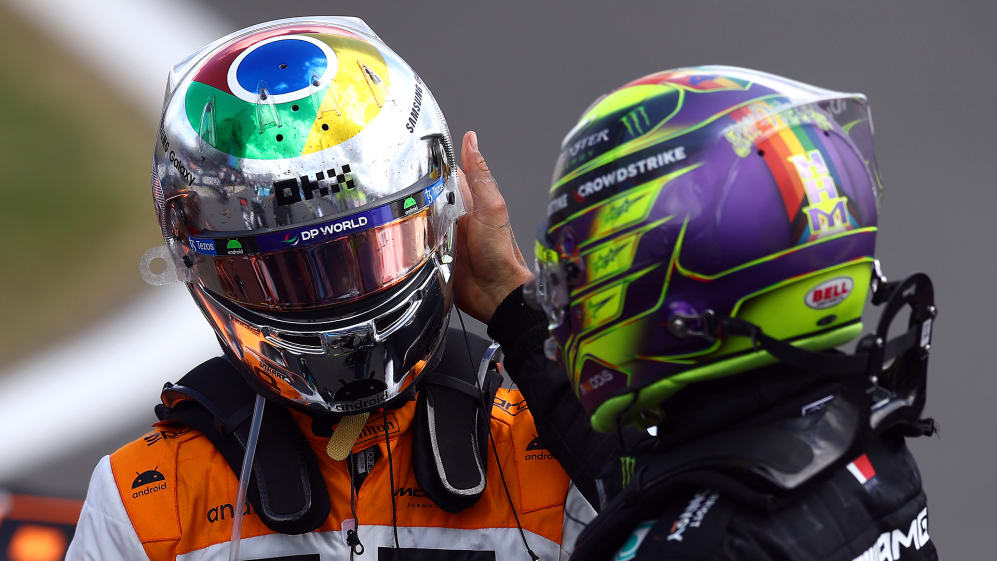 Mercedes drivers Lewis Hamilton and George Russell reserved words of praise for McLaren after the chrome-liveried MCL60s caught the eye throughout the British Grand Prix weekend, adding another intriguing layer to the fight at the front of the F1 grid.
Lando Norris and team mate Oscar Piastri wowed the crowds at Silverstone with a run to second and third in a wet-dry qualifying session, before the home favourite followed Red Bull's Max Verstappen home for a memorable P2 finish on race day.
READ MORE: Verstappen heads local heroes Norris and Hamilton to claim British Grand Prix win
That came after a thrilling wheel-to-wheel battle with Hamilton, who had benefitted from the timing of the Safety Car to jump Piastri for third and then apply pressure on Norris at the restart – McLaren having taken on hard tyres, and Mercedes softs.
Reflecting on his rise from seventh to third, Hamilton said: "Well, firstly, I didn't do it, the crowd did it. Once again, Silverstone put on an amazing show, we've got the greatest crowd here, so a big, big thank you to everyone for supporting. I felt the energy, I felt the support, which is the reason we got back up there.
"Also, I just want to say a big congratulations to Lando, and to McLaren, where… It's my family, it's where I first started, so to see them back up there, looking so strong… I mean that thing was rapid through the high-speed corners, wow! I couldn't keep up, but we had a good little battle on the restart.
"The start wasn't so great for me, but the long run on the medium [tyre] was really great. I think this is a good positive for us as a team to know that we're not that far away, we've just got to keep on pushing and we can catch those guys at the front."
Expanding on his fight with Norris, Hamilton added: "Once he [went] through Turn 13 and 14, or 15, he's gone! We had good performance in the low-speed, we had a good little battle there, just didn't have the grunt on the straights.
RACE START: Enjoy the action as Norris pips Verstappen off the line at Silverstone
"But I'm really happy… To start seventh and come third is a mega, mega job, so a big thank you to my team – great pit stops, great work all weekend. I love this crowd!"
Having come home fifth in the other Mercedes, unable to clear Piastri over the final stint, Russell shared similar feelings to team mate Hamilton when he jumped out of the car.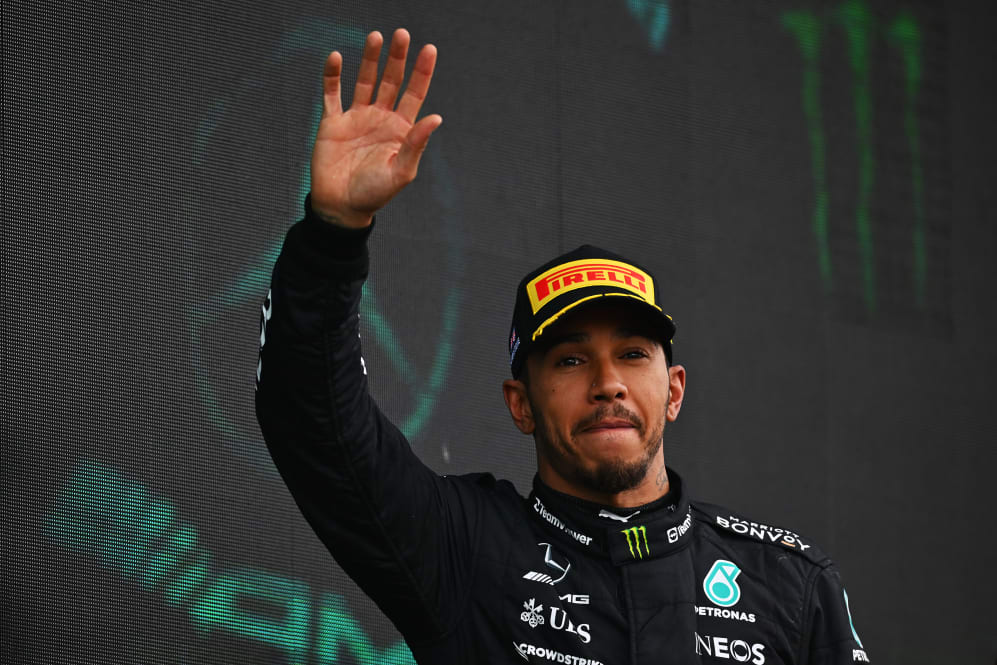 "The McLarens were super-impressive, they drove a great race," he said. "I feel bad for Oscar, because he was driving really, really well. I've been super-impressed by what he's been achieving this year and he was the deserving podium finisher. Unfortunate Safety Car timing, that hindered him and hindered myself.
"In the end, I think it was a relatively good weekend for us. Our pace compared to Ferrari, Aston and Red Bull was probably better than we thought, but those McLarens have just come from nowhere, so we don't really know what to think."
DRIVER OF THE DAY: Sensational Norris gets your Silverstone vote
Asked if McLaren's performance give him heart that things can get turned around relatively quickly, Russell commented: "It does, it definitely does, but you need to know where to look. I believe we know where we're looking and what we're chasing, but I don't know. I hope it's a one-off, but they were quick in Austria as well, which is a totally different circuit.
"Regardless, it's very impressive what they've done. Even so, I thought their strategy was the wrong strategy, going on the hards… The soft was such a great tyre, they would have been even further ahead had they put the softs on. Interesting, a bit of head scratching right now."