Hamilton brings back Senna-inspired helmet, as Verstappen also sports new design in Brazil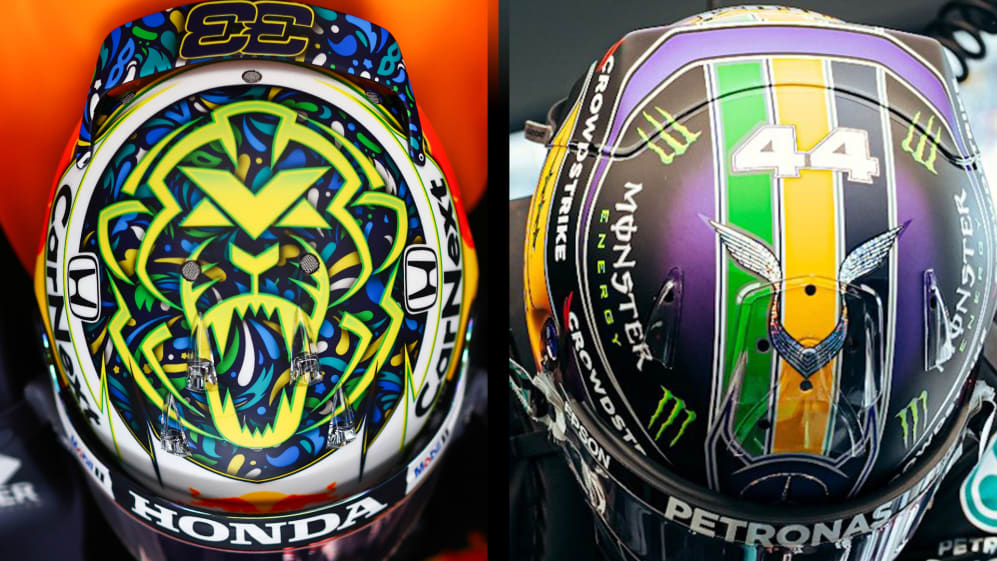 Title rivals Lewis Hamilton and Max Verstappen have unveiled two very different special designs for the Sao Paulo Grand Prix weekend as they embrace the Brazilian culture on their return to Interlagos.
We were treated to a bevy of beautiful designs in Mexico and now drivers are showing their love for Brazil with one-off helmets for the first F1 weekend at Interlagos since 2019. Championship leader Verstappen has brought with him a colourful design in tribute to the Brazilian Carnival.
READ MORE: Hamilton set for five place grid penalty after taking new Mercedes engine in Brazil
He explained his design on Twitter, as he said: "So guys, as you can see, it's Brazil time. Special helmet design: so I thought I would spice it a bit up, make it a bit more interesting. I think normally my helmets have been quite, let's say plain, but I think this represents a bit more Carnival as well in the helmet."
"Actually, it worked out really well; a lot of green as well in the helmet but I think for Brazil, if you look at the flag, it makes sense. Also the [lining], you've got a different colour, the inside of course is green. I'm very happy for this end result."
Oops! Error retrieving Twitter post
And finally, Valtteri Bottas is full of beans this weekend having brought a coffee-themed helmet to Sao Paulo, his usual Finnish flag-coloured helmet now featuring a flower motif and a message on the back – under a Brazilian flag – that reads: "First I drink the coffee then I do the things".
Oops! Error retrieving Twitter post