Hamilton hit with five place grid penalty after taking new Mercedes engine in Brazil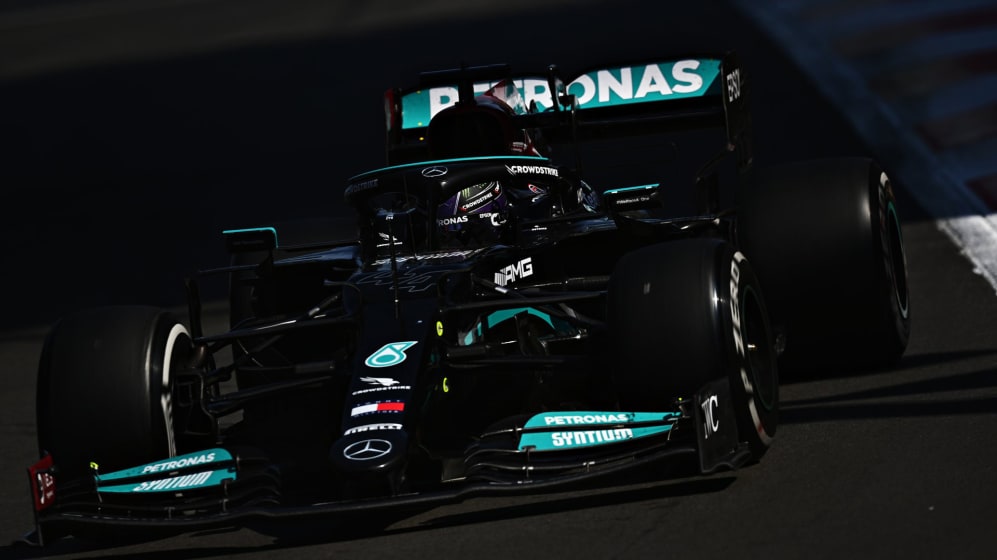 Lewis Hamilton has been hit with a five-place grid penalty for the Sao Paulo Grand Prix in Brazil having taken a new Mercedes internal combustion engine for this weekend's race.
Hamilton took a 10-place grid penalty for a new ICE in Turkey but, after team mate Valtteri Bottas received a third engine penalty in four GPs at the United States, questions arose over Mercedes' power unit reliability and there was much talk of Hamilton taking another power unit at some point.
READ MORE: 'This year we've had our wings clipped' says Hamilton as Mercedes brace for a tough fight with Red Bull in Brazil
Here in Interlagos, it has been confirmed that the defending champion will indeed take his fifth ICE of the season, a decision by the Silver Arrows that will drop him five grid places for Sunday's race – but will not affect his starting position in the F1 Sprint on Saturday evening.
The stewards confirmed his penalty mid-way through first practice in Sao Paulo, just over half an hour after it was revealed he'd had the new unit fitted.
That leaves Hamilton with an uphill battle as he sits 19 points behind title rival Max Verstappen in Brazil.
Oops! Error retrieving Twitter post
After first practice Mercedes boss Toto Wolff said they had changed the unit because they were seeing a gradual drop off in performance, rather than because there was a fault.
"We feel that we can score more points [by changing the ICE in Brazil]," he said. "We have deg [degradation] on the engine that until the end of the season is just going to continue to decrease in power and we haven't yet realised why that is, but we are just seeing it creep down.
"Without going into specifics, every engine is degrading and we've seen that over the past years over 1,000 kilometres there is a certain amount of kilowatts that the engine is degrading. And ours is just degrading much more than in the average of the past years and that increases from weekend to weekend.
FP1: Hamilton beats Verstappen to set pace in first practice in Brazil ahead of Friday qualifying
"If we keep the engine we are going to for sure not going to be competitive in Saudi and Abu Dhabi."
Wolff confirmed that Hamilton is now left with two engines in his pool, but said he doesn't expect the team to have to take another penalty before the end of the year - and he says he's confident Hamilton will be able to get into the fight in Sunday's Grand Prix.
"Yes, definitely. I think we have good straight-line speed, we've seen that today, so that gives us a little bit of a potential but I'd rather start right at the front of the race than needing to catch up and pass some of the cars that we have seen. We were not able to pass the McLaren [in Mexico]. I'm happy they have a great engine, but it didn't help us in Mexico."