Hamilton contract likely to be sorted towards the end of 2020, says Wolff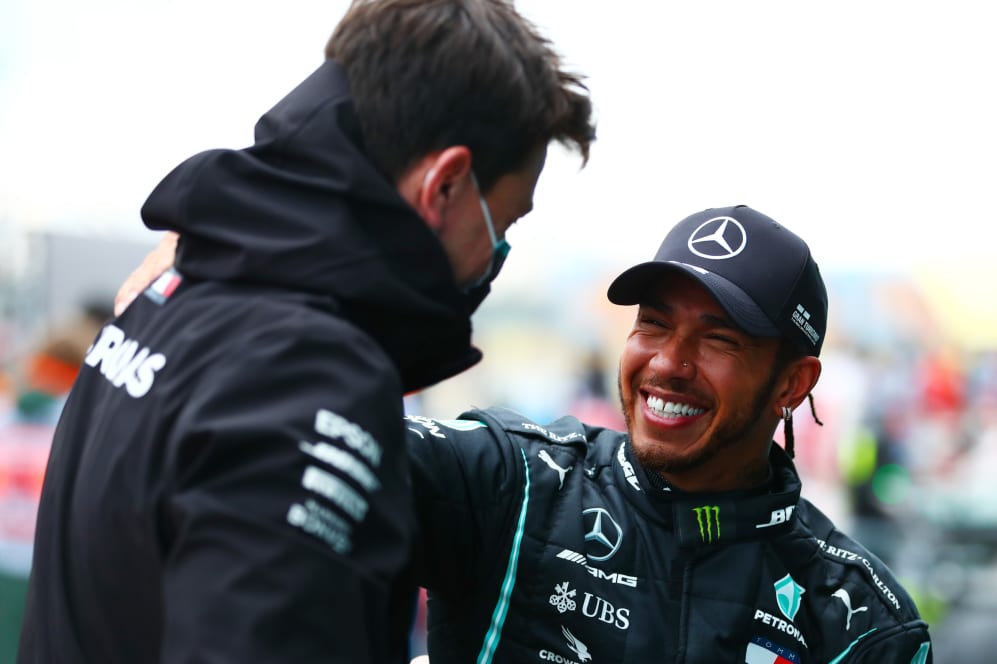 Seven-time world champion Lewis Hamilton's new contract with Mercedes is unlikely to get signed until after the season is over, says Team Principal Toto Wolff.
With both titles now done and dusted, it is anticipated Hamilton and Wolff will now start talking definitively about an extension, though with Hamilton focused on winning the final three races, and extending his win tally for the year to 13, getting it over the line will have to wait till next month.
READ MORE: Hamilton says he's 'only just getting started' and is motivated to stay in F1
"I think more than likely we are looking towards the end of the year," said Wolff. "I don't want to put ourselves under pressure to say before Bahrain or before Abu Dhabi that we will announce a new contract because there isn't any pressure. When it's done, it's done."
Mercedes have been very flexible with Hamilton, giving him the freedom to pursue interests outside of F1 – such as his fashion range – and Wolff expects that to be a subject of their talks when they sit down.
"I always acknowledge what is important for him, and try to understand what puts him in a good place," said Wolff. "I'm always supportive of his various interests, like fashion where we have allowed him to do the travelling the world [to promote it], and he's been the best himself since he started.
READ MORE: The GOAT? Our writers on whether Hamilton is the greatest, if 2020 is his best season, and more
"It's [the contract] not complex, I acknowledge where he's coming from to have a better work life balance. It's hard for all of us with the travelling."
For Hamilton, the new deal is about details and more than just his racing commitments.
"I believe I have the best contract that there is in terms of how it's structured, in terms of time management, the team that's put around me – it has been great," he said on Thursday in Turkey. "I'm always looking to see how we can improve. How can I be more efficient and do more for the partners? How can I position myself to do more for the team?
READ MORE: How Hamilton was able to turn around a 5-second qualifying deficit to win in Turkey by 30 seconds
He added: "I'm very conscious of the idea that I do want to continue with Mercedes, I'd love to help them on this quest pushing for change. They're obviously taking their cars green and electrifying more – I'd like to help them on that road.
"I'd like to help them in terms of pushing for diversity because within the organisation – as with every organisation out there – there's not enough of it. There's a lot to discuss and a lot to go through, but I think that's something we'll do if not after the job is done then particularly at the end of the year.
"At the moment I don't feel like I'm finished, I don't feel like moving forward… There's always areas to improve. I love racing, I love the challenge and I don't think that's going to change anytime soon."