Opinion
The GOAT? Our writers on whether Hamilton is the greatest, if 2020 is his best season, and more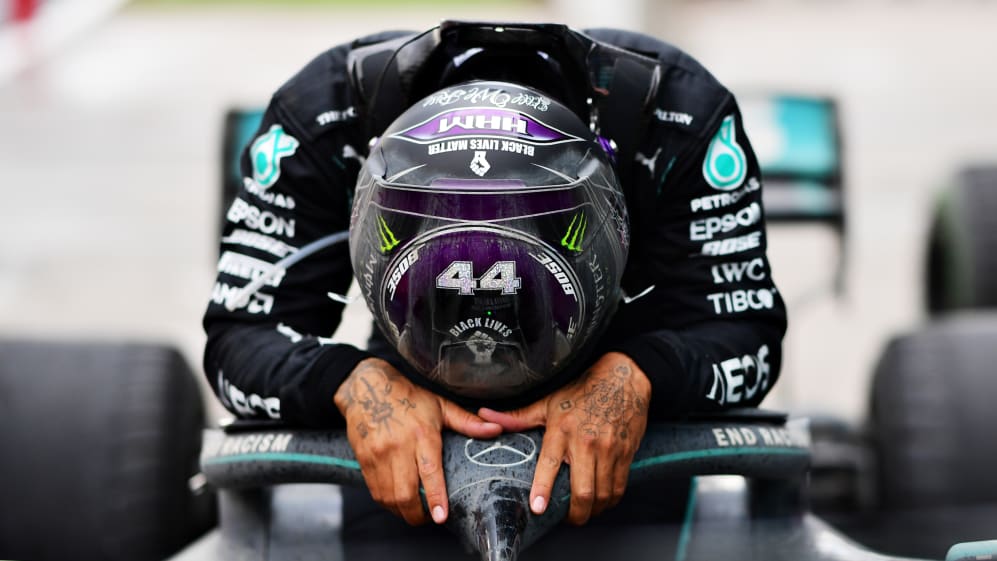 Now that Lewis Hamilton has sealed his record-equalling seventh Formula 1 World Championship, we asked F1.com's writers and contributors whether this is his best season ever, if he is the greatest F1 driver of them all, how many more titles he can win, and other tough questions...
Where does this one rank in terms of Hamilton's best title wins?
Will Buxton (Digital Presenter): Was it his most keenly contested championship? From an on track perspective, it's not even close to being the toughest fight of his career. Both his and Mercedes' expected rivals never mounted the challenge we expected but that's not to say he's had it easy. He's still had to deliver, every weekend, and to rise above the unique challenges of the season. They have been mental and physical, he's fought foes visible and metaphorical, and he's raised his level in all regards to emerge a better racer and bigger man.
David Tremayne (Hall of Fame journalist): I don't think this one is as dominant as 2019, which might seem an odd thing to say given his 10 victories so far in 2020. But while there have been flashes of utter brilliance there have also been times when he has seemed more vulnerable to his team-mate's speed. But given the other things on his mind like Black Lives Matter and Covid-19, he's been incredibly consistent. That Ali-like ability to keep landing strong punches remains one of his most impressive assets.
READ MORE: Hamilton admits 'I lost control of my emotions' on in-lap after claiming 7th crown
Lawrence Barretto (F1.com Senior Writer): No, it doesn't top the drama of his 2008 victory but it's certainly in the top three purely for the consistent ruthlessness. He's faced a stronger, tougher team mate in Valtteri Bottas this year, but still comfortably came out on top of the pile. On his many good days, he got the job done. On his bad days, he found a way to grind out a results few others could achieve.
Mark Hughes (Special Contributor): I actually think it's his best. As a generality, they were each more impressive than the last, but with the exception of last year when his qualifying was, by his own standards, nothing exceptional. This year we've seen not only a stronger qualifying performance (recall that Styrian pole) but meeting a more diverse set of challenges in the races. From keeping just on the right side of thermal deg in Spain to the flat out generating tyre temps in Portimao and the overtaking of Bottas both there and Mugello.
He's fought foes visible and metaphorical, and he's raised his level in all regards
Chris Medland (Special Contributor): I don't think the first should be underestimated, and 2017 and 2018 both had a stronger outside challenge in the form of Ferrari, so I'd put this fourth. It's behind those three for me, but given the off-track focus he has had on wider issues it ranks ahead of the other three. At the same time as being such a strong leader in the Black Lives Matter movement, he's still performed at his absolute best.
Greg Stuart (F1.com Staff Writer): It's definitely been a phenomenally impressive season from Hamilton – one where the combination of the superior car and his superior talent has made him truly peerless. I also think he's driven some of the best races of his career this season. But at the same time, I think the slightly toothless levels of opposition just stop it being up there with the very best Hamilton titles, where he's really had to slug it out with a rival or two.
Samarth Kanal (F1.com Staff Writer): Hamilton said he struggled through adversity to win his second title, and that can't be discounted in a year where he's produced some astonishing performances. But 2014 – driving for a Mercedes team not nearly as refined as they are in 2020 – still goes down as his finest title for me. He delivered crushing consistency throughout that season and had the challenge of the established Nico Rosberg to fend off too.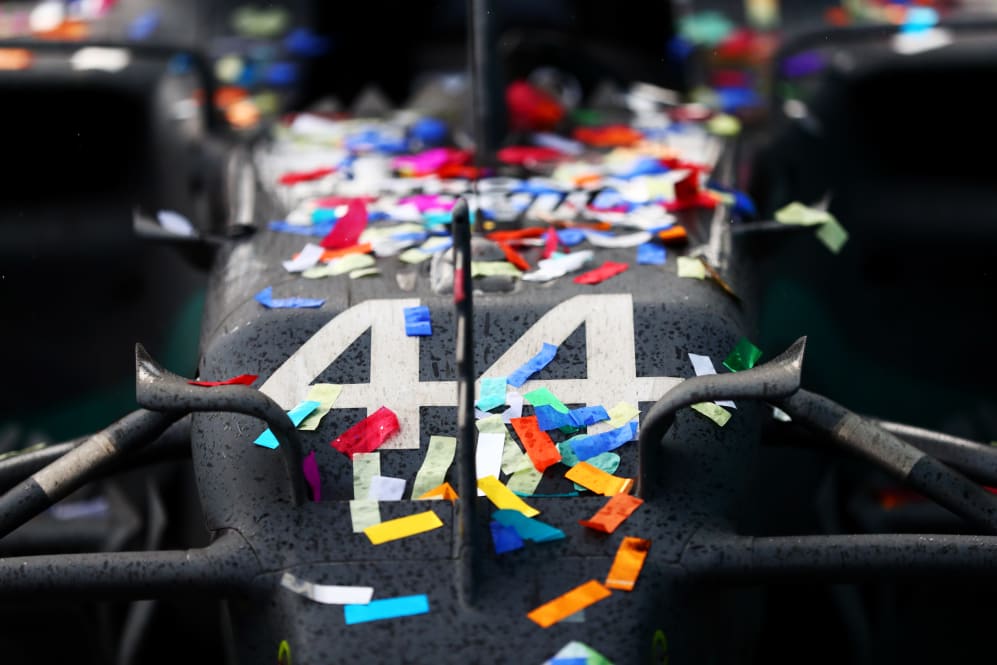 What impressed you most about Hamilton during his 2020 title campaign?
SK: His qualifying pace. Hamilton took five pole positions in 2019 as others converged on him on Saturdays, but this season he has pulled out some of his finest career laps – including that stunner in Belgium. And even when it seemed all was lost, like in Q2 at Sochi, his temperament and talent shone through enough for him to take pole.
WB: His maturity and composure, to realise his potential both in and out of the car. To recognise he could be more than a sportsman and thus to be a voice for those without one. To use his position and his achievements to push for change in the world. He has taken a global responsibility on his shoulders and used it to inspire him to achieve an even higher level of performance in his sporting domain. In a world and at a time where many are struggling through not only a pandemic but through engrained social inequalities he has provided a light and a focus.
READ MORE: Vettel reveals what was said in emotional parc ferme moment with 'greatest driver of our era' Hamilton
DT: Most of what he does on-track has been impressive. But for me it's been the way he has conducted himself off it. Without question he is F1's elder stateman, but he is also the one driver who transcends his sport. And he has not been afraid to grasp the nettle of racism and to use his voice for causes in which he clearly believes passionately. I like people who follow their heart, and have the courage to speak from it.
Without question he is F1's elder stateman, but he is also the one driver who transcends his sport
MH: The consistency and the adaptability. The challenges this year have been more varied than usual because autumn races in Europe (which doesn't normally happen) have made for some left-field demands of the drivers. Hamilton has been great at cracking the codes of each one of them.
CM: His adaptability. This season has been an unusual one in many different ways and had the potential to upset a driver's rhythm and form given how much has changed off track. There have also been so many new circuits and tweaked formats, but he appears to have handled it all arguably better than anyone else. It took one tricky race in Austria and since then he's been unstoppable.
LB: That in the strangest of years, Lewis has utterly dominated, winning 10 of 14 races to win the title three races early, while also leading the fight for diversity and equality, launching the Hamilton Commission, enhancing his fashion range and working on his music. To have the mental capacity to juggle all those plates, and then wipe the floor with all before him in the world's best motorsport category, amid the uncertainty of a global pandemic, is extraordinary.
GS: The way he's time and again overturned early weekend advantages for Valtteri Bottas into poles and wins has been stunning. I think it's also notable that he's won at all of the new or returning tracks we've gone to so far.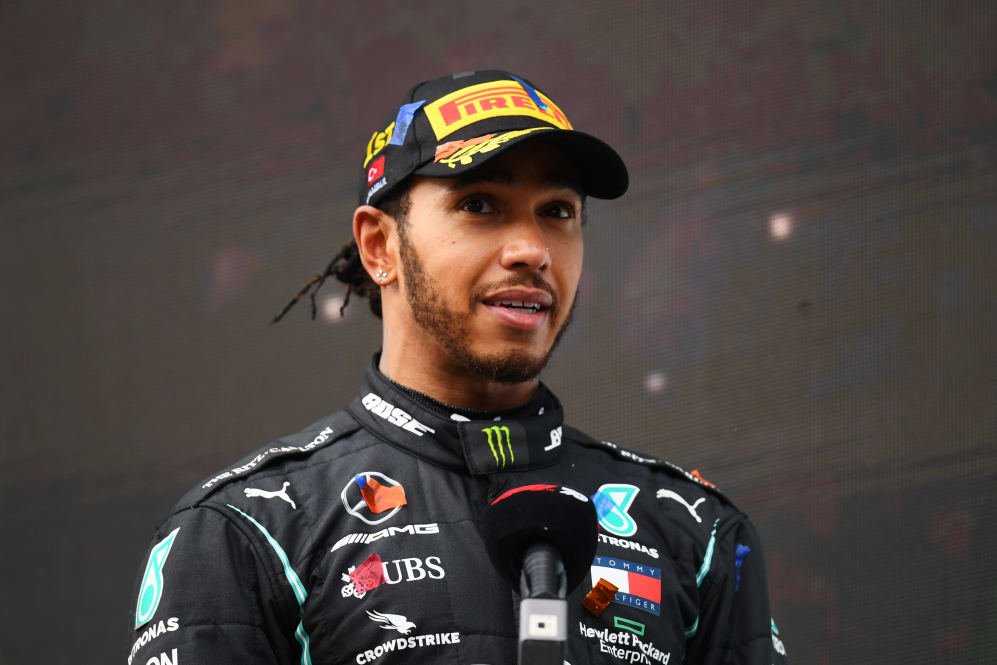 Has Hamilton peaked or is he still getting better?
GS: I think he's at the peak: I don't think he's going to get much better than this, simply because I don't really think there's much headroom to get much better. But despite being at the peak, I'm confident he can sustain it for another couple of seasons at least. This isn't Mount Everest, it's Table Mountain.
SK: Hamilton works intensely hard to improve himself in every way, no matter how small the gains. For example, he spent the rained off Nurburgring practice sessions watching old onboards before clinching his 91st win. Any gains now will be so incremental that we may as well say he's at his peak – but he's not going downhill anytime soon.
WB: He's still getting better. He shows it every weekend. He doesn't think he's peaked either and that should really worry his rivals. The 2022 regulations might just give him the motivation to carry on even longer. On this form he could be going until his 40s, with ease, and only just be tipping into the descent from the summit. And if he's this good one the way up, it stands to reason that even on the way down he'd still be competitive as he declines through the skill levels that have netted him his successes thus far. He's far from finished.
He doesn't think he's peaked and that should really worry his rivals
DT: There have been times this year, especially given Valtteri's ability to match his one-lap qualifying speed, when it's been tempting to wonder if he has peaked. But then performances such as his qualifying lap in Styria, and his runaway 'other plane' victory in Spain, make you revise that view. I think the answer is that he has probably got to the point where he gauges when the really big performance is absolutely necessary, and otherwise is content to do just what is necessary to win, Fangio-style.
MH: He's no quicker than he was when he first arrived – ie super-quick. But yes he's got steadily better with experience without losing any of the raw speed. He seemed to change his approach around 2017 in that he was deliberately focussing on his weaknesses and trying to eliminate or at least improve them. This has been a work in progress. I'd thought he might have peaked in 2018 as there were no real stand-out wow moments in qualifying the following year. But this year those moments have returned. So yes, he may actually still be improving.
Lewis Hamilton in-depth interview: 'I don't think I've hit the limit yet'
CM: He's still getting better, without a doubt. Hamilton has immense raw pace but he also holds an advantage in terms of tyre management - a crucial aspect - and that evolves each year. But he is also so mature in the way he approaches his races, something that I think is a byproduct of his success. It gives him a self-confidence that makes him almost impossible to fluster in a race, and that side is only getting stronger.
LB: Lewis is nowhere near his peak. His team, those close to him, his rivals and even the man himself know that there's more to come from him. Every year, he finds a way to better himself both on-track and off-track. Having a team mate in Valtteri Bottas has pushed him to new levels and, ominously for his rivals, I expect him to raise the bar once again.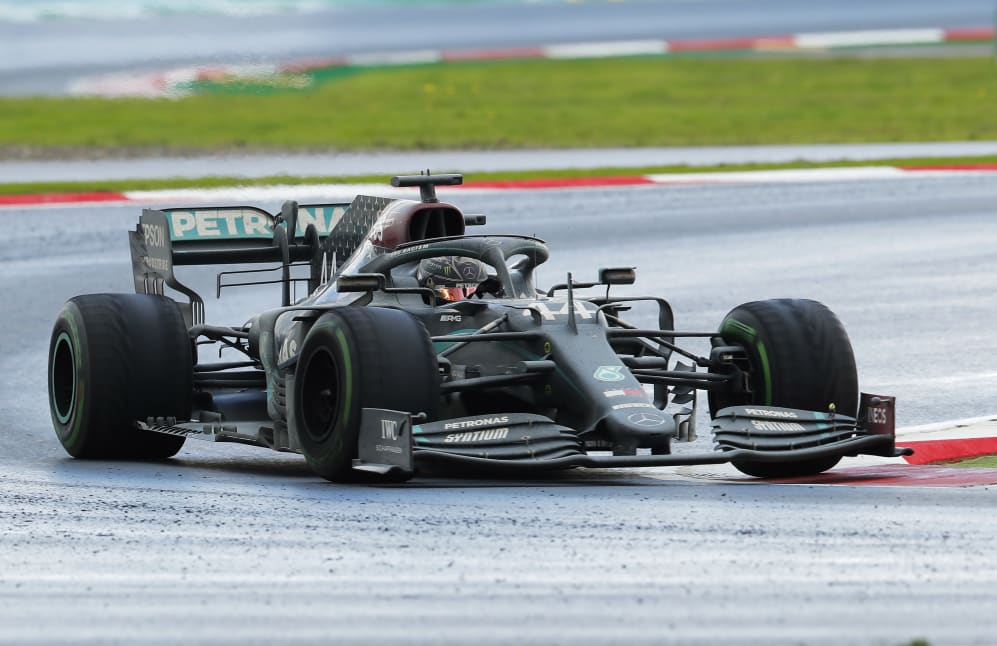 Should Hamilton now be considered the greatest of all time?
LB: Lewis became the greatest in F1 last year, when he made it six world titles, in my view. Achieving the seventh crown this year moves him into the realm of greatest sportspeople ever. What he has achieved in his career to date is astonishing and at this rate, he'll be the greatest athlete of all time by the time he's done.
GS: I think he's arguably the most complete driver of all time, as evidenced by his very comparable (and record-smashingly high) pole:win ratio (97:94 as of Turkey). Calling him the GOAT though seems to me to unnecessarily denigrate drivers from other eras, so I'd prefer to keep my counsel.
SK: Definitely. This era of Formula 1 has drivers committing more of themselves to the sport than ever before. Hamilton has said how he's bunkered down, kept himself safe in the pandemic, and given 100% to Formula 1. Not only has he achieved an incredible seven titles and 94 wins, he's become a hero off the track by taking a stand on human rights issues and affecting change (see: Hamilton Commission). He's using his platform in a manner that no other F1 driver ever has.
Sports fans like the idea of identifying GOATs. Certainly, Lewis is the greatest of his era
WB: Yes. Not just for what he's achieved but how he's gone about it. His etiquette on track has never been in doubt. He's never courted controversy nor descended to underhand tactics. He has been a guiding light and the focus of a team that is the envy of the paddock and which, equally, has never skirted the fringes of the rules. And now he's using his position to try to help the wider world. Both from a sporting and from a social perspective he's the best we've ever known.
DT: That's an impossible question, as we said when he beat Michael's record of wins. But let's accept that many sports fans like the idea of identifying GOATs. Certainly, Lewis is the greatest of his era, Mercedes' dominance notwithstanding. Where Seb, for instance, can't cope with cars whose back end isn't planted, Lewis proved his greatness many times in less than dominant cars, before the turbo-hybrid era. I might not agree if people called him F1's GOAT, but I'd accept it!
TREMAYNE: Records alone don't make anyone the GOAT – but Hamilton's qualities go way beyond the numbers
MH: Not the definitive greatest, no. I think that would be disrespectful to the other contenders, against whom he cannot be measured. The challenges are different from era to era. What we can say, I think, is that all of the contenders for that tag would all be able to master whatever the particular challenge of any given era was. But which of them would be best in which era, if they could all be cloned? I don't think one in particular would be the best at every era. But we can't know.
CM: I'll cop out here and say we won't define the single greatest ever, but he is 100% in the group. A driver can only be the best in their era, and Hamilton is clearly that. He has been consistently successful through different regulations and styles of racing, and mistakes are so few and far between. He also doesn't use questionable tactics as some other greats have, and has won certain races when not in the best car.
How many more titles will he win before he bows out?
CM: I think Lewis will add another two titles to his tally. The way some of the components are frozen for 2021 only makes it more likely that Mercedes will remain the benchmark, and he is performing so well he's the heavy favourite for next year. 2022 might mix things up a bit more but I think Hamilton will still have a car capable of at least fighting for the title, and I don't see his level dropping off dramatically.
LB: I think he'll retire before he's 40 – as there are so many other things he wants to tackle in his life - so he's got three titles left in him. Reaching double figures will be an appealing target for him to set for those who come after him. Ominously for his rivals, right now he has no intention of leaving. If anything, the fire is burning brighter than ever.
GS: I'm pretty sure he'd like the eighth, no matter what he says about numbers, and perhaps would like to have a tilt at the ninth in 2022 cars (assuming that eighth comes next year). Then that might be enough for him.
The limit of his achievement can only be determined by how long his motivation remains for racing
SK: Two? Next year I'd back him again and, when the regulations change in 2022, he'll still be a force to be reckoned with. Then, who knows where life will take him? He seems to be looking at life beyond F1 more and more…
WB: The limit of his achievement can only be determined by how long his motivation remains for racing. I can see him winning 10. Maybe more. For as long as he's hungry, and for as long as he's here, he will be a threat.
WATCH: Anthony Hamilton's touching tribute to son Lewis, as he wins 7th world title
DT: I could see him winning an eighth in 2021, if things remain the way they are now as seems likely. Possibly another in 2022 when everything gets tossed back into the melting pot, if Mercedes do their homework as well as they did prior to the current turbo-hybrid era. Even if he no longer has the best car, I could still see him winning titles through consistency and intelligence, the way that Jackie Stewart won his last in 1973.
MH: As many as he feels like until he feels his skills dimming, I think. Assuming he remains with Mercedes, there's no reason he couldn't go on for years yet, as the favourite to win every year. If Mercedes should overlap him with the next generation – Max Verstappen – then we'd see an epic contest and the titles would be less of a nailed-on given then. But I'd still not bet against him even then.