Hamilton credits hard work as reason for beating Bottas to pole around 'insane' Mugello
Lewis Hamilton had to play second fiddle to Mercedes team mate Valtteri Bottas across all three free practice sessions at the inaugural Tuscan Grand Prix, as well as the first segment of qualifying. But his Q3 lap was good enough to give him his 95th career pole by just 0.059s from Bottas – and Hamilton admitted that he'd had to put in plenty of hard work behind the scenes to get the better of the Finn around the "insane" Mugello circuit.
Hamilton headed Bottas for the first time in the weekend in the second part of qualifying, before his first Q3 run gave him provisional pole ahead of his team mate. But a stroke of fortune then meant that, although Hamilton failed to improve on his second flying lap, Bottas was forced to back off during his own second effort after a spin at Turn 3 for Renault's Esteban Ocon, making Hamilton's pole position academic.
Qualifying report: Hamilton pips Bottas to Tuscan GP pole as Leclerc takes fifth
But lucky or not, Hamilton said he'd had to do his homework to get the better of Bottas on Saturday around the new-to-F1 Mugello.
"It's been a really, really tough weekend if I'm really honest," said Hamilton. "Valtteri was quicker than me all day yesterday and even this morning, and even in Q1! So I've been working so hard in the background to try and improve on my lines, improve on the set-up, and with the engineers, we did such a great job.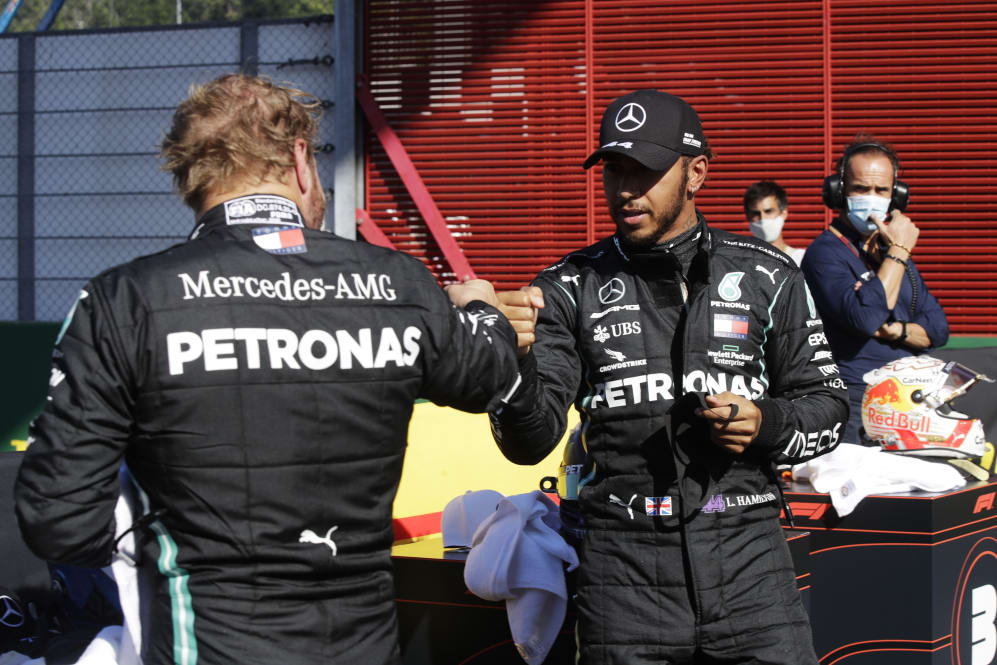 "It's always incredibly hard to beat Valtteri," Hamilton added. "Straight from the get-go this weekend, Valtteri's had the upper hand… Valtteri had been quick all day yesterday, quick this morning, quick in Q1, and it was almost like nothing I did [worked] – I was making all these changes, changed a lot in the set-up.
AS IT HAPPENED - Qualifying in Tuscany
"I went out in Q1, and I was still not quick enough – but I love that challenge! And I really enjoyed the battle with Valtteri. Once I got to Q2, I think I got quite a good lap. And my Q3 run one was a decent lap – I think there was still a little bit of time left on the table so I was hoping to get that for the last one but I think the wind picked up.
"I could really feel it was a little bit more gusty down the straight into Turn 1, the car was sliding around a lot more on that lap so I ended up being a tenth and a bit down. But nonetheless I really, really enjoyed qualifying today."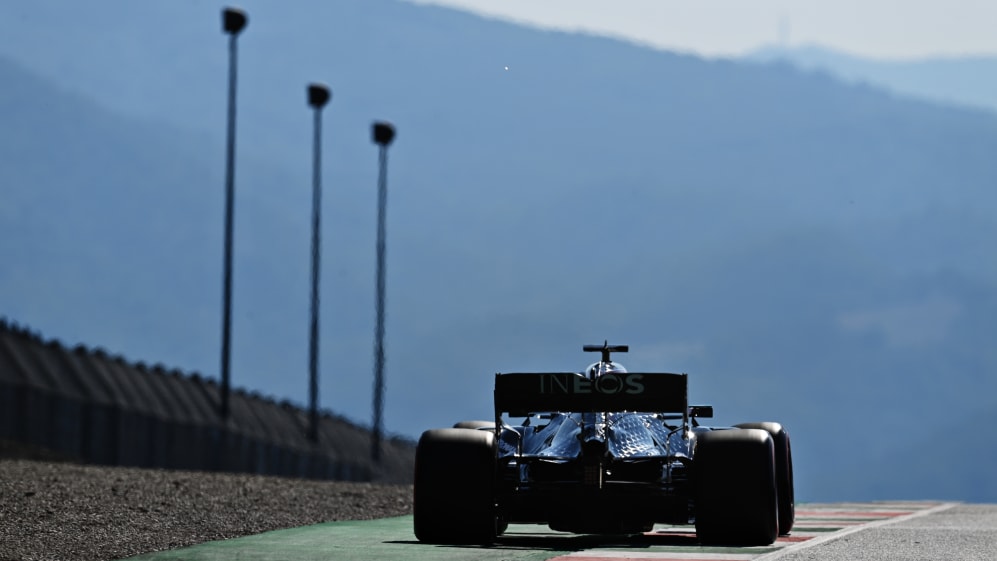 Predictably, Hamilton's pole lap of 1m 15.144s now stands as the track record for Mugello, a circuit set to host its first ever Formula 1 World Championship Grand Prix on Sunday. And having said in the press conference that F1 "should come here again", Hamilton paid tribute to the fast, undulating Ferrari-owned circuit.
"This track is phenomenal… it's crazy!" said Hamilton. "You go through Turns 6, 7, 8, 9 at like 170, 180mph, and the G-force we're pulling through there, it's insane, and it just gets more and more as you go through 8 and then 9.
WATCH: Charles Leclerc is your guide for a flying lap around the high-speed Mugello circuit
"[Turns] 10 and 1 and 2 were the areas where I needed to improve and I managed to pick it up once I got into qualifying, so Valtteri did a great job in pushing me. But I'm really, really happy to be up there."
Hamilton's pole will be a distinct advantage on Sunday, meanwhile, with the narrow track predicted to be challenging to overtake on. But with a fired up Bottas alongside on the grid, and the two Red Bulls of Max Verstappen and Alex Albon on the second row, the long run down to Turn 1 will be a crucial factor in whether or not Hamilton secures his 90th Grand Prix win this weekend.