Hamilton explains switch issue that led to him dropping from P2 to P15 at crucial Azerbaijan GP restart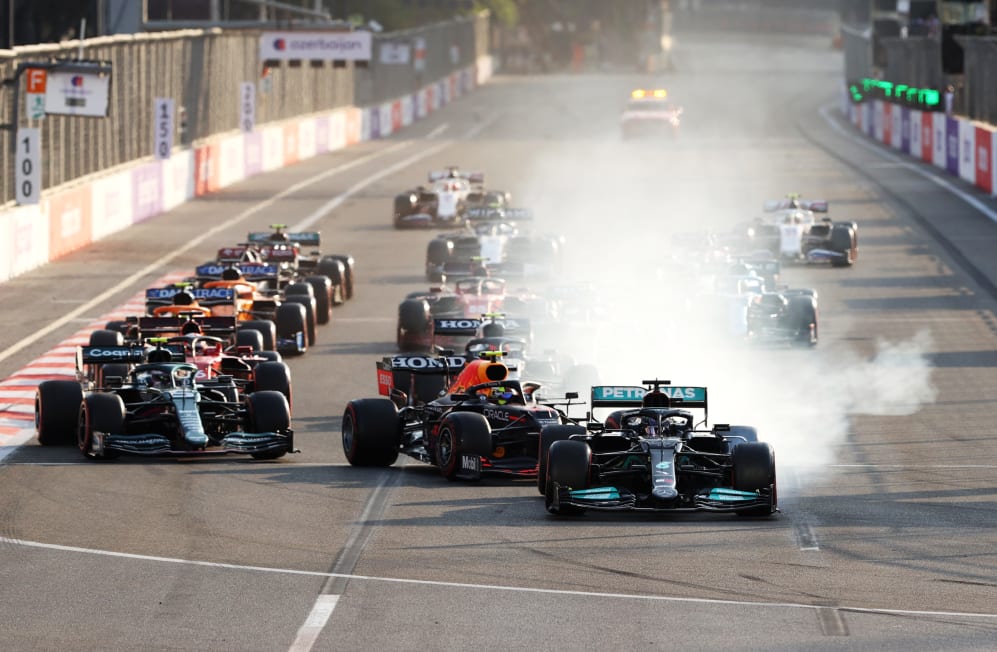 Lewis Hamilton was looking good for second place in the Azerbaijan Grand Prix at the very least as he lined up in that position on the grid for the Lap 50 restart – before he locked up at Turn 1 and sailed past race leader Sergio Perez down an escape road and out of the points entirely.
Immediately afterwards the Mercedes driver was heard over team radio asking his race engineer Pete Bonnington: "Did I have the magic on?"
"Yeah looks like it was knocked back on," came the reply, before Hamilton said: "Could've sworn I switched it off".
'Brake magic' is understood to be a setting used by Mercedes behind the Safety Car to help heat the brakes by altering, amongst other things, the brake bias settings.
And after the race the reigning world champion further explained how his restart had gone so wrong, on a day when his chief title rival Max Verstappen also failed to score points thanks to his late crash in Baku - which caused the red flag and restart in the first place.
"Just on the restart, I think when Checo [Perez] moved over towards me, I clicked a switch and it basically switches the brakes off, and I just went straight," he said. "I had no idea that I'd even touched it."
"So very hard to take, but mostly just really sorry to the men and women in the team who have worked so hard for these points, but we will regroup and come back stronger I'm sure.
"Obviously it's quite a humbling experience to be honest. We'd worked so hard this weekend to come back out of the top 10 and it was looking so good. I put everything on the line and I fought as hard as I could today."
Mercedes boss Toto Wolff – who saw his other driver Valtteri Bottas also come home out of the points in 12th – added: "It cannot be called a mistake. He [Hamilton] touched a button and the brake balance changed – it went right forward and obviously the car wouldn't stop. It was a finger problem."
RACE HIGHLIGHTS: See all the action from an extraordinary win for Perez in the Azerbaijan GP
Hamilton's anguish at missing out on points in Baku was perhaps slightly offset by the fact that Verstappen also failed to score.
"Very unfortunate for Max obviously," he said. "All I would say today is it was a good stroke of bad luck. It is what it is, we'll try and regroup and come back stronger in the next race."
With both Hamilton and Bottas both finishing outside the top ten, Mercedes' 54-race run of F1 points-finishes ended in Baku on Sunday. They leave Azerbaijan 26 points behind Red Bull in the Constructors' Championship, Hamilton still four points behind Verstappen in the table.