Hamilton explains why he got jumped at Safety Car restart - and how he fought back to win in Portimao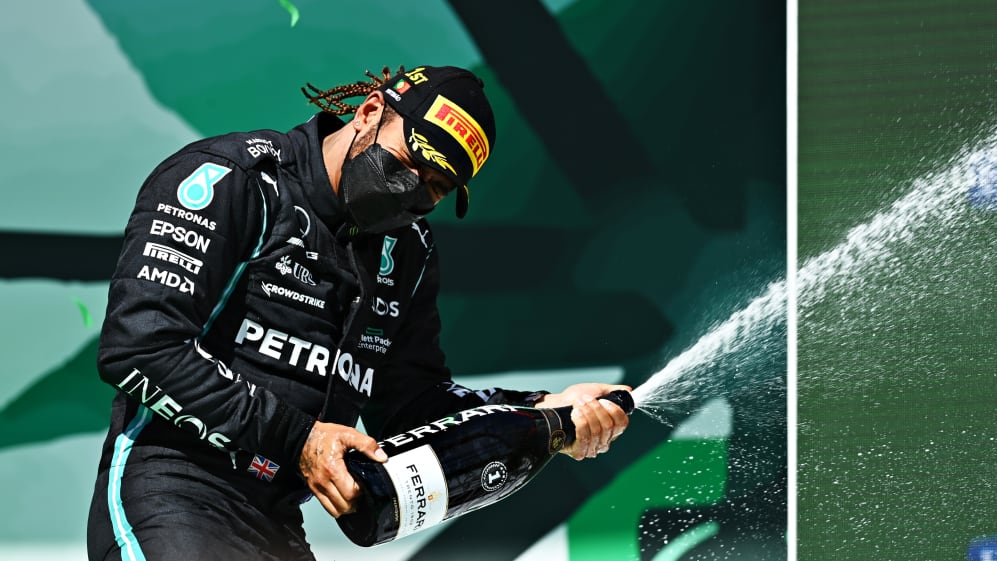 Lewis Hamilton had to do things the hard way in Portugal on Sunday. Not only did he have to pass pole-sitter Valtteri Bottas on his way to victory, he also has to overtake title rival Max Verstappen after the Dutchman snuck ahead following an early Safety Car restart. After the race, the reigning champion explained why he'd lost out in that potentially crucial scenario - and how he went about rectifying it...
Starting second on the grid, Hamilton dropped to third during the Safety Car restart that followed Kimi Raikkonen's early retirement. The Briton fought back, taking P2 from Verstappen on Lap 11 and passing Bottas for the lead on Lap 20, going on to clinch his 97th Formula 1 victory.
READ MORE: Hamilton takes victory in Portugal after crucial overtakes on Verstappen and Bottas
As Hamilton explained, he'd been hoping to get a jump on Bottas when the race was restarted on lap 7, but instead ended up losing P2 to Verstappen.
"It was interesting because I was focusing, naturally, on Valtteri and literally just for a split-second I looked in my mirror just to see where Max was and in literally that split second, that's when Valtteri went, so I lost out to Valtteri and so that wasn't great," he said.
"Then, I was in Valtteri's tow, and [Verstappen was] about to pull out, and I pulled out and gave [Verstappen] Valtteri's tow and I was like 'you idiot' to myself. Then after that, obviously being behind the two – what a great track; it really enabled us to fight close in that first stint and I think that's really what the fans what.
"I think that's definitely what I want from a racing point of view and this track is really great because you can have certain different lines at certain different corners, just like Austin, and so it was really awesome," he added.
On Lap 11, having chased Verstappen ruthlessly through Portimao's contouring layout, Hamilton finally made his pass on the Red Bull for P2.
DRIVER OF THE DAY: Perez gets the fans' vote with P4 in Portugal
"I just had to gather my thoughts and make a couple of tweaks in terms of how I was driving and then start on the attack again," he explained, "and once I did, I got closer, and Max had a small mistake which then put me in a nice position…"
That mistake at Turn 14 allowed Hamilton to get into DRS range and sweep around Verstappen for second-place at Turn 1. Then it was just the small matter of catching Bottas.
"And then with Valtteri," continued Hamilton as he recalled the Lap 20 pass, "I had to make the move early on before the tyres were destroyed. I managed to just get him at Turn 1. Just right on the limit. Great race."
There was no Fastest Lap bonus point for Hamilton – a risk he didn't want to take, pitting from the lead of the race – as that went to team mate Bottas.
Yet, Hamilton leaves Portugal and heads to Spain with an eight-point lead over Verstappen in the drivers' standings as Red Bull now sit 17 points back from Mercedes in the constructors' championship.